May 22 - 28 2016: Issue 264
Junior State Titles 2016 - A Surfest: Junior Longboard States - Junior State Surfing - Junior State School Surfing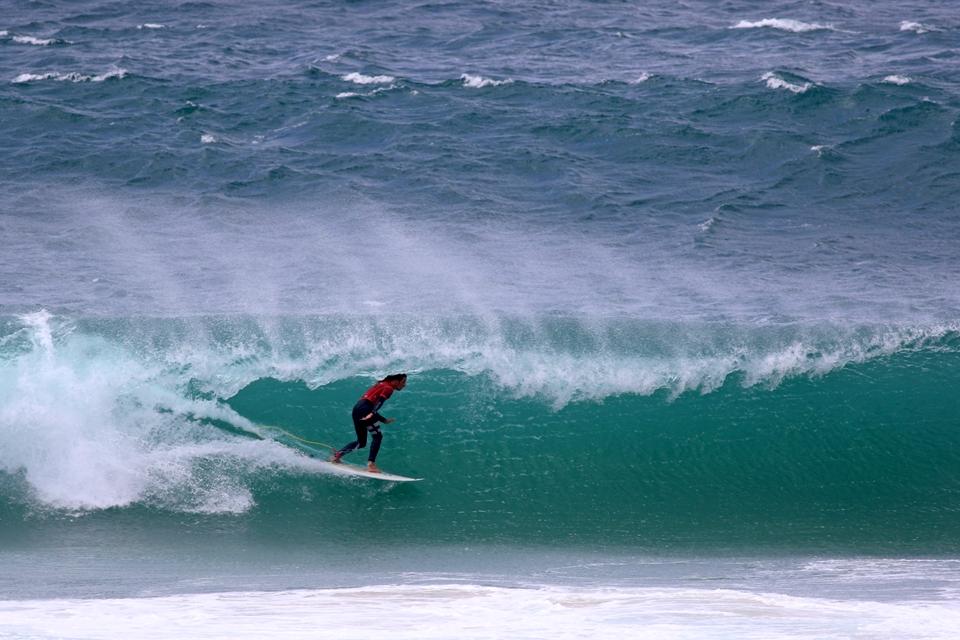 ABOVE IMAGE: One of the Under-18 Boys top seeds Darcy Crump (Avalon) - qualified for the Ocean and Earth Junior State Titles after claiming victory at the Regional Titles on Sydney's Northern Beaches. Photo by Ethan Smith / Surfing NSW

OVER 400 SURFERS TO COMPETE IN THE OCEAN AND EARTH NSW JUNIOR SURFEST IN PORT MACQUARIE IN JULY‏Tuesday, 17 May 2016: from Surfing NSW
The Ocean and Earth NSW Junior Surfest will call Port Macquarie home from the 13th – 21st, July 2016, with over 400 surfers participating over four different events; covering a range of different disciplines.
The newly announced surfing festival is set to include:
Australian Skin Cancer Clinic NSW Junior Longboard State Titles (13th - 14th)
Australian Kneeboard Titles Round 2 (13th - 14th)
Ocean & Earth NSW Junior State Surfing Titles (15th - 19th)
Ocean & Earth NSW Junior State School Surfing Titles (20th - 21st)
Results of the Ocean and Earth NSW Junior Surfest will determine the NSW teams for the 2016 Australian Longboard Titles (part of the Australian Surf Festival in Coffs Harbour in August) as well as the 2016 Surf, Dive N Ski Australian Junior Surfing Titles in Phillip Island in December.
Port Macquarie-Hastings Mayor Peter Besseling was quick to highlight the long standing partnership that the region has with Surfing NSW and in hosting junior surf titles.
"Having these talented young surfers and their families visit us each year provides a wonderful opportunity for us to showcase our region, and this year's event is expected to inject around $1 million into our local economy.
"Council encourages the community to come and watch some amazing young surfers in action, who knows there may be another world champion amongst them".
Former competitors in the Ocean and Earth NSW Junior State Titles include current World Surf League (WSL) Championship Tour (CT) surfers Owen and Tyler Wright, Matt Banting, Stuart Kennedy, Sally Fitzgibbons, Laura Enever, Ryan Callinan and Davey Cathels.
Former professional surfer and Ocean and Earth Marketing Manager Phil Macdonald is thrilled to be partnering with the coveted NSW Junior Titles.
"Ocean and Earth has been working and supporting junior surfing with Surfing NSW for over 25 years. Starting with the original Pro Junior, countless regional and local boardrider events and more recently the Teenage Rampage series, Ocean and Earth has been dedicated to supporting the pathways of many world champions. Ocean and Earth is excited to continue this relationship with Surfing NSW over the next three years and look forward to supporting the champions of tomorrow."
All qualifiers for the Ocean and Earth NSW Junior State Titles were determined by eight individual regional titles, which took place up and down the NSW coastline earlier in 2016.
2016 will be the sixth year Surfing NSW will combine the NSW School Surfing Titles into the event.
The event will be fully mobile in the Port Macquarie area with Town Beach, Flynns Beach, Light House Beach, Rainbow Beach (Bonny Hills) and North Haven Beach all venue options.
The daily schedule and location will be confirmed via the event hotline at 6:45am each day. The event hotline is 0458 247 212.
The Ocean and Earth NSW Junior Surfest is proudly supported by Ocean and Earth, HIF, Australian Skin Cancer Clinics, Port Macquarie-Hastings Council, Big4 Bonny Hills Holiday Park, NBN, Toyota, Carve, Ohana Ocean Athletics and Surfing NSW.
2016 OCEAN AND EARTH NSW REGIONAL TITLES Thursday 19th of May, 2016: Surfung NSW
The Ocean and Earth NSW Regional Title events have been going off all over the country over the last month with surfers attempting to seal a position in the upcoming Ocean and Earth Junior State Titles at Port Macquarie. Below are final results for Northern Beaches.
All results are available
here
RESULTS
Northern BeachesUnder-18 Boys
1 – Darcy Crump
2 – Ed Aubrey
3 – Dylan Moffat
4 – Adam Varvaressos
Under-16 Boys
1 – Ryan Donohoe
2 – Jamie Thompson
3 – Jack Bannister
4 – Tiaan Cronje
Under-14 Boys
1 – Kobi Clements
2 – Alex Rose-Curotta
3 – Emerson Raper
4 – Ethan Jackson
Under-12 Boys
1 – Winter Vincent
2 – Dane Dujic
3 – Corey Lawson
4 – Kai McGovern
Under-18 Girls
1 – Alysse Cooper
2 – Sophia Chapman
3 – Bella Wilton
4 – Sienna Coulter
Under-16 Girls
1 – Tru Starling
2 – Anne Dos Santos
3 – Hunter Kelleher
4 – Ciara Szymanski
Under-14 Girls
1 – Cedar Leigh-Jones
2 – Jasmine Riggs
3 – Bella Grainger
4 – Evie Coulter
Under-12 Girls
1 – Kiahni Scott
Accommodation event supporter:
BIG4 Bonny Hills is a peaceful paradise with absolute beachfront on Rainbow Beach, the koalas aren't the only ones to call this home. Just 20 minutes south of Port Macquarie, this family friendly park has a swimming pool, waterplay park, mini golf, inflatable trampoline and TV activity room. Discover nature's delights of the Camden Haven and Port Macquarie areas including secluded coastal beaches, lakes and rivers, lookouts, waterfalls and bushwalks and take advantage of our range of accommodation and sites. It will be the 'best holiday ever"!
Contact
For further information please do not hesitate to contact Surfing NSW on (02) 9349 7055 or
info@surfingnsw.com.au
Conditions
All competitors must be a current member of Surfing NSW to compete.
Refunds: Refunds will not be given within 7 days of the event start date. All refunds required will cost a $10.00 administration fee.
Division Price
Under 16 Girls Shortboard $88.00
Under 16 Boys Shortboard $88.00
Under 18 Girls Shortboard $88.00
Under 18 Boys Shortboard $88.00
This event requires a current state membership.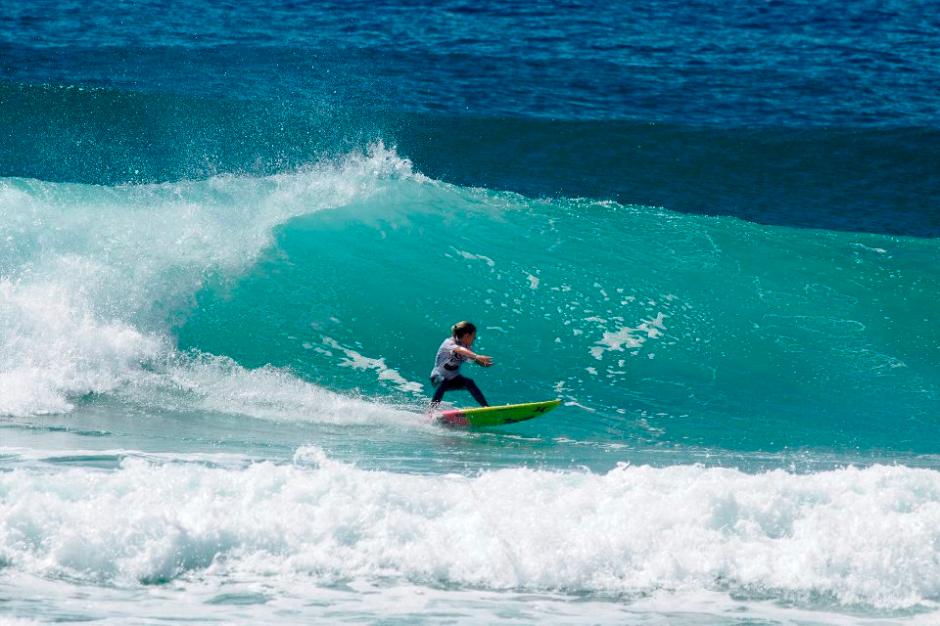 Cedar Leigh-Jones (Whale Beach) - qualified for the Ocean and Earth Junior State Titles after claiming victory at the Regional Titles on Sydney's Northern Beaches. Photo by Ethan Smith / Surfing NSW