January 30 - February 6, 2016: Issue 249
North Narrabeen Wins Original Source Australian Boardriders Battle Series III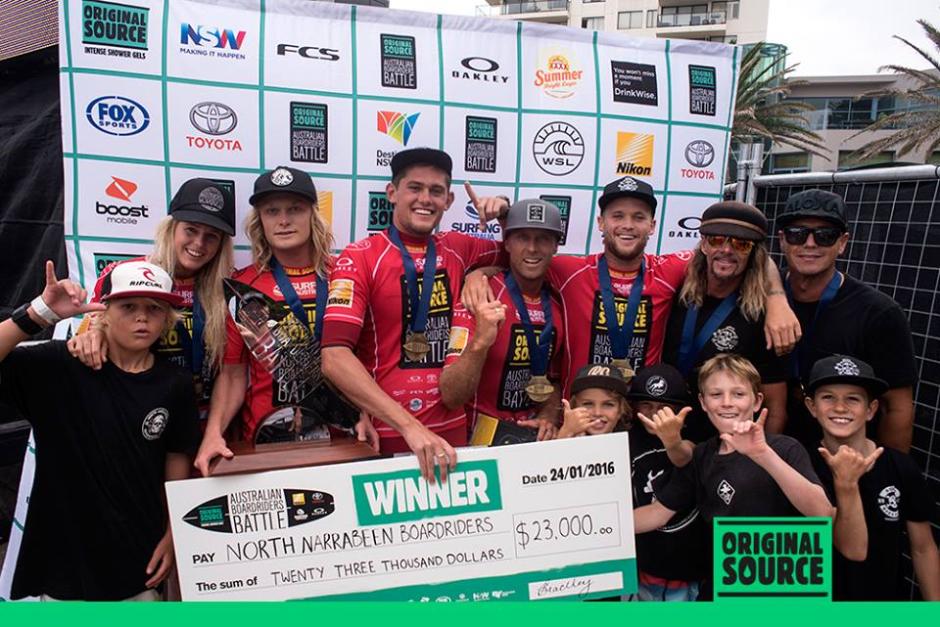 CRONULLA/NSW (24th January, 2016): by Surfing Australia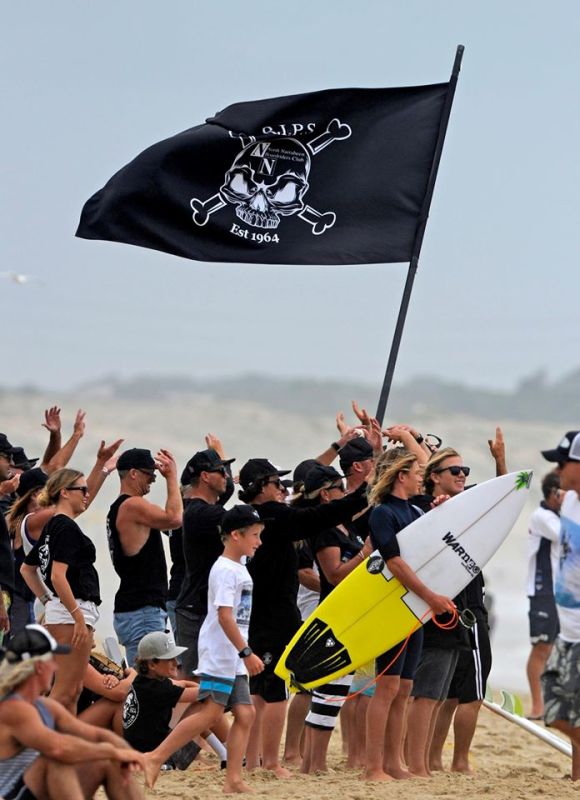 North Narrabeen Boardriders have won the Original Source Australian Boardriders Battle National Final at Cronulla.
In a punchy 4ft swell the club from Sydney's northern beaches survived an exciting day of eliminations as some of the biggest names in Australian boardriding fell by the wayside while a host of unheralded clubs revelled in knocking over the heavyweights.
In a new format for this year's event, the top four clubs at the end of the preliminary Skins, Women's and Teams rounds contested a one-hour Teams relay Grand Final to end the two-day event.
The top four clubs at the end of the preliminary rounds were North Narrabeen, Point Lookout Boardriders, North Shelly Boardriders and Merewether Surfboard Club.
In a staggered start for the Grand Final, North Narrabeen had the full 60 minutes and made the most of it to take the honours with 35.67 points, ahead of Point Lookout (30.37), Merewether (27.30) and North Shelly (26.97). The remaining three clubs started on 55 minutes, 52 minutes and 50 minutes.
Point Lookout was the big mover on Day 2 jumping from 18th at the start of the day to finish the preliminary rounds in second.
The North Narrabeen squad included: Nathan Hedge, Davey Cathels, Cooper Chapman, Laura Enever, Nathan Webster, Kai Warner, Jordy Lawler, Tru Starling and Dylan Moffat. They collected $20,000 for winning the event plus $3000 in Skins jackpots.
"We had a sixth and a ninth in the first two years and it didn't represent what we wanted for North Narrabeen, so we rallied up and got the support behind us and really deserved this one," said North Narrabeen stalwart Nathan Hedge.
"When you surf for your club and your home it means everything. It means the world to step up for your club and do it for your friends and this format is incredible."
A dramatic start to the day saw two-time defending champions Snapper Rocks struggle in their Teams heat to virtually end their title hopes. Joel Parkinson had a chance to keep Snapper Rocks in contention through the following individual Skins heats but he was eliminated early bringing an end to the club's two-year reign.
Overnight leaders Merewether Surfboard Club was also eliminated early from the Teams division but had enough points from Day 1 to stay in the top four.
While the heavyweights stumbled several smaller clubs including North Shelly, Jones Beach Boardriders and North Shore Boardriders had a day out to ride some incredible on-beach support with North Shelly making it all the way to the Grand Final. Culburra Beach Boardriders were a major threat throughout the event but were eliminated in the semi-finals of the Teams rounds.
In several special awards also presented, Ethan Ewing (Point Lookout Boardriders) was awarded the Wayne Bartholomew Medal for the best performing male surfer at the National Final. Macy Callaghan (North Shelly Boardriders) won the Layne Beachley Medal for best performing female. Each surfer also received $1000.
Shane Holmes (North Shelly Boardriders) won the Milwaukee Heavy Duty Hack Award for the surfer who displayed the biggest and best power move and won $1500 in Milwaukee equipment and $1000.
Burleigh Boardriders won the Fox Sports Patriot Award and $5000 for the club that demonstrated the most passionate spirit during the National Final, thanks in large part to their standout fashion sense.
North Narrabeen also won $1000 of FCS product for finishing first.
FINAL LEADERBOARD AND TOTAL PRIZE MONEY (Including Skins Jackpots and Women's Prize Money)
TOP 4
North Narrabeen Boardriders $23,000
Point Lookout Boardriders $10,000
Merewether Surfboard Club $8,000
North Shelly Boardriders $5000

5th to 20th
Margaret River Boardriders $5000
Jones Beach Boardriders $4,000
Culburra Beach Boardriders $3,000
North Shore Boardriders $2,000
Snapper Rocks Surfriders $3,000
Burleigh Heads Boardriders $1000
Cabarita Boardriders $1000
Kirra Surfriders $1,000
Ulladulla Boardriders $2,000
South Coast Boardriders $1,000
Le Ba Boardriders $500
Long Reef Boardriders $500
Peninsula Surfriders $1,500
Cronulla Sharks Boardriders $500
South Arm Boardriders $500
Portland Boardriders $500

The Original Source Australian Boardriders Battle Series III is the country's biggest grassroots boardriders event series with $110,000 in prize money.

It involved more than 60 of Australia's best boardriders clubs in eight State qualifying rounds starting in September and culminating in this weekend's National Final for 20 clubs.

The series is officially sanctioned by the World Surf League, which allows Australian WSL Championship Tour surfers (men and women) the opportunity to represent their local boardriders club at respective State qualifying events and the National Final.
The Original Source Australian Boardriders Battle is proudly supported by naming rights partner Original Source and major support partners in Toyota, Nikon, Oakley, Sutherland Shire Council, the World Surf League, XXXX Summer Bright Lager, DrinkWise, Milwaukee, FCS, Surfing Life, Fox Sports, Destination NSW, Boost Mobile, Quest Cronulla Beach, Banana Boat and Subway.
In total $110,000 is up for grabs across the entire National Series including the National Final. There is $29,000 available across the eight State qualifying events, while $81,000 will be on offer at the National Final. The winning boardriders club will receive $20,000, while $36,000 will be split between the clubs finishing second to 20th.
Additional National Final prize money includes $12,000 across 12 Skins heats; $5,000 across 5 Women's heats; $5,000 for the Fox Sports Patriot Club Award; $1,000 each to the Wayne Bartholomew and Layne Beachley Medal Winners; and $1,000 for the Milwaukee Heavy Duty Hack. FCS is also providing a $1000 product pack to the winning club.
For more information on the series, visit
www.australianboardridersbattle.com
Surfing Australia:
www.surfingaustralia.com
On Facebook:
www.facebook.com/surfingaustraliainc
Original Source Australian Boardriders Battle - Series III: National Final, Cronulla - Day 2
Published on 24 Jan 2016 by Surfing Australia
North Narrabeen Boardriders are the 2016 Original Source Australian Boardriders Battle champions. For more - www.australianboardridersbattle.com