December 8 - 14, 2013: Issue 140
New Rehabilitation Facility For Mona Vale Hospital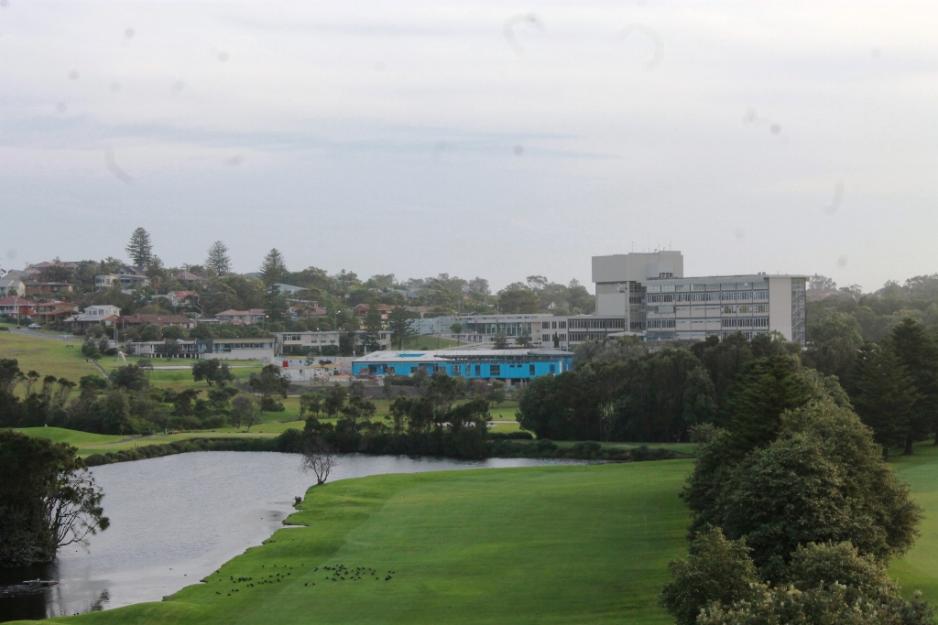 The new Rehabilitation Facility structure at Mona Vale Hospital 29.11.2013 from Mona Vale Golf Club. Picture by A J Guesdon, 2013.
New Rehabilitation Facility For Mona Vale Hospital
Member for Pittwater Rob Stokes today (4.12.2013) announced NSW Government funding has been secured to construct a new outdoor rehabilitation facility at Mona Vale Hospital. The Mona Vale Hospital Auxiliary has been awarded $100,000 for the innovative project, as part of the NSW Government's Community Building Partnership Program, which will complement and extend the ongoing $12 million expansion of Mona Vale Hospital's Assessment and Rehabilitation Unit.
The landscaped and fully fenced facility will be used to assess and support patients recovering function following disease or injury, and will replicate various outdoor surfaces such as grass, gravel, sand and paving, as well as different structures including ramps, stairs, kerbing and bridges.
"This project will provide an innovative addition to our hospital's facilities and help support countless local families," Rob Stokes said today. "Mona Vale Hospital is currently undergoing a series of major capital improvements and this facility will further contribute to its expansion and modernisation.
"There's no better location anywhere in Sydney for rehabilitation services and this project will help secure Mona Vale Hospital as a centre of excellence.
"The clever replication of outdoor conditions in a safe and secure facility will provide patients with greatly improved treatment and recovery options.
"Better assessment of the independence of those suffering Alzheimer's and other cognitive impairments will also be possible, along with improved training for families and carers. "This is a further exciting project for the eastern side of Mona Vale Hospital and a permanent improvement to our local health facilities.
"I look forward to construction getting underway and the benefits the new facility will provide to our community," Rob Stokes said.
Other capital works projects at Mona Vale Hospital include;

Permanent Improvements Recently Completed
•Expansion of the hospital's helicopter facilities to accommodate larger, modern medical helicopters.
•Expansion of the Cora Adcock Palliative Care Centre.

Permanent Improvements Currently Underway
•Expansion of the Rehabilitation and Assessment Unit to accommodate an additional 26 beds.
•Expansion of the Emergency Department to accommodate a new 10 bed Emergency Short Stay Unit.
•Renovations to the hydrotherapy pool building.

Permanent Improvements Planned For Next Year
•Construction of a new ($30 million+) multi-storey Community Health Building.
•Renovation of the hospital's staff and community kiosk.
________________________________________________
We contacted Mona Vale Hospital Auxiliary for a comment regarding the new outdoor rehabilitation facility at Mona Vale Hospital:
Mona Vale Hospital Auxiliary is delighted to hear from Rob Stokes office that with his support, our application for funding for a rehabilitation outdoor exercise area
has been approved. We cannot thank our local Member enough for his on-going support in all our activities to support our hospital. THANK YOU, Rob Stokes