November 29 - December 5, 2015: Issue 242
NBI Annual Celebration and AGM: 2014/2015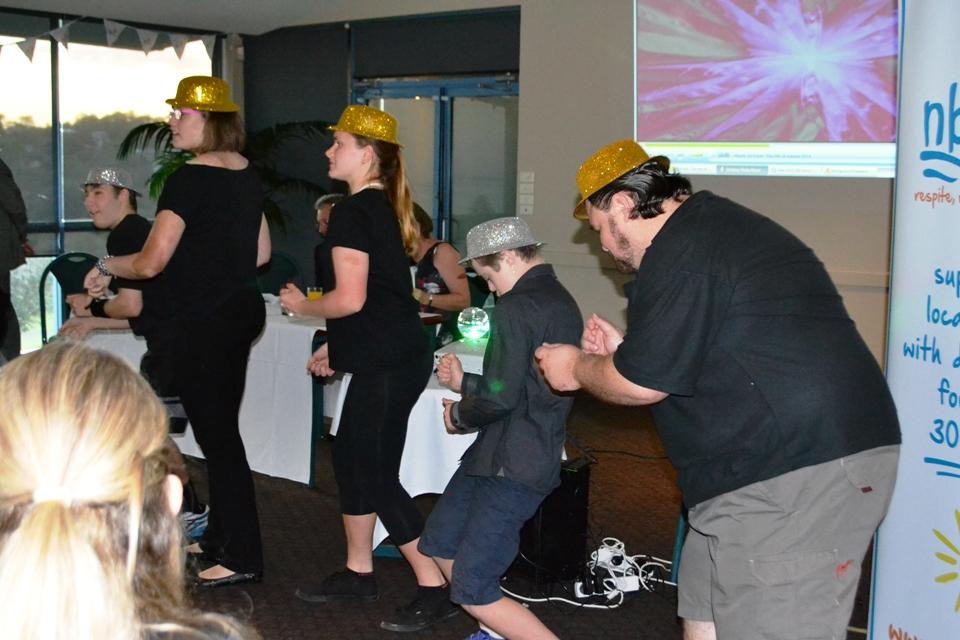 NBI Annual Celebration and AGM – Wednesday 18th November, 2015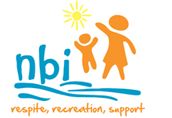 On a warm Wednesday evening over 70 members of the Northern Beaches Community gathered at Mona Vale Golf Club to help NBI to celebrate another successful year of supporting people with a disability. Following an opening performance by the UpTag Funk dance crew, and upon completion of the formal business of the AGM the attendees were treated to a speech delivered by Special Olympics Gold Medal winner and NBI Ambassador Josie McLean.
Regular MC David Trundle of NBI was very ably assisted this year by 15 year old Joe Sexton and NBI presented long Service Awards and Outstanding Contribution Awards to a number of staff and volunteers.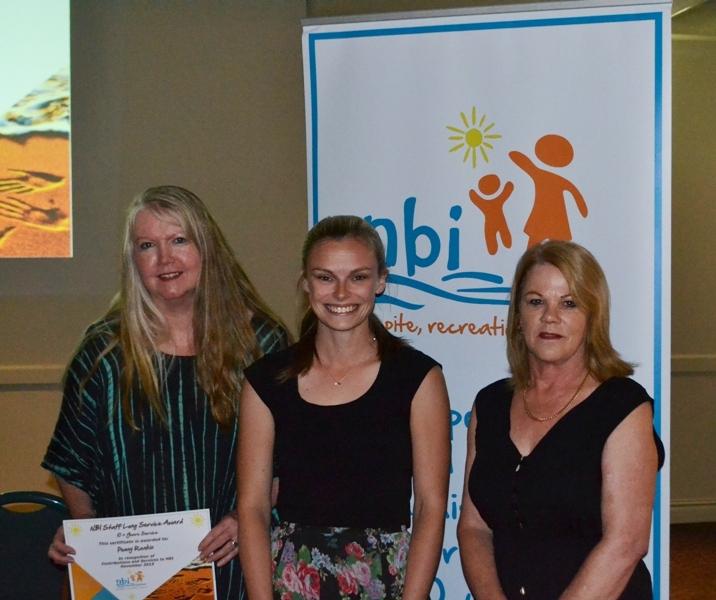 In her report CEO Carolyn McKay said "At NBI we are focussed on the future, a future which is bright and full of opportunity. We are pursuing initiatives to ensure we are strong and adaptable and well positioned to support and enable local children and adults with disabilities and their families to participate fully in community life into the future. We are living in exciting times. The NDIS is the most significant reform agenda in Australia since the introduction of Medicare. It is a transformational and hugely aspirational reform which aims to fundamentally redress the balance for people with disabilities in Australia. We are delighted that it will be rolling out in Northern Sydney from July 1 2016.
NBI has over 33 years of history and strong foundations and grass roots connections on which we can build. NBI has established itself as a popular and highly regarded provider of recreational, respite and support services to local families. The new environment provides a great opportunity for us to meet more needs of our customers and to creatively respond to our current and new customers' needs and aspirations
At NBI we are focussed on the future, a future which is bright and full of opportunity. We are pursuing initiatives to ensure we are strong and adaptable and well positioned to support and enable local children and adults with disabilities and their families to participate fully in community life into the future.
We are on an exciting journey and I am looking forward to all it brings, confident that NBI will be relevant, resilient and delivering great services in response to needs in our community well into the future."
To view the Audited Financial Statements for 2014/5 please click here.
Some extracts from this years NBI 2014-2015 Annual Report:
Foreword
2014/15 has been a great year for NBI. We have continued to be prudent financially whilst enhancing our services and the quality of our service delivery. At the same time we have invested time and energy in preparing ourselves for a somewhat uncertain future.
The landscape for the provision of disability services is undergoing significant changes with the implementation of the National Disability Insurance Scheme.
I believe NBI is well placed to respond to these changes and further improve and widen our service provision to add more value to the lives of people with disabilities and their families.
NBI will face enormous challenges as well as being presented with significant opportunities. As we address these challenges and opportunities we will need continuing community support to be able to grow and expand our services.
The terrific support we experience for our community initiatives of Pub2Pub, Pittwater Paddle and the NBI Spring Ball is overwhelming. Our Northern Beaches community is incredibly responsive to the needs and aspirations of people with disabilities and wishes to play its part in creating a compassionate and inclusive community.
I am grateful to my fellow directors for the enthusiasm and commitment they bring to NBI. They are unstinting in contributing their time and talents to sustaining and growing this amazing organisation.
Our caring staff and dedicated volunteers, led by our inspirational and tireless CEO Carolyn McKay, will continue to be the cornerstone of our success.
I look forward to the challenges of the next year as we remain committed to our vision that people with disabilities should enjoy individual choice, new opportunities, stretched boundaries and connected communities.
John Buttle, Chair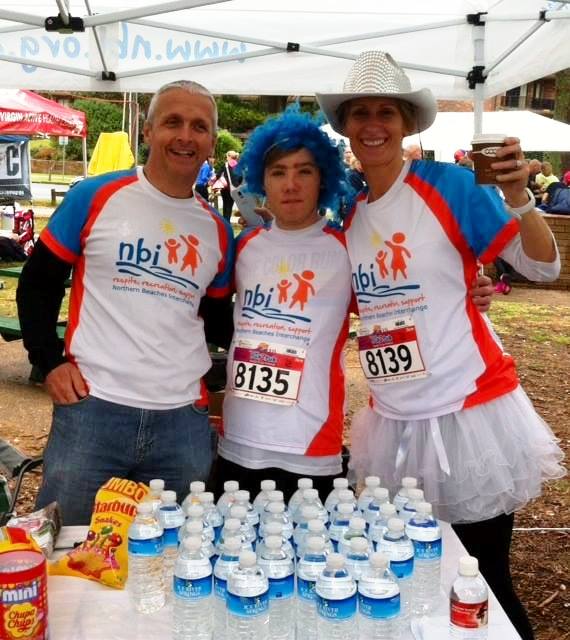 NBI Fundraising Activities - Fun Run to Newport Beach 2015: David Trundle and Team NBI participants!
A few of the wonderful stories from this years NBI Annual Report:
What would I do without NBI!
Kanga was diagnosed with a gross developmental delay and Cerebral palsy when he was 1 years old. Since then, our lives have changed and it has been a constant struggle just living our daily lives as normal as possible. Two years ago we decided to come back to Australia to seek a better environment for Kanga.
And two years on, with a much more positive view on life, Kanga has made leaps and bounds both physically as well as intellectually!!! This would not have been possible without the tremendous assistance from NBI. When I was in desperate need, the Coordinators came over asap to our home and carefully listened to what I needed and promptly came up with a solution and ever since life is a little bit more easy on the family.
We are so happy that NBI provided Kanga with a respite carer that Kanga was familiar with and also provided Kanga with the opportunity to be cared for by a Japanese carer (Kanga was born in Japan).
It amazes me how well they cater for the family and how compassionate and thoughtful they are at NBI. Thank you so much NBI and really looking forward to the Summer Christmas party at the end of year!!!
James and Kay
My son, James, turned twenty five this year. I am over sixty five. As a parent, this is the time when concerns for the future are paramount. Where will he live? Who will care for him?
James has been enjoying the recreation programmes provided by NBI since he was six years old. In the past, he would have parted company with the organisation this year. That would have been so sad. He would have left behind his friends and the best carers that a parent of a son with special needs could ever wish for. Thankfully, others felt the same way and NBI responded with the Peer Plus program. James has been able to smoothly transition into adulthood without leaving the organisation.
Next year NBI will have to adapt to the National Disability Insurance Scheme. The advent of Peer Plus and the ability of NBI to raise money via creative fund raising events such as the Pittwater Paddle, gives parents like me confidence that our sons and daughters will be entertained and cared for well into their adulthood.
Those of us lucky enough to be associated with NBI have found an organisation small enough to give personal care. It has great staff that are adaptable and able to provide programmes that not only entertain but also push the abilities of those they care for. I hope James will remain part of the NBI community throughout his life.
Supporting the whole family
NBI recognises the important role that carers and families play in supporting people with a disability. We aim to provide a range of activities and events for parents, brothers and sisters and the whole family. These activities include our Carers Café, Mum's weekend away and Siblings programs.
"I was introduced to NBI through the Kookaburra Playgroup. It was a much needed sanity break each week where I could have a "hot" coffee and chat with other mums, whilst my daughters could enjoy a playgroup which met both their needs. Now they are at school, I am loving our Carers Cafe, where we can again enjoy a coffee whilst we laugh, vent and regroup after a crazy few weeks. It also includes "therapy" sessions which can range from macramé lessons to a walk on the beach. NBI also supports my family with information nights such as the siblings workshop, which has been invaluable in supporting my daughter as she grows up with a special needs sister." – Heidi
"I hope you know just what a massive difference you are making with this program. I am truly grateful for the space it gives me in the busyness of my life". – Kirsty
Our Ambassadors
In 2015 NBI were delighted to announce our very first Ambassadors. Our Ambassadors share our vision and values, support our activities and raise awareness of disability within the Northern Beaches Community.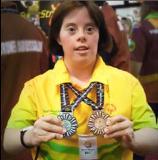 Josie McLean
Josie has an impressive record as a Special Olympian with a particular focus on Ten Pin Bowling. She has represented and won gold for NSW at the National games every year since 2010, represented Australia in the Trans-Tasman and Asia Pacific games and in 2015 won Gold for Australia at the Special Olympics Word Games in Los Angeles.
Josie was named Sports Personality of the Year 2014 for the Northern Beaches Region. When not scoring strikes for her country Josie can be found dancing jazz ballet or working at Big W at Warringah Mall, where she has worked for over 14 years. Being such a busy lady we are delighted that Josie is able to support NBI as an Ambassador.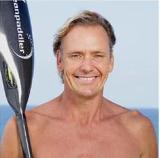 Guy Leech
Guy is an absolute icon of the Northern Beaches, shooting to fame by winning the first ever Ironman race, the Coolangatta Gold, in 1984. He went on to dominate the sport for a decade and retired having never lost a marathon Ironman race, a feat which has never been equalled. Since retiring from competition Guy has forged a successful business career, launching a signature range of fitness apparel, equipment and educational material as well as training thousands of people. Guy is a strong advocate for health and wellbeing and is a multiple Guinness World Record breaker; each record attempt further promotes his health and wellbeing message to the community.
New this year
In 2014/5 NBI was involved in some exciting new projects which helped connect people with disabilities with the community.
Independence Groups
In partnership with Community Care Northern Beaches NBI has been supporting two groups of young people to meet on a regular basis and build skills to increase their independence and community connectedness.
Carers Café
In 2015 NBI launched the Carers Café, which provides a setting for Carers to get together and share stories, experience and support. Facilitated by NBI in premises generously donated by Warriewood Surf Life Saving Club, the Café convenes on the second Friday of the month. Visitors to the café enjoy a relaxing activity, some valuable down-time and obviously coffee and cake!
Playground Pals
Playground Pals was the brainchild of the School Captain at Narrabeen North Public School. The program started in Term 3 2015 and offers an opportunity to local children aged 8-12 with a disability to join children at Narrabeen North Public School for fun and friendship. NBI would like to thank the students and staff of NNPS for their enthusiasm and support.
Youth ConneXions
With the benefit of a grant from the Ian Potter Foundation NBI has been able to create the Youth ConneXions program, which connects teenagers and young adults with and without disabilities. The program is designed to increase social opportunities for these young people and to give them somewhere to hang out and someone to hang out with. NBI would like to thank the Ian Potter Foundation and YouthReach Brookvale for their support in getting this project off the ground.
Supporting challenge and choice
In 2014 NBI carried out an Action Research project to try to better understand how to effectively offer challenging opportunities with appropriate levels of risk to people with a disability. The findings from this project have enabled NBI to develop a Positive Risk Framework and policy. This framework will help to ensure that people with a disability are able to exercise more choice about challenges they wish to undertake and are supported to take on these challenges.

NBI Fundraising Pittwater Paddle was bigger than ever this year
Northern Beaches Interchange: Summary of our Services – how we help to make a difference
NBI is proud to be a grass roots organisation with strong community connections. We strive to maintain a "personal touch" in our approach: building trusting and collaborative relationships with families over time to best meet their individual needs.
Founded in 1982; NBI's core strength has and always will be a focus on people. We value and respect each individual's unique attributes and contributions and put people at the centre of decision making. We believe in building on strengths, embracing challenge and striving for excellence as we have fun together.
We are dedicated to supporting each individual to achieve their goals, and develop their independent living skills so that they can live life the way they want!
We know that everyone is different with different needs and wants; we work with families to create support plans that reflect this. We take the time to listen to each person's hopes, dreams and goals for an independent future and we support them to plan how to get there.
NBI strive to take a whole of family approach to supporting people with disabilities. The services and supports that we develop and deliver are designed to complement each other and can be tailored to meet each family's particular needs and increase the overall well-being and functioning of the family unit. Some families use many of our services, others use just one or two; with the advent of the NDIS in July 2016 we look forward to delivering and developing more services and supports to more families in our local community.
ONE-TO-ONE SUPPORT
NBI has provided one-to-one support for a number of years to people with a disability and their families. Traditionally funded by block government funding either directly to NBI or through an agency brokering work to us, increasingly now individualised packages are becoming available to people with a disability, and with the rollout of the NDIS in July 2016 this will become the norm.
NBI has a proven track record in working with our clients to create tailored support plans that match clients with support workers who can best support them to achieve their goals.
SOCIAL AND RECREATIONAL ACTIVITIES
We offer social and recreational opportunities that enable people with disabilities to connect with others in their age group on a regular basis.
For adults with disabilities looking to form valuable friendships and get out and have some fun and adventure, NBI can provide support to connect with others for social and recreational outings and local events.
For children and teens we have programs that run on weekends and during school holidays allowing positive friendship whilst enjoying a range of fun, challenging and age appropriate activities.
We can also provide help to find activities and groups in the community to suit your age and interests or get some help to develop an individual plan.
INDEPENDENT LIVING
We support people to learn new skills and can provide practical assistance with things like shopping, cooking, money management and getting involved in the local community.
SKILL BUILDING
We can provide support and practical assistance on a 1:1 or small group basis to help develop daily living skills, life and social skills
FLEXIBLE RESPITE OPTIONS
We provide opportunities in home and within the community that provide a break for parents and carers whilst supporting children, young people and adults to enjoy activities of choice. We work with each family to identify who will be the best support person/people to work with them. We can also assist with learning new skills and taking part in activities with other groups or people with similar interests.
HOST PROGRAM
The Host Program is a unique program that links children with disabilities with caring individuals, couples or families on the Northern Beaches. Host carers are volunteers from all walks of life who can offer children a positive experience within their home and local community.
For over 30 years the Host Program has connected children aged between 0-16 years to host families on the Northern Beaches. It is a rewarding experience that creates valuable relationships for all involved.
SUPPORT COORDINATION AND CONNECTIONS IN THE COMMUNITY
Our coordinators are experienced at supporting family's to coordinate a range of supports and helping to link them with other people, activities and services in the community to meet their particular goals and needs and get the most out of life.
CARER SUPPORT
Parents and carers of an adult or child with a disability often find it helpful talking to other people in a similar situation, sharing information and forming new friendships with others who understand what they are experiencing.
We run a range of activities including: Carers cafes, workshops, training and social events specifically so parents and carers can share experiences, offer support and gain information.
SIBLINGS ACTIVITIES AND SUPPORT
Brothers and sisters of a child with a disability can benefit from meeting other young people in a similar situation, enjoying fun activities and sharing experiences and how they feel.
We run regular activities in school holidays for children aged 7-12 as well as adventure and social groups for teenagers.
KOOKABURRA PLAYGROUP
Kookaburra is a supported playgroup and is for children aged 0-5 with additional needs. Babies, toddlers and pre-schoolers are encouraged to engage in creative and imaginative play, social sharing, music and movement. Siblings are welcomed and the playgroup is a great place for mums, dads and carers to chat and make new friends.
PARTNERSHIP PROJECTS
NBI continues to partner with other community organisations to deliver innovative programs to connect people with disabilities and their families with the community. Examples are
Basketball@StLukes - St Luke Grammar School Dee Why
Playground Pals - North Narrabeen Public School
The Bowling Club - Community Care Northern Beaches
Independence Groups - Community Care Northern Beaches
Siblings Project - Northside Community Forum
Vision
NBI believes that people with disabilities should enjoy individual choice, new opportunities, stretched boundaries and connected communities purpose
NBI's purpose is to ensure that people with disabilities and their families are supported and empowered to participate fully in community life.
NBI provides a range of services including respite, recreation and support. In providing these services locally NBI aims to:
• Deliver community based services which are responsive to individual and family needs;
• Enable young people to develop positive social relationships;
• Foster supportive connections between families and across the community which strengthen families in their caring roles;
• Engage the wider community so that it is more aware of, and responsive to, the needs of people with a disability and their families;
• Build meaningful and positive relationships with stakeholders
Values
Underpinning our work and relationships is a commitment to values of:
Respect We value everyone and treat everyone fairly
Impact We help to enhance people's lives
Fun We have fun together
Passion We are inspired by challenges and strive for excellence
Forward thinking We are strong, adaptable and excited about the future
Find out more by visiting the NBI website at: www.nbi.org.au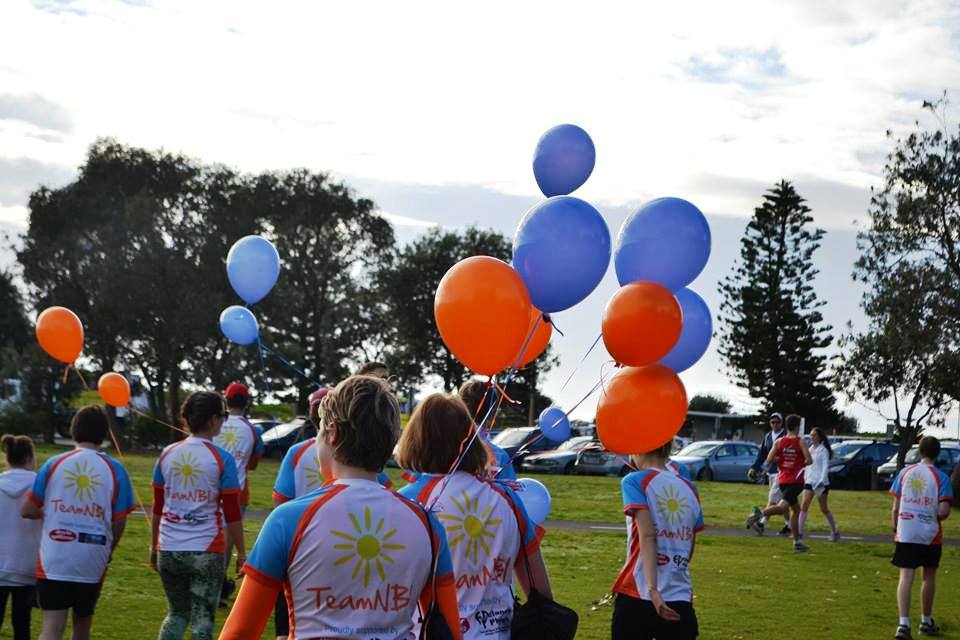 Team NBI - Pub 2 Pub Charity Fun Run & Walk - The Future for NBI looks Bright and Filled with Respite, Recreation and Support