May 1 - 7 2016: Issue 261
Narrabeen Bushwalkers at Hawks Nest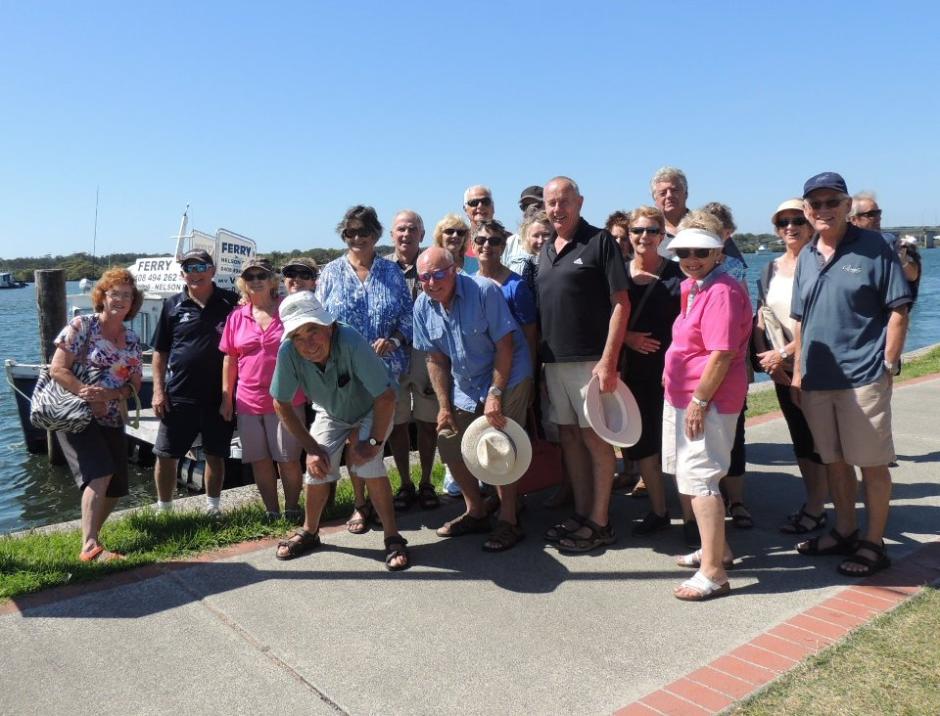 Narrabeen bushwalkers at Hawks Nest on group ferry trip - a fair way from Narrabeen! - photo courtesy Robyn McWilliam
Bushwalkers at Hawks Nest
by Robyn McWilliam
Hawks Nest, outside school holidays, is a quiet backwater less than three hours north of Sydney. This is the getaway destination for our Narrabeen bushwalkers for 2016.
As we rise over the Myall River across the Singing Bridge, pace slows. This link to Tea Gardens, built in 1974, is named for the sound of wind passing through its railings during a strong south-westerly.
Our group of 25 stays at the Hawks Nest Beach Holiday Park. Some stay in cabins; others in caravans. The first exploratory walk takes us to Jimmys Beach where from fine white sand, water stretches across to Tomaree, one of the peaks flanking the entrance to Port Stephens. Holiday houses overlooking the bay follow the arc of sand west.
We trek inland past the lagoon with its rickety viewing platform on the spit of land known as Winda Woppa. On the river side a family is fishing. Behind them, dominating the picnic area are the Pioneer Poles. Brightly painted carved figures representing John, Elizabeth and son George McRae were erected in 2005 to commemorate the past. John's father, Duncan was one of the earliest pioneers to settle the Tea Gardens/Hawks Nest area.
Bushwalkers embrace the Pioneer Poles
Nearby a few posts remain of the huge sawmill that was built along this shore. From 1830 to 1955 the timber industry dominated this area. Much of the best hard timbers such as mahogany were exported overseas. Flat-bottomed paddle wheelers called droghers transported logs from the Myall Lakes to Pindimar. A ferry from Tea Gardens plies its way past channel markers.
Mungo Brush is a half hour drive north. A shaded fire trail leads past cabbage tree palms, some with fire-blackened trunks. New green fronds proclaim their survival. Paperbark trees abound with the odd towering gum. Across the brown fast-flowing river is a cluster of houses known as Tamboi. We have morning tea on a floating pontoon. Three pelicans pose on a log.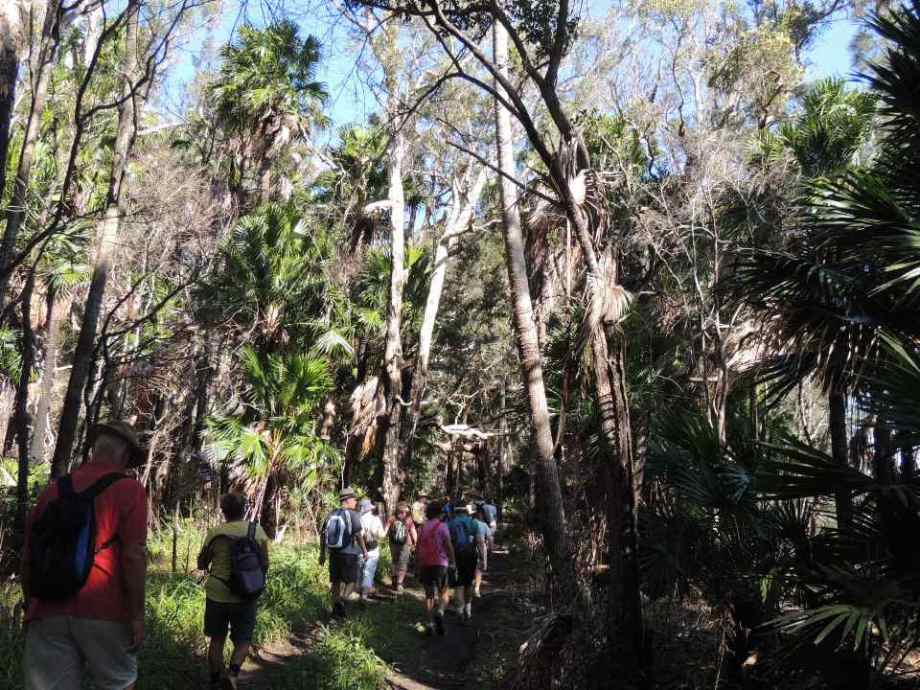 Walking Mungo Brush trail.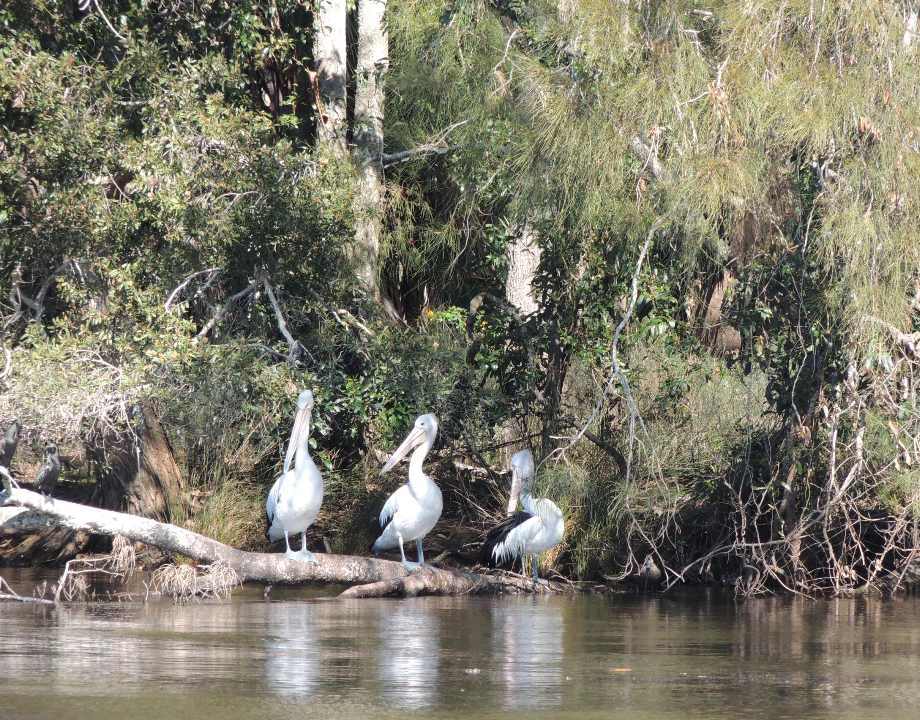 Posing pelicans
We walk along a boardwalk, opened in 1998 and built by volunteers. It is no longer a through route due to fire damage two years earlier. Backtracking past monstrous fig trees, we enter the rainforest walk. Tree roots snake over the path. In the gloom lacy ferns cover the forest floor. Sometimes a pool of light breaks the canopy. The track rises away from the lake, encircles a knoll then cuts back to the camping area.
Another day we board the blue ferry and head up the Myall River with Ray and Dave. Accompanied by tales of life on the river in an earlier era, we chug along watching our wake ripple along the banks. Tiny choc-chip muffins with morning tea add to our enjoyment. Alongside is one huge tree flung out of the ground by April storms in 2015. Sea eagles roost in branches. Bottle green pine trees on one shore are part of a working plantation.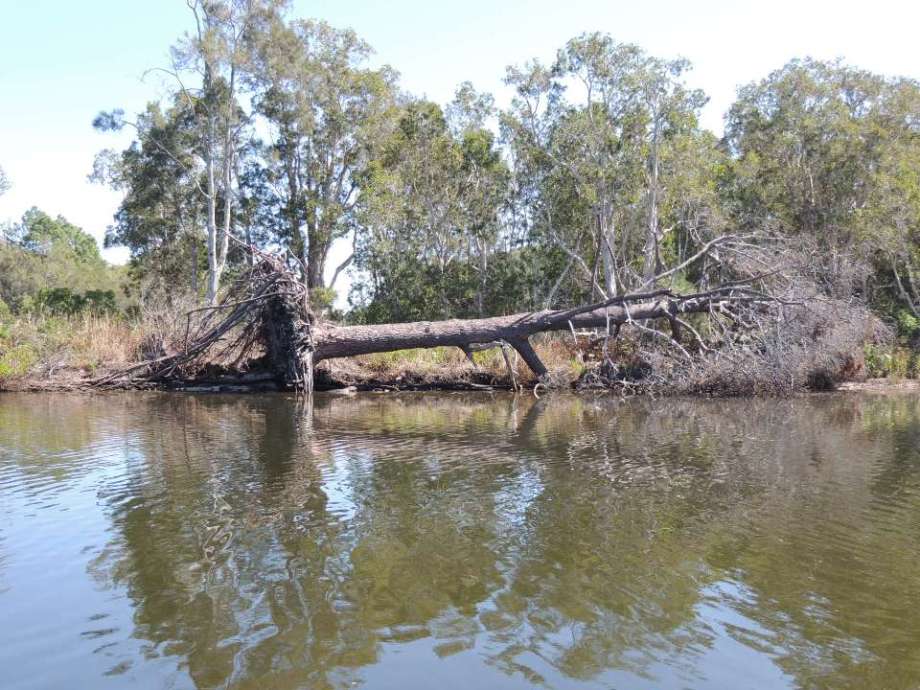 An uprooted tree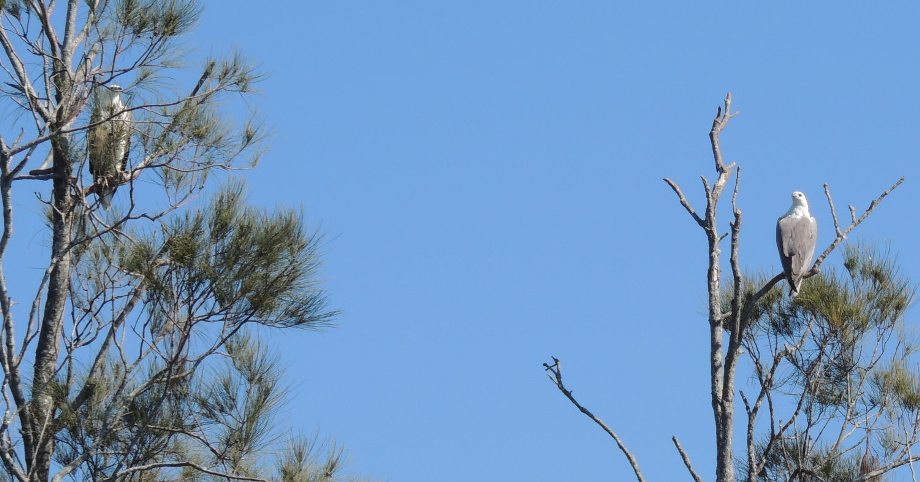 Sea eagles
On our final walk we track north past the golf club and into the bush behind houses on Albatross Avenue. This eventually cuts back to Bennetts Beach on the coast. Gazing out towards offshore islands to the rhythmic crashing of the surf, we have our break on sand dunes. A long beach walk to the surf club completes our circuit.
Our activities apart from drinkies every evening include barbecuing, a meal at the Tea Gardens pub, a game of tennis and a boules championship for our perpetual trophy. April weather does not disappoint. It is sunny, cool for walking and raincoats stayed stashed in our packs. Exploring Hawks Nest with the camaraderie of my fellow bushwalkers makes for a delightful interlude away.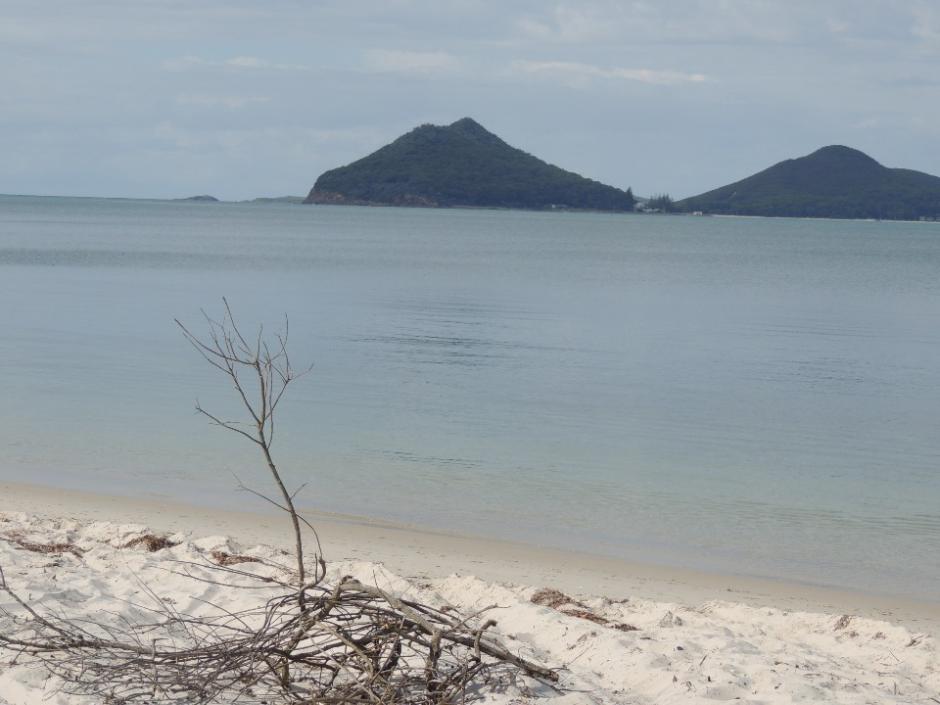 Jimmy's Beach looking to Tomaree.
Article and Pictures by Robyn McWilliam, 2016.