July 7 - 13, 2013: Issue 118
Nan Bosler OAM Attends 2013 Korean Gerontological Events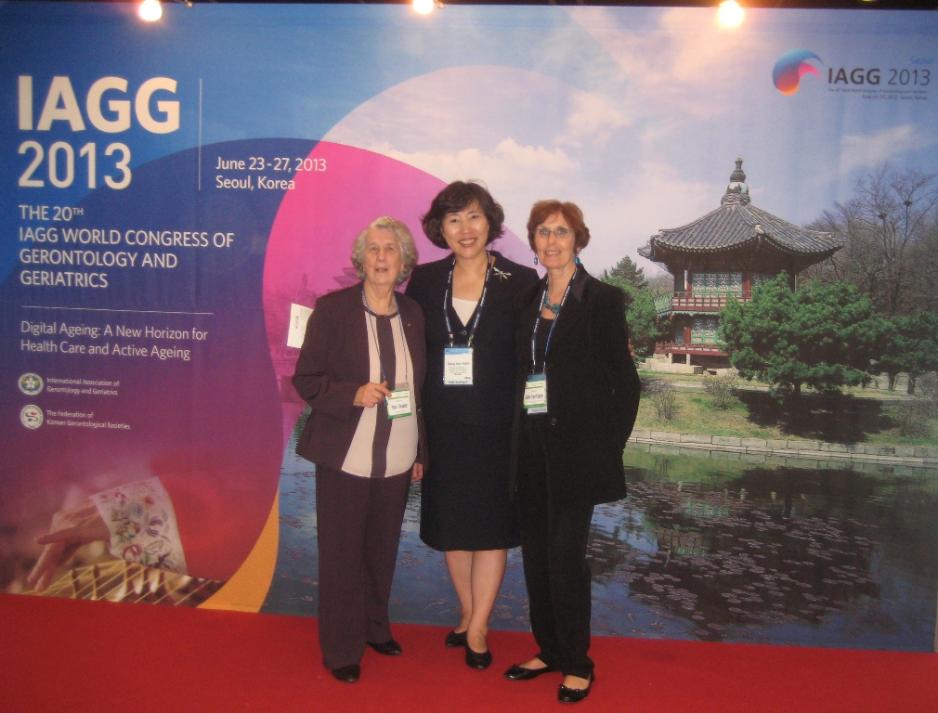 Nan Bosler, President, Australian Seniors Computer Clubs Association, Dr. Donghee Han, Secretary General, The Korean Gerontological Society, Janferie Bryce-Chapman, Executive Officer of New Zealand Age Concern at the opening of the 20th IAGG World Congress of Gerontology and Geriatrics in Seoul.
ASCCA president Nan Bosler's participation in the 2013 Korean Gerontological Events
courtesy Australian Seniors Computer Clubs Association July 2013 Newsletter http://www.ascca.org.au/
Our ASCCA President Nan Bosler OAM was invited to Korea as a speaker at the 'Contribution in Late Life' themed, 8th Active Aging Conference in Asia Pacific (ACAP), International Symposium on 23rd June and the Busan International Anti-Aging Expo held at the Busan Exhibition Convention Center (Bexco) from 27-29 June. The invitations came from the Korean Gerontological Society and the Research Center for Anti-Aging Technology Development; who invited Nan to contribute as a panelist and join delegates from Hawaii, Japan, Korea, Singapore, Hong Kong, Mongolia, Malaysia, Indonesia, China, USA, New Zealand - and of course Australia.
Nan said; "I had a wonderful time and enjoyed many experiences that would not have been possible without the generosity of our hosts in Korea. Donghee Han was outstanding! Many will recall that she attended our 2010 ASCCA Conference as a keynote speaker.
ASCCA and ACAP have been exchanging newsletters for some years now and this was a chance to rekindle old friendships and also form new friendships. Both Seoul and Busan were most successful and inspirational and after such an incredible Korean experience I almost felt I could fly home without the plane!"
Professor Joseph Troisi, Director of UN International Institute on Aging was the keynote speaker on the first day and began by saying that the world of the twenty-first century is experiencing an irreversible and extraordinary revolution in longevity. Since 1950, we have, on average, gained 20 years in our life expectancy. This is expected to extend a further 10 years by mid century. This poses unique challenges to every society and should have the attention of every government. Professor Troisi said; "Is it not a fact that while the world, especially the Western developed world, has succeeded in adding years to life, it has not yet succeeded in adding life to years?"
He went on to call for the whole of society, regardless of age, to "Carry out a radical change of perspective. A positive image of older persons needs to be promoted eradicating all negative stereotypes and attitudes that lead to the segregation of older persons." He spoke of ageing as an opportunity for everyone and noted that, as an intrinsic part of their society, older people have duties towards society as well as rights. "Their rights include those to live independently and with dignity. Their duties include their remaining active in their society, sharing their wisdom and experience and adapting themselves to change."
Professor Ogawa Takeo, President of Asia Aging Business Center, who presented, Possibilities of Social Business around Social Contribution in Later Life was also an interesting keynote speaker. Nan thought Professor Kathryn Braun, President of Active Aging Consortium in Asia Pacific, summed up the value of older people well in her paper Social Contribution of Older Persons: European Region Perspective. She spoke of the many ways older adults are ALREADY contributing to society and included care-giving, paid work, volunteering, civic engagement and financial contributions.
Professor Braun also stressed the important need for individuals, society and policy makers to encourage and reward the various social contributions of older people.
The next session was a show case of best practice with four speakers, including "our" Nan, who showed some of the positive ways the Australian Seniors Computer Clubs Association Contributes to the life of Seniors. Janferie Bryce-Chapman, Executive Officer of New Zealand Age Concern, shared positive ideas from her country through, New Zealand Contribution in Later Life. Daisuke Watanabe, Research Fellow of Japan International Longevity Center presented insights on Productive Ageing in Japan: Life-course based approach for retired men in urban area; while Chang Gi Jung, Center Manager of Senior Social Contribution Center, The Hope Institute, based his message about the Potential of Older People's Social Contribution to Aged Society on Hope Institute Programs.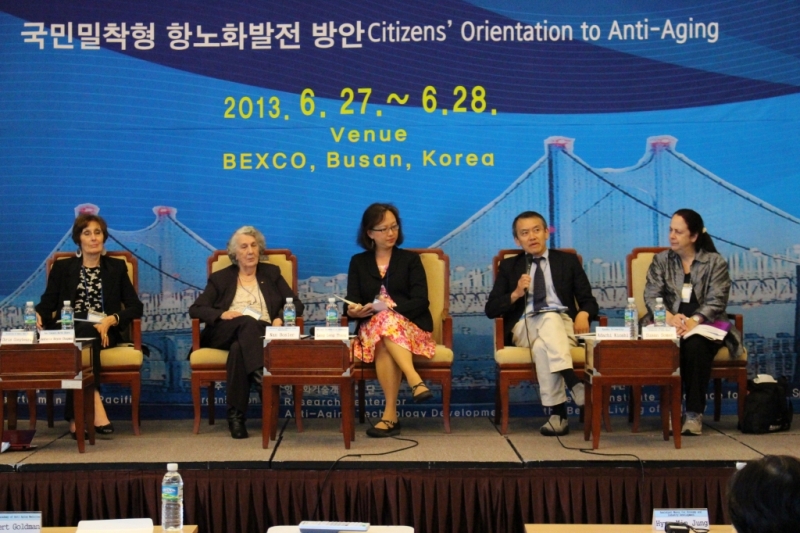 Panel presenting on Ethical Issues of Aging and Anti-Aging at the 8th Busan Active Aging Conference in Asia Pacific; Janferie Bryce-Chapman, New Zealand; Nan Bosler, Australia; Leng Leng Thang, Professor, National University of Singapore; Adachi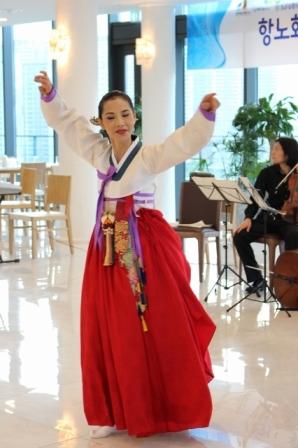 The conference ended with open discussion between presenters and audience and the official opening and Welcome Reception of the 20th IAGG World Congress of Gerontology and Geriatrics was held for an incredible 4.000 attendees, in the evening.
On the fourth day of Nan's Korean visit the guests travelled by bus to Busan, which is the second largest city in the Republic of Korea, where they were warmly welcomed to Busan by the Vice-Mayor of Busan Metropolitan City, Lee Young Whal. Here she participated in the 8th Busan Active Aging Conference in Asia Pacific and The International Anti-Aging Expo. Lee Young Whal spoke of an ambitious plan to make Busan "The Mecca City of the Anti Aging Industry" and there was a declaration to this effect on the second day of the conference.
Kathryn Braun, posed some provocative questions for consideration at this conference which utilised a panel format. The topics discussed, each had 5-7 panellists with each person having seven minutes to speak before open discussion from the floor was encouraged.
Nan said; "It became quite clear that most of us didn't like the term anti-aging but we didn't decide what was the preferred name. I opted for Positive Ageing."
The next day the main speakers and the panel were more along a medical mode with the topic, Will Anti-Aging be the Answer for Longevity?
The keynote speaker was Robert Goldman (USA) who is physician co-founder and Chairman of the Board of the American Academy of Anti Aging Medicine and Chairman of the World Anti-Aging Academy of Medicine.
The finale - an afternoon a tour of some of the amazing facilities in Busan; followed by an incredible dinner, complete with traditional entertainment at a place aptly called The View.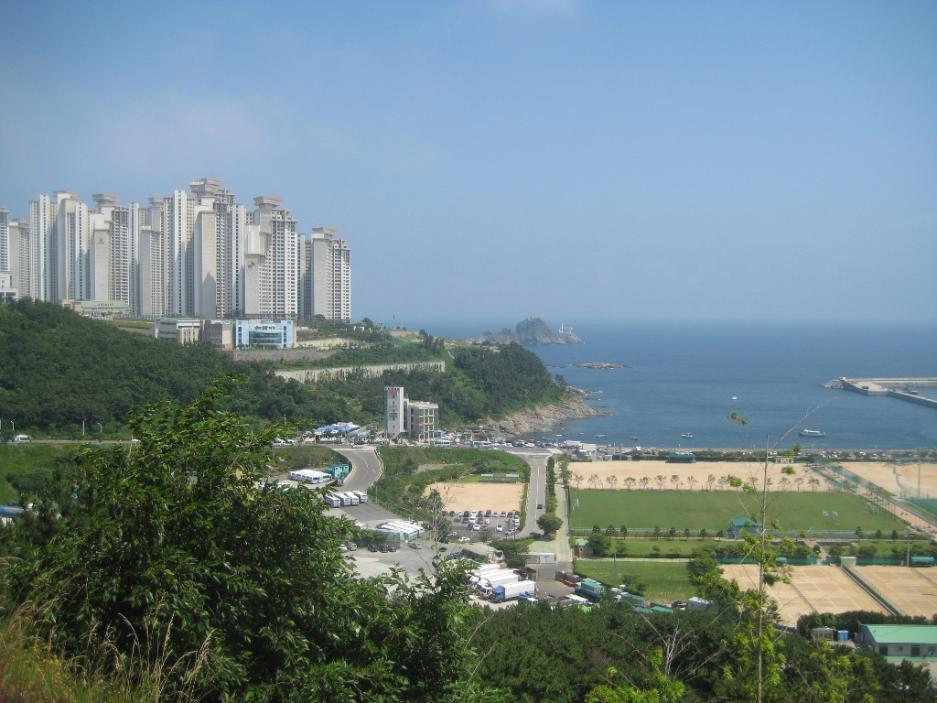 View of Busan, naval yards in the foreground.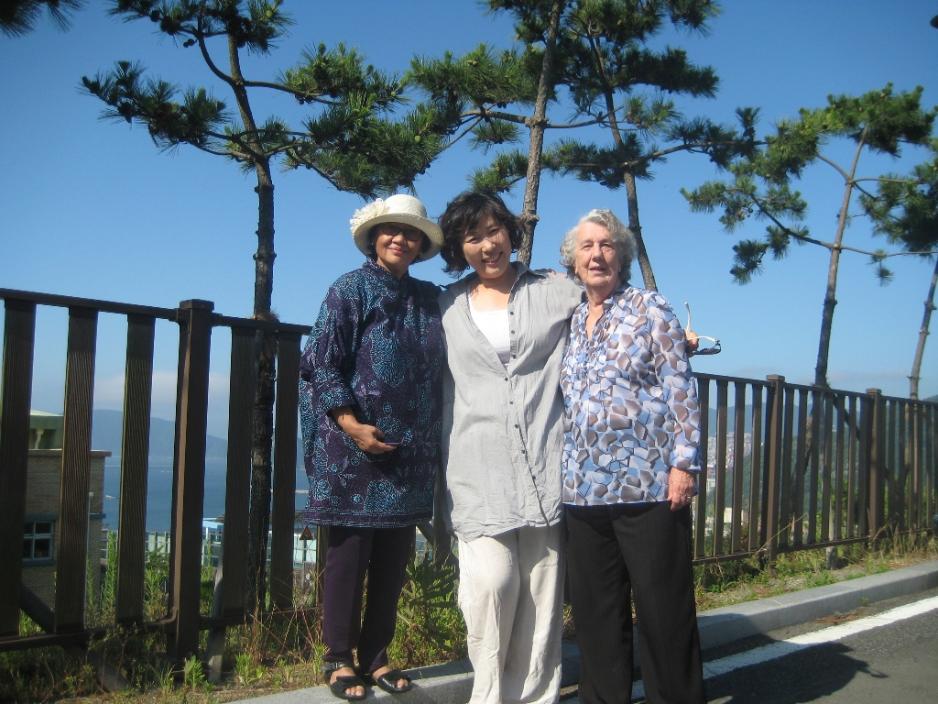 Tribudi W. Rahardjo, Professor, University Indonesia; Donghee Han, Secretary General, The Korean Gerontological Society; Nan Bosler in Busan.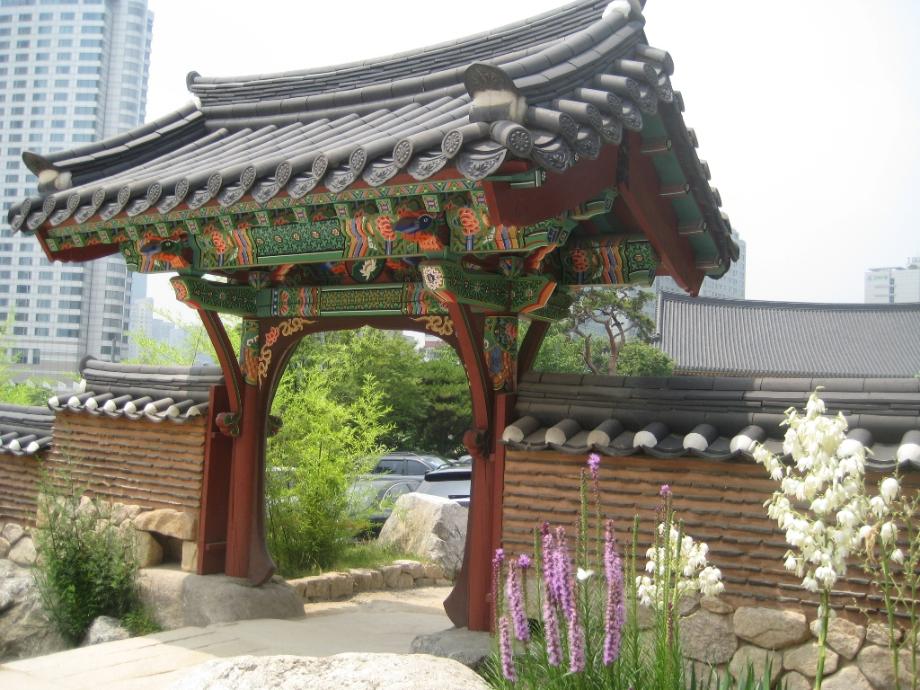 Gateway at the 1,200 year old Bongeunsa Temple which is located in Samseong-dong, Gangnam-gu, Seoul, Korea.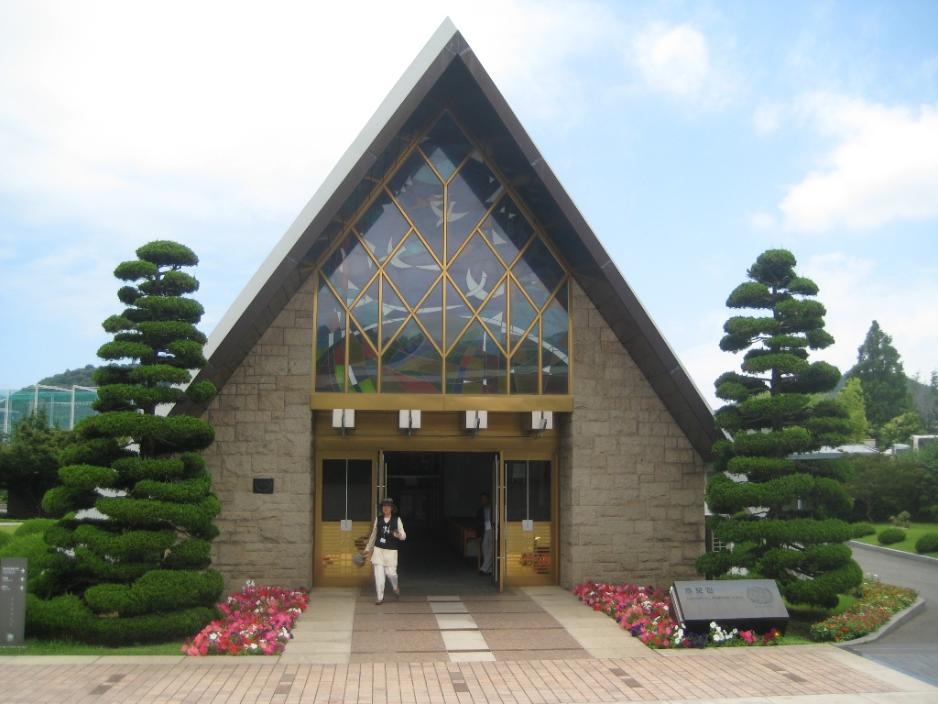 Memorial Services Hall, designed by Korean Architect, Mr. Joong-up Kim and built in 1964.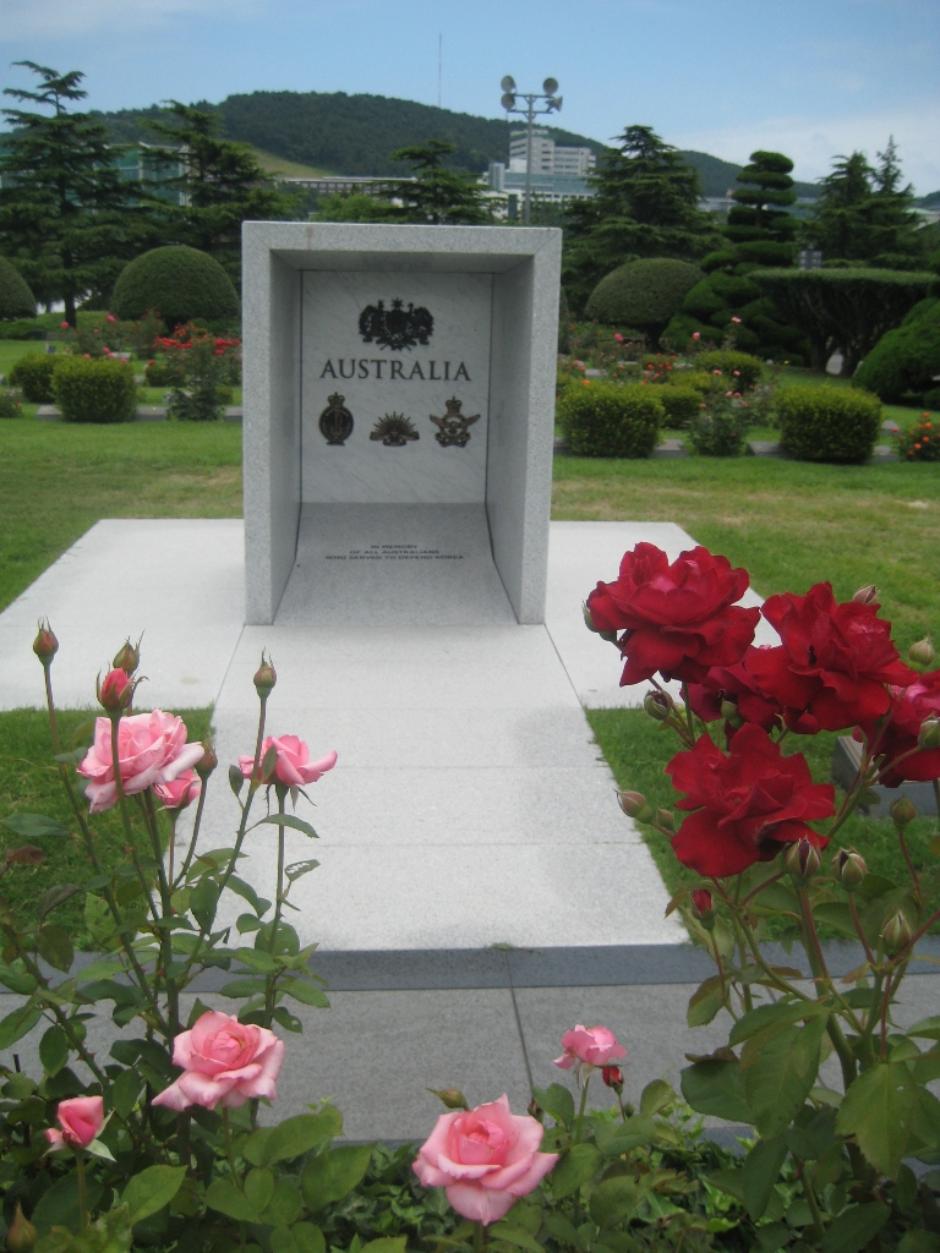 Australian Memorial: "In memory of all Australians who served to defend Korea".
Text by Joan Craymer and Nan Bosler, photos by or courtesy of Nan Bosler, 2013.