February 16 - 22, 2014: Issue 150
Mona Vale Hospital to Celebrate its Golden Jubilee next Saturday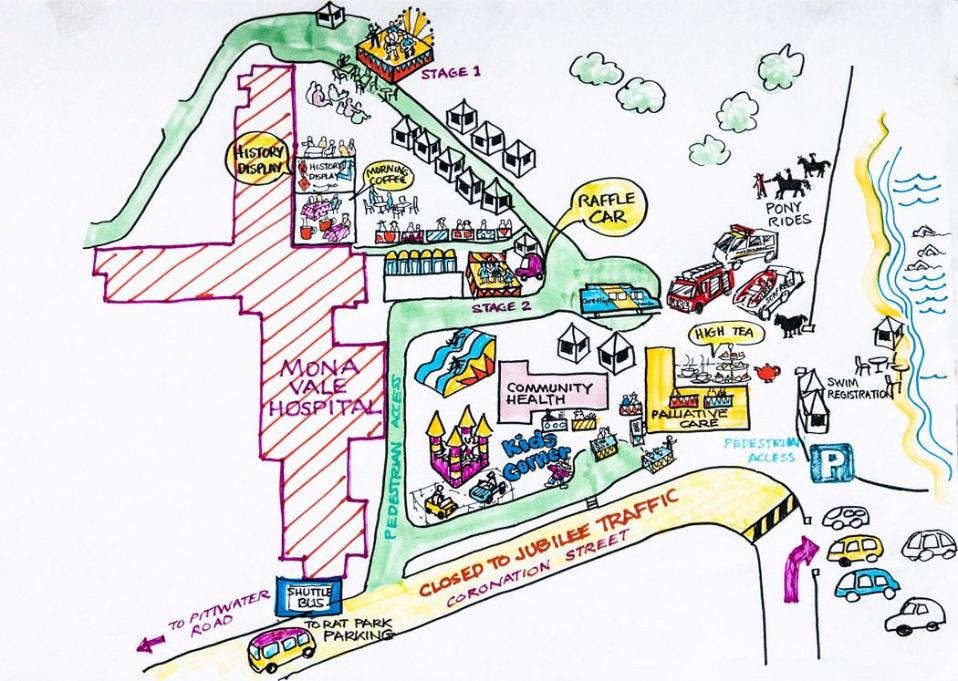 MVH Jubilee Map by Shelagh Atkinson, 2014.
Mona Vale Hospital to Celebrate its Golden Jubilee next Saturday
Our Mona Vale Hospital turns 50 on Saturday 22 February and to mark this milestone a Golden Jubilee celebration fair is organised in conjunction with the Hospital Auxillary. This will be a day of fun and activities in the hospital grounds. There will be the traditional components of a garden fair with entertainment and stalls along with displays by our local service organisations. One feature will the the Care Flight helicopter display with a helicopter simulator and expected demonstration touchdowns by a operational aircraft. For visitors with an interest in the hospital past and present there will be displays of hospital memorabilia including an extensive slide show of past images, many contributed by the staff. There will also be plenty for the kids including an appearance of the Camp Quality puppets.
Jubilee Committee Chairman Parry Thomas explains "In some ways its a celebration that may have never occurred because 10 years ago it was very likely that the hospital site may have been redeveloped as residential as happened when they removed the hospital at the site of Little Bay in the South. The hospital was originally built because there was a community need and the continued growth of our area For the last fifty years the hospital has been the centre of the community both as the major employer in the area as well as having some kind of emotional attachment for many of the local residents and has become the heart of the community. I have never seen a commitment to another building by the local community as there is to our Hospital. Through the efforts of the community that the hospital has survived for fifty years and hopefully will be with us for another fifty."
Local Member Rob Stokes comments
"Mona Vale Hospital is an enormously important part of our community and is firmly etched into Pittwater's social fabric. Everyone in our community has a connection to the hospital in some way and for decades it has served local families with professionalism and compassion.
The Jubilee celebrations will be a great opportunity for everyone to reflect upon the role Mona Vale Hospital has played over the past fifty years, celebrate its service to our community and thank all those that have contributed to its success.
This will be a memorable and historic occasion and I encourage everyone to get involved.
After years of debate and uncertainty we've now secured a clear and permanent future for Mona Vale Hospital and we're seeing multi-million dollar projects underway to modernise its facilities as part of the ongoing expansion and reconfiguration of Northern Beaches health services.
Mona Vale Hospital will always have a vital role to play in the provision of local health services and this is due to the strength and passion of our community. Seeing funds allocated towards improvements and new capital projects at the Hospital is something our community has waited many years to see and i'm looking forward this continuing" Mr Stokes said.
Right: 1960's retro poster by ex Mona Vale Hospital nurse Maryan Heffernan
Entertainment
Musical entertainment includes the Warringah Brass Band, Samantha Shaw, Taj, Hailstone, Alpha Experiment, Spasm, Hail Stone Local Youth Band, Chris Wyton and Tappers, Distant Sons and Bobby Sox. Musical entertainment will run from 10am until 4pm.
In the afternoon Camp Quality will be at the Jubilee Fair with their Puppets.
Executive Director of the day's entertainment is Paul Robertson. Well known locally as the producer of the popular Northern Beaches Music Festival and the Young Bloods Competition.
Paul says. "When I was asked to join the organising team I was delighted for the opportunity to help give the Northern Beaches the opportunity to celebrate the magnificent asset and service the Mona Vale Hospital and its staff have provide the community. The festivities should provide a great day out for everyone and every age group."
Displays will include Care Flight with a static helicopter simulator as well as demonstration touchdowns by one of their aircraft. Other displays will feature the NSW Police, NSW Fire brigade (Fire Rescue) and SES.
Craft stalls include:
Avalon Craft Cottage, Pittwater Community Arts, Warriewood Wood Turners , Valley Ranch Nursery , Luca Candles, Cheekychops, Lifeline Book Stall, Mona Vale Hospital Auxiliary Stalls, Kids Corner, Bellita Boutique Mona Vale, Sponsors stall include: NAB, Avalon Computer Pals, Plus Fitness. There is also a variety of food and drink stalls.
The new Palliative Care.
The Palliative Care Cottage will be welcoming people throughout the day in its beautifully extended and renovated building, free standing in the hospital grounds. There will be free entertainment, delicious homemade high tea, a craft market and information stalls.
HIGH TEA, all day, by a prizewinning baker (Jo-Ann Steeves) will be amazing value at only $6.00
THE CRAFT MARKET will tempt lookers and shoppers with quality handmade goods.
FREE ENTERTAINMENT including:
10.30am FITNESS FITS EVERY BODY. Everyone, including the oldies, will benefit from the body wisdom of Peta Bird a professional physical education teacher and personal coach.
11.30am MUSICAL DUET by Norma and Denise. Great music that will tickle the funny bones.
2.00 pm MUSIC by Alan who will entrance the visitors with his dulcet tones.
Throughout the day there will be:
PALLIATIVE CARE display and information with Geraldine Dixon Clinic Nurse Consultant
NORTHERN BEACHES PROSTATE CANCER SUPPORT GROUP
LOOK GOOD FEEL BETTER. helping women face cancer with confidence.
Past Hospital staff
Past Hospital staff are encouraged to visit the Keep in Touch meeting place in the John Newlands room. This is a great opportunity to meet old friends and work colleagues to swap stories and reminisces. There will be plenty of photos from the 1960's to more modern times. There will also be a display of uniforms from those past glory days.
Mona Vale Hospital Golden Jubilee Swim
A one-off event being run by Mona Vale SLSC in support of the 50th anniversary commemorations of Mona Vale Hospital. Course will be 1.2km run over a circuit on Mona Vale beach in front of the hospital. Start is 10am and the beneficiaries are the Mona Vale Hospital Auxiliary and the Mona Vale SLSC.
Parking
Parking is available at Pittwater Rugby (Rat) Park. Easy Transport has kindly donated shuttle bus transport between the car park and the hospital. There is no vehicle access to Coronation Street for visitors to the Jubilee fair
More information is at www.mvhospitaljubilee.org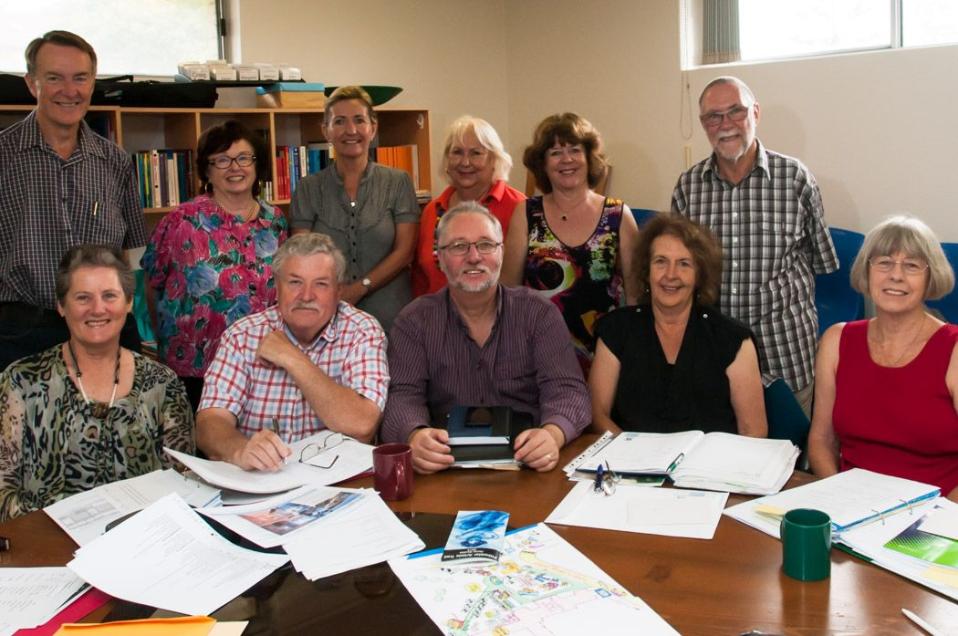 Mona Vale Hospital Jubilee Committee - Back row John Scutt, Jo-Ann Steeves, Jill DuBois, Lorrie Morgan, Lynn Smith, Ian Lee Front row: Eunice Raymond, Parry Thomas, Jeff Banks, Gail Carew, Coleen Lee. Not in photo: Rob Stokes, Eileen Gordon, Michael Mannington. Picture by Michael Mannington.
Page collated by Michael Mannington, 2014.
An insight into some of the orgnaisations and people who have made Mona Vale Hospital such a great community service is running this week on our History Page