August 31 - September 6, 2014: Issue 178
Mussorgsky Festival of Art and Music
Mussorgsky Festival of Art and Music‏
by Terry Mackin
The President, Hon. Bronwyn Bishop MP, and members of the Council of Friends of The Sydney International Piano Competition of Australia invite you to the Mussorgsky Festival of Music and Art.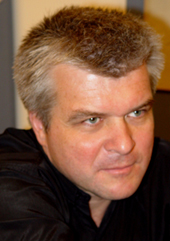 Featuring concert pianist Philip Shovk who will perform "Pictures at an Exhibition" by Mussorgsky. The work depicts an imaginary promenade through an Art Exhibition which exhibits the paintings of Mussorgsky's very good friend Viktor Hartmann who died prematurely at the age of 39.
It was around 1870 when Mussorgsky met artist and architect Viktor Hartmann. Both men were devoted to the cause of intrinsically Russian art and quickly became friends. Hartman died of an aneurysm in 1873, the sudden loss of his friend shook Mussorgsky along with other Russians of the art world. An exhibition of 400 Hartmann works was organized in the Academy of Fine Arts in St Petersburg, Russia, Mussorgsky lent works from his personal collection to the exhibition and viewed the show in person. Fired by the experience, he composed "Pictures at an Exhibition" in six weeks.
Mussorgsky based his musical material on drawings and watercolours by Hartmann produced during the artists travels abroad. Mussorgsky links the movement's suite in a way that depicts the viewer's own progress through the exhibition. Today most of Hartmann's paintings are lost, making it impossible to be sure in many cases which of Hartmann's works Mussorgsky had in mind therefore over the years this has inspired great speculation and adds another dimension to the fascination of this inspiring composition.
There is further intrigue associated with the work Pictures of an Exhibition - as it was only published in 1886 by friend Nikolai Rimsky-Korsakov the publication was not an accurate representation of Mussorgsky's score and in 1931 almost half a century after the works composition Pictures at an Exhibition was published in a scholarly edition in agreement with the composer's manuscript.
Sarah Rowan Dahl, is an experiential speed artist and she will thrill the audience with her exceptional talent, painting her impressions of Viktor's ten paintings during Phillip Shovk's performance of this large work creating for the audience a very special experience.
Damian Beaumont popular ABC Classic FM Presenter will host the afternoon. Damien will commence the program in conversation with Phillip and Sarah exploring their careers and discussing the works of Mussorgsky.
The function commences at 2.30pm. Afternoon Tea will be served at interval and at the conclusion of the performance drinks and finger food will be served whilst an auction of Sarah's paintings will be held at which time Phillip Sarah and Damien will join the audience.
DATE: 13th September 2014
VENUE: Concert hall Willoughby Uniting Church
10 Clanwilliam Street Willoughby
TIME: 2.30pm
BOOKINGS: Please fill in attached booking form with payment and post. (Click on PDF file below, 'save as' and print to fill out): Tickets are $60.00 for Members, $65.00 for Non-Memebrs and $15.00 for Students.
ENQUIRES: Terry Mackin Treasurer 9972 3556 or 0407 441 213
*The large auditorium/concert hall is a very comfortable bright and spacious venue with easy street parking and no steps. We look forward to sharing this Festival of a Music and Art with you and promise you a different and memorable experience.
**The Friends of the Sydney International Piano Competition of Australia is a not for profit organization all proceeds going to support the competition, a major event that takes place every four years showcasing Australian and International concert pianists.
Phillip Shovk is considered one of Australia's foremost concert pianists, chamber musicians, accompanists and teachers. After studying at the Sydney Conservatorium High School with George Humphrey (and graduating with the Frank Hutchens Prize for the most promising performer of his year), he continued his studies at the Moscow State Conservatory with Professor Valery Kastelsky (himself a student of Heinrich Neuhaus) and graduated as a Master of Fine Arts.
In 1987 he became a Laureate at the Vianni di Motta competition in Lisbon and in 1988 at the Sydney International Competition, where he was awarded the Hephzibah Menuhin Prize and the Best Australian Pianist Prize. He was also awarded a Best Accompanist Prize at the Tchaikovsky Competition in 1994.
Philip has performed to great acclaim in Russia, Georgia, Portugal, France, Germany, Switzerland, Belgium, Singapore, New Zealand and China, where he has been involved in recording traditional Chinese music.
He has also adjudicated at many of Australia's leading competitions, including the Sydney International Piano Competition, Sydney Eisteddfod, Yamaha Youth Competition, Hephzibah Menuhin Competition and many others. More HERE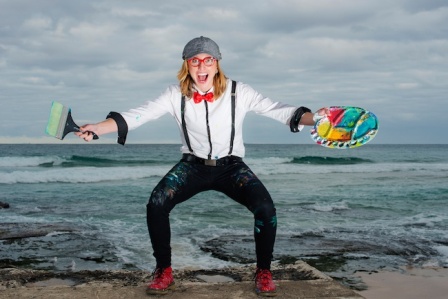 Sarah Rowan Dahl is an American-born contemporary artist currently residing in Sydney, Australia. She is mainly an experiential artist, which means she creates works of art in public spaces; allowing the audience to engage in the artistic experience. Sarah uses this skill to raise awareness and funds for charities, such as The A21 Campaign, Compassion Australia, and the Colour Sisterhood, etc. Combining art and music has also opened the door to painting with many bands and genres in the US and Australia.
Sarah's palette reflects the vibrant colours surrounding her life as a stay-at-home mum living by the beach. Sarah mainly focuses on acrylic paintings, as they dry quickly during her regular live events at various venues.
Graduating from Converse College in 2003 with BFA in Studio Art, Sarah soon began her art business, knowing she didn't want to grow old having never delved into her main passion and gift. In 2005, Sarah moved to Australia as a newlywed to attend Hillsong International Leadership College, where she earned a diploma in ministry in 2007.
Sarah paints LIVE all over Sydney, (and is glad to travel globally!) whether at corporate functions, church, pubs, birthday parties, and fundraisers. More HERE
Modest Petrovich Mussorgsky - Life and career
Mussorgsky was the son of a landowner but had peasant blood, his father's grandmother having been a serf. According to his autobiographical sketch, written in 1881, Mussorgsky learned about Russian fairy tales from his nurse. "This early familiarity with the spirit of the people, with the way they lived, lent the first and greatest impetus to my musical improvisations." His mother, herself an excellent pianist, gave Modest his first piano lessons, and at seven he could play some of Franz Liszt's simpler pieces.
In August 1849 his father took Modest and his other son, Filaret, to St. Petersburg, where Modest attended the Peter-Paul School in preparation for a military career. At the same time, mindful of Modest's musical bent, their father entrusted the boys to Anton Gerke, future professor of music at the St. Petersburg Conservatory.
In 1852 Mussorgsky entered the School for Cadets of the Guard. There, in his first year he composed his Podpraporshchik (Porte-Enseigne Polka), published at his father's expense. Although not the most industrious of students, he gave proof of tremendous curiosity and wide-ranging intellectual interests.
Right: Modest Petrovich Mussorgsky, 1870
In 1856, by now a lieutenant, Mussorgsky joined the Preobrazhensky Guards, one of Russia's most aristocratic regiments, where he made the acquaintance of several music-loving officers who were habitués of the Italian theatre. During this same period he came to know Aleksandr Borodin, a fellow officer who was to become another important Russian composer. Borodin has provided a very vivid picture of the musician:
There was something absolutely boyish about Mussorgsky; he looked like a real second-lieutenant of the picture books … a touch of foppery, unmistakable but kept well within bounds. His courtesy and good breeding were exemplary. All the women fell in love with him. … That same evening we were invited to dine with the head surgeon of the hospital. … Mussorgsky sat down to the piano and played … very gently and graciously, with occasional affected movements of the hands, while his listeners murmured, "charming! delicious!"
During the winter of 1856 a regimental comrade introduced Mussorgsky into the home of the Russian composer Aleksandr Dargomyzhsky. At one of the musicales there, Mussorgsky discovered the music of the seminal Russian composer Mikhail Glinka, and this quickened his own Russophile inclinations. Three years later, in June 1859, he saw the Moscow Kremlin for the first time, an important experience that represented his first "physical" communion with Russian history. Through Dargomyzhsky, Mussorgsky met another composer, Mily Balakirev, who became his teacher. Since the death of their father (in 1853), the Mussorgsky brothers had seen their poorly administered patrimony decrease substantially. With the freeing of the serfs in 1861, it vanished. Having decided to devote himself to music, Modest Mussorgsky had quit the army three years earlier and since 1863 had been working as a civil servant in the Ministry of Communications. His distressing financial troubles date from that time, and he had to seek the help of moneylenders.
Mussorgsky achieved artistic maturity in 1866 with a series of remarkable songs about ordinary people such as "Darling Savishna," "Hopak," and "The Seminarist," and an even larger series appeared the following year. Another work dating from this time is the symphonic poem Ivanova noch na Lysoy gore (1867; Night on Bald Mountain). In 1868 he reached the height of his conceptual powers in composition with the first song of his incomparable cycle Detskaya (The Nursery) and a setting of the first few scenes of Nikolay Gogol's Zhenitba (The Marriage).
In 1869 he began his great work Boris Godunov to his own libretto based on the drama by Aleksandr Pushkin. The first version, completed in December 1869, was rejected by the advisory committee of the imperial theatres because it lacked a prima donna role. In response, the composer subjected theopera to a thorough revision and in 1872 put the finishing touches to the second version, adding the roles of Marina and Rangoni as well as several new episodes. The first production of Boris took place on February 8, 1874, at St. Petersburg and was a success.
In 1865, after the death of his mother, he lived with his brother, then shared a small flat with the Russian composer Nikolay Rimsky-Korsakov until 1872, when his colleague married. Left very much alone, Mussorgsky began to drink to excess, although the composition of the opera Khovanshchina perhaps offered some distraction (left unfinished at his death, this opera was completed by Rimsky-Korsakov). Mussorgsky then found a companion in the person of a distant relative, Arseny Golenishchev-Kutuzov. This impoverished 25-year-old poet inspired Mussorgsky's two cycles of melancholy melodies, Bez solntsa (Sunless) and Pesni i plyaski smerti (Songs and Dances of Death). At that time Mussorgsky was haunted by the spectre of death—he himself had only seven more years to live.
The death of another friend, the painter Victor Hartmann, inspired Mussorgsky to write the piano suite Kartinki s vystavki (Pictures from an Exhibition; orchestrated in 1922 by the French composer Maurice Ravel).
The last few years of Mussorgsky's life were dominated by his alcoholism and by a solitude made all the more painful by Golenishchev-Kutuzov's marriage. Nonetheless, the composer began his opera Sorochinskaya yarmarka (unfinished; Sorochintsy Fair), inspired by Gogol's tale. As the accompanist of an aging singer, Darya Leonova, Mussorgsky departed on a lengthy concert tour of southern Russiaand the Crimean Peninsula. On his return he tried teaching at a small school of music in St. Petersburg.
On February 24, 1881, three successive attacks of alcoholic epilepsy laid him low. His friends took him to a hospital where for a time his health improved sufficiently for one of the leading Russian artists of the day, Ilya Repin, to paint a famous portrait of him. Mussorgsky's health was irreparably damaged, however, and he died within a month, shortly after his 42nd birthday.
Mussorgsky's importance to and influence on later composers are quite out of proportion to his relatively small output. Few composers were less derivative, or evolved so original and bold a style. The 65 songs he composed, many to his own texts, describe scenes of Russian life with great vividness and insight and realistically reproduce the inflections of the spoken Russian language. Mussorgsky's operas Boris Godunov and to a lesser extent Khovanshchina display his dramatic technique of setting sharply characterized individuals against the background of country and people. His power of musical portrayal, his strong characterizations, and the importance he assigned to the role of the chorus establish Boris Godunov as a masterpiece. From a technical standpoint, Mussorgsky's unorthodox use of tonality and harmony and his method of fusing arioso and recitative provide Boris Godunov with great dramatic intensity.
Pictures at an Exhibition
Pictures at an Exhibition (Russian: Картинки с выставки – Воспоминание о Викторе Гартмане, Kartínki s výstavki – Vospominániye o Víktore Gártmane, "Pictures from an Exhibition – A Remembrance of Viktor Hartmann"; French: Tableaux d'une exposition) is a suite in ten movements (plus a recurring, varied Promenade) composed for piano by Russian composer Modest Mussorgsky in 1874.
The suite is Mussorgsky's most famous piano composition and has become a showpiece for virtuoso pianists. It has become further known through various orchestrations and arrangements produced by other musicians and composers, with Maurice Ravel's arrangement being the most recorded and performed.
It was probably in 1870 that Mussorgsky met artist and architect Viktor Hartmann. Both men were devoted to the cause of Russian art and quickly became friends. Their meeting was likely arranged by the influential critic Vladimir Stasov who followed both of their careers with interest.
Hartmann died from an aneurysm in 1873. The sudden loss of the artist, aged only 39, shook Mussorgsky along with others in Russia's art world. Stasov helped organize an exhibition of over 400 Hartmann works in the Academy of Fine Arts in Saint Petersburg, Russia in February and March 1874. Mussorgsky lent works from his personal collection to the exhibit and viewed the show in person. Fired by the experience, he composed Pictures at an Exhibition in six weeks. The music depicts an imaginary tour of an art collection. Titles of individual movements allude to works by Hartmann; Mussorgsky used Hartmann as a working title during the work's composition.
"My dear généralissime, Hartmann is seething as Boris seethed,—sounds and ideas hang in the air, I am gulping and overeating, and can barely manage to scribble them on paper. I am writing the 4th №—the transitions are good (on the 'promenade'). I want to work more quickly and reliably. My physiognomy can be seen in the interludes. So far I think it's well turned..." Mussorgsky's letter to Stasov, June 1874, written while composing Pictures.
Mussorgsky based his musical material on drawings and watercolours by Hartmann produced mostly during the artist's travels abroad. Locales include Poland, France and Italy; the final movement depicts an architectural design for the capital city of Ukraine. Today most of the pictures from the Hartmann exhibit are lost, making it impossible to be sure in many cases which Hartmann works Mussorgsky had in mind.
Musicologist Alfred Frankenstein, in a 1939 article for The Musical Quarterly, claimed to have identified seven pictures by catalogue number. Two Jews: Rich, and Poor(Frankenstein suggested two separate portraits, still extant, as the basis for Samuel Goldenberg und Schmuyle), Gnomus, Tuileries(now lost), Ballet of the Unhatched Chicks (a ballet costume design), Catacombae, The Hut on Hen's Legs (Baba Yaga), and The Bogatyr Gates.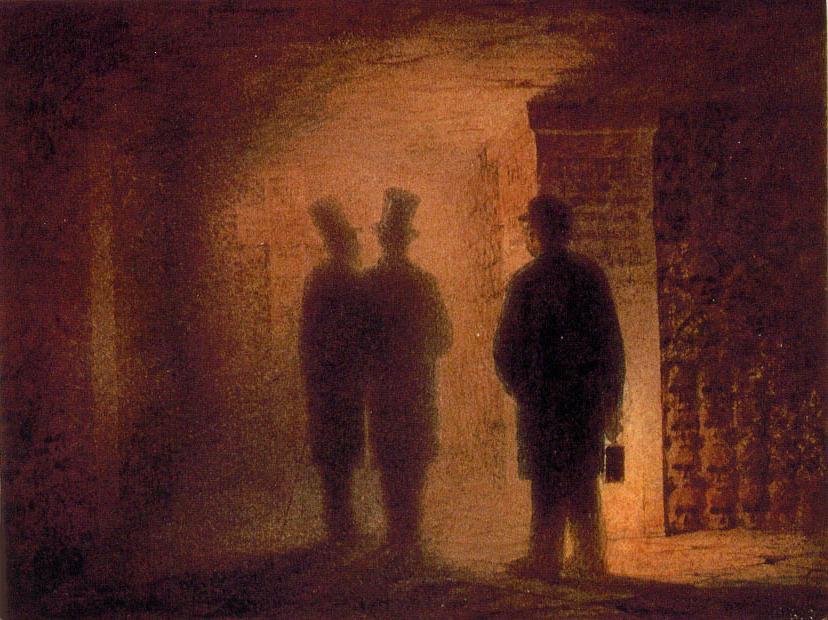 No. 8 Paris catacombs (with the figures of V. A. Hartmann, V. A. Kenel, and a guide, holding a lantern)
Mussorgsky links the suite's movements in a way that depicts the viewer's own progress through the exhibition. Two "Promenade" movements stand as portals to the suite's main sections. Their regular pace and irregular meter depicts the act of walking. Three untitled interludes present shorter statements of this theme, varying the mood, colour and key in each to suggest reflection on a work just seen or anticipation of a new work glimpsed. A turn is taken in the work at the "Catacombae" when the Promenade theme stops functioning as merely a linking device and becomes, in "Cum mortuis", an integral element of the movement itself. The theme reaches its apotheosis in the suite's finale, The Bogatyr Gates.