June 16 - 22, 2013: Issue 115
MV New Palliative Care Building‏ Upgrades Begin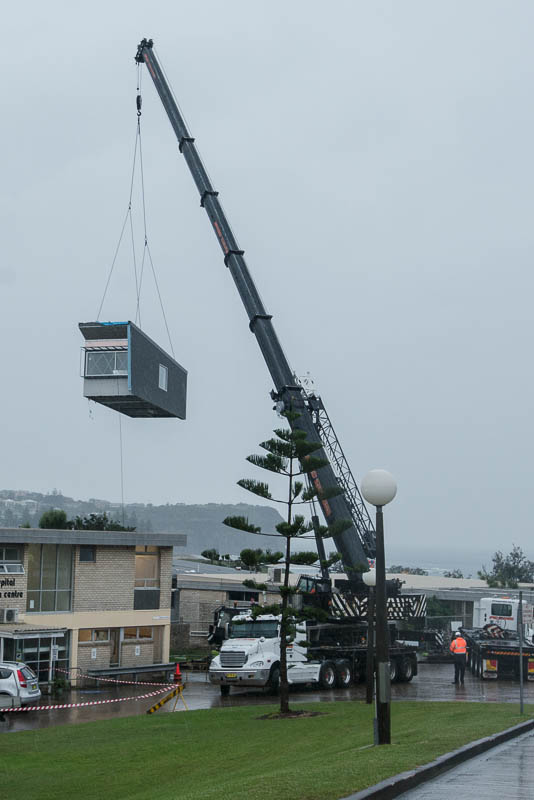 On Wednesday morning, 12th of June 2013, we received a short excited note from Eileen Gordon, president of the Mona Vale Hospital Auxiliary, that the units to commence the upgrade of the Palliative Care unit at Mona Vale Hospital were arriving today.
We immediately called our photographer at large, Michael Mannington, winner this week of the Premiers Award for Pittwater 2013, to see if he'd just 'pop down' and get a few shots. While making this request thunder roared over the roof of the office and white lightning did a quick lap of the bricks prior to exploding one second later.
"Sure, sounds good." was the answer…and off he went.
The Prefab units pictured here came from Melbourne by truck overnight. Drivers stopped at Pheasants Nest then came with a police escort to Mona Vale. The Units were built in 4 weeks and then will be assembled in 2 weeks making building completed in just 6 weeks.
We contacted Rob Stoke's office for a comment since this gentleman has worked hard beside the Mona Vale Hospital Auxiliary, the Friends of Northern Beaches Palliative Care and the Rotary Clubs of Pittwater, Terrey Hills and Narrabeen Lakes, Pittwater Council and many others in the community who bought a cake from one of the hundreds of MVHA stalls or did anything else they could to ensure this project went ahead:
"It's fantastic to see construction underway on another vital infrastructure project at Mona Vale Hospital. This project has been in the pipeline for years - so to see it reaching fruition is a huge boost for our community."
We include a few extracts from Hon. Rob Stokes address at the Community Service Award on Thursday for those who could look across the Mona vale Golf Course from the clubhouse and see these works:
"that building has been two decades in the making. Those of you have been very involved in that project during that time will know that Jim Longley in 1995, then member for this district, made a commitment to match whatever funds were raised by the community to build an extension to the Palliative Care facility at Mona Vale Hospital.
Then there was a change of government …and priorities changed, and the money that had been raised by the community ended up in an organ of government I'd never heard of before called the 'Dormant Funds Commission'.
Fortunately, by very hard work through a number of people, that money was taken back out and the NSW Government was able to match those funds and subsequent fundraising efforts by the community, we are now able to see that building being erected.
I wanted to draw that one example that yes, it took twenty years to deliver. So while there are many battles on the way, please remember that the work you do actually does matter. In the words of Margaret Mead "A few people acting together is the only thing that ever has made a difference in the world. Certainly in our community we see that happening everyday. It may indeed take twenty years for that to manifest but it does happen in the end.
That's not just a historical thing that's being delivered now, but the same spirit is causing big advances to be made right now. In fact the Hon. Bronwyn Bishop attended a fundraiser for Mona Vale Hospital just last night that raised 45 thousand dollars."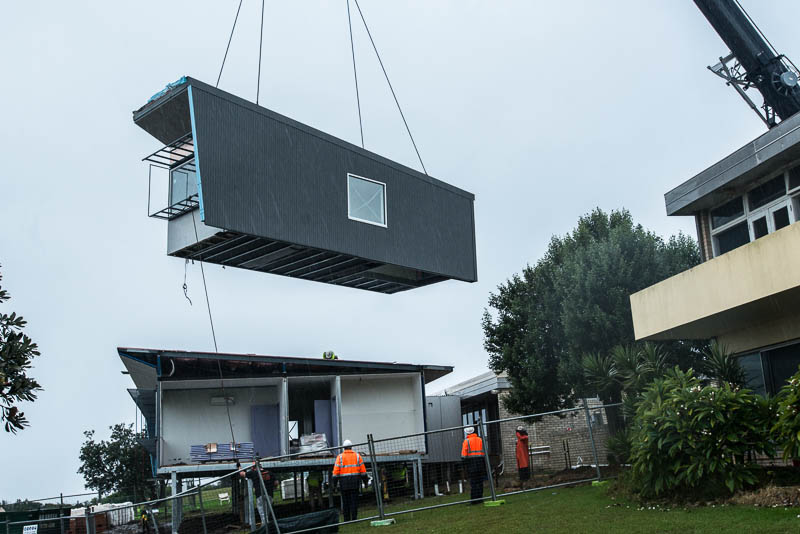 Final words must go to Eileen Gordon who, with her dedicated team, has done so much to ensure the success of this project:
"MVH Auxiliary is delighted to see the fundraising started by Cora Adcock in 1994 and added to by the Hospital Kiosk and Rotary Clubs of Pittwater, Terrey Hills and Dee Why/Warringah result in this $610,000, purpose built palliative care clinic . State Government, through our local member, Rob Stokes, helped with a grant of $240,000 with the balance - $370,000 - being donated by our local community. Thank you to everyone who supported this project -" Cora Adcock Centre for Palliative Care"
Eileen Gordon
President, Mona Vale Hospital Auxiliary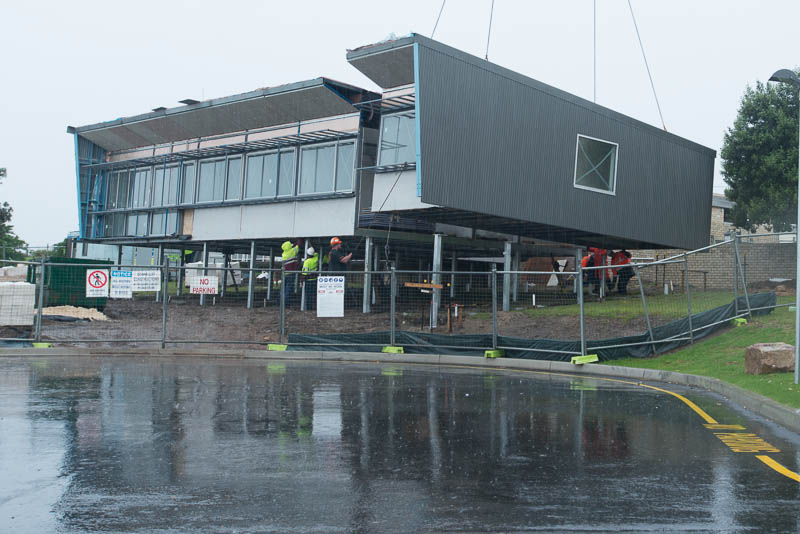 The next day, 13th of June, 2013.
Photos by Michael Mannington, 2013.
This Issue is also the week we celebrate Michael Mannington receiving the NSW Premier's Community Service Award for 2013. Details HERE