September 2 - 8, 2012: Issue 74
SEPTEMBER 3rd 2012 - MONA VALE LIBRARY CELEBRATES 40 YEARS OF PUBLIC LIBRARY SERVICES IN PITTWATER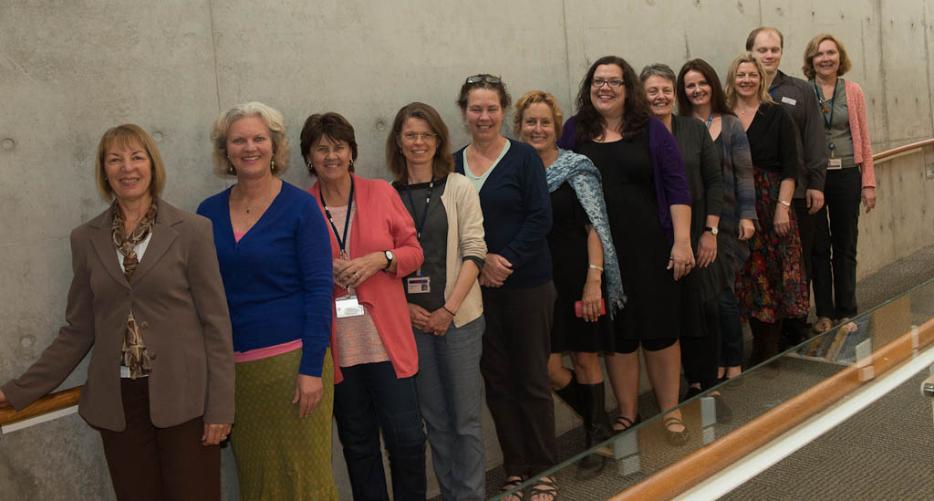 Mona Vale Library People, Left to right: Cathy Howie, Catherine Buddin, Sally Turansky, Rebeccah Vick, Helen Manfield, Robyn Phillips, Sarah Thompson, Jane Smith, Zora Drazic, Janine Weiss, Jared Hansen, Sharelle Ravenscroft. Below: Mona Vale Library Entrance 2012.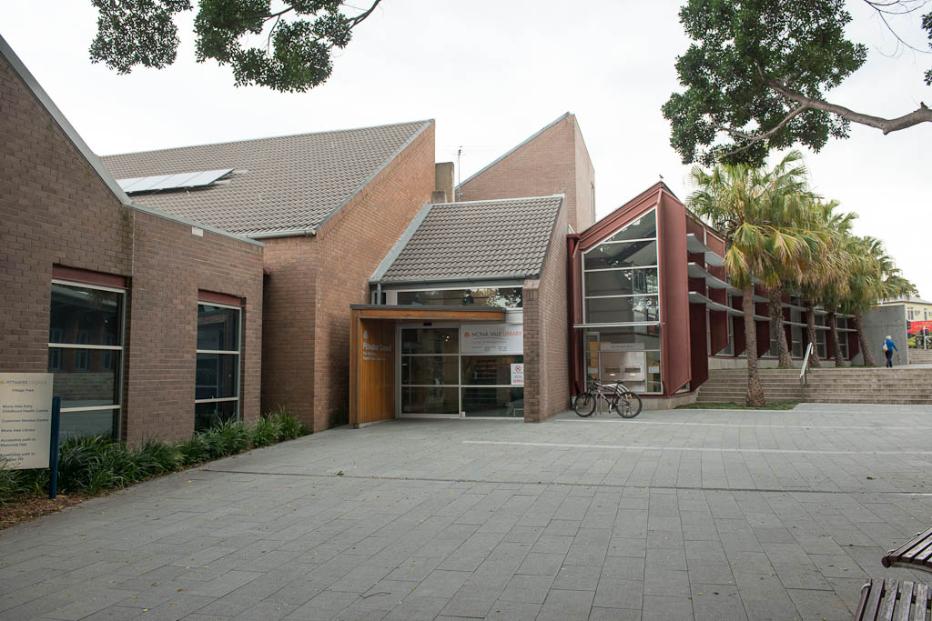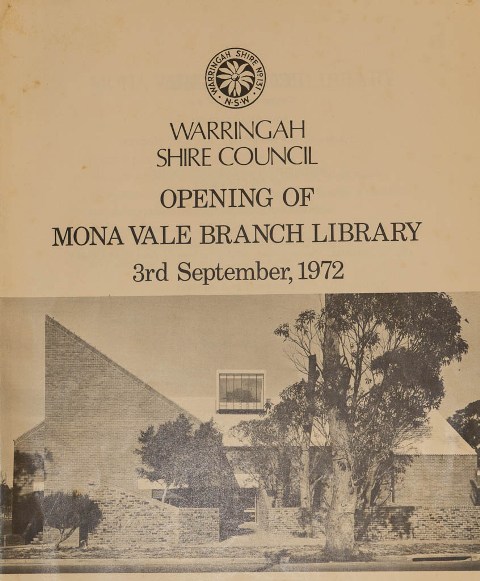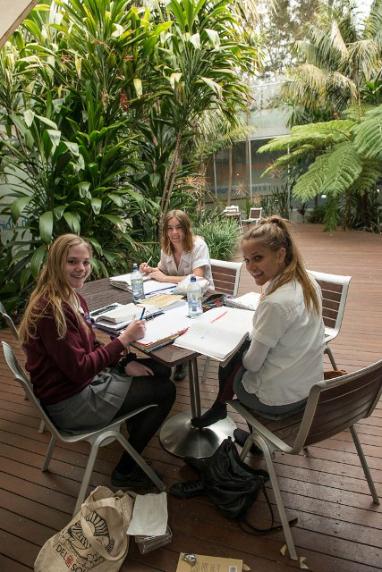 Melanie Allison, Sonja Pulvermacher, Madi Creecy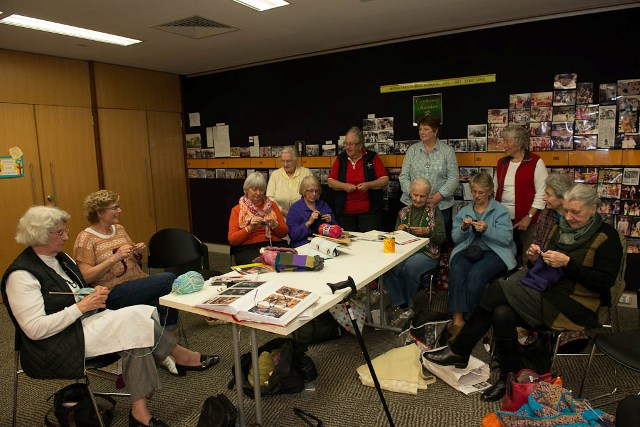 The Knitters' Guild NSW Inc – Northern Group meets at Mona Vale Library each Wednesday afternoon. The group is open to all ages and all levels of expertise from absolute beginners to those with advance skills. Guild members will be on hand to teach, guide you through a project or simply to knit and chat. Materials will be available for beginners. Experienced knitters can bring their current work along. No bookings required. No charge involved. The group meets between 1-3pm.
Events taking place in celebration of the 40th birthday of Mona Vale Library.
Civic Reception on Thursday 6th September from 6.30pm with guest speaker James Valentine and Paella cooked fresh in situ. This is an invitation only event to incorporate a staff reunion.
'Read to Me' on Monday 10 September at 10.30am to 11.30am. This is an intergenerational event celebrating the imminent start of the first Bookbabes' school careers and a lifetime of reading by our Home Library Service clients and Volunteers. Bookbabes should bring along a favourite book to share with a senior buddy. Again this will be invitation only.
A short story writing and photography competition, entries opened Monday 20 August and closing Sunday 16 September. Write a story of up to 1000 words or take a photo with your interpretation of the theme 'Threads' and be in the running for great prizes!
There are three age categories; 8-12 years - 13-17 years - 18 years plus
Stories should be in prose only
• One entry only per age category - but you can enter both a photo and story • Entrants must live on the Northern Beaches • All entries are to be delivered to the library on a USB. These can be collected after winners are announced • All entries must be accompanied by the entry form which is downloadable online
In celebration of history week, Mona Vale Library will present a photographic display on the history of clothing in Australia from colonial times to the modern times commencing Monday 3 September and running all month, entitled 'Threads'. This will incorporate vintage clothing and textiles. There will also be a power point displaying photos from the local studies collection at the library.
MyChoice - Monday 24th September. from 10am 5pm - This is an invitation to all our Library clients to come along and select a new book from one of our suppliers, for inclusion in the collection subject to conditions, and to reserve this item free of charge.
Images by Michael Mannington of Volunteer Photography, 2012. All Rights Reserved.
SEPTEMBER 3rd 2012 - MONA VALE LIBRARY CELEBRATES 40 YEARS OF PUBLIC LIBRARY SERVICES IN PITTWATER
On a sunny afternoon forty years ago tomorrow, Mona Vale Library, that bastion of great books and local histories, opened its doors. A place where children laugh as stories are read to them, where our elders sit quietly together and peruse that day's papers while students meet among reference books, and now computers, to fine tune the facts backing up the details in essays, this library has served all as a meeting place, knowledge bank and history record keeper.
Our libraries keep redefining themselves in pace with societal needs and wants. Accessibility to written word, music and movies, keeping ourselves up to date, connection with like minded people, attending the launch of a new book or a Speaker's Address on a new work in these spaces has become the norm. Each library is unique to the area it serves in addressing what the community expects and what it wants to find in it's library; namely a clearly catalogued data bank that will enable them to know their area, where it has come from and where it is going to. Each thread, woven together, presents a tapestry that enriches, is fathomable and leads to further inspired investigations. Mona Vale Library, often resorted to for missing threads in our own history pages, has been and is a dynamic hub of quiet activity on The Green in Mona Vale's Park Street. The spot where, incidentally, people have been meeting to exchange knowledge, enjoy culture and mix in age groups from baby to great-grandfather's for at least a hundred years.
Interview with Cathy Howie, Library Manager of Mona Vale Library by Michael Mannington
How many books does Mona Vale Library hold?
About 70 thousand books, cds, dvds. We collect standard reference books, books about Pittwater; we have an extensice collection of books on Pittwater; Jervis Sparks's books on Barrenjoey Lighthouse as well as original materials. George and Shelagh Champion have donated historical books written by them on many aspects of Pittwater.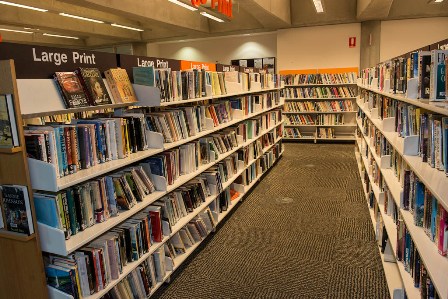 Is the Mona Vale Library still a repository for this kind of material?
We would be the main repository for Pittwater records; anything related to a local area, particularly if it's one of a kind, we'd definitely like to have in our library. People who wish to do research like to have anything on a subject all in one place and that's why we strive to add such items to our collection.
How long have you been at the library?
I started in 1986 at Dee Why Library and worked at Mona Vale once a week.
How many staff are there here?
About 25 altogether. A lot of these are part time, and work two days as we're open seven days a week.
How is modern technology changing Mona Vale Library?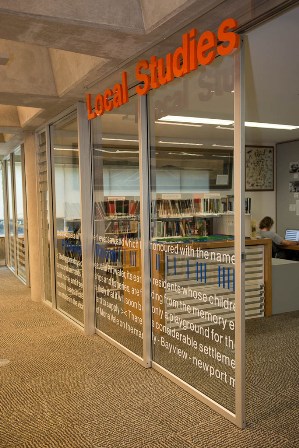 It has changed the library quite a bit. A lot of our available space is now used providing computers. Visitors come in with their laptops looking for a wireless connection and the WiFi service is the one we provide. We also provide online databases for those looking for information that's more indepth on a certain subject that they cannot find in a book.
We have a catalogue online, people may do reservations online. We also have e-books and e-audio books.
Books and reading them is still popular but we don't use them as reference points as much as we used to.
The other thing is we're digitising a lot of the maps and photographs we have in the database so people can look at these online rather then coming in to look at the actual photographs. Pittwater History and keeping a database of these records will remain a mainstay of the library.
Who are the biggest users of the library?
The 40 to 55 year olds. A lot of parents of young children use the library as well as parents of very young children. We also have retirees of 65+ who access the resources. The teenage group, the 18-25 year olds don't come in as they're generally doing other things and utilise the online functions.
How do you see the library in ten years from now?
I think the library will be a lot more like a community space; we have a lot of bookshelves now and I see some of this space being used for and by community groups; so more comfy chairs. People like to come to the library because it's a quiet place where they can read a book or a magazine when they want to be around other people.
The other thing is electronic books. People can buy these but it's a lot cheaper to borrow them from the library. I think in 10 years time there may be a lot of that but the way technology changes, you never know what else may be around in 10 years time; we might all be microchipped and downloading material automatically.
Besides books, what else does the library do?
We have Author Talks, people coming in to do conversations in other languages; Italian, French and German from time to time. We have a wide range of groups that utilise the spaces and rooms; such as the knitting group you see meeting here today.
Do you feel Mona Vale Library is up to date with all that's happening in contemporary libraries?
Yes, it is. We've come a long way since we first opened. And even in the eight years since we moved into this building, the structure and set-out promotes it being a community space.
Do you think a library such as this is, in a way, the heart of a community?
Yes, I think it is; anyone can come here. It's not restricted to groups or even age groups. We also have starting next month a Mobile library service for those who are at home and not mobile enough to get to the library. To me it's a cradle to grave service.
Even with being able to download e-books there will always remain information you cannot access other then going to the local library and reading it in a book or seeking assistance, as there's a network between libraries, to help you track down that information.
How does the library fit into the council structure?
We're part of Community Services. Community Services covers a range of things to connect the community with all it needs so the library fits in with that.