November 30 - December 6, 2014: Issue 191
Milly Bennett Skippers the First All Female Team to Victory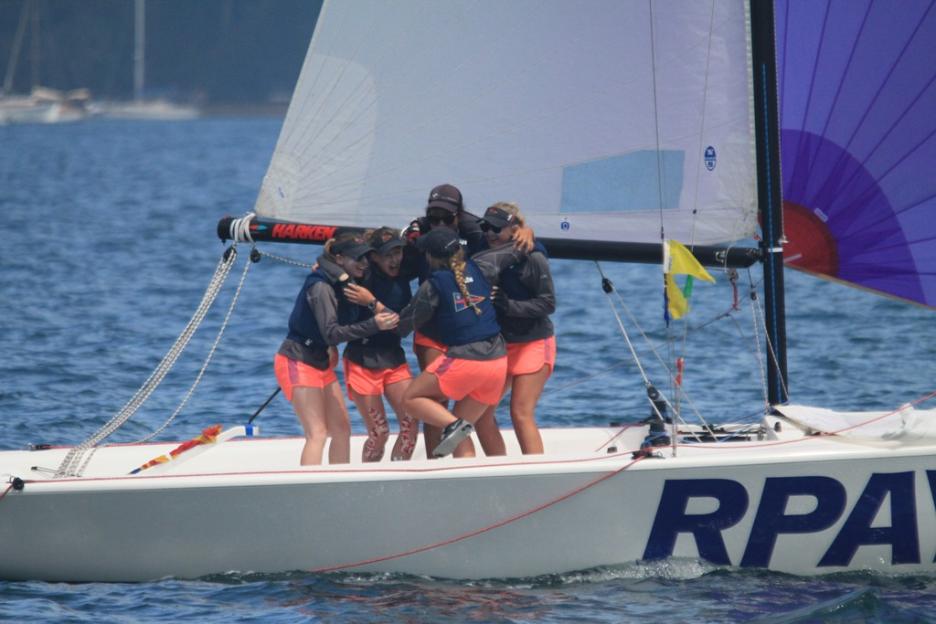 Milly Bennett Skippers the First All Female Team to Victory
The Royal Prince Alfred Yacht Club hosted their 22nd HARKEN International Youth Match Racing Championships which were held on Pittwater between Wednesday November 19 to Sunday November 23.
The 5 day event saw 13 teams from Australia, New Caledonia and New Zealand race in a round robin style of match racing competing for the Rockin' Robin trophy in memory of 2 sailors, father and son who tragically lost their lives at sea on board Rockin' Robin
Using RPAYC's new Elliot 7m boats, this type of racing is designed to focus on the skills of the skipper and crew in one on one short circuit racing using identical boats.
The round robin racing took place over Thursday and Friday which accounted for over 75 matchups to determine who would be in the finals. Based on a point score, 8 teams would progress to the quarter finals and the others would be knocked out.
The weekend was all about the finals knock out racing. After Saturday's finals, 4 teams progressed into the semi finals, George Anyon from the Royal New Zealand Yacht Squadron, Harry Price from the Cruising Yacht Club of Australia, Sam Mackay Royal Port Nicholson Yacht Club and Milly Bennett from Royal Prince Alfred Yacht Club.
Two teams from New Zealand against 2 teams from Australia presented a good old ANZAC rivalry, coupled with teams from different clubs, it made the finals series all that more exciting.
New Zealand teams have won the Rockin' Robin Trophy in 5 consecutive years. It wasn't since 2008 that the trophy had been won by an Australian, Tom Spithill, who now coaches the RPAYC teams.
The final day of racing was predicted to be a very hot day and unstable conditions which would have made it very difficult to race in. Fortunately the forecast was wrong and a slightly steady sea-breeze blew all day.
After randomly drawing boat numbers, the first flight (series of races against one another) was between Milly (RPAYC) and George (RYZYS.) After a convincing first race win by George, he was on his way to winning the next but Milly managed to sneak in 2 very close wins making her the winner of that flight progressing her to the grand finals.
Harry Price (CYCA)was matched up with Sam Mackay (RPNYC) in the second flight. Harry, who was tipped as one of the favourites to take out the event sailed strongly and won 2 in a row beating Sam and progressing to the final, leaving the 2 Kiwi teams to race for 3rd and 4th place.
Having and all Australian final it was now guaranteed that the drought will be broken for an Australian team to win the championship.
In the final flight, the winner had to win 3 out of 5 races whereas the semi-finals it was only required to win 2 out of 3. Milly, having the home ground advantage was looking to be the one to back but the racing had been so close throughout the series, it was anyone's guess of who would win.
Milly didn't start well losing to Harry in the first race. Milly fought back in race 2 to equal the scores. After that, Milly found her rhythm and won the next 2 races, even after a terrible start in her final win she was still able to catch up and take out the Rockin Robin trophy.
"It was intense, we stuffed up our start and spent the whole time playing catch-ups" Milly said.
After the convincing win in the quarter-finals, Harry was very humble in his loss to Milly "I'd really like to congratulate the girls, it was really amazing racing out there" said Harry.
The conditions favoured Milly with her home ground advantage, the early morning fog and shifty winds made it very difficult for both teams to navigate in the final races.
Harry's experience in skiff sailing helped his team with the downwind legs but Milly's experience sailing in Pittwater helped her excel upwind.
"Downwind was more our specialty due to fact we are all skiff sailors, upwind they were always there and we couldn't shake them at all so full credit to them." Said Harry.
To determine 3rd and 4th position, George Anyon (RNZYS) and Sam MacKay (RPNYC) had a best of 3 wins flight with Sam MacKay beating George Anyon making Sam 3rd and George 4th overall.
Robyn Wiltshire, wife and mother to whom those the trophy is in memory of enjoyed being a spectator and was very proud of the girls to win the event. On the presentation evening she mentioned that it was "it was the best day I have had in years"
Results as follows
1st Milly Bennett (RPAYC)
2nd Harry Price (CYCA)
3rd Sam MacKay (RPNYC)
4th George Anyon (RNZYS)
5th Sam Ellis (GSC)
6th Malcolm Parker (RPAYC)
7th Matthew Kempkers (RNZYS)
8th Clare Costanzo (RPAYC)
9th Dylan Gore (RYCT)
10th Cyril Fortin (CNCYC)
11th Tom Trotman (SYC)
12th Emma May (CYCA)
13th Tiphaine Leroux (CNCYC)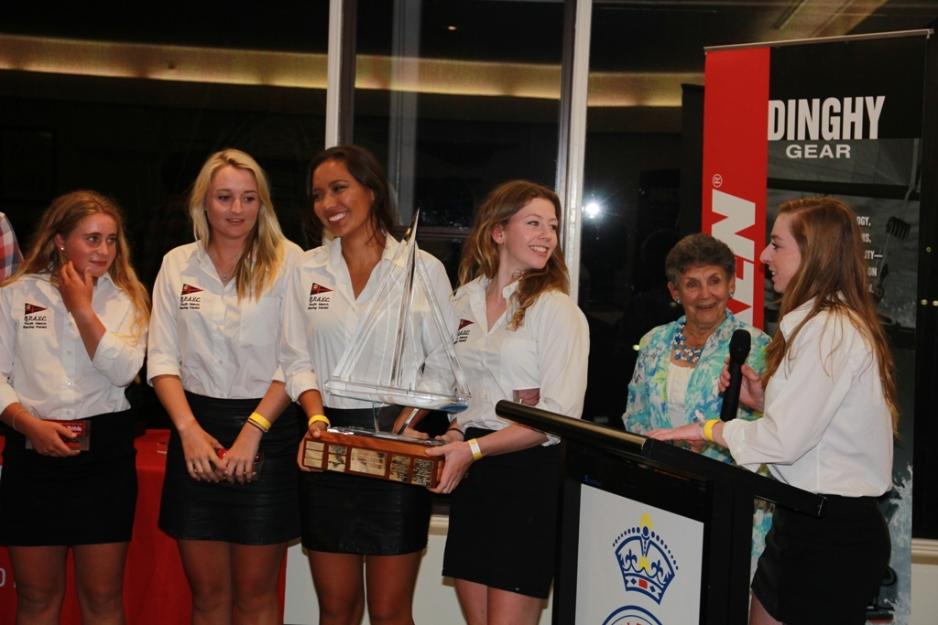 The winners of the 2014 Harken International Youth Match Racing Championships are Milly Bennett, Alice Tarnawski, Jess Russell, Seldon Coventry & Chelsea Connor. Coach - Tom Spithill. The first ever all girls team to win!!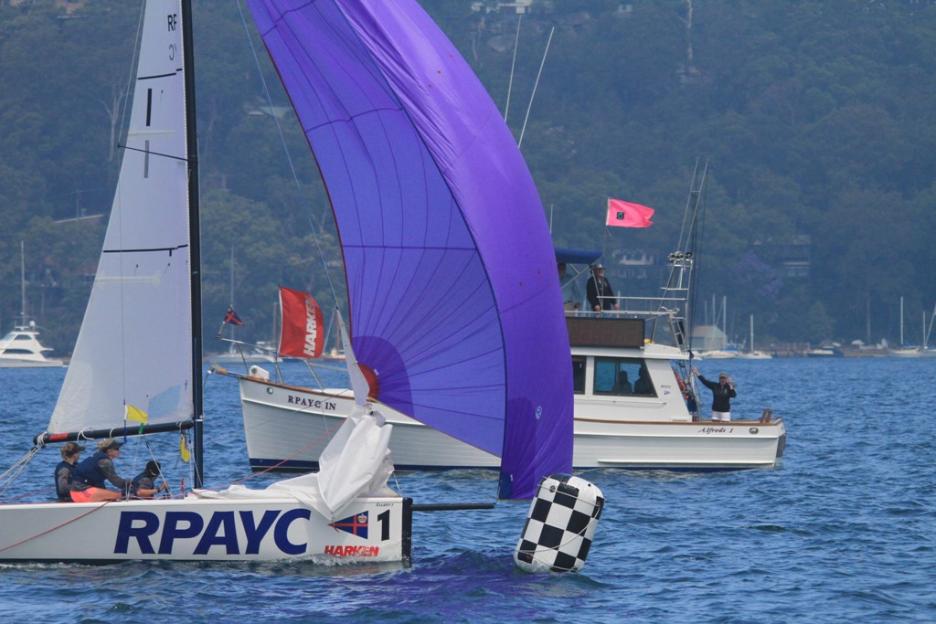 Article and images by Stephen Collopy, 2014