November 29 - December 5, 2015: Issue 242
Michelle Ball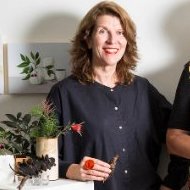 Michelle studied art and film-making at Central, School of Art, Perth, WA, while spending time in Margaret River and on the Abrolhos Islands.
Shortly after, Michelle spent ten years living in New York where she worked as an Art Director and studied watercolour in her spare time.
She now lives with her family, on the edge of Ku ring gai Chase National Park and has become a passionate bush regenerator who studies and paints the landscape that surround her.
Currently, she is exploring and painting as she walks the bush tracks on Pittwater's Western foreshores, searching for images that share her emotions. With images of regrowth she intends to give the viewer a feeling of hope and optimism.
"My intention is to continue drawing and painting details of what I see everyday, creating a poetic invitation that use nature to tell a story."
Michelle's work is currently on show in the Toproom at the Church Point Waterfront café, or you can follow and message her on instagram, (while she is working on her website, MichelleBall.com)
This week we share a small insight into the wonderfully talented daughter of a salt of the earth gentleman Pittwater recently lost in a local legend, Mr. Les Ball. Les asked us, a few years ago, to make sure we let people know how brilliant his daughter is, and that we may have to pester her a little bit in order to do so - but finally, for you sir, and for all of us - another of Pittwater's gems:
Where did you grow up?
Growing up in the bush at Ingleside was the start of a lifelong appreciation of our natural surrounds in Pittwater.
Before I was born, my parents chose to live in a house nestled against the protected Ingleside Park at the top of Mullet Creek, Warramunga, Ingleside Road, Ingleside. It was semi rural in those days, with an unsealed road, horses in a paddock across the creek where the yabbies lived. It interests me now that there is an endangered orchid there and that I have a love of native orchids and have made it a mission to plant as many as I can in my current backyard.
What was the first creation you made and how old were you?
Winning a painting art award at 10 was the beginning of a desire to paint and over the years I have travelled to explore and learn different ways to be creative.
Studying art and filmmaking in Perth – how did this happen?
I hitch hiked to Western Australia after high school, to avoid becoming a secretary which was my parents wish, living at Margaret River and Perth as well as spending time on the Abrolhos Islands off the coast of Geraldton. It was a time spent becoming independent, doing manual labour, learning and teaching ceramics and eventually returning to school to study art and filmmaking at Central, School of Art, in Perth.
It was the late 70's and an exciting time, I produced a short documentary on the craft of making and enjoying surfboards with animated titles and some surfing footage from one of the secret surf spots Tim Winton could write about. In my final year one of my photographic silkscreen prints was hung in the WA state gallery as part of a selected travelling print show and was controversial at the time because it showed a naked woman. It was actually a statement about how women are portrayed in the media, and at one stage there was discussion about it being taken down while the premier visited. I decided that I would focus on graphic design and after a short time in an advertising agency, while it was fun, I pursued editorial opportunities and magazine publishing looking for more creative satisfaction.
Travelling to Europe, then to New York in 1980 for a holiday became a turning point in my life. I lived in NYC for the next decade and it would be the most influential part of my creative pursuits. I worked as an Art Director for most of the well known publishing houses, starting at Time Inc then Conde Nast, Hearst and The New York Times while studying watercolour painting in my spare time. I was able to experience some amazing performances, exhibitions and general life in Manhattan in this decade. After illustrating a few books I realised that painting what I want to, is my real love.
What was it like living in New York for 10 years – where were you based, what did you do for 'time off'?
Living downtown in Tribecca with my new husband on the top floor of an old cheese warehouse was a bohemian life and on each floor of the building, worked and lived creative people, architects, dancers, sculptors and a maker of really good food.
Our lives were about being the best that we could be, everyone was trying so hard, it was inspiring with an endless amount to discover and learn. I held dinners in this loft with a small group of friends where we would draw and paint and finally share a meal, it was the most enjoyable time and a great use of the space and talent, I felt I learned a lot in these sessions from my friend and water colour artist Robert Schefman.
Returning to Sydney with my young family, we found ourselves visiting the Ku-ring-gai Chase National Park opposite Church Point until one day we found the for sale sign of a small house that we eventually bought and renovated. My husband, an architect, calls it our tree house. It is also my studio and the gateway to the National Park where I have been reconnected once more to the bush. I love that I have passed this passion of the bush onto my children who both acknowledge their appreciation. The rainforest scent is part of our DNA.
I became a passionate bush regenerator with the local bush care groups uncovering rainforests that had become overrun and I have used these images as subject matter for my painting. On the western foreshores of Pittwater, it's a pedestrian only area, private vehicles are prohibited, apart from the National Parks rangers and the Volunteer Fire Brigade trucks, and this is how the locals want to keep it.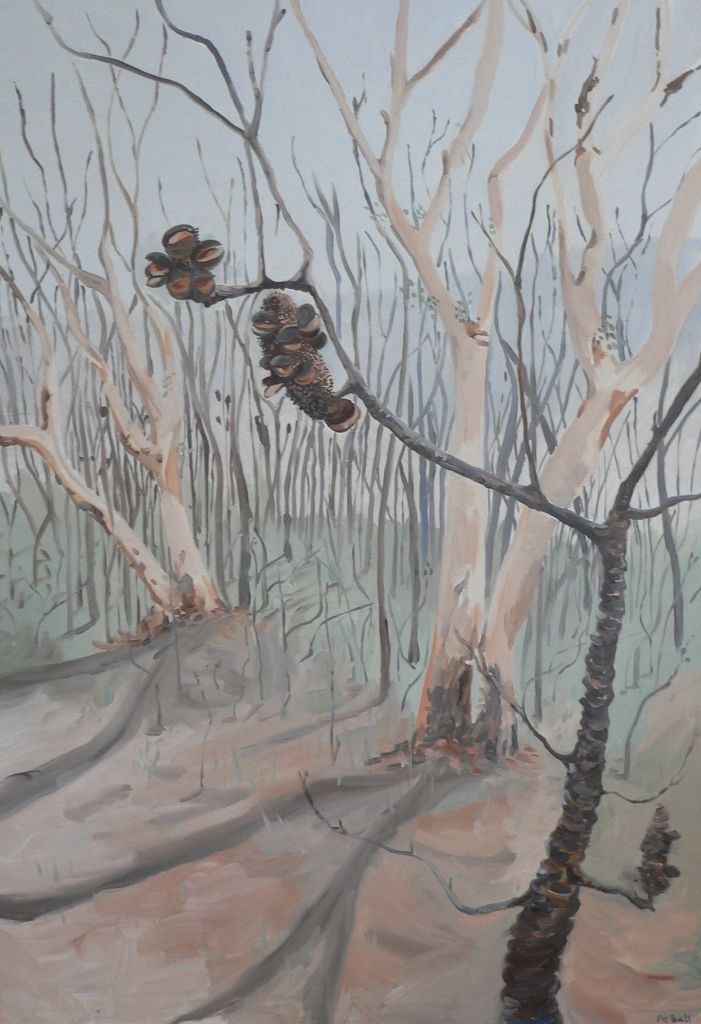 After the fire, 2008- oil on canvas, 840x1220
The beauty of living in a national park is that we are privy to the sights and sounds of the wild and nature, there is no paved footpath, streetlight, car, mailbox or water main. There can be no subdivisions and apart from the odd domestic dog and a few chickens the area is almost as native as it can be. There are the iconic lyre birds and a few wallabies that are a constant reminder that we live in a fragile and exclusive environment that must be maintained and protected for future generations.
The area has Aboriginal significance, and on a clear day at the right tide, you can see the lines of shells that would have been placed along the low tide mark. The area would have to have been a beautiful and safe place to live all year with our temperate climate and once abundance of food. The local rock carvings are a testament to that. But a lot of our recent history is barely documented.
What have you been working on recently?
In the last 12 months I have collaborated with indigenous local artist Julie Janson to produce two shows, both at Eramboo, Terrey Hills. We explored the areas Aboriginal heritage.
The first, a collaboration for a group festival called On Islands, was to explore and share local history. We called it Nukal Margun Whurra Whurra, Queen of the Island. My part of this installation in one of the rooms at Terrey Hills, shared a story, of one of the first indigenous women in Australia, Biddy Lewis, to be given a land grant, on Barr Island up the Hawkesbury River. Her daughter Katherine married and went to live on Scotland Island in the 1800s, here she was to become a midwife, much loved, and became known as 'Queen of the Island'. I painted a tripdytch of her mother, Biddy, with her convict husband sailing down the Hawkesbury River, where they traded, and I projected an animation, made from my dry point etchings of a flying black cockatoo into the clouds in the background of a painted wallaby, both aboriginal totems and symbols of messaging. I only hope that this small piece of local history is remembered by some, as it was a shock to discover that no one I knew was aware of this fascinating history.
The second collaboration was more unashamedly confronting conflict. Using watercolours and oil paintings I provoked the viewer to question our histories. Small oil paintings of plants with aboriginal significance were painted with a western style still life. My aim was to begin a discussion and share the knowledge of these plants, while three large watercolours showed botanicals juxtaposed with weapons.
This year, exposed to trauma and tragedy I explored emotions that would relate to landscapes, and produced a show called Folia, with graphic watercolours of botanicals and landscape oil paintings. While there will always be a calling from the bush to walk through it and feel emotions, I will always have a subject to paint.
I work for News Life Media, at NEWS Ltd, as an Art Director on a Food magazine called 'Fresh', and find the constant creative pressure to produce beautiful pages helps to maintain a desire to create images of a deeper meaning.
I continue to paint what's important to me, the Australian bush, I get excited by a new landscape, the fauna and sometimes the local people.
What would be your 'motto for life' or a favourite phrase you try to love by?
Motto to live by…..
Enjoy that walk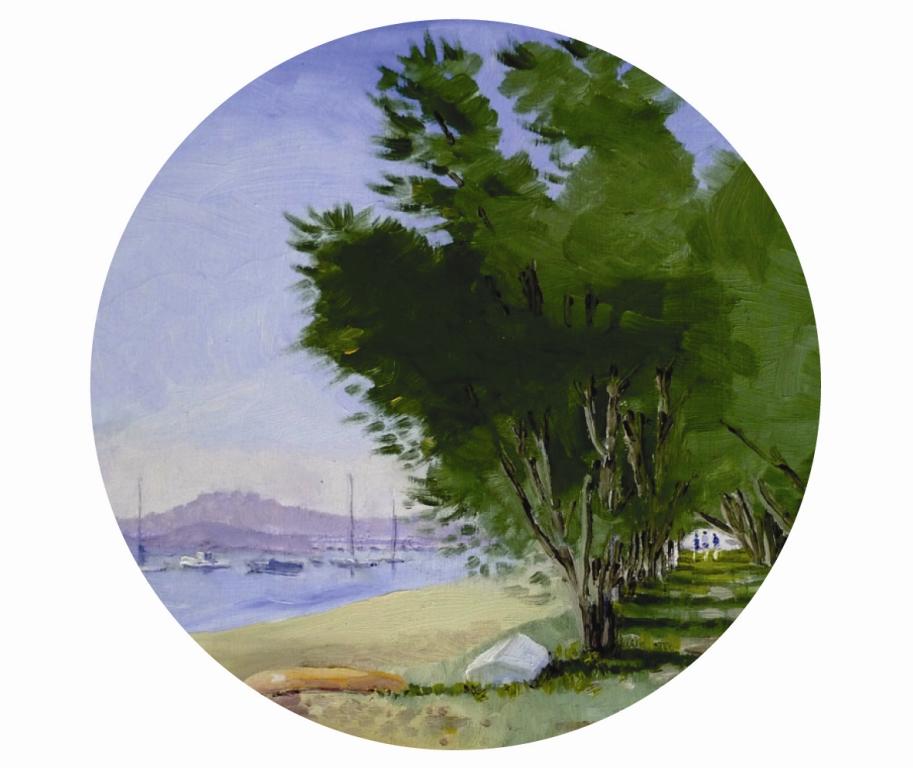 Michelle Ball - ArtSpot 2015
EXHIBITIONS
2015
ArtSpot 2015
Group Show
NUKAL, Eramboo Art Gallery, Terrey Hills
FOLIA, The Shop Gallery, Glebe
2014
Group Show
ON ISLANDS, Eramboo Art Gallery, Terrey Hills
2010
Group Show
OFFSHORE, Manly Art Gallery, Manly
2009
Solo Show
UP CLOSE, Salonbim, Sydney
2008
Group Show
BANKSIA, La Perouse Museum, Botany Bay National Park
Copyright Michelle Ball, 2015.