May 15 - 21 2016: Issue 263
Maserati back to menace MC38 fleet‏: Autumn 2016 Regatta - Sydney Harbour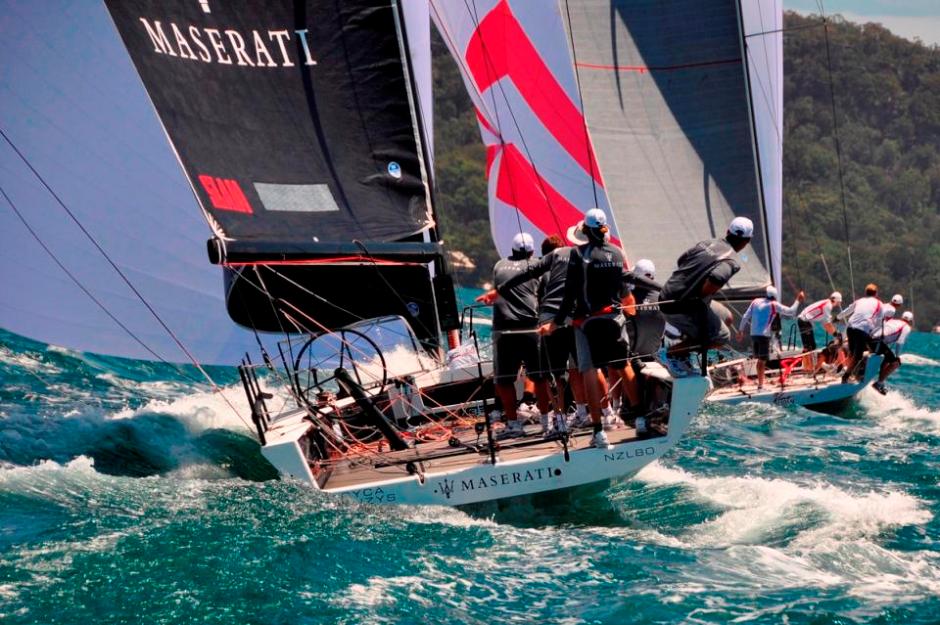 Fleet downwind Maserati in foreground - photo by Bob Fowler
Maserati back to menace MC38 fleet‏
Event: MC38 Autumn Regatta hosted by Middle Harbour Yacht Club on Sydney Harbour, May 14-15, 2016

Neville Crichton's MC38 Maserati is out of the shed and back on the water with a new-look team and pledge starting off with this weekend's MC38 Autumn Regatta hosted by Middle Harbour Yacht Club with racing on Sydney Harbour.
After a year-long absence due to a crazy work schedule, Crichton pulled the trigger for his MC38 class comeback just a few weeks ago, charging Moth and dinghy sailor Joe Turner with assembling a crew and well-known Sydney bowman Mitch White with getting the boat out of mothballs and prepared for racing.
The luxury car importer is realistic about their first session back with the one design fleet in a few days' time and says he will be happy just to get around the course. "I'm back with a team of young guys and we'll be very green," Crichton said. "They've never sailed together as a group and only a couple have been on an MC38 before so it will be a learning process. We'll be very much the new boys; we just want to get around the course for our first regatta back."
Maserati's crew line-up promises plenty and Crichton's an experienced helm, but they know their place up against a well-rehearsed fleet fresh from the class' Australian title in February and Sail Port Stephens last month, on top of years' of practice compared to Maserati's brief foray following the boat's October 2014 launch.
"I was asked to pull a team together two to three weeks ago and it's been a mad rush trying to find good Sydney guys with nothing on this weekend," Turner admitted. Maserati's crew includes Crichton as skipper, Turner on tactics, Doug McGain on main, Mitch White "who goes alright when he faces forward and stops talking" on the bow, James Corrie, Russell 'Rusty' Ely and Gus Williams, the CYCA match racing hot shot and Manly 16ft skiff sailor as back-up trimmer/runners.
Turner knows if Maserati is to eventually climb to the top level there can be no excuses, which means dedication to a proper training regime and the boat competing at all class regattas even if Crichton isn't available to skipper. "We can't have any excuses in our training. These boats are so fun and lively, and they make an idiot of you if you stuff up. A bit like racing Moths and dinghies, there are big rewards for big effort - and big punishment for mistakes."
Frontrunner this season and defending champion, Howard Spencer's Kiwi based Menace which is kept in Sydney for the high-level of competition the Australian class offers, will have some different faces on the rail for the autumn series. Noticeably they'll be missing regular tactician Ray Davies who just took out the New York stage of the America's Cup World Series last weekend with his Emirates Team New Zealand crewmates.
Starters for this weekend also include second and third on the progressive season pointscore, Leslie Green's Ginger (AUS) and John Bacon's Dark Star (AUS), with their tendency to seek each other out on the race track, and Robin Crawford's MC38 Assassin. In the last 12 months Assassin has posed a real threat to the previous natural finish order and at the Australian Championship on Pittwater, won by Ginger, Marcus Blackmore's Hooligan team pulled together some encouraging top three results.
Seabreeze's long range forecast indicates warm daytime temperatures and an easy outlook for both Saturday May 14 and Sunday 15, starting out N-NNE 6-8 knots on Saturday afternoon then trending to WNW into Sunday and remaining light.
The Autumn Regatta begins with a registration and crew weigh-in 0800 – 0900hrs on Saturday then race committee briefing led by the PRO Phil Yeomans at the host club at 0930hrs. The first scheduled warning signal of the day is due at 1100hrs on Sydney Harbour, likely to be in The Sound vicinity, followed by up to four races, daily prize giving and announcement of the North Sails boat of the day.
Sunday's program is also due to start at 1100hrs with up to three races scheduled.
David Tallis is chief on-water umpire.
The MC38 Autumn Regatta is the second of a three-part Season Championship to be decided at the third and final event, the MC38 Winter Regatta in June.
By Lisa Ratcliff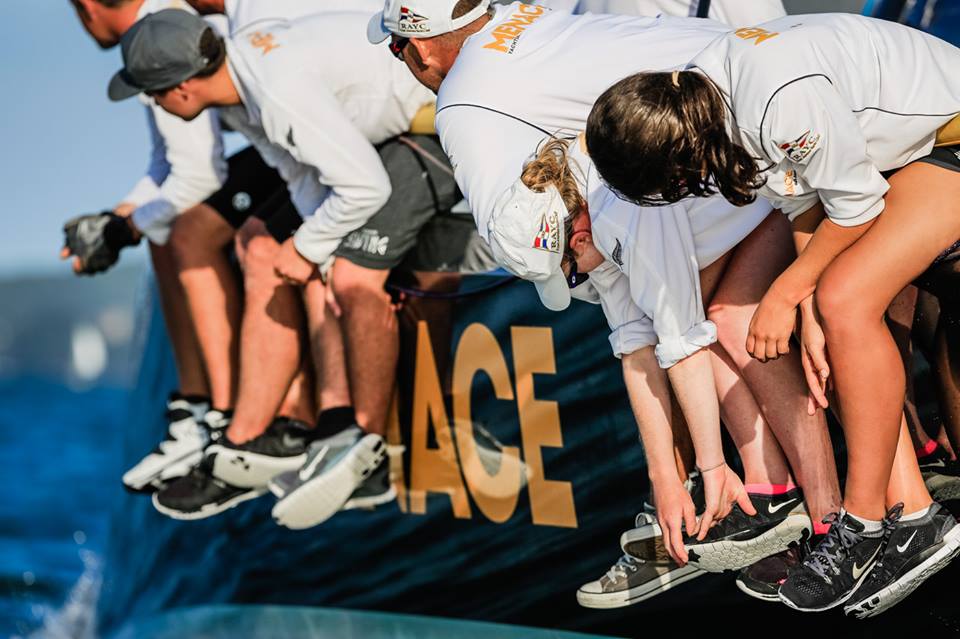 Sail Port Stephens winning MC38 Menace - photo by Saltwater Images
Ginger ninjas lead MC38 fleet: Day One of 2016 Autumn Regatta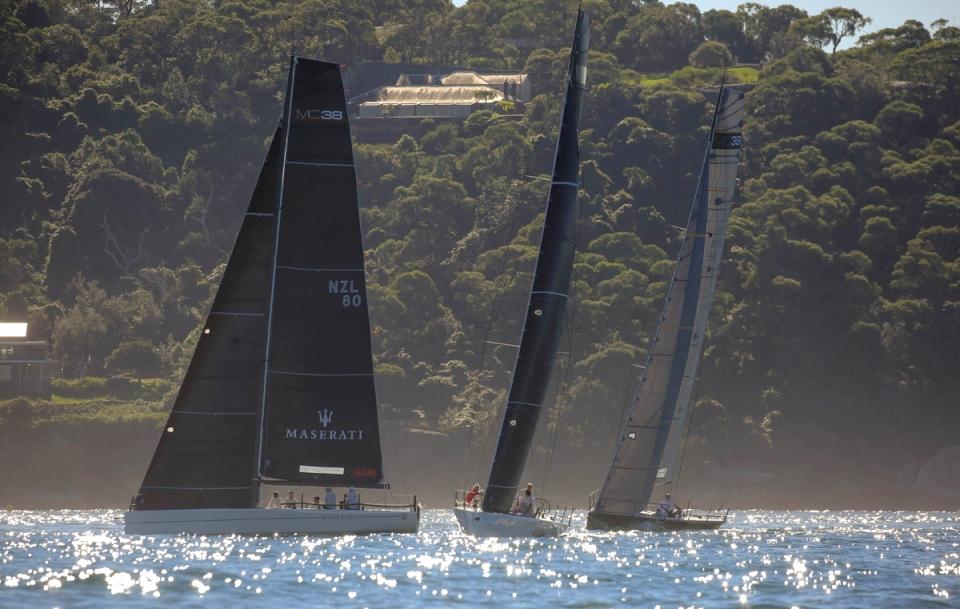 Ginger ninjas lead MC38 fleet
14 May, 2016
Three races into the MC38 Autumn Series and Leslie Green's reigning Australian champion Ginger leads Howard Spencer's defending Season champion Menace, sailing for New Zealand.
Another Sydney humdinger produced dazzling sunshine, a top temperature of 27 degrees, flat seas and light winds starting in the west then dialling to the south and finally settling into a sea breeze more typical of summer.
Two bullets propelled Ginger (CYCA) to the top of the leaderboard, the 'North Sails boat of the day' sitting three points clear of Menace and five off Robin Crawford's Assassin in third place.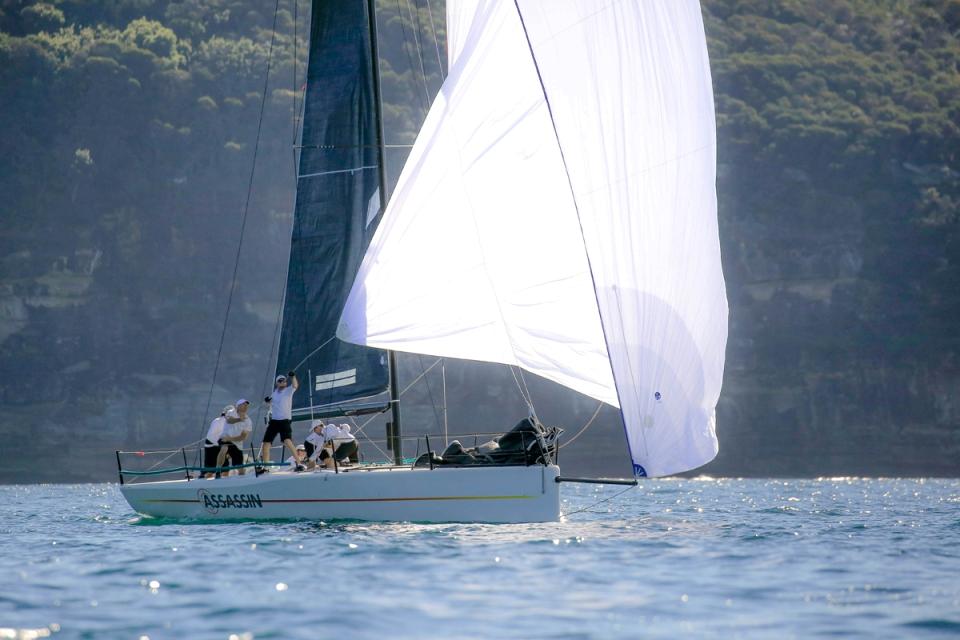 MC38 Assassin - photo by Michael Chittenden Photography
"The fleet was the most open its been in quite a while and is that little bit better again, and in one-lappers like we had today there's not much time to come back at the competition," Ginger's tactician David Chapman said . "Everyone was in the lead at some point and we came out ahead at the right times."
Well known yachtsman Michael Coxon is supporting the Assassin team as tactician while regular Evan Walker fulfills match racing commitments. "It's so close, we are only a point from last but a third on paper," Coxon said. "For Robin it was a great day and he was upbeat about our last couple of good races to finish off. We are keeping it simple."
Joe Turner reckons the scallywag component of Neville Crichton's Maserati crew had the most fun in what was the new crew combination's debut outing. "We didn't make one crew-work mistake or one error during a maneuver but we didn't consolidate some of our gains. Probably I was trying to convert skiff strategy to yacht strategy; if anything it was good for me knowing what decisions pay off and what don't," suggested the new tactician as the latest MC38 outfit mulled over their opening appearance.
"I think it was a really positive day for us even though the points don't show that. The other four boats are the best in the fleet. Our expectations were met and we had fun," Turner added.
Middle Harbour Yacht Club's Phil Yeomans PRO presided over three one-lap races, the first in an 8 knot westerly and the second starting in a southerly after an hour-long misadventure delay. The chief umpire, who shall remain nameless, throttled forward after the start gun ready to chase-down any rule-breakers, then embarrassingly his engine spluttered and went quiet.
Race two began in a southerly on a new track south of the Sow & Pigs reef only half way down the spinnaker run Yeomans had to pull the pin due to the arrival of the nor'easterly, as the day warmed. A new course was laid back in The Sound vicinity, between Middle, North and South Heads, and two more races went ahead without interruption in the steady 5-8 knot ENE breeze.
John Bacon's Dark Star "killed it in the first race" then things went weird for the Royal Prince Alfred Yacht Club team.
Tomorrow's program, Sunday May 15, is due to start at 1100hrs with up to three races scheduled.
A couple of other Sydney clubs had fleets out today and tomorrow the MC38 fleet will be threading their way through the huge CYCA Winter Series fleet.
The MC38 Autumn Regatta is the second of a three-part Season Championship to be decided at the third and final event, the MC38 Winter Regatta in June.
By Lisa Ratcliff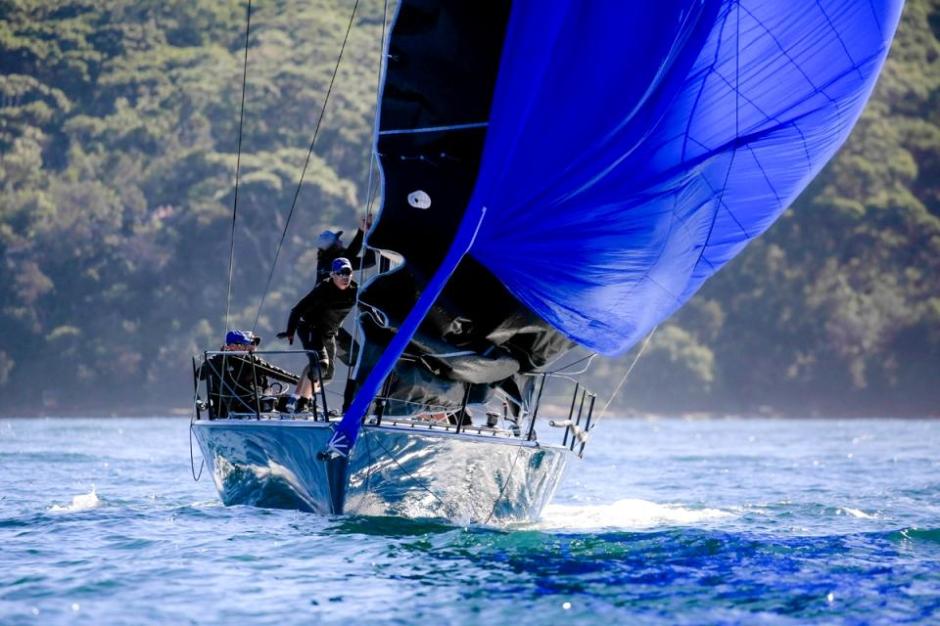 Maserati takes the checkered flag at MC38 Autumn Regatta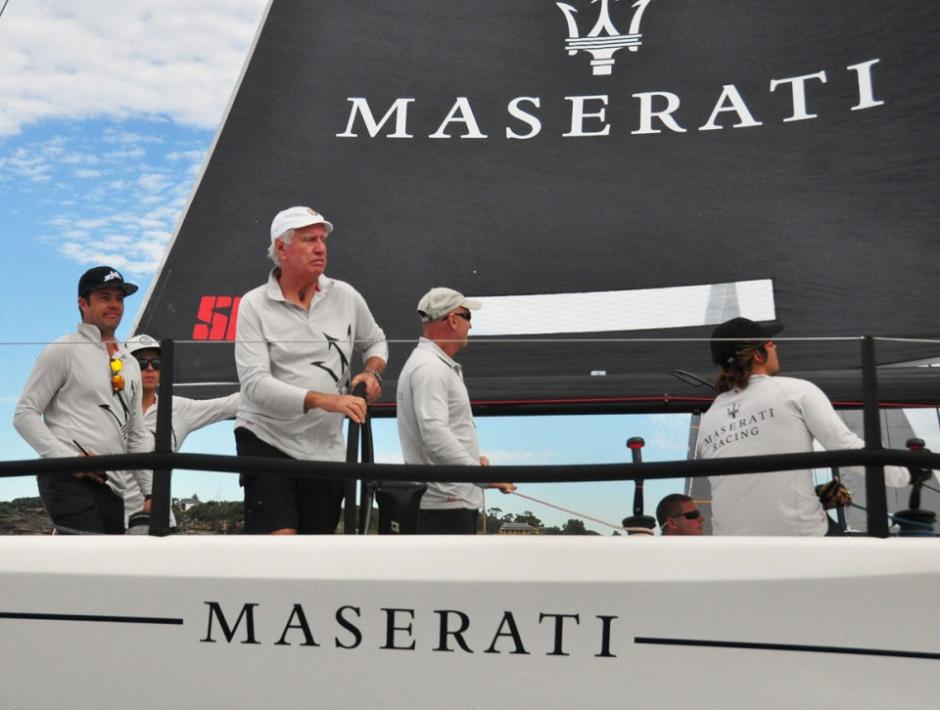 Neville Crichton skipper of Maserati photo by Bob Fowler
Maserati takes the checkered flag at MC38 Autumn Regatta
May 15, 2016
At the end of another tricky warm day on Sydney Harbour, Neville Crichton's Maserati took the checkered flag at the boat's first regatta back with the MC38 one design class, narrowly beating the polished teamwork of Leslie Green's Ginger on a countback.
After six one-lap races over two days the top two boats ended up on the same score. So did the rest of the placings, John Bacon's Dark Star taking the last of the podium spots from Howard Spencer's Menace and Robin Crawford's Assassin, all three with 20 points apiece.
Crichton's welcome return and injection of passion into the class after a year out, when the campaign was shelved for business reasons, looks set to mix up the usual top tier.
"I've got a good team of young guys, all enthusiastic and the results came, though we were a bit lucky today," Crichton said post racing. "It was a close regatta; the wind was tricky again today. We knew we had some problems on the first day though we thought we sailed well. For some of the crew it was their first time on one of these boats, and for all our first time as a new team. They did a bloody good job."
See Maserati's crew recover from a poor spinnaker hoist when leading at the top mark in race 5 – a race they went on to win https://youtu.be/5OiPTicX4DE.
An hour and a half long postponement due to lack of wind came to an end when a light nor'westerly breeze steadily filled in under increasing cloud cover. By that stage crews were antsy and brought a general recall on themselves. Races 4 and 5 played out on the North Harbour Manly Course in 6-8 knot NW-N, the MC38s dealing with the usual harbour comings and goings of large ferries and HarbourCats.
When the CYCA Winter Series fleet arrived in numbers, Middle Harbour Yacht Club's PRO Phil Yeomans opted to move everyone to the area known as The Sound and re-start the fleet off South Head for their third and final race.
With three more one-lap sprints making up the series there was again little time to find redemption. Menace realised this all too well in races 4 and 5, pinged twice by the chief umpire on the line which meant a penalty turn and a backseat ride for the first of two legs, a handicap too big for their incredible boat speed to overcome.
"The races were only 15-20 minutes and if you didn't get the top mark first you could forget about it," Green added. Though he was disappointed Ginger finished runner up on a countback he's delighted Neville's "back in the game".
Ginger's tactician David Chapman agreed, "We are disappointed with not winning but we are happy to be leading the overall pointscore."
Menace's story from yesterday was their fearless Kiwi leader Howard Spencer "sending in to the heads too close and we kissed AUSTRALIA. She's been slipped and patched up and we live to fight another day," the crew posted. "Today we had a shocker.... gotta have the odd bad one to enjoy the good ones."
The MC38 Autumn Regatta is the second of a three-part Season Championship to be decided at the third and final event, the MC38 Winter Regatta in June.
More videos on Facebook
By Lisa Ratcliff