May 19 - 25, 2013: Issue 111
Live Life Loudly - Guringai Festival 2013 Begins !
Neil Evers of Aboriginal Support Group Manly Warringah Pittwater and Cathy Freeman at Bilgola Plateau Public school on Tuesday afternoon. Picture courtesy ASGMWP.
Live Life Loudly – Guringai Festival 2013 and the Wonderful Schoolchildren of the Peninsula Community of Schools
This year's Guringgai Festival has already begun in Pittwater with vital discussions and a great example of how to invest 'play' into the future were seen this week on Monday night at Mona Vale Memorial Hall - then Tuesday at Bilgola Plateau Public School. We thank Neil Evers and Susan Tickle for providing insights and background into these events.
What an incredible way to start the Guringgai Festival 2013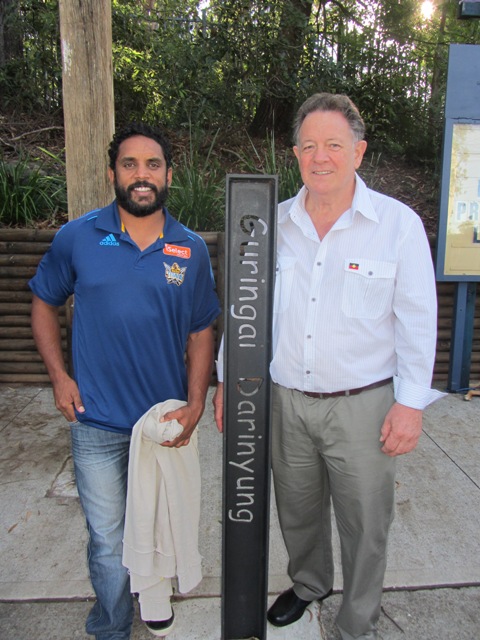 On Monday night the ASGMWP Community Forum and guests listened to Jeff McMullen and Graham Mundine, a Bundjalung man from Northern NSW and well respected Indigenous Catholic leader, report on 'What's going on in the Northern Territory'. The book 'A Decision to Discriminate' was also discussed as was The Stronger Futures legislation. There was a deep sense of betrayal; to learn there was no genuine debate, that the legislation had been rushed through Parliament for political reasons.
Alcohol management, food security, land reform, income management and school attendance were all part of the report to the more than 50 people in attendance. Koori radio 93.1 recorded the very informative meeting. The meeting concluded with an invitation to join in the Guringai Festival 2013 with more than 66 events between May 26th - 14th July, involving 11 Councils and local groups and schools. www.guringaifestival.com.au www.asgmwp.net
On Tuesday afternoon at Bilgola School Cathy Freeman and Preston Campbell congratulated the Peninsula Community of Schools for donating over 2,000 items of sporting equipment to the Katherine Group School in the Northern Territory. It was wonderful to see the enthusiasm from all involved, both teachers and students, and to think that the equipment could have stayed at the Bilgola School. Together we can make a difference.
To those organising the day, thank you for putting it all together it was great. Well done. As a descendant of the Guringai people it was a privilege to have Cathy and Preston have their photo taken with me beside the newly dedicated Guringai sculpture at the entrance to the Bilgola School. What a great way to start the Guringai Festival.
Neil Evers, Aboriginal Support Group – Manly Warringah Pittwater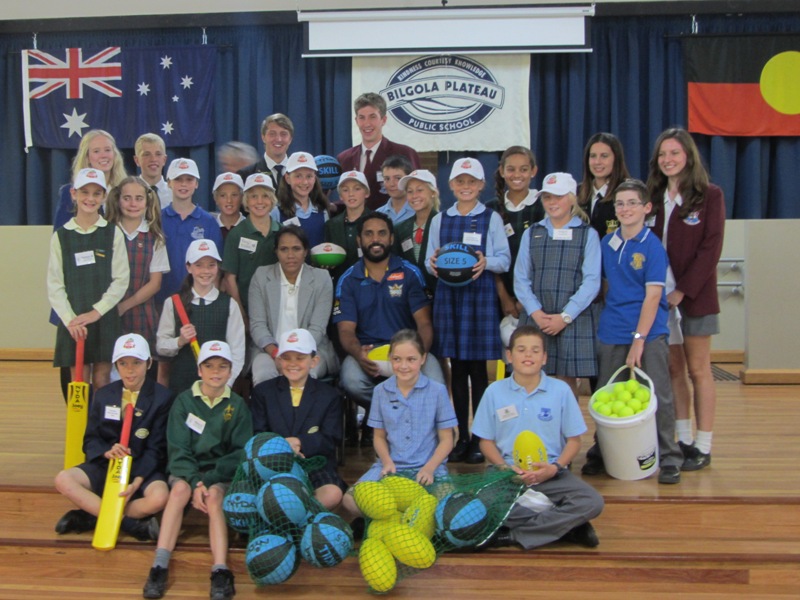 The Peninsula Community of Schools Give Their Sports Equipment to the Katherine Group of Schools
The 13 Peninsula Community of Schools; Avalon PS, Barrenjoey HS, Bilgola Plateau PS, Collaroy Plateau PS, Cromer PS, Elanora Heights PS, Mona Vale PS, Narrabeen Lakes PS, Narrabeen North PS, Narrabeen Sports HS, Newport PS, Pittwater HS & Wheeler Heights PS have banded together to donate the sport equipment from their 'Coles Sports for Schools vouchers' to the Katherine Group Schools.
The Katherine Group Schools (KGS) are a largely indigenous community of 13 schools in the Katherine area of Arnhem Land. Despite the numerous hardships faced in these remote communities they have benefited from the funding and educational resources that Fountain for Youth has provided over the last 9 years. See: http://ianthorpes-fountainforyouth.com/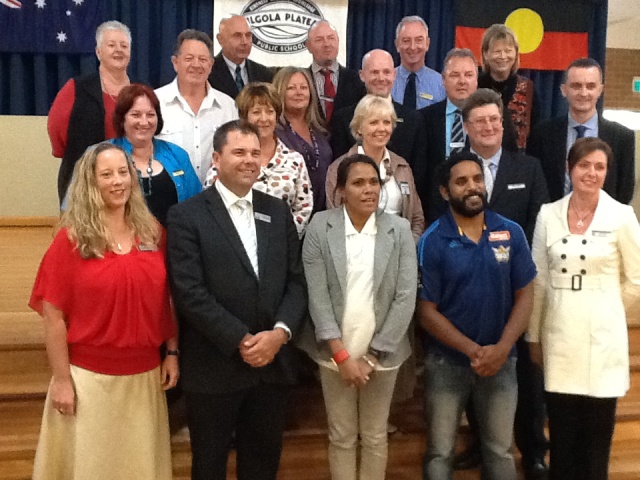 Three years ago a small group of teachers from the PCS visited the Katherine Group Schools and saw the great work that Ian Thorpe's charity - 'Fountain for Youth' had done in providing much needed reading material through the Literacy backpack program for remote Indigenous schools and families. These schools now have Smart boards to enhance student engagement and learning, libraries with quality reading materials, PM home readers and of course the Literacy backpacks. The pride these students had in their school was testimony to the collaboration that has been created between teachers, community members and Fountain of Youth.
These schools are a success story but there are many more communities that do not yet have these necessary facilities and resources that we, on the Northern Beaches take for granted. For the last 3 years, the PCS have collaboratively fundraised within the 13 Public Schools to assist in the sponsoring of Literacy Backpacks, maintaining links with these schools and donating the sports equipment from the collection of Coles vouchers to the KGS.
This Tuesday 14th at 2pm Cathy Freeman and Preston Campbell (Coles ambassadors) were at Bilgola Plateau Public School to formally handover the sports equipment in an assembly with the PCS Principals and school leaders, recognising the contribution that the PCS students and families have made to the indigenous communities of the Katherine Group Schools.
A formal handover of the sporting equipment to the Katherine Group Schools will be made in the last week of May. The PCS will be sending a number of staff to the Northern Territory along with Preston Campbell.
Susan Tickle, Relieving Principal, Bilgola Plateau PS
This years Guringai Festival has a theme of Live Life Loudly. A full list of all Pittwater events and link to the brochure listing all on offer to inform, educate, participate and celebrate forms part of this week's Events page.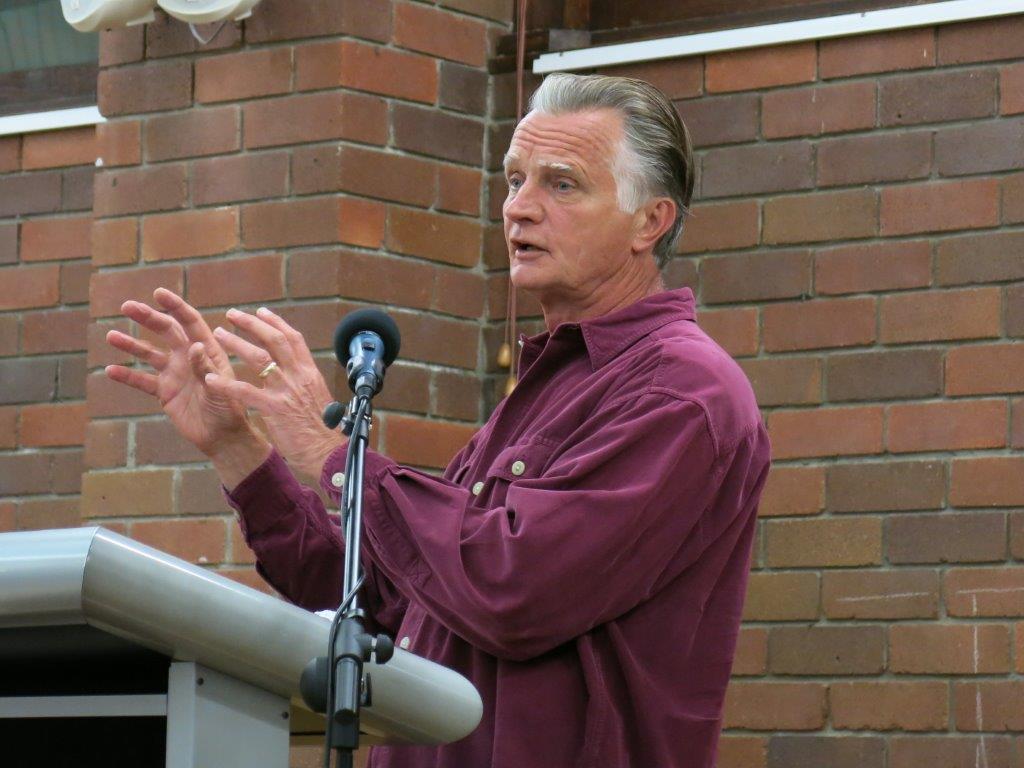 Photos provided by Aboriginal Support Group - Manly Warringah Pittwater, Sabine Kacha and Bilgola Plateau Public School.