October 27 - November 2, 2013: Issue 134
Legend of the Racetrack Turns 100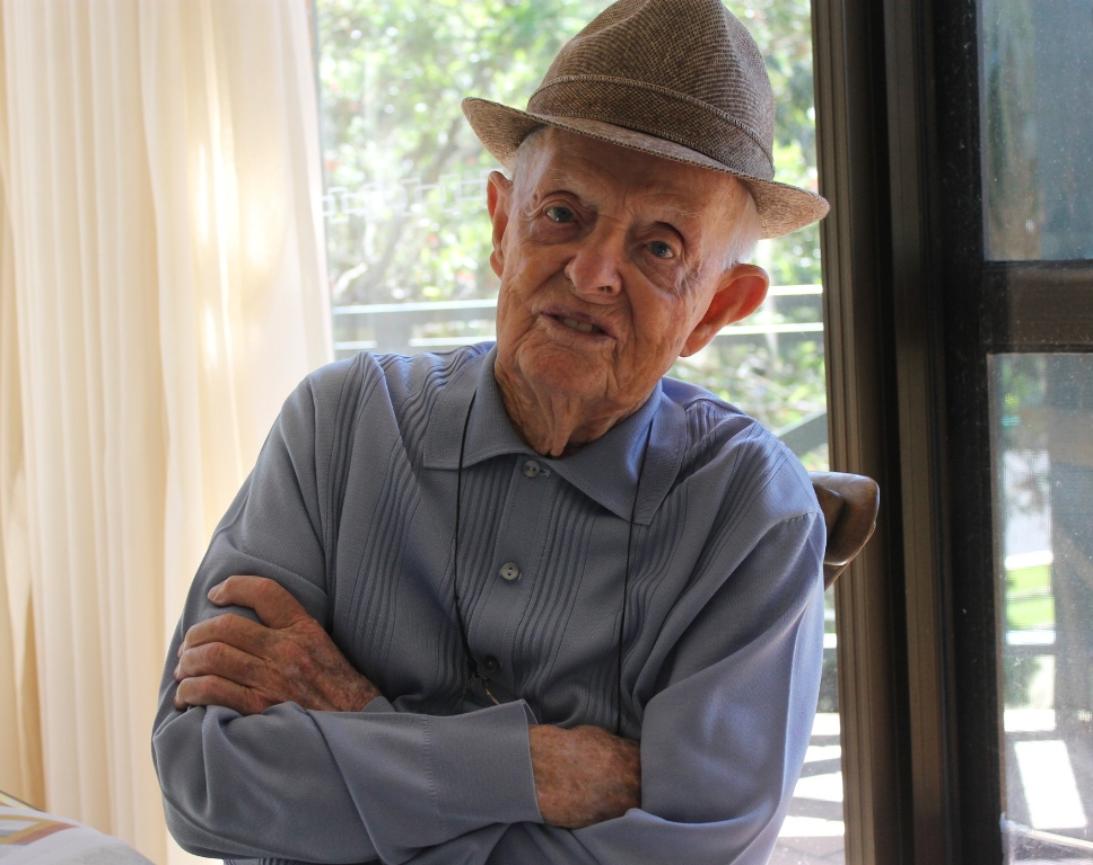 Edgar Britt at Avalon this week. Picture by A J Guesdon.
Legend of the Racetrack Turns 100
by Steve Meacham
Suddenly everyone wants a piece of Edgar Britt.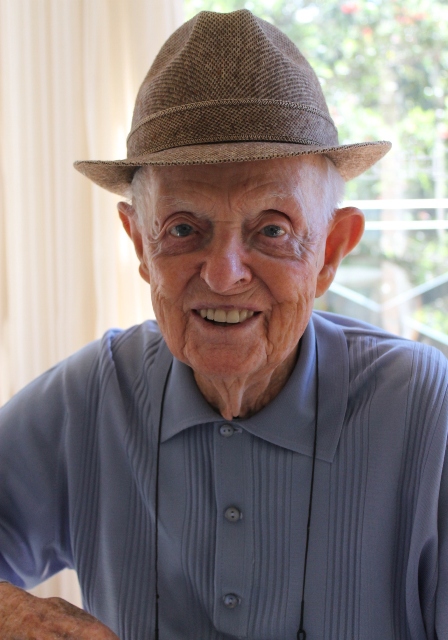 It started a week ago with a story in the Sydney Daily Telegraph, noting Edgar - who has lived in Avalon for over 50 years and is Australia's oldest jockey - would turn 100 on Oct 30.
Within a few hours, the email inboxes were buzzing.
The Australian Racing Board and Racing Victoria made the early running. Then at the first turn came the English journalist from the Racing Post who wanted contact details. In the last furlongs, Racing NSW's magazine editor, burst into the lead - wanting to host a lunch this coming week (Oct 29) for Edgar on behalf of NSW's finest racing correspondents.
Had it not been for the bush fires which have rightly engulfed media attention over the past fortnight, Edgar's image and story would have been frequently retold in print, radio and television.
After all, Edgar Britt is one of only 33 jockeys inducted into the Australian Racing Museum's Hall of Fame. His record of more than 2000 victories in four continents against quality horses and champion jockeys stands comparison with any other jockey.
Next week, on the first Tuesday of November (Nov 5), Australia will come to a halt once again for the 2013 Melbourne Cup. Amazingly, Edgar ran in two of them eighty years ago. Both times he was defeated each time by Peter Pan, one of the greatest thoroughbreds in Australian racing history. In 1932 Britt and his mount were unplaced, but in 1934 he finished fourth on Broad Arrow - the same horse he rode to victory in the 1934 Sydney Cup.
That he never ran in any other Melbourne (or Sydney) Cups is solely because the rest of his career was mainly spent overseas - in the United States, India and the United Kingdom, a feat that might sound less difficult today than it was in the 1930s and 40s when travel usually meant long weeks on an ocean liner.
In Avalon, he's a familiar tiny and bow-legged figure who can be seen around 7am most days, summer or winter, on his constitutional stroll.
Always dapperly-dressed, always wearing his trademark Trilby ("I never go out without a hat"), the twice-widowed father of four is a walking anachronism among the board-carrying surfers, yawning dog-walkers and lycra-clad mothers only a quarter of his age who marvel at his stamina and style.
Only last week (Oct 21), the 99 year old addressed the pupils of Maria Regina Catholic Primary School who sat engrossed as he described his racing adventures. Among the questions the children asked him was: did he ever race against Phar Lap?
It was certainly his era, but Edgar's memory is hazy about the subject. "All I can recall is looking at his backside as he disappeared in front of me," he laughs at his apartment overlooking Avalon Bowling Club.
That may well have been during track work rather than an actual meeting, since the Australian Racing Museum cannot confirm Britt's name appearing in the same race as "Big Red". But Edgar's memory is clearer about Phar Lap's equally celebrated jockey, Jim Pike.
Of all the jockeys, Edgar raced against, Edgar says Pike was the best - and one of the most helpful to young apprentices like himself.
"Although Jim gave no quarter in a race, he often used to get me in a corner afterwards to point out the mistakes I'd made and how I could have avoided them," Britt remembers. "But he always struggled with his weight."
That was something Edgar Britt himself never had a problem with. At only "four feet 11 inches" (1.5 metres), his lowest racing weight was only six stone seven pounds - or 41 kilos.
Born in Five Dock, none of his family had any connections with horse racing. But a neighbour did, planting the thought of becoming a jockey in Edgar's young mind.
He left school as soon as he could, at 13, and became an apprentice jockey at the stables of Mick Polson, initially at Kogarah before moving to Randwick.
His early year or two were spent mucking out the stables and doing all the other menial jobs. He won his first race aged 16 at Canterbury. And by the time he was 18, he had shown so much promise and secured so many wins, Polson whispered to him at the end of the season: "Do you know, Edgar, that this year you have earned more than the Premier of NSW?" (Though as Edgar points out, "I never got to see much of it.").
In 1933, Polson took him - with horses, by boat - to try their luck in America, around the same time Phar Lap had died in mysterious circumstances. His experiences there sound like a Damon Runyon story - on one occasion he watched, dumb-founded, as a white security guard at the racecourse shot dead a black stable hand caught up in a fight over a woman. No action or investigation followed.
Written off by American journalists as a poor jockey, Edgar had the last laugh - winning several major races including the prestigious Baltimore Handicap in 1933 on Winooka.

His other international victories include seven English classics (two St Leger, two Oaks, two One Thousand Guineas and a Two Thousand Guineas); the Irish Derby; plus a decade in India during the 1930s and 1940s, wearing the competing colours of mega-rich maharajas and winning the Indian jockeys' premiership eight times.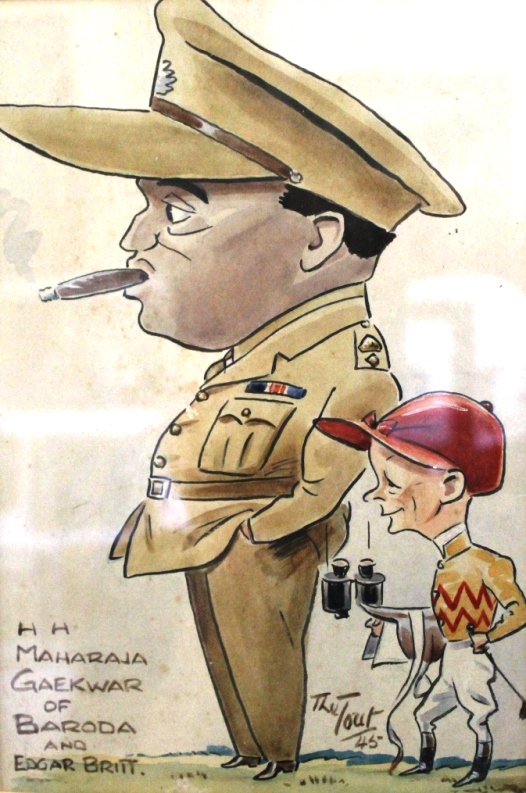 Three years after arriving in England in 1945, Britt became the Royal jockey for King George VI, "an excellent owner who believed in leaving his trainer to give the riding instructions, but who knew the form closely".
Some of Edgar's favourite memories involve the present Queen, who he first met when she was the young heir to the throne.
Once in 1948 Princess Elizabeth and her sister, Princess Margaret, walked into mounting enclosure at Hurst Park. "She'd always say hello," he remembers. "You could always have a conversation with her, especially if it was about horses or how the race would be run.
"She would have been about 18 or 19. It was one of my first rides for the Royal family and they seemed to have a soft spot for Avila, the horse I was riding that day.
"She said 'Will she win?' And I said 'I think so, but I might have to give her a bit of smack with the whip.'"
"Dead silence followed. I'd said the wrong thing. I'd forgotten the Royal family didn't like to see their horses being whipped.
"Anyway, the call came to 'jockey up', and the Princesses said they'd go but see me after the race. Then as she was leaving, Princess Margaret raised her hand, made a whipping motion and said 'If she needs a whipping, give her one'."
Did he need to? "No, she won easily."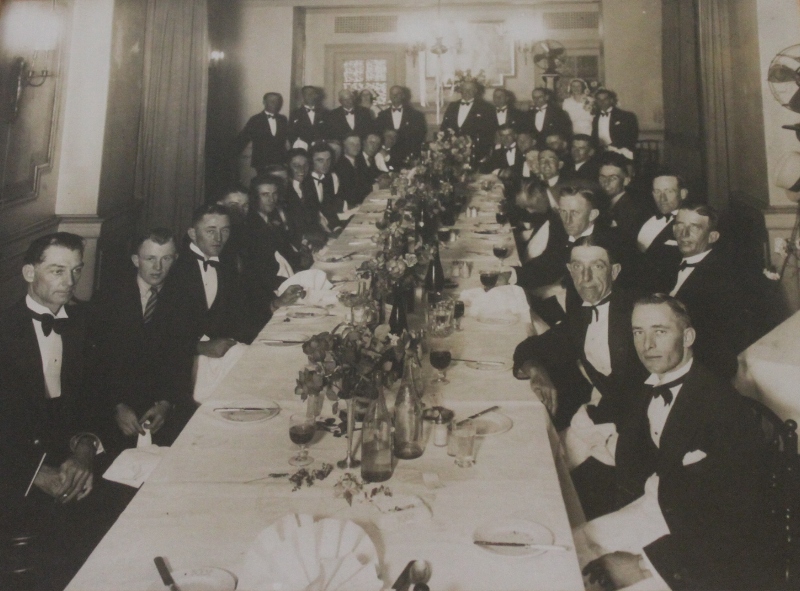 Retirement Dinner given to Edgar on retirement, Savoy Hotel, London, November 20th, 1956.
After retiring and returning to Australia in 1959, Edgar began a new career as a racing columnist for the Daily Telegraph, which he continued for 16 years. In 2004 he was awarded the Order of Australia Medal for services to horse racing as a jockey, commentator and journalist.
He still reads "the Tele" every day, studies the form every Saturday, and goes to the races occasionally.
He has no big plans for his 100th birthday, apart from "family dinner with my family and friends".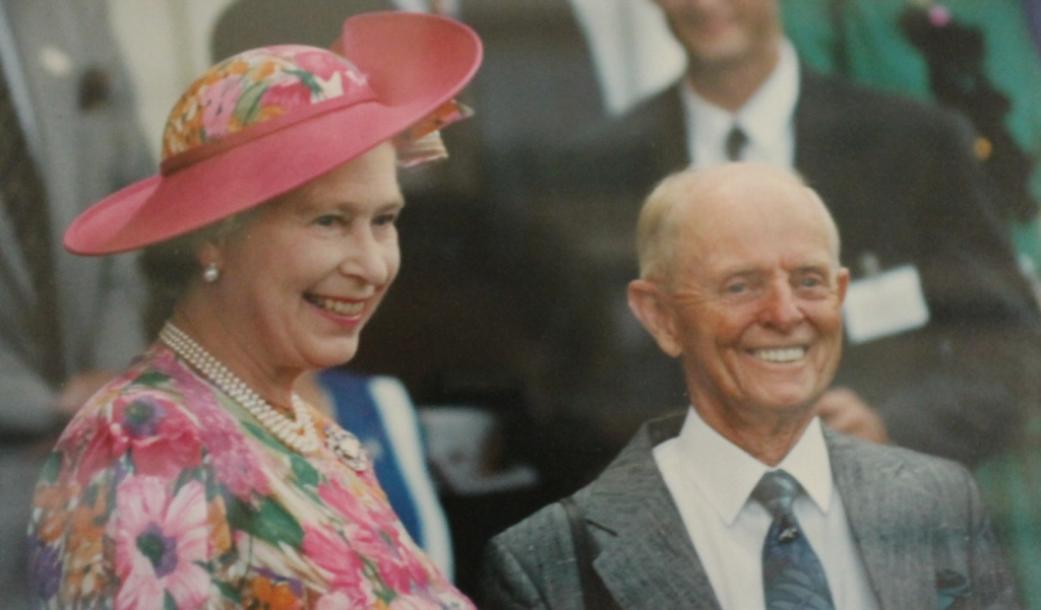 Her Majesty Queen Elizabeth II and Mr Edgar Britt.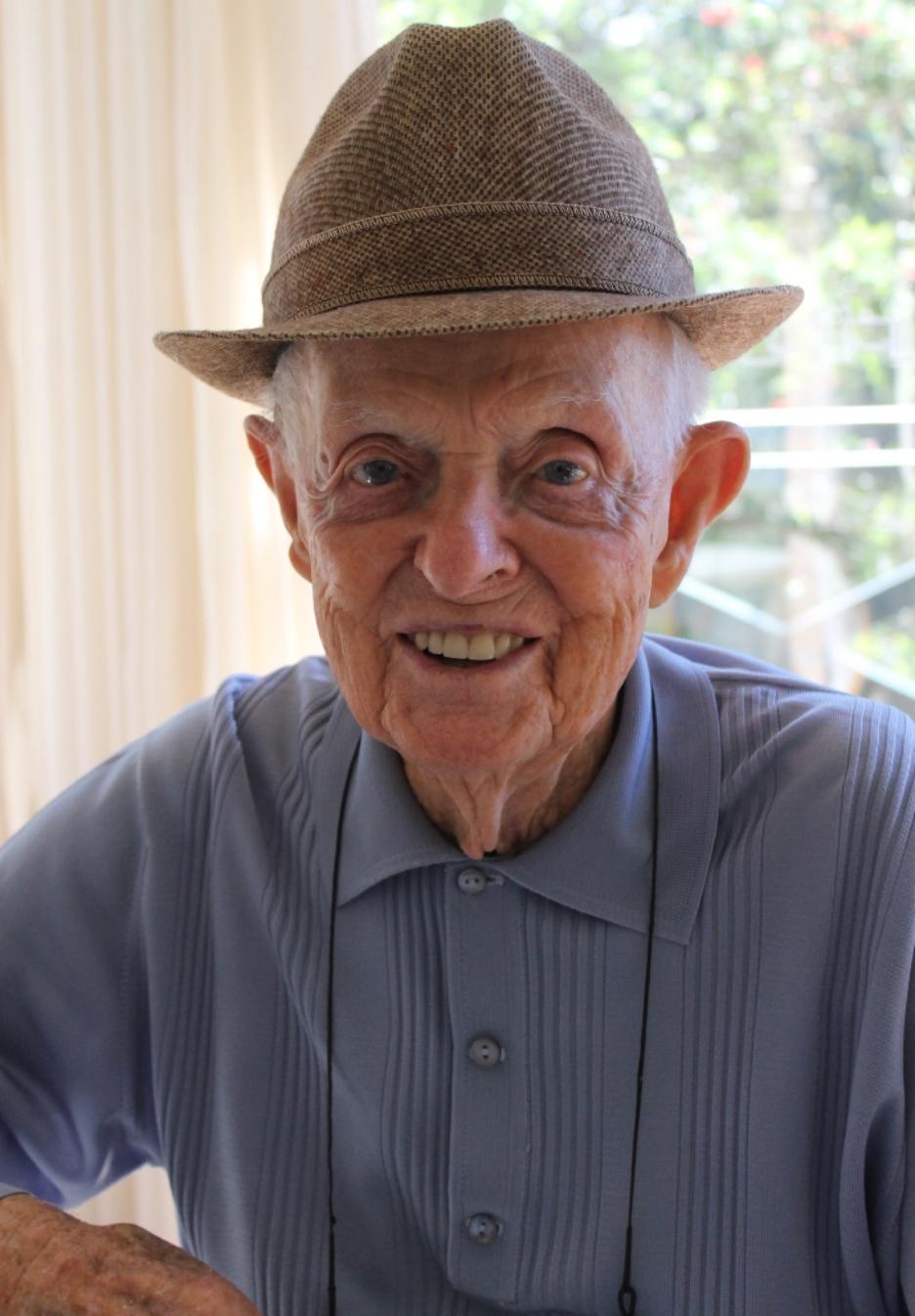 Edgar Britt in Avalon this week. Picture by A J Guesdon
Photos of Edgar copyright A J Guesdon. Article Copyright Steve Meacham, 2013. See Meach Media.