March 10 - 16, 2013: Issue 101
On the Narrabeen Lagoon AT MANLY.
The picture, shown on this page, is taken atone of the most picturesque spots on the lagoon. It is on the opposite side from Manly, close to the gasworks ; though it is sacrilege to name, the lagoon and gasworks in the same breath. The party in the boat wended their way pleasurably up one of the many pretty tributaries. The picturesquely-wooded foreshores, with their fretted rocky caves and mirror-like waters, form a surpassingly beautiful scene. . Ferns, flowers, and grasses are plentiful. Shady nooks and bathing places easily found. The picture is quite an artistic creation, and does not belie the original. On the Narrabeen Lagoon-Manly. (See letterpress on this page.) On the Narrabeen Lagoon,. (1892, March 19). Australian Town and Country Journal (NSW : 1870 - 1907), p. 30. Retrieved from http://nla.gov.au/nla.news-article71235518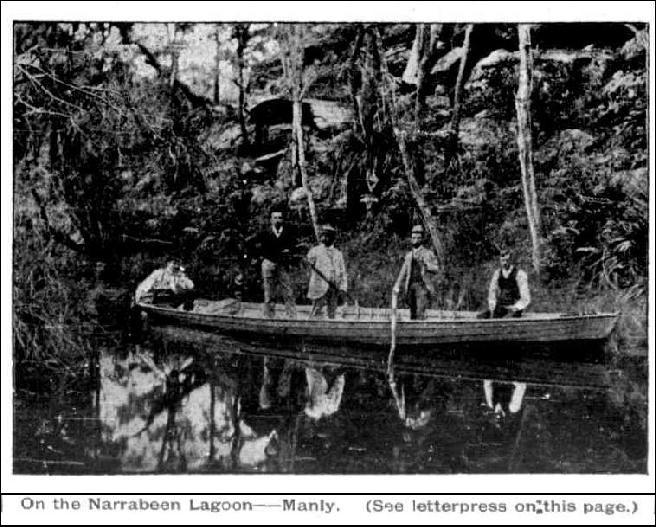 LAKE NARRABEEN.
The soft breeze blows on Narrabeen,
Bright lake of gleaming light;
The sky is deep and blue and clean.
With fleecy clouds bedight.
And steadily the slow oars beat
As drums mark time in music sweet.
The hills that hold the lake between
Their green and shining knees,
Are Jealous lest fair Narrabeen
Be won by creaming seas.
That break against the sandy bar,
Where peace and dreams and beauty are.
The sunlight shines on Narrabeen,
Prom Deep Creek to the sea;
By sandy capes the tall trees lean.
As though they long to be
Reflected where water lies,
A mirror for the summer skies.
The sunset falls on tree and tide,
The leaping fish are still;
The little elves of silence hide
By reedy reach and hill;
Only the soft sound of the oars
Wakens old dreams along dim shores.
The night wind sings to Narrabeen,
A lover tried and true;
From purple skies the white stare lean,
To light the waters through;
And slow, so slow, the timed oars beat,
Light as soft drums in music sweet.
WILL LAWSON.
LAKE NARRABEEN. (1931, November 14). The Sydney Morning Herald (NSW : 1842 - 1954), p. 9. Retrieved from http://nla.gov.au/nla.news-article28036781

Will Lawson, journalist, novelist and poet.
More at: Elizabeth Webby, 'Lawson, William (Will) (1876–1957)', Australian Dictionary of Biography, National Centre of Biography, Australian National University, http://adb.anu.edu.au/biography/lawson-william-will-7122/text12287

A VOLUME OF VERSE. "Poems," by M. Danvers Power, William Brooks and Co., Sydney. The authoress of this slender volume is well known to many in this State, who remember Mrs. Danvers Power as Miss Muriel Blain, formerly of Perth. Mrs. Power, whose husband is a scientific writer of considerable merit, had already herself published some excellent educational writings, when she recently surprised her friends with an expression of herself in verse. The book contains at least one reminiscence of Western Australia, entitled "To Rottnest Island." There is a hunting melody in the poem headed "Narrabeen," especially in the stanza
"O Narrabeen, O, Narrabeen, had I but one day more,
I'd gladly sleep for ever upon thy sea swept shore
Perhaps in some dim waking, when dreams have passed away,
A sail will steal at sunset across the silent bay
A mistless bay in the Unseen0 Narrabeen, 0 Narrabeen.
LITERATURE. (1912, April 5). The West Australian (Perth, WA : 1879 - 1954), p. 6. Retrieved from http://nla.gov.au/nla.news-article23869066
Muriel Faucett Danvers Power (nee Blain) married geologist Frederick Danvers Power in 1901. They had two sons, Charles and Robert. Muriel wrote poetry as Muriel F. Power and was a pioneer of the Sydney Arts and Crafts movement. Her work in the 1940s was published under the name M. Danvers Power. In 1930 Frederick Power established the small Rhincru Press at their home in Burwood. Many of the poems in this collection have been bound by hand. Robert Danvers Power was born 24 April 1907 in Drummoyne, NSW. He was educated at Hawkesbury Agricultural College in the early 1920s and purchased land (30 acres) at North Richmond on the banks of the Hawkesbury River, called 'Waterford'.