September 28 - October 4, 2014: Issue 182
Lachlan Russell Crowther
September 1940 – September 1993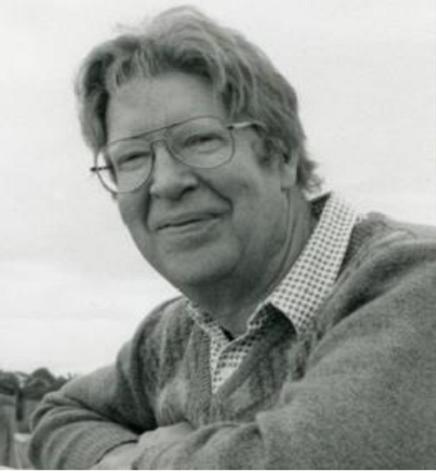 Lachlan (Lock) was born in the Melbourne suburb of Brighton on September 9th 1940. He was one of four children, having two brothers and a sister, the family eventually moving to Bairnsdale not far from the Gippsland Lakes, where Lock developed his love of sailing.
Lock Crowther built his first boat, a trimaran with the help of his family in 1959 while still a teenager, their trimaran, 6 metres long, had been designed by Lock and built out of plywood on wooden frames and stringers, it was sloop-rigged with a wooden mast. A balanced jib was attached to a boom, and the decks between the main hull and floats were plywood. In an effort to provide lift, the floats were flat-bottomed. Lock named the trimaran Bunyip, after an Australian mythical creature. Another feature, intended to prevent broaching, was the very full bow on the main hull. This was the reason for the twin jets of water that came off the forefoot, ensuring that at any speed at all the crew got very wet.
The success of Bunyip inspired several of his friends to build similar boats and thus Lock Crowther's design career began, though he did not expect to make a living out of it. He studied electrical engineering at Swinburne Technical College, and after graduating worked for the State Electricity Commission.
Lock met his future wife Beryl during their tertiary education. Beryl studying Home Economics, which she would eventually teach whilst in Victoria and later setting up a successful business as a Food Stylist in Sydney. Lock and Beryl were married in 1965 and eventually had three children, Brett, Michelle and Ashley. Lock and Beryl enjoyed weekend cruising and occasionally racing on the Hawkesbury with their family and also with friends.
BUNYIP was followed by the Kraken 25 design which was first built in 1964. Crowther Designs was formed in 1966 as a hobby business with design rather than manufacturing being the basis of the company.
Eventually Lock decided to take a six month sabbatical from the State Electricity Commission to see if he could make a success of boat designing and needless to say he never returned. In 1966 Lock and Beryl decided to move to Sydney as they felt more business opportunities were available here. Lock's reputation was established internationally in 1966 when his first offshore racing trimaran BANDERSNATCH won the Sydney to Hobart multihull race. In the early 1960's when there were only a handful of people designing multihulls, Lock Crowther was involved in this international scene and was also a member of the Amateur Yacht Research Society, he was heavily involved in establishing the rules for racing and safety for Offshore Multihull Racing. Even more notice was taken in 1969, when a Kraken 40 won the New York to Bermuda race with him aboard.
During Lock Crowther's career, more than 2500 of his designs were built. He started out with racing boats, where most of his new ideas were developed, though he was also successful in designing cruising and commercial crafts.
Among his outstanding designs was the trimaran SPIRIT OF AMERICA, which was an early user of GRP-foam sandwich construction and had innovative composite beams with uni-directional fibres and turned-down ends. Lock Crowther also developed the use of 'bulbous bows' as a measure to reduce pitching, and hence increase speed when sailing upwind in a swell. Crowther Design became a very experienced marine design company responsible for a wide range of vessels from large high-speed offshore catamaran ferries through to all types of workboats, charter vessels, recreational power craft and sailing leisure craft.
Whilst crewing on one of his own designed boats in the Round Britain race, the boat was in collision with a steamer and although the crew were picked up the boat was lost. Lock lost the glasses he was his was wearing, and his spare pair that he had in his wash bag which went down with the boat. On returning to London he was told that it would take at least two weeks to make new glasses which was not much help being very short sighted. Lock immediately telephoned Jim Geddes of Geddes Optical in Sydney (Lock's optician) and told him the situation. Jim immediately went into action, and had a pair of glasses air freighted to Lock that evening, which arrived three days later. Six months later a parcel arrived at the Crowther household which turned out to be Locks wash bag containing his spare pair of glasses, with a letter saying that it had been washed up on a beach in the UK and hoping that he was the Lock Crowther who had lost it. Lock and Jim had become friends when Jim purchased the design of a Spindrift 45 from Lock which Jim then proceeded to build in his back garden.
Lock was a very sociable person, and many multi-hull sailors visiting Sydney were invited to the Crowthers for barbecues, where they were made very welcome by Beryl.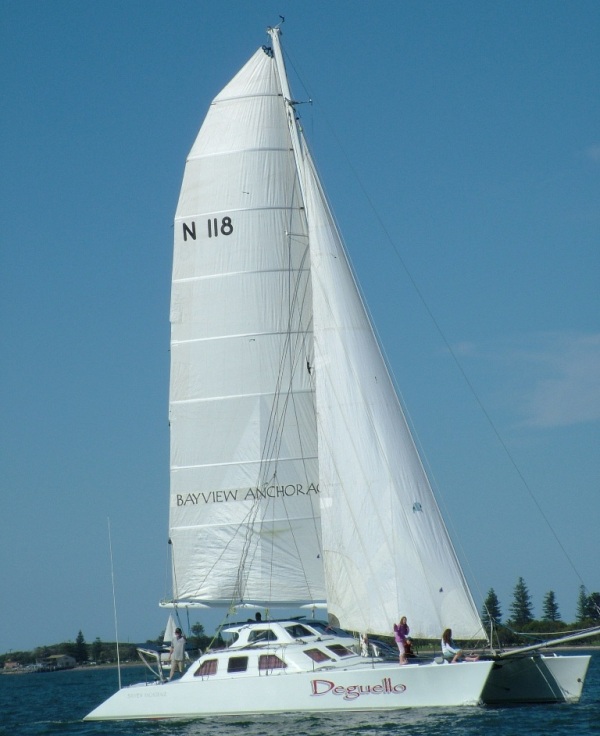 Lock's last boat "Deguello"
Sadly Lock died from a heart attack doing what he liked most, sailing his boat 'DEGUELLO'. After his death in 1993, Crowther Designs was run by Loc Crowther's son, Brett. On the 27th of July 2004 Crowther Pty Ltd was shut down and the company name de-registered.
Brett then developed INCATCROWTHER, concentrating on the development of commercial vessels. Lock Crowthers DIY multihull sailboat plans are now permanently archived and no longer available.
Established in 1996 the Lock Crowther Memorial Regatta has been hosted annually the Royal Motor Yacht Club as a tribute to Australia's pioneer multihull designer. Lock's designs date back to the early sixties and can still be seen in most harbours around the world.
by John Mitchell with Beryl Crowther
Lock Crowther Multihull Regatta
October 3rd, 4th & 5th 2014
Breaking News!!!! Team Australia has entered the Lock Crowther; So come and race against the best.
Follow the link below to enter