December 22 - 28, 2013: Issue 142
Karen Baldwin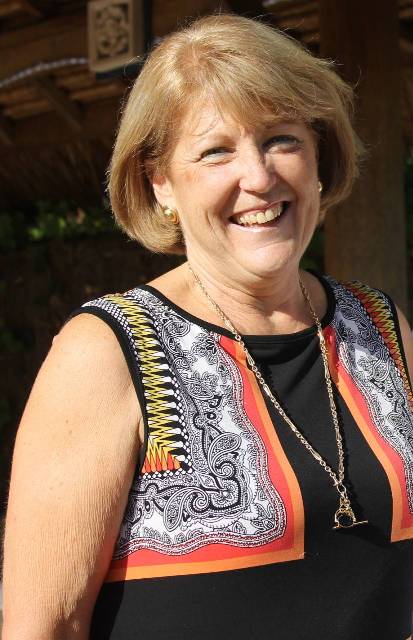 Known for her sunny disposition and working six days a week, often for 12 hours of these days, Karen Baldwin has ensured the Royal Motor Yacht Club – Broken Bay has advanced its protocols in becoming part of the Clean Marina Program, has staff her encouragement has seen continue their own development, acquiring accreditation and new skills and has represented the club in many a community event. No stranger to the Pittwater brine, this inspirational lady lets out a brilliant smile when out on the water, whether officiating at Twilight races or joining in when the RMYC fleet observes and keeps tradition for its annual Opening of the Boating season.
Unfortunately Pittwater is losing the full time input of Karen, who recently resigned from her position as General Manager and is taking perhaps her first summer off since commencing at the Royal Motor Yacht Club – Broken Bay. Since so many of our encounters with her have always been about the work at hand it seems high time we heard a little bit about Karen from Karen… just so we can keep her here for much much longer…
Where were you born and where did you grow up?
I am the eldest of five children, growing up in Mt Colah (just north of Hornsby). We have all had quite successful working lives and Mum and Dad often used to say "we don't know where you all got so much drive and energy from!"
You were General Manager at Radisson Hotels for 14 years and now have undertaken the same position at Royal Motor Yacht Club; how did you become a GM – a path chosen or personal development?
I never really thought I was a career driven person but when you enjoy what you do, and give yourself 100+% to a job, the successes seem to come along and the motivation for self-improvement. I have equally loved and enjoyed my GM roles in the hotel industry as well as here at the RMYC.
What were the main differences between these roles – size of venues- amount of staff –
The RMYC with all its facilities including the pool, is like a resort hotel, but without the rooms. So, there is really not a lot of difference between the Club or a Hotel – there are still lots of people who you want to make sure have a great experience!
Staff development – you have become well known for developing staff members skills and qualifications and for acknowledging their successes through the Pride Of Workmanship Awards. How important is it to develop staff members?
Absolutely critical – we were all young once ourselves and we would not be doing what we are now if employers had not provided training and development opportunities.
You have overseen Marina Upgrades with one eye on pristine Pittwater environment – e.g. Pump Out Facility, this indicates a dynamic approach to Marinas. You are also a Director of the Marina Industry Association of Australia – what are the main developments in marinas during your time a RMYC?
I would say programs like the Clean Marina Program and accreditation which ensures that environmental compliance is maintained, the Gold Anchor Program which identifies the level of facilities in various marinas (RMYC is a 4.5 gold anchor rating – 5 being the highest), similar to Hotel star ratings. In regard to physical changes and developments, marina design and construction is constantly changing and improving because of the changes in boat sizes, designs, and the expectations of a very savvy boating public. Marinas now have to provide things like wi-fi service, Foxtel connections, boat-side power and water, berthing assistance, 24 hour security, etc. RMYC even delivers weekend papers to members on the boats in the marina, and I know of one marina who even do complimentary cocktails on a Sunday afternoon! It's all about keeping members and boat owners happy and well looked after.
The RMYC was awarded the MIA 2011 – 2012 Club Marina of the Year - how is this defined and why was it awarded to Royal Motor Yacht Club- Broken Bay?
The submission required a detailed response to 10 questions relating to the Business History, Financial Performance, Sales & Marketing, Environmental Management, Human Resources Management & Training, Community Support and Initiatives, etc. This was followed by a site inspection by a Judge, and then a Judging committee make the final selection on who is the winner. When RMYC won, we were honoured to have been a finalist with Sandringham Yacht Club in Victoria and Royal Perth Yacht Club and obviously thrilled when we were announced the winner!
There are many glowing comments from members and Board Members but what do you need to keep your eye on as main areas of focus in managing a business of this size?
Ensure you have a good strong team of people working around you. Apart from that it is maintaining a warm and friendly environment which makes people want to be here, be a good listener, deliver exceptional customer service and always try to exceed members' expectations. If you do all this, the rest all just seems to fall into place.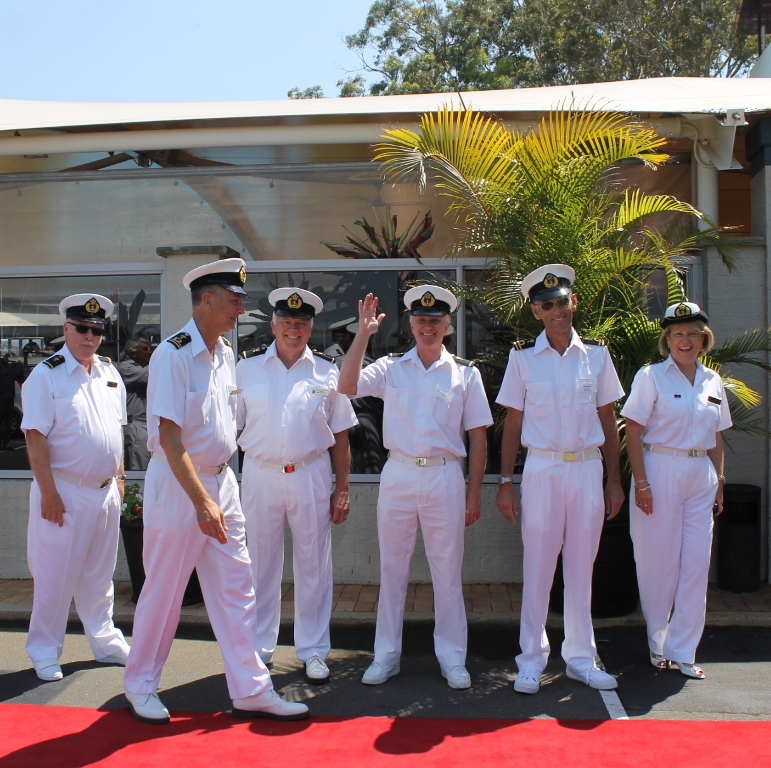 Greeting Director-General ANC, Commodore Geoff Geraghty AM, RANR, Geoff Jollow, with Directors and visiting Commodores - 87th season RMYC Opening of Boating Season - October 2013
The RMYC is renowned for its fantastic events – a range of Ladies Lunches throughout the year all with brilliant speakers, and all raising funds to invest back into community, the Annual Marine Art Show, largest in Australia, the Timber Boat Show, Annual Unique Car Show to raise funds for Bear Cottage at Manly, contributed items for auction to 2011 Rotary club of Pittwater Spring Concert, raising funds to send Alyse Saxby to Special Olympics, a Wine Fair, Australia Day Boat Parade, New Years' Eve Fireworks, a Golf Day raising money for Newport and Bilgola SLSC's, even sponsorship of the Newport Junior Rugby Club all point to investing in community. The RMYC Broken Bay has a historical basis of investing in and building community which you have carried forward in some of the examples we have listed - what is the ethos behind this?
The simplest answer would be that the majority of our members are from the local community and by promoting and creating community interest events, we are giving something back to our members which in turn builds a great sense of pride for them.
The RMYC will continue to look at new and better ways to increase community support.
Women at the top of their field – what advice would you give to any younger girls going into work force today who want to succeed?
I can only look back at my own career path in regard to giving advice, but key things were being prepared to work hard, don't wait for things to happen – you need to chase them a little, and when opportunities arise, grab them! I have been fortunate in working for people who have seen my potential and my eagerness to constantly learn and never been afraid to tackle a new challenge – they are the ones who have helped me achieved career success by providing the opportunities that have helped me learn. Even now at my age and a long career, I still continue to learn and hopefully teach others.
After six years at the 'helm' of the RMYC – Broken Bay at Newport you're leaving us – where are you going and what are you doing next?
At the moment, I have no plans other than to take a well earned rest – I'm also not someone who can sit idle for long, so probably in February, I'll start to give some thought to what the next step will be. I am particularly looking forward to seeing and spending time with my children and grand-children (all of whom are gorgeous!) after Christmas.
What will you miss most about the Royal Motor Yacht Club - Broken Bay?
The friendships which I have formed with so many members, my amazing and wonderful staff and probably organising all the fun events! I love being creative and doing all the decorating!
Boating for the future?
My husband and I own a small runabout which we keep up at our house in Shoal Bay – apart from that we look forward to the many invitations from RMYC members to join them on their beautiful boats. I have been very involved with the Monday Twilight Sail Racing on Pittwater, as in being the caller for the finishing line and would like to keep doing that – it's a lot of fun and beautiful sitting on a boat as the sun sets over Pittwater.
It is well known that you have worked six days a week for at least twelve hours each day – what do you do to relax on a day off?
Not sure if I have actually worked that out yet, on how to relax, but I own a property up in Port Stephens which is where I go to escape and probably where I relax the most. When I'm at home on my day off, I always seem to have lots to do, and usually ends up including 'work' stuff anyway. The other relaxation I get is going on holidays! Hopefully now I will be able to get away a bit more.
What is your favourite place in Pittwater and why?
My office! I have had the best view overlooking Pittwater for over 6 years and I get paid to sit there!
What is your 'motto for life' or a favourite phrase you try to live by?
You never get a second chance to make a first impression.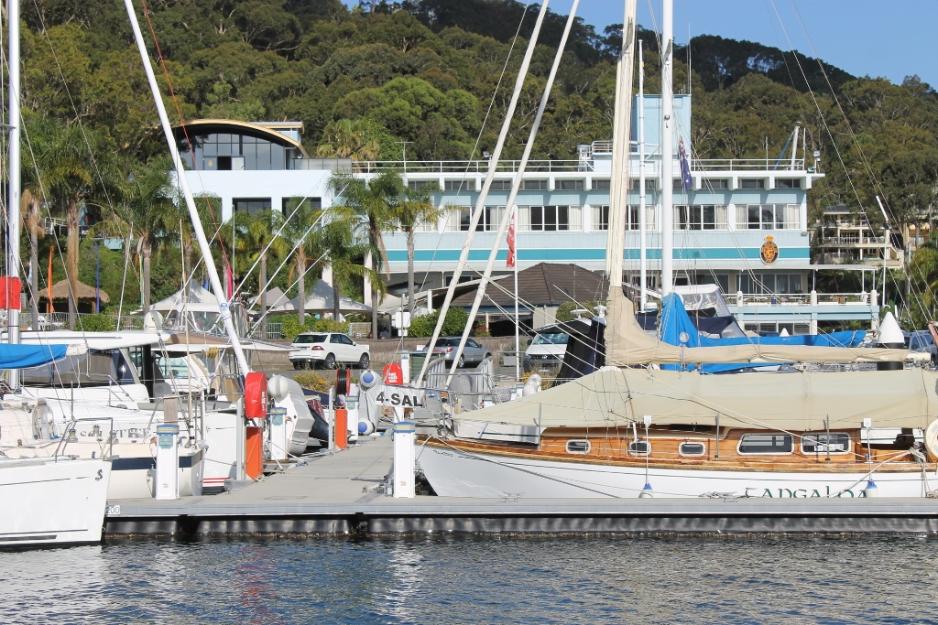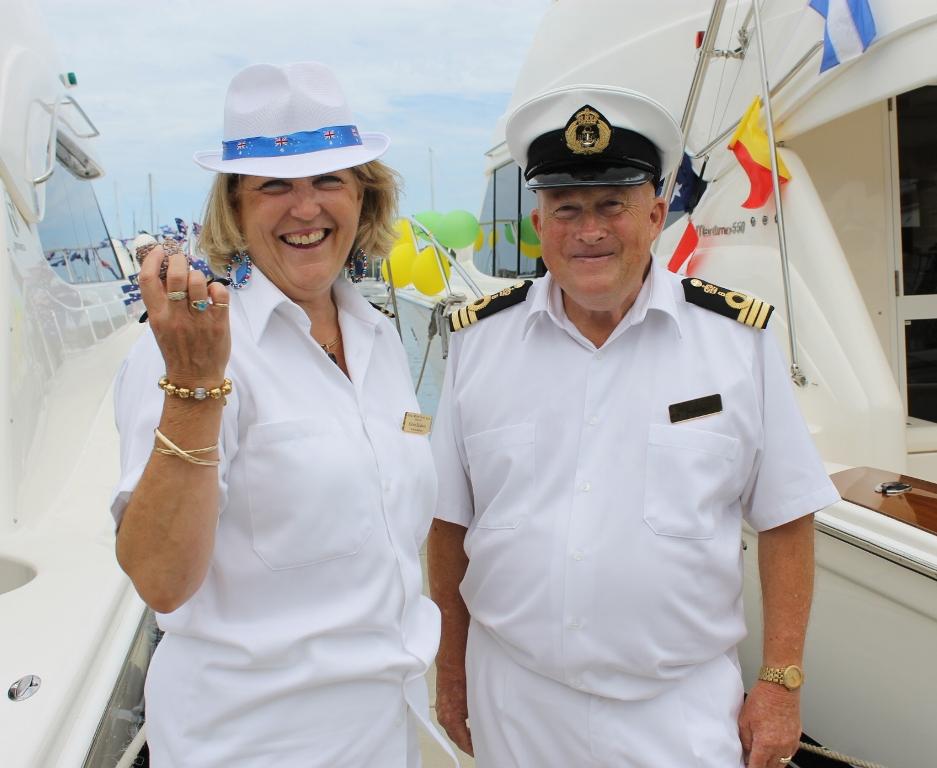 Australia Day 2013 - Lamington in hand! Karen Baldwin with RMYC - Broken Bay Commodore Peter Haig. Picture by AJG.
Copyright Karen Baldwin, 2013.