August 16 - 22, 2015: Issue 227
John Michael Armstrong Stringer
John Michael Armstrong Stringer AM, ESM, JP, CMILT, ASO
John Michael Stringer is still involved in and keeps himself current with a number of lifelong interests. He has an inquiring mind, and a policy of saying 'yes'to any opportunity that presents itself, statng he always says 'yes' and then figures out how to achieve what has been asked of him as he's doing it, applying keeping 'fun' part of the mix of learning and doing, a practice that has created and manifested many a great day in a lifetime of achievements.
Mr. Stringer, 'Mike', has given decades in voluntary service, amounting to thousands of hours of work, and worked full-time while doing so in construction, transport, on the land and on the sea. This week we share an insight into an Elanora Heights gentleman of great renown.
Where were you born?
In Brisbane General Hospital on the 16th of January 1939.
Where did you grow up?
Dad went to the war (WWII) in 1939. He was a Lieutenant, later Captain, in the 2/25th Australian Infantry Battalion and killed in the Middle East, in Syria on June 22nd, 1941 by the Vichy French during the Merdjayoun campaign– this was the same action that Arthur Roden Cutler won his VC through. Mum and I moved down to Brierly Street, Cremorne, which was the home of dad's father and mother, Dad had been born in New Zealand.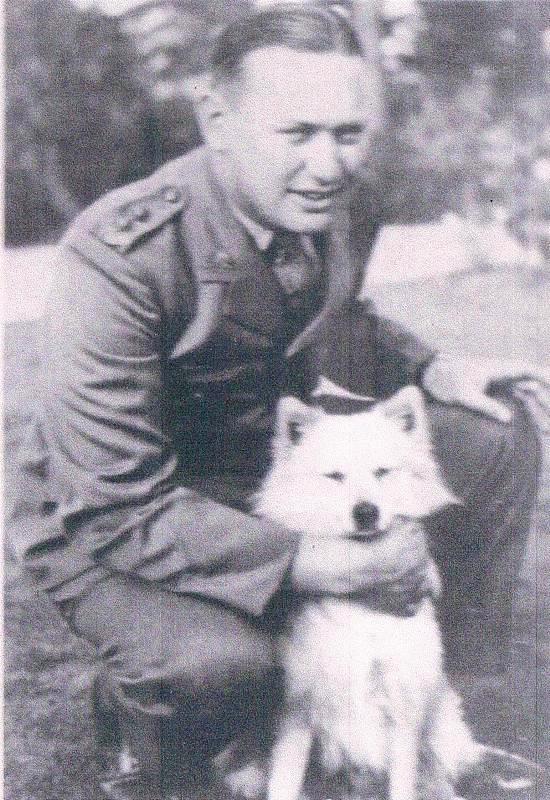 Lieut. John Rickard Stringer (Later Captain)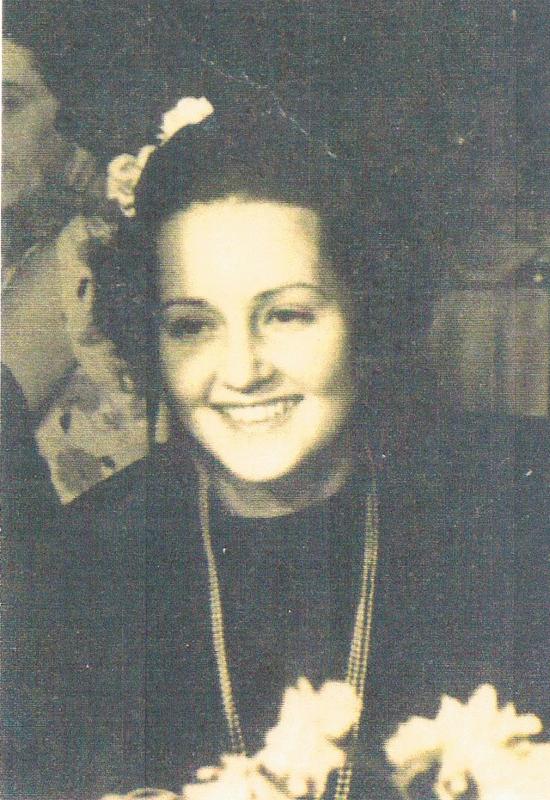 Mary Elizabeth Stringer JP (this was the picture J R Stringer had with him when in Syria)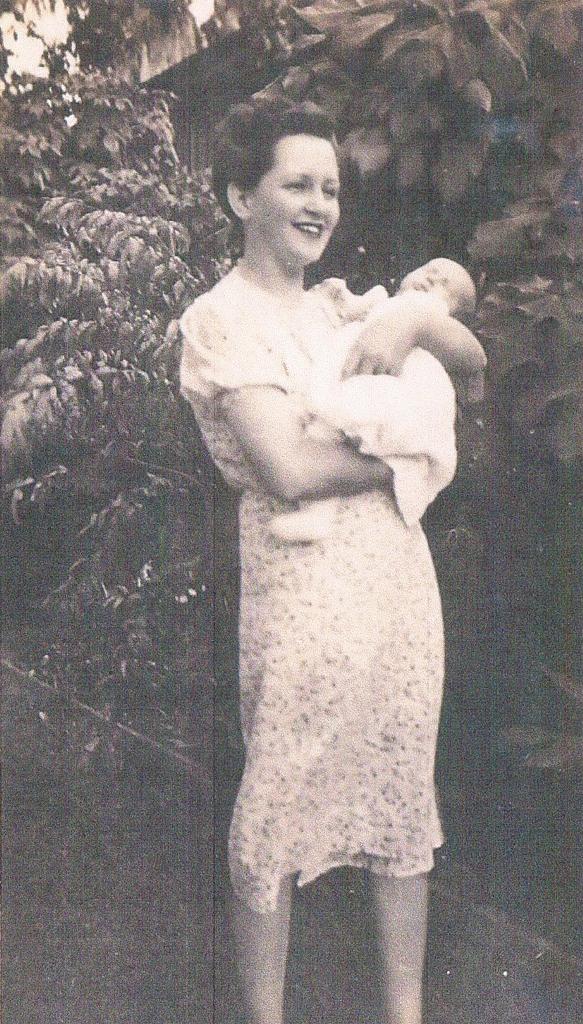 John Michael Stringer - 1st picture with his mum at 88 Moray St., New Farm, Brisbane - January 1939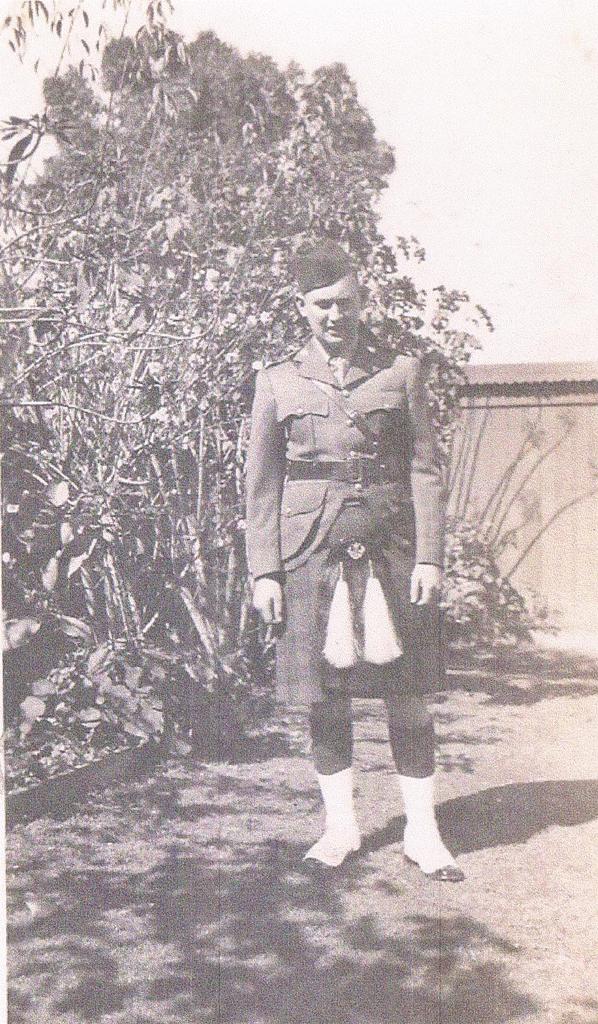 John Rickard Stringer in Queens Own Cameron Highlanders Uniform
We stayed with them there throughout the early part of the war, in fact I can remember the submarine attack on Sydney Harbour during that time. My grandfather Stringer had been the Harbourmaster and the house had a verandah that looked out over the harbour. We were all using the bathroom prior to sleep and we were looking out over the harbour at what we thought were fireworks – these were not fireworks, they were in fact live shells coming from the USS Chicago which was shooting at anything that moved. I wrote a book called 'Sydney Harbour' which covered this event.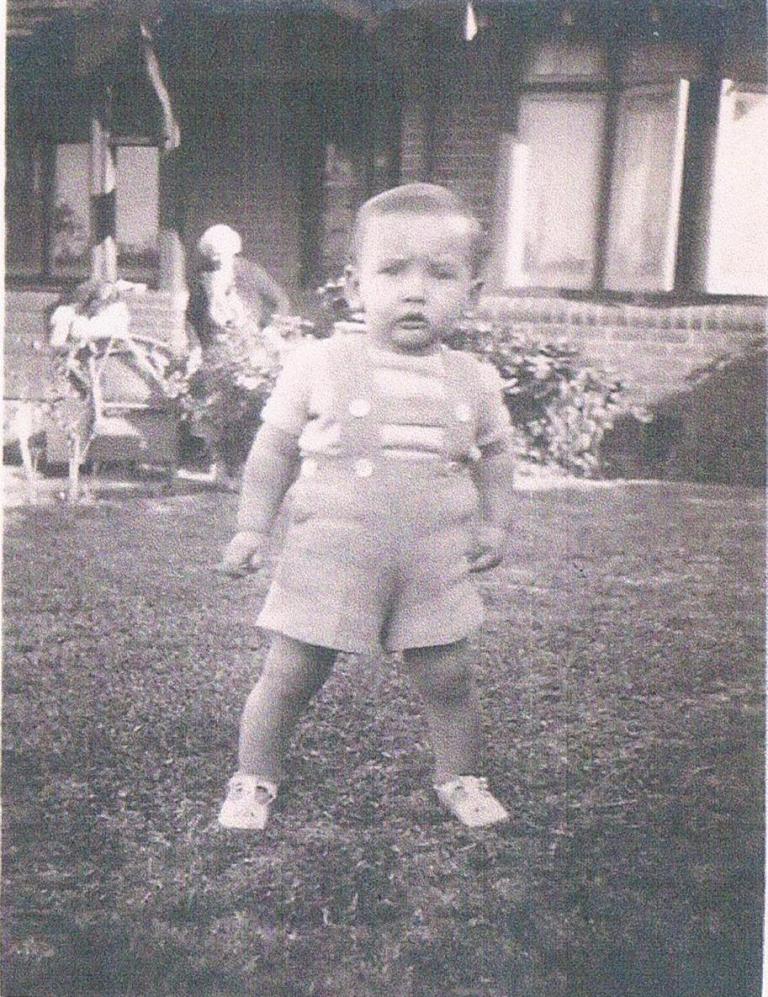 Mike at Brierly Street Cremorne 1941- 42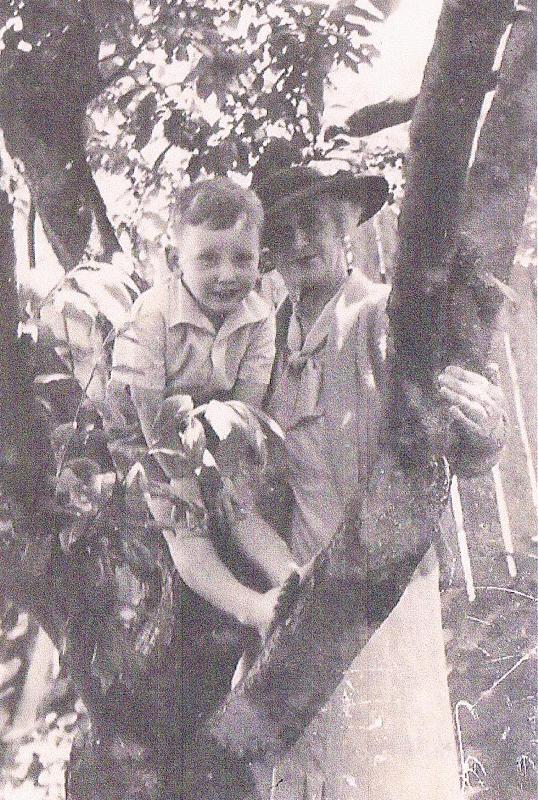 With Grandmother Katherine Stringer (nee Rickard)
Mum and I moved to Bulkara road Bellevue Hill and rented a place there. My Aunt Mary, later to become Mary Spring, was secretary to the commander of Base 7 of the US Army, so we had a lot of US visitors through the home. Mum once said that she liked eggnog (she did not drink but had tasted eggnog ) the next day a case of eggnog arrived from the Americans, so there were benefits.
Grandma Carpenter (Maude Rose Carter JP, nee Hutchinson and Carpenter) was the head of the Rationing Commission during WWII – the prime section was the Recovery Department of the Rationing Commission; you could give the coupons out but you also needed to account for what was coming in as that's where the graft and corruption could occur by companies.. She had a quite necessary direct line to Ben Chifley, the Prime Minister of that time, as when some of the corporations and companies would come in to try and bully her she would say 'one moment Mr. Bloggs' get on the telephone, and let them speak to Chifley and that would quickly kill their 'mission'.
Grandmother Carter / Carpenter was also one of the people who helped start Meals on Wheels in Australia.
Grandma Carpenter never got bullied – she may have been hurt many times in politics, but she was never bullied by anybody and I think I too may come from that stock as well as the Stringer seafarer stock. Giving up is not one of my characteristics.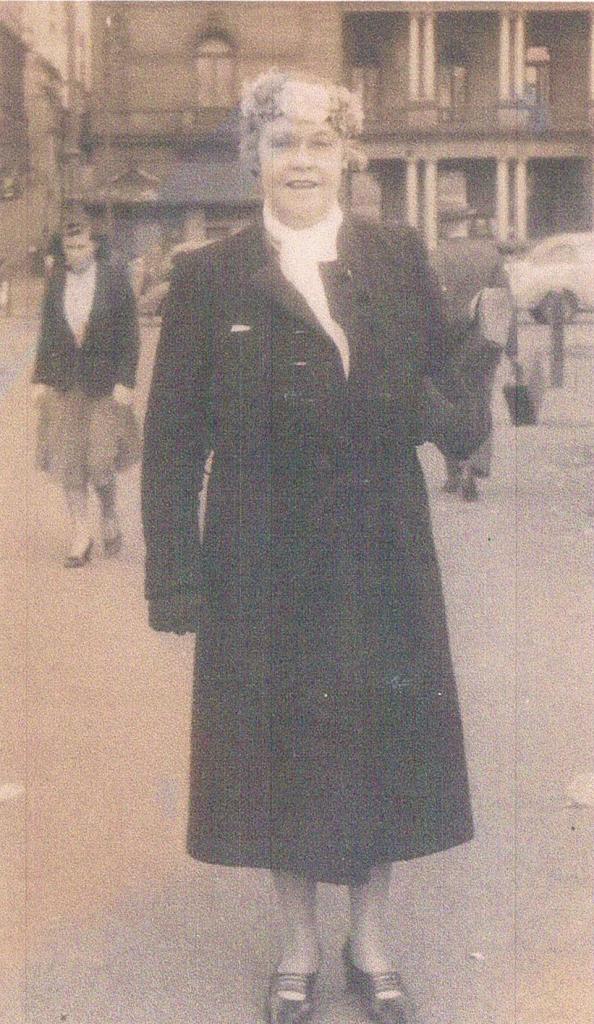 Maude Rose Carer JP (nee Hutchinson and Carpenter) at Circular Quay during WWII
We were at Bellevue Hill when the war finished. I remember this very clearly because we could actually hear the cheering in the streets of Sydney from our house.
Mum just wept – ; 'what was it all about?' – all of the waste, and of course, even now it's still an emotional time for me each year when this commemoration occurs. At that time, none of us knew what had actually gone on in Europe in the concentration camps or any of that – the scope of that wasn't revealed until months and years afterwards.
We had to move out of Bellevue Hill as there was a soldier coming home who owned the place. Grandma had the opportunity of getting a flat at 91 Philip Street, Sydney, which was the old German Club, a beautiful building. We stayed there from 1945 until around 1952. At that stage I moved from the Bellevue Public School to the St. Andrews Cathedral School. While there I did the kind of things that naughty choirboys did, like climbing up into the bell tower– all that kind of young boy shenanigans – bearing in mind that I am an angel of course.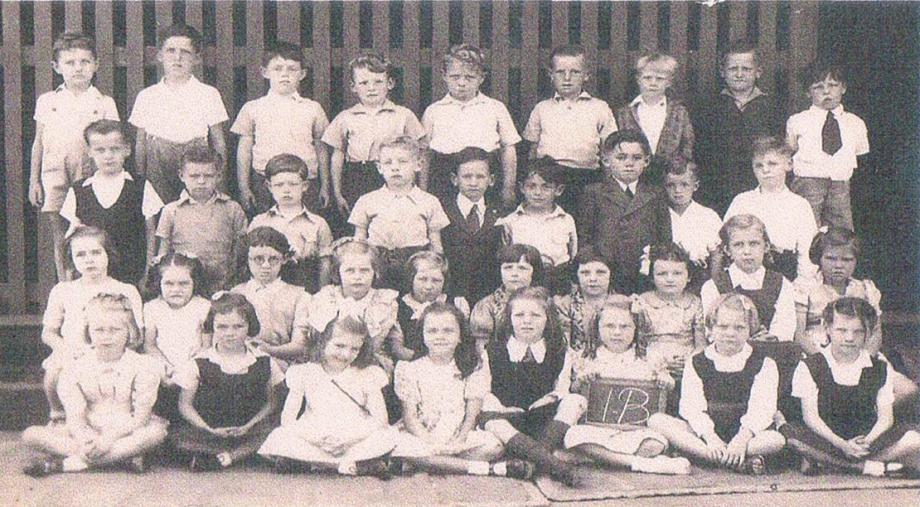 Bellevue Public School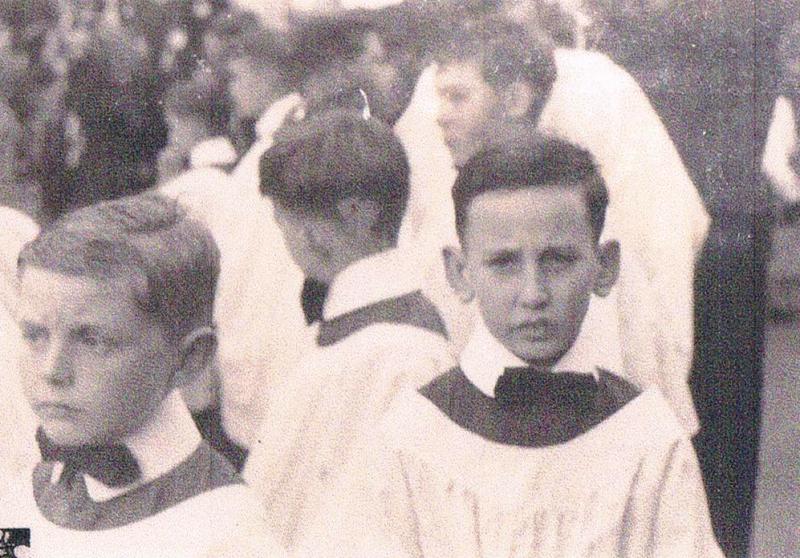 choirboy at St. Andrews Cathedral School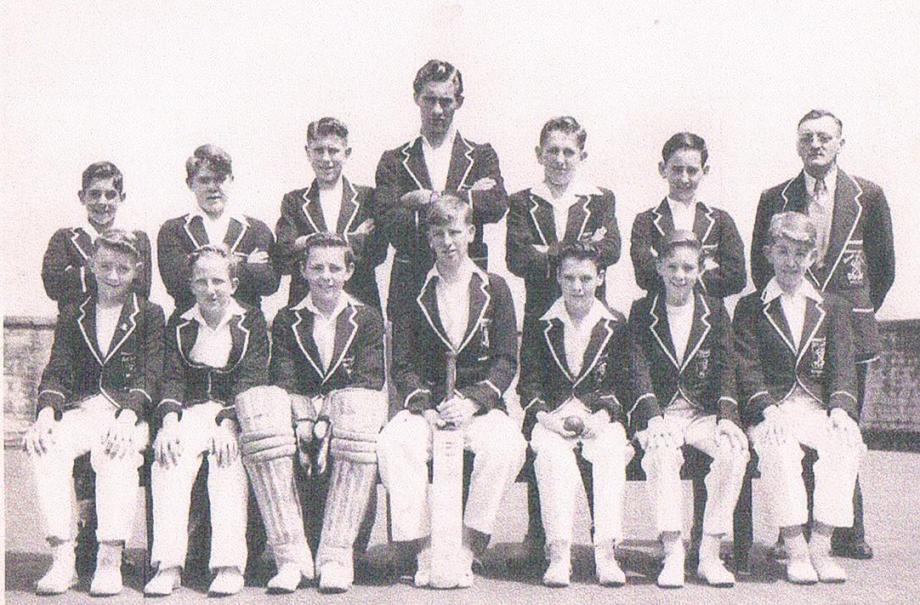 Member of the cricket team at St. Andrews Cathedral School
In 1952 the family gathered together and acquired a home down here at Elanora Heights on the Narrabeen verge, and we've lived here ever since.
I went to school from Narrabeen into the city every day.
I then had the vision of being like Grandfather Carpenter and go into the Building Trade. Subsequently I found a Builder who was a very good tradesman but an appalling person – he would drop the wages on the ground for the workers to pick up off the ground, he had no respect for his employees and was very insulting towards them.
My family helped me write a letter of resignation as we thought I was indentured to him, a practice back then that was not easy to get out of. We then found out that I wasn't indentured, even though I was supposed to be and had done all the study to learn everything required of me.
I then thought 'gee I like trucks' and went to try and get into the trucking business. I went to a chap called Max Winkless, who was the Managing Director of Antill Ranger at Auburn
He asked me if I could build a factory – I said 'yes' as I work, on principle, in saying 'yes' and figuring out how to achieve anything afterwards. I said I'd do this if he taught me all about the transport industry. He did – I got my truck licence and semi-trailer licence, fork-lift licence, which I still have today. I became their Branch Manager for a number of depots they had around the state and built their new depot on the corner of Botany Rd and O'Riordan street, a place that had once been an old foundry – I converted it into a transport depot. This was a great project and I approached it with a sense of fun – I find if you introduce this element to any project it helps to produce a great end and you excel along the way while doing it.
I was still involved in sheep and cattle at this stage too, being a Stock and Station Agent concurrent with the Transport position and while dong Real Estate as well.
I then went and did a degree on Transport as well so I could learn as much as possible about this – the law, the accounting, all that's involved.
I also like sailing – whilst Grandpa Stringer was the Harbour Master he knew Frank Packer very well and he had a boat called 'Morna' Packer wasn't 'sir' then – he was just Frank Packer. Morna finished up as Currawa IV. Dad sailed with them prior to leaving for the war. I took it up as well and used to sail down here at the Alfred's (RPAYC) with a fellow called Paul Trueman.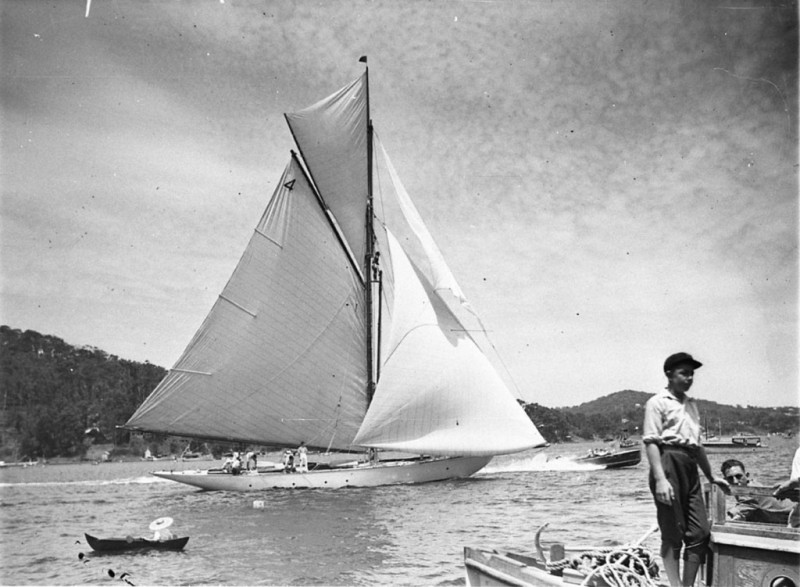 Yacht "Morna" rounding the buoy: Crewman up on halyard at Pittwater Regatta. Photo by Sam Hood, Jan 1st, 1934 - courtesy State Library of NSW
MORNA'S FOURTH - FRANK PACKER scored his fourth win of the season with the big gaff rigged yacht Morna yesterday, and won the big event for the Norn Cup, sailed under the auspices of the Royal Sydney Yacht Squadron. With two wins at Pittwater, the Rose Bay craft put up the 'hat-trick' for the season. It was a remarkable finish. Just prior to the sou'-east gale the schooner Windward looked a skate to collect. Alexis Albert's Cup. Morna was a quarter of a mile astern of Windward at Shark Island, but in the blow Moma rode the choppy water better than her opponent. Off Robertson's Point the pair were almost level, and then Morna dashed across the line to win a great finish — the best of the season — by four seconds. Brand V., with a torn mainsail, put up a great showing to collect third place. ROYAL SYDNEY . SQUADRON. Norn Cup: Morna (F. Packer), 6.3.12, 1:Windward, sen. (J. M. Hardie), 6.5.16, 2;Brand . V. (J. R. Palmer), 5.8. u, 3: Norn(A. P. Albert), 6.10.14, 4; Sea Rover (C. Plowman). 5.11.40, 5; Culwulla IV. (R. F. Graham), 5. 12.60, 6. Won by 4sec. MORNA'S FOURTH. (1934, January 7). Truth (Sydney, NSW : 1894 - 1954), p. 7. Retrieved from http://nla.gov.au/nla.news-article169338016
So I was busy – Stock and Station Agent, selling properties as well as the transport work. Around then a fellow called Jim Josephson, a computer whizz, had just started a company called 'Datacard Australia'. I used to call on him through the transport work. He asked me if I knew anything about computers, which I didn't, 'do you ant to learn?' – 'yep!'
I took a drop in salary to go and work with him as I figured this, in the long run, may be a better opportunity. It proved to be so.
Because of the anti trust laws of the USA IBM in America were required to divest themselves of a portion of their manufacturing as they had a monopoly and the anti-monopoly laws required them to do this worldwide. Jim and Don McCreery asked me to come and join them, which I did, learnt all I could, became their Regional Manager and would go to all the Southeast Asian countries selling these cards.
I remember writing 'The Hypothesis of Molecular Disequilibrium and Controlled Atmospheric Conditions'. They sent me to Thailand as they were having some problems and I had to convert what I'd written so they could understand it –I could not speak Thai and many of my audience could not speak English, this was hilarious and it took donkey ages to get the message across. I broke it down into 'this stuff does that stuff and that stuff does this stuff' and the interpreter did the rest and that worked. I stayed with this for quite a while.
Mum was getting older now though and had never wanted to leave home so I resigned from this position and became a full-time Carer for her.
How did you become involved with Marine Rescue?
Around 1973, when the Opera House was getting close to being opened, a friend asked if I'd join the Coastal Patrol. I had an 18 foot Glastron by that stage so I joined the Coastal Patrol at The Spit on October 28th 1973. It wasn't at every port at that time.
I was out one day on Pittwater with Tony Onorato, then Officer Commanding the Royal Volunteer Coastal Patrol, and a fellow called Bob Hardy, who was then the Commander of the Coast Guard in Australia. I asked him why there were two organisations competing for the same rescue work when we were all volunteers, to me it didn't seem logical. I recall situations where you'd here about somebody in strife at one place and even if you were closer another unit would take off and not even talk to you – there was little or no communication and no joint co-operation – people's lives were being put at risk when we were all out there trying to do the best for them as one. It seemed a waste of assets, waste of money and a waste of time.
I persisted in querying why this was the set-up and figured the best way to address this was to work on the politicians. The politicians could see the benefit of what I was proposing, to amalgamate the marine rescue organisations and ensure they were given due powers and respect, as some of them were being taken for granted and being treated pretty shoddily. We had Master Mariners being spoken down to by people who didn't know what they were talking about – it was disgraceful.
I was able to convince the Coastal Patrol Board. Keith Jenkins ESM was the Chairman at that time, and he supported the concept that we needed to pool resources. I then convinced the Police and the Maritime Services Board to be supportive.
My thought was to instigate a Working Group with representatives from each organisation. After much work and considerable lobbying, the government provided $1,026,599 and a Memorandum of Understanding. There was a lot involved, everything from figuring out what assets there were and how they were to be transferred, basic funding, Marine radio bases, even the uniforms.
Members of the Initial Meeting on December 12th, 2008 at Parliament House – Sydney
The agencies integrated: RVCP (25 units) AVCG (17 units) VRA (14 units) – transferred to Marine Rescue NSW and the company was formed on July 1st, 2009. and began SAR operation 1/1/2010 at 0600hr.
How did the Prince of Wales become patron?
Neville Wran had given Prince Philip a copy of my book 'Australian Horse Drawn Vehicles' (published in 1980 by Rigby) – which was about all the horse drawn vehicles and included information about the Kidman graziers – as they too had a horse-drawn coach services – it wasn't just Cobb and Co. in the early days, which my grandfather Hutchinson had been involved as he was the 1st apprentice to Cobb & Co when they established in Bathurst.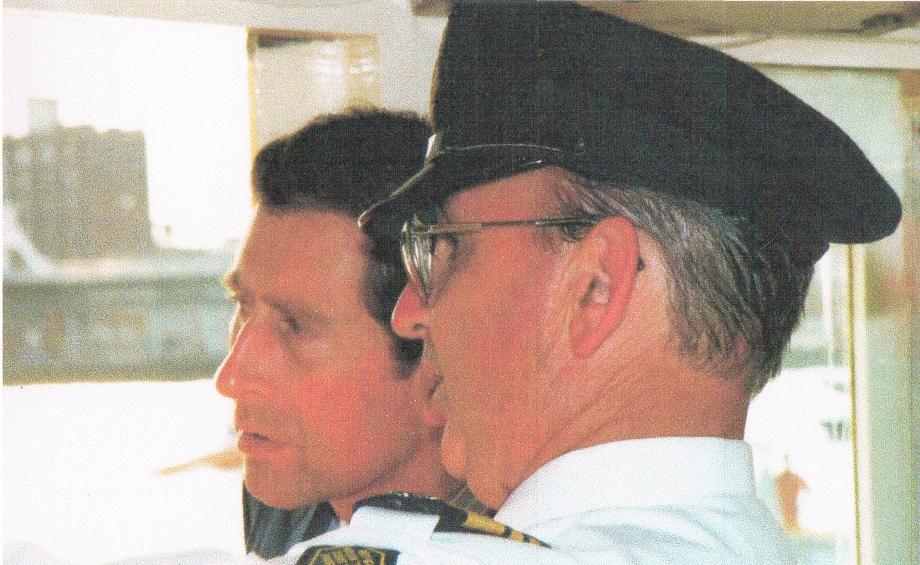 Patron in Chief HRH Prince Charles aboard rescue vessel 'Girralong' from Admiralty House to Darling Harbour, Cockle Bay 28.1.1994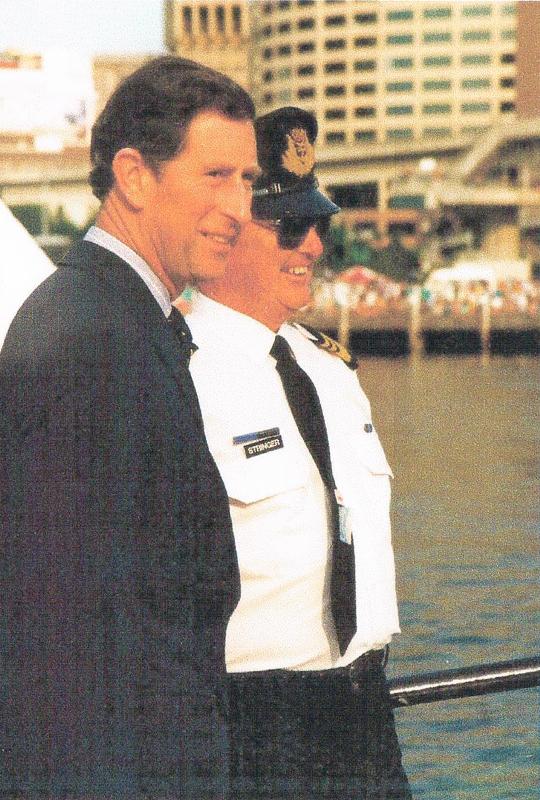 I was in Windsor, UK, staying with David Saunders who was Head Groom for the Duke of Edinburgh. David took me out to dinner while staying there and I fortunately met a chap who was secretary to the Prince of Wales at this dinner. I explained about the Coastal Patrol and how we wanted Prince Charles as our Patron. The Prince was open to this and his secretary advised me if I sent in a little letter to Government House in Canberra they would be advised that should a letter of that kind arrive they would be interested to see it. End of story.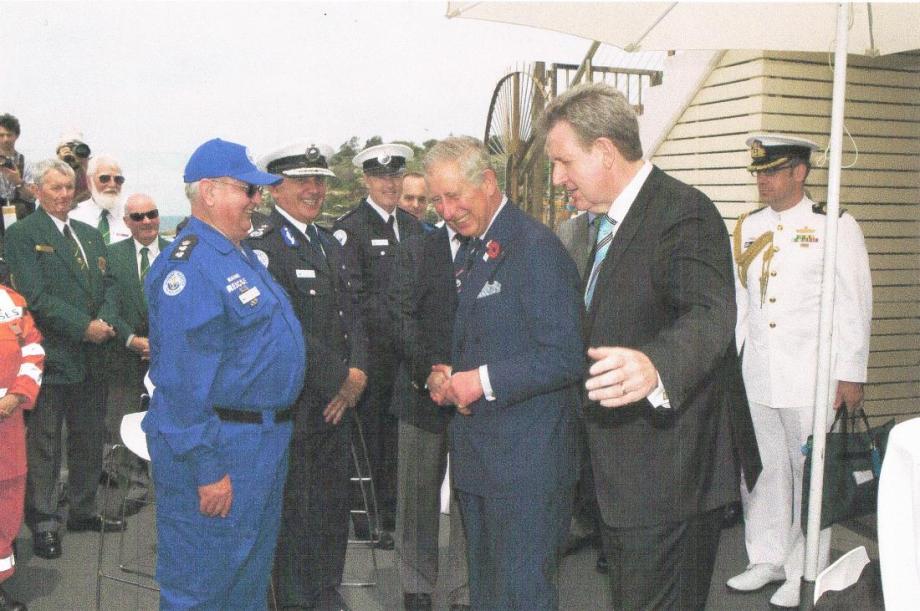 A Light Moment with Patron in Chief of Marine Rescue NSW - HRH Prince Charles with Premier Barry O'Farrell (Michael in MRNSW Uniform 0 Blue) - 9.11.2012
What are your favourite places in Pittwater and why?
I love the whole of Pittwater, the bush which may not be pristine but it's close to it – people have tried so hard for so long to keep it this way. I'm very happy that Pittwater is embracing a green culture. The National Park certainly helps to control that.
I like going down to the Royal Prince Alfred Yacht Club and having a nice meal on the water there – or even The Boat House at Palm Beach – beautiful on the water there too.
I'm a simple soul – I'm happy just sitting with my feet in the water, soaking up the sun and look at the beautiful place around me. We are so lucky to have this beautiful place to have a healthy life in.
I have lived here for 70 years and have witnessed some of the inappropriate constructions that have taken place. We lose the intimacy of the whole of the district when this is allowed to occur. This is a very tight-knit intelligent community that is capable of running its own show without anybody's help.
What is your 'Motto for life'?
I expect to pass through this world but once. Any good, therefore, that I can do or any kindness I can show to any fellow creature, let me do it now. Let me not defer or neglect it for I shall not pass this way again.
_____________________
There is more to John Michael Stringer then he lets on, a personal trait we suspect. A slightly more detailed biography is:
COMMUNITY SUPPORTER.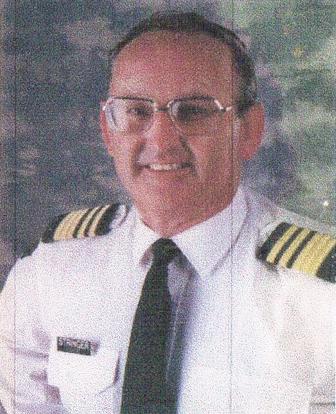 During the early 1960's at the age of 22, Michael became a member of the Australian American Association and was elected President of the Junior Australian American Association and a Councillor of the senior body. The Junior Australian American Association was responsible for the entertainment of the visiting United States service personnel, ships and guests. Michael was one of the organizers of the R&R program in Sydney during the Vietnam War.
Michael has been involved in the maritime community for over fifty years.
He was, as a small boy, first involved as a sailor of dinghies and latter became crewman of ocean racing yachts. He sailed his 28' yacht Sea Mist with the Royal Prince Alfred Yacht Club.
He joined the Royal Volunteer Coastal Patrol in 1973, where he attended all their training programs and has completed every course including watch keeper, seamanship, rescue boat operations, coastal navigation, celestial navigation, meteorology, first aid, radar, firefighting, GPS operation, AYF Ocean Going Yacht-master Certificate.
He was appointed to many positions including Regulating Officer, Special Projects Officer, Divisional Commander or Sydney Division, National Councilor, National Secretary, Chairman of Council (1982-1988), Flag Officer Commanding (1988 —1994) He was the Chief Officer, National Medal and Awards and the Government Liaison Officer, and the delegate to Volunteer Marine Rescue Council of NSW and the federal Australian Emergency Management Volunteer Forum. He is a lifeboat trainer I examiner assessor for all rescue crew levels and for the Waveney and Arun all weather, self-righting, rescue lifeboats.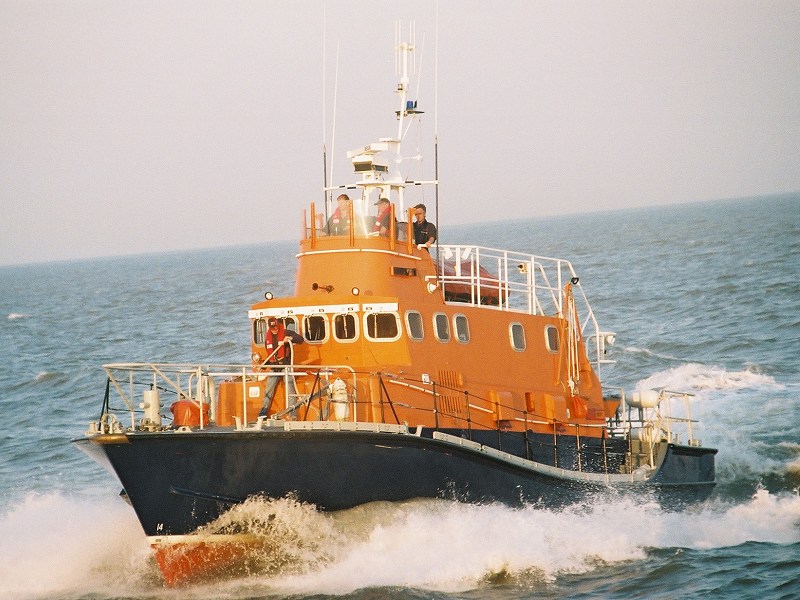 A 52 'Arun self righting all weather lifeboat. At sea. Photo by and courtesy Scott Snowling
On becoming Chairman in 1982 he developed a strategic master plan for the development of the Coastal Patrol which included, establishment of a corporate identity, improved computer based administration, introduction of Coastal Patrol owned rescue vessels (lifeboats), evaluation of the need and the establishment of additional rescue base sites, professional marketing programs for fund raising, mobile education and emergency communication vehicles, establishment of a medical unit and water ambulance service, fire fighting units, fast response units and improved radio communication facilities, improved education and training programs and policies.
He attained the Coastal Patrol rank of Commodore I Class.
As Chairman, he represented Australia at the International Lifeboat Conference in 1983 at Goteborg, Sweden.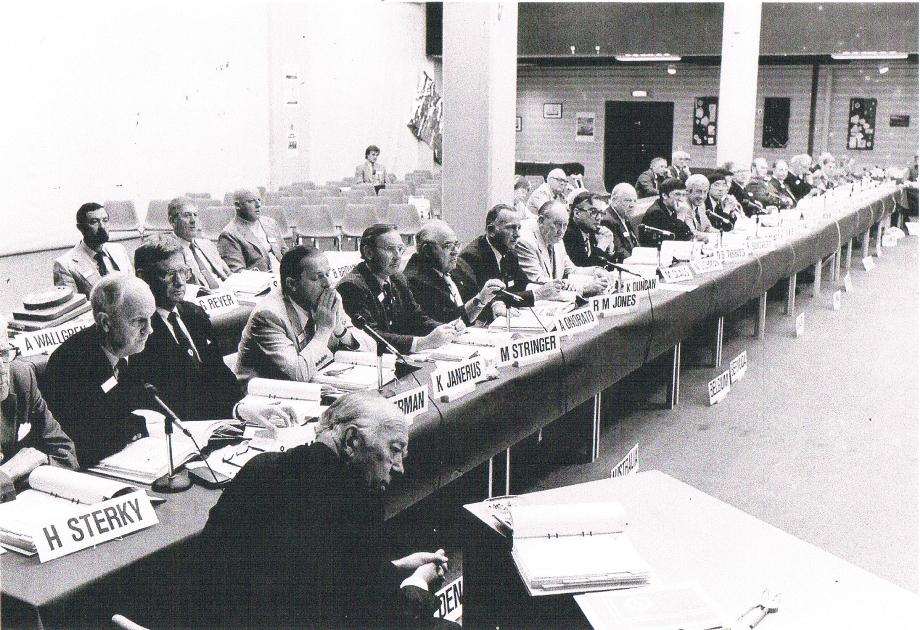 At ILC in Sweden 1983 - Prince Bertil Berattar of Sweden in foreground. RVCP represented Australia with Michael Stringer (Chairman) Tony Onorato (CO), Ron Jones and Roper Lars Scott (Buster) Brown (Training Officer)
He has undertaken, at his own expense, several world study and training tours on search and rescue including the UK, Europe, USA and Asia. During these overseas tours he has established close working relations with members of the international maritime rescue community and regularly exchanges information with them.
In the early 1980's he negotiated with the Australian Yachting Federation for the Coastal Patrol to partner with the AYF in the introducing a National Training.
He was directly instrumental in having His Royal Highness, the Prince of Wales accepting the position of Patron in Chief of the Royal Volunteer Coastal Patrol and now Patron in Chief of Marine Rescue NSW
The Late Admiral Sir Anthony Synnot KBE, AO, RAN accepting the position of a Patron. Michael operated his private vessel Coastal Explorer, a 34' Riviera, as a registered rescue boat and with his crew performed numerous rescues for the Coastal Patrol. Coastal Explorer won the best operational unit in the Coastal Patrol for 1988. Michael has performed over 900 rescue missions, of which 86 were in bad to very bad weather conditions.
For over 15 years he worked closely with Steven Hall AM, and John Moulton OAM of the Festival of Sydney in support of the many maritime events organized in and on Sydney Harbour, providing technical advise as well as organizing safety vessels, water ambulances, fire support units and crowd control facilities.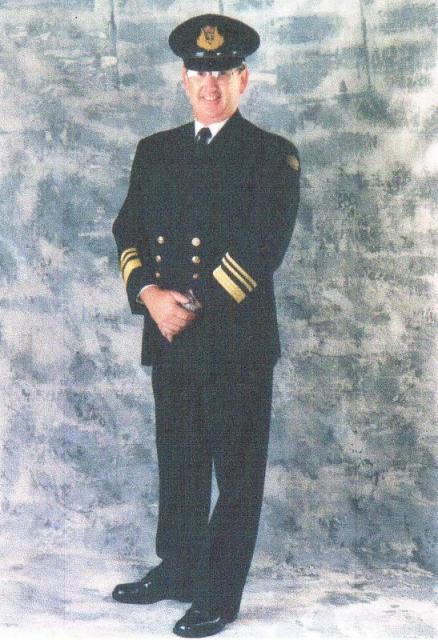 He has given outstanding support, over 30 years, to the Maritime Services Board of NSW, the Waterways Authority and now the NSW Maritime in implementation of maritime safety programs through the Port Jackson Marine Safety Advisory Committee, The NSW Safe Boating Council, The Waterways Advisory Committee and the Waterways Authority Policy Advisory Group now the Recreational Vessel Advisory Group. He has been a member or chairman of many sub committees, The Water Traffic Committee, The Navigation Lights Committee, The Boating Equipment Committee. He has been a member of the Sydney to Hobart Start Committee for over 25 years. The New Years Eve and Australia Day organisation committees.
Michael is a staunch supporter of the NSW Water Police and had lobbied for them to be better equipped with self righting rescue vessels. He believes that the Water Police should come under the command of a single unit, an all Water Police unit and not under Police districts. This has been achieved.
His dedicated support of the rescue accreditation program of the then NSW Police Minister, Ted Pickering, General Gray, General Howard, Commissioner Koperberg and Richard Tucker of the SRESB had seen him devote many hours since 1988 towards the implementation of the NSW Government's State Rescue and Emergency Services Board. (now the State Rescue Board)
Michael was a member of the Maritime Committee of the State Rescue Board of NSW for 9 years with considerable input into the formulation of the maritime elements of the Act and regulations.
Picture at Right: As Flag Officer Commanding Royal Volunteer Coastal Patrol - 1998
Michael was Chairman of the Volunteer Marine Rescue Council of NSW (VMRC) from 1998 to 2001 and 2006 to 2008. The VMRC is an advisory body to the State Rescue Board of NSW on all maritime rescue and safety matters. He was also a member of the State Rescue Board of NSW (SRB) from 1998 to 2001.
In 2006 he was re-elected to the position of Chair VMRC and member of the SRB for a further term.. He had considerable interaction with the Ministers for Emergency Services, Debus, Kelly, Rees and Whan. The SRB is established under NSW legislation, he also has constant interaction with Minister for Police and Minister for Port and Waterways. State Emergency and Rescue Management Act of 1989 to plan, train and implement operations for all disasters, emergencies and rescues in NSW. He is also a member of the Waterways Policy Advisory Group. In 2009 he became a member of the Marine Rescue NSW Facilitation Group which is implementing the NSW Government decision to amalgamate the Royal Volunteer Coastal Patrol, the Australian Volunteer Coast Guard in NSW and the NSW Volunteer Rescue Association (Marine units) into one single marine rescue agency.
Michael had been advocating this for over 25 years, and was an inaugural member of the Board of Directors of Marine Rescue NSW. Mr. Stringer was the foundation chair of the Volunteer Emergency Services Council of Australia.
He was a member of the Bi-Centennial General Services Co-ordination Committee which co-coordinated the support and infrastructure of all events in NSW for the Bi-Centennial of 1988.
He has worked with Ian Kiernan AO on the Clean Up Australia Committee providing support in every maritime cleanup held, (including providing radio communications and pick up vessel control). Michael has also worked with Ian Kiernan and Kim Mackay on every BOC Around — the — World Alone Yacht Race providing Coastal Patrol support for the event with safety vessels and crews along the Australian coast and at the finish and restart in Sydney.
He was a member of the Royal Australian Navy 1 Royal Volunteer Coastal Patrol Liaison Group in support of closer co-operation between the Australian Navy and the Coastal Patrol. The Chief of Naval Staff had designated the Coastal Patrol as a Naval Support Unit.
He commanded the Coastal Patrol fleet at the Sydney to Hobart yacht race starts for 28 years, and commanded the Coastal Patrol fleet for the Bi-Centennial Naval Review, including the provision by the Coastal Patrol of vessels to the Navy for transport of naval personnel and media to the review fleet in harbour.
Michael was the operational commander of the Coastal Patrol fleet at the Royal Australian Navy 75th Celebrations, the Bi-Centennial and the Sydney 2000 Olympic Games. Michael was a committee member and supporter of the City of Sydney Sesquicentenary celebrations in 1992. Michael was a member of the Central Sydney Operations Group of the Premier's Department, which oversees and coordinates all events and activities in the greater Sydney region. He is a volunteer supervisor in the PIIC at VKG Police Radio during major disasters In 1992 Michael was awarded the Order of Australia Medal (OAM) and in 1993 he was awarded the Australian Service Order (ASO).
He was an inaugural recipient of the Emergency Services Medal (ESM) awarded in the Queens Birthday Honours in 2000. This was one of the first awards of this honour. It had been established in late 1999 in recognition For Distinguished Service in the field of emergency services. He was the first to be invested in NSW.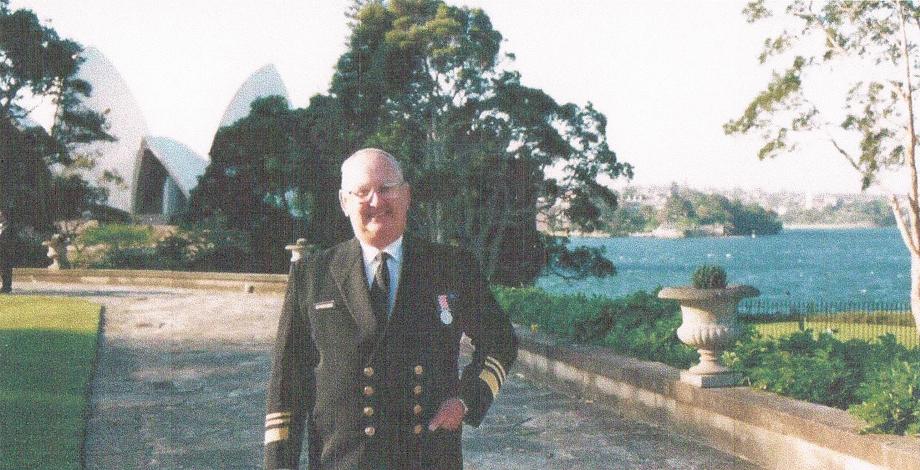 Investiture of ESM Government House Sydney 2000
In 2001 he was awarded the National Medal with Clasps and in 2003 he was awarded the Centenary of Federation Medal. He was awarded the Australian National SAR Award for outstanding contribution to search and rescue in the Australian region for 2006. This award is given by the Federal and State Police Forces in Australia who comprise the National Search and Rescue Council of Australia.
He was also awarded Australian of the Year Awards for 2007 in the category NSW Metropolitan Local Hero.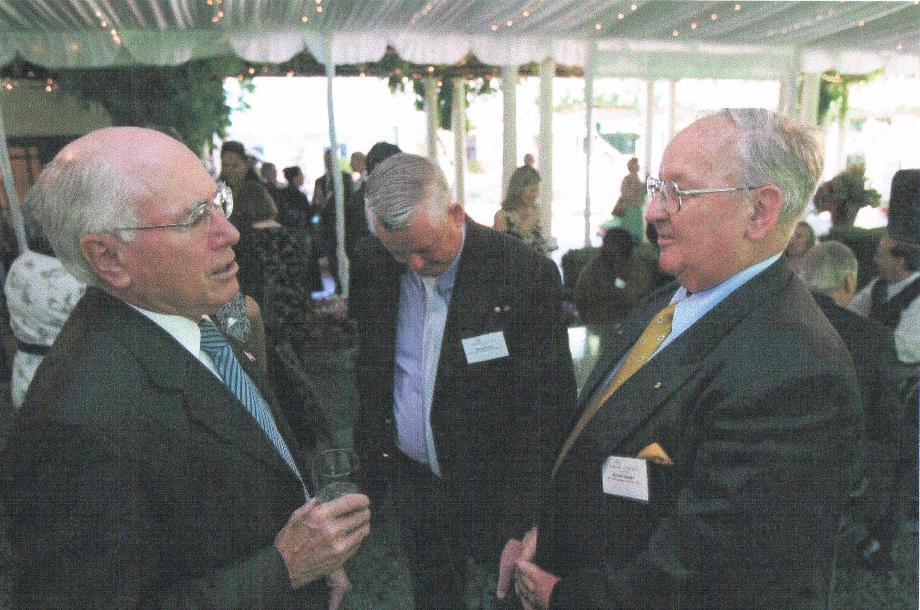 With Prime Minister John Howard and Bernie Banton during morning tea at the Lodge
In 2009 Michael was awarded the NSW Maritime Medal for Bravery including a rescue of an injured sailor from rocks in heavy seas off Pittwater, having swum a line to the sailor and recovered him. In 2009 he was awarded a third clasp to the National Medal. In 2010 he was invested as a Member of the Order of Australia. (AM)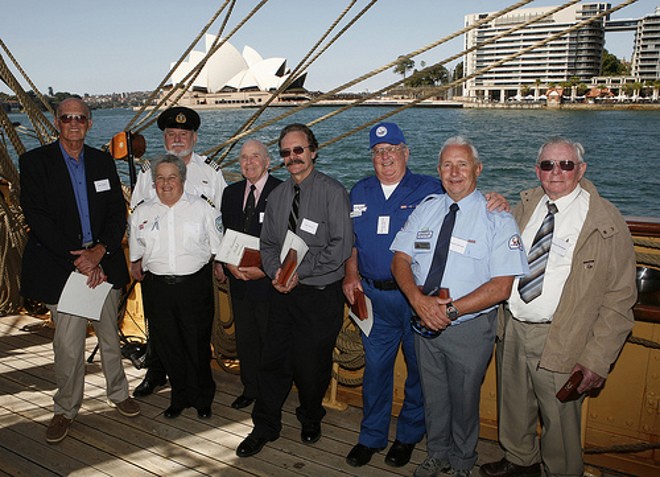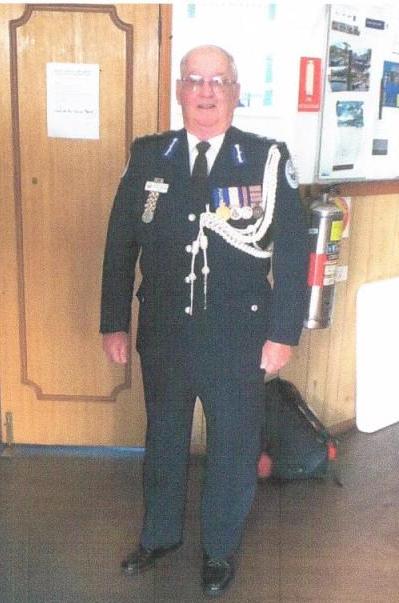 NSW Maritime Medals 2009 recipients after the presentation ceremony aboard the James Craig.(L to R) Jack Garety, Patricia Fayer, John McCloskey(Broken Bay), Robert Albert, Andrew Munns, Mike Stringer, Ken Fletcher, Ronald Thompson - Six marine rescue volunteers are among eleven people to receive this year's NSW Maritime Medals in recognition of their contribution to the State's boating community, Ports and Waterways Minister Joe Tripodi said today. Mr Tripodi today presented the 2009-10 Maritime Medals aboard the Tall Ship James Craig at a function that also marked the launch of the new boating season.
Six of the recipients are long-serving members of volunteer marine rescue organisations, including Michael Stringer, ESM, OAM, who has more than 35 years experience in emergency services and disaster management. 'Mike Stringer is a highly skilled coxswain of volunteer lifeboats operating out of Sydney Harbour and has been involved in hundreds of rescue missions, many of them in dangerous conditions,' Mr Tripodi said. 'In one rescue, he swam with a lifeline through breaking seas to reach a badly injured sailor on rocks at West Head in Pittwater, and then brought him safely back to the lifeboat. Mike and his crews have been responsible for more than 900 marine rescues and it's estimated he has personally volunteered well over 45,000 unpaid hours.
Mr Tripodi also commended Mr Stringer for his contribution to the administration and coordination of rescue and emergency services. This has included his efforts over the past decade to achieve a more unified approach to volunteer marine rescue operations, leading to the foundation this year of Marine Rescue NSW. 'The new organisation draws together people from the three existing volunteer organisations into one to provide greater consistency for rescue services, communications and training,' Mr Tripodi said.
Others to receive medals for their service to the volunteer rescue movement were: John McCloskey from the Broken Bay volunteer rescue community, Port Kembla volunteer Bruce Mitchell, Ken Fletcher from Port Macquarie and Patricia Fayers and Norm Smith from the Central Coast. - picture courtesy NSW Maritme (NSW Govt. RMS)
Right picture above: In Dress Unifrom of Marine Rescue NSW as Protocol Officer 2014
AUTHOR.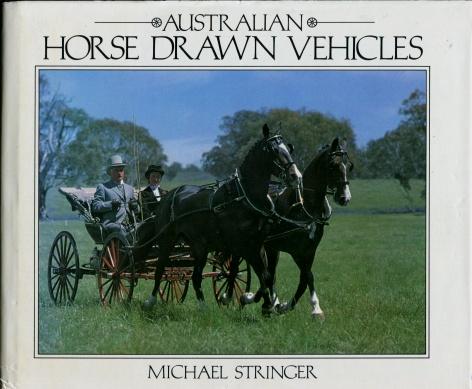 He has researched and written several books. One on the history of horse drawn vehicles in Australia, Australian Horse Drawn Vehicles(published in 1980 by Rigby).It received excellent reviews and is regarded as the definitive work on this period of our history. A copy was presented to His Royal Highness, Prince Phillip by the then Premier of NSW. Neville Wran.
His second book An Illustrated History of Sydney Harbour, produced in 1984 by Rankin & Co. and published by J. M. A. Stringer & Co. This book also received excellent reviews and is used as a reference and gift for visitors to Sydney by the Royal Australian Navy, the late NSW Governor Rear Admiral Sir David Martin. A copy was presented to His Royal Highness, the Prince of Wales, during His 1994 Royal Visit to units of the Royal Volunteer Coastal Patrol.
Michael has also written numerous articles for magazines on computer consumables, the road transport industry, maritime safety, horse drawn vehicles and the alpaca industry. Michael is also a member of the Australian Society of Authors and gives many talks to community groups.
BUSINESSMAN.
Michael began his working life as an apprentice carpenter and joiner after leaving school at the Intermediate Certificate level. He worked on the construction of several cottages in the Manly Warringah area, a block of doctor's officers in Manly, as well as being made foreman on the site of Inder Motors new showrooms and workshop facilities. On completing his apprenticeship, he was offered a position with Antill Ranger & Co. Pty. Ltd. As the foreman for the construction of the new transport depot at Alexandria. He built the depot from a foundry site. Michael remained with Antill Ranger and went on to be branch manager with them and then with Mayne Nicholas Ltd. on their takeover. He holds a class HC truck drivers license to drive all vehicles up to and including articulated vehicles, heavy lorry-trailer combinations. He also has a forklift driver's license. He was part of the team that developed the North Queensland road transport service of Antill Ranger with the Director Bill Young. Michael studied Transport Administration, which included, law, economics, accounting, personnel management, operational methods and management, fleet management for road, rail, sea and air and transport safety. He became a Member of the Institute of Transport.
In 1964, recognizing the commercial potential within the emerging computer industry he joined Data Card Australia, later to become Computer Resources Company. He began as the first salesman with customers in NSW, Queensland, ACT, Indonesia, Singapore, Malaysia, Thailand, Hong Kong, Korea and the Philippines. He travelled extensively for Computer Resources. He became the National Product Manager for manufactured products, responsible for all manufacturing, profitability, warehousing and distribution of standard products with a budget of over $40 million per annum (1993 figures). He was also responsible for the production of the direct marketing catalogues and direct marketing programs. He is an advocate of Total Quality Management (TQM), the introduction of Bar Coding, and Total Customer Service (TCS). He introduced the concept of Customer Advisory Boards and / or Customer Focus Groups, to Computer Resources and later to the Moore Corp. He advised on transport and distribution.
He was responsible for the integration of the product range of Computer Resources and the Multiform Group which was purchased by Computer Resources from Rupert Murdoch's News Limited. In 1993 the Moore Business Systems of Canada, took over Computer Resources. Michael assisted in the integration of both these major market players. He requested to retire from Computer Resources and then retired on the 29th May 1994 at the age of 55 to become a full time carer of his aged mother.
He is a keen gardener and a student of agriculture, in particular beef cattle, wool and sheep production. His love of the country and rural areas led him to study for the first course in real estate. In 1961 Michael became a licensed Stock & Station Agent, Real Estate Agent, Business Agent and Auctioneer. He traded as J.M.A.Stringer & Co. until 2004 and sold properties in conjunction with Elders and Dalgety. He organized in co-operation with Westfarmers Dalgety the 1995 Classic Alpaca Auction at Wm. Inglis, Newmarket. He works with commercial primary producers, concentrating on alpaca, wool, sheep and beef cattle production.
He believes that rural tourism has a significant market potential for the rural sector. He is an advocate of cell grazing, fodder, silage, water and soil conservation, Landcare and whole farm planning. He supports whole farm management and sustainable agriculture. He is a member of the Kondinin Group, a farm technology support facility. The improved technology and marketing strategies and vertical integration together with added value for Australian primary production are areas he is interested in developing. He is very interested in organic production methods.
He is a member of the Angus Society (beef cattle) and the NSW Stud Merino Breeders Association.
Michael established an alpaca stud, Grantham Alpacas. He has been in the industry since 1994 and believes that alpaca produces an excellent fibre that is very soft and warm, is better than wool and many other natural fibres. During 1997 it became evident that there was a desire by many in the audiences that he spoke to on alpacas, to see and to purchase alpaca fashions.
He established the Alpaca Fashion House as a retail outlet for direct marketing of high fashion Australian made alpaca products. He worked closely with Frank Spinelli of the Spnelli Fashions of South Australia. The product sold extremely well until Alpaca Classica ceased to operate.
In 1995 he was elected to the National Committee of the Australian Alpaca Association and was on the Research & Development sub-committee. He was chairman of the Promotions and Publication subcommittee. He was chair of the RAS Show committee for the Royal Easter Show in Sydney for alpacas in 1998, 99, 2000 and appointed a Steward for the Royal Agricultural Society in 98, 99, 2000 at Homebush.
PERSONAL Early Years.
Michael began school (after his father was killed in the Middle East Campaign at Merdjayoun, 2/25' Battalion) at Bellevue Hill Public School and then St Andrews Cathedral School, Sydney. He was a good scholar who enjoyed study. He enjoyed sport and participated in cricket, football (union), athletics, swimming, fencing and tennis.
He became a school prefect, Captain of the House of York, and a chorister in the Cathedral Choir. He became a leading chorister and a member of the Royal School of Church Music. Mr. Stringer sang at numerous State Services, including the service on the occasion of the Coronation of Her Majesty Queen Elizabeth II, as well as the service for Her Majesty on the first visit by Her Majesty to Australia and at the funeral of The Honourable W. (Billy) Hughes.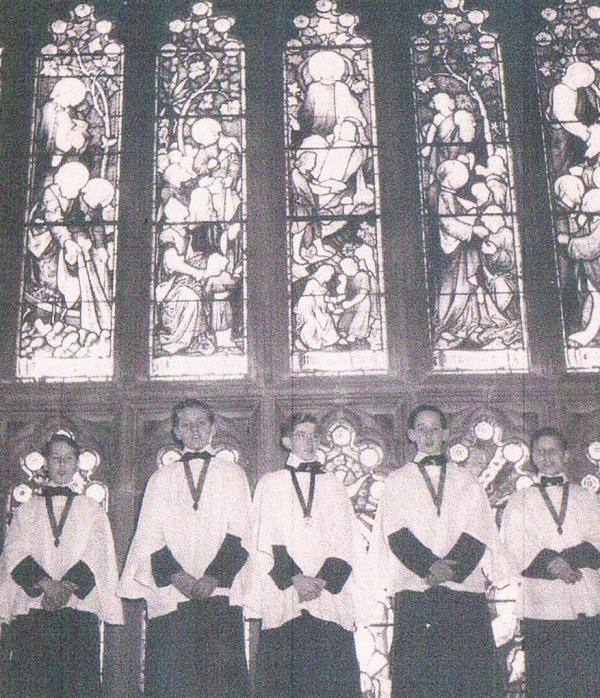 He did not go on to higher education at that time, as his family could not afford it. Michael is a member of the United Grand Lodge of NSW and the ACT and a past master of Freshwater 901.
NSW Australian's of the Year: Michael Stringer Local Hero, Bernie Banton Senior Australian of the Year and Dr Tim Flannery, who became the National Australian of the Year, at a function by the Commonwealth Bank a major sponsor of the Australian of the Year Awards.
SPORT.
Michael participates in sailing, both ocean and harbour, snow skiing, water skiing, golf, tennis, squash, swimming, surfing, horse riding, carriage driving, bicycle riding, weight lifting, bush walking. Michael was the national secretary of the Australian Driving Society and from 1970 to 80's Assistant Director of the Rothmans National Harness Show (buggies, sulkies and four in hand). He was the treasurer of the Rymill International Carriage Classic held at Young NSW during November 1997.
INTERESTS.
Everything.—he believes it's a wonderful world. All things above plus, books, gardening, music (mainly classical), history, science, nature, people, animals, woodworking, model trains, model ships, cooking, food and wine. Michael has done several cooking courses including Margaret Fulton's cooking school. He has developed some really great recipes. His strawberry hazelnut meringue is, wow, and if you like things a bit spicy, the coriander potatoes are really something. The rosemary and garlic pork is mouth watering and the French onion soup with white wine and cognac.
"A great meal is steak, Australian Angus beef of course, with a green leaf salad and a dressing of lemon juice, olive oil, garlic, pepper. Crumble Danish blue cheese over the salad and serve with creamy mashed potatoes."
"So, it's a pretty good life with lots more to do." smiles this wonderful gentleman, 76 years young.
John Michael Armstrong Stringer AM, ESM, JP, CMILT, ASO
A fourth generation Australian, born to Captain John Rickard Stringer and Mary Elizabeth Stringer JP in Brisbane, Queensland on the 16th January 1939.
• Member Order of Australia AM (awarded 2010) awarded for work in founding Marine Rescue NSW
• NSW Maritime Medal for Bravery 2009
• Australian of the Year Award for 2007 – NSW Local Hero
• National Search & Rescue Award 2006 (awarded by all Australian Police services)
• Centenary of Federation Medal (2003)
• National Medal and 2 Clasps (awarded 2001)
• Emergency Services Medal ESM (awarded 2000)
• Australian Service Order (awarded 1993)
• Order of Australia Medal OAM (awarded 1992)
• Justice of the Peace (Commission dated 1/2/1961)
• Chartered Member Institute of Logistics and Transport
• Carpenter and Joiner (trade)
• Licensed Stock and Station Agent
• Author
• Public Speaker
• Branch Manager, Antill Ranger, Mayne Nicholas Ltd transport.
• Sales/ Marketing/ Product Manager, Data Card Australia, Computer Resources Company
• Primary Producer
• Alpaca Breeder and Alpaca Fashion House retail
Member:
* Indicates no longer a member of these organizations
The Order of Australia Association (Life Member)
Royal Volunteer Coastal Patrol (Life Member)
Marine Rescue NSW (life Member)
Royal National Lifeboat Institution UK, (Life Governor)
Royal Prince Alfred Yacht Club *
Royal Motor Yacht Club
Royal Agricultural Society of NSW (Long Standing Member)
Royal Australian Historical Society *
Royal Horticultural Society (London)
Australian Driving Society
Australian American Association *
Australian Society of Authors
The Kondinin Group, Agricultural Support Services.
The Angus Society, Stud Cattle.
The NSW Stud Merino Breeders Association
The NSW Stock & Station Agents Association *
The Australian Alpaca Association
The Sydney Club *
The State Rescue Board of NSW *
The Volunteer Marine Rescue Council of NSW *
The Volunteer Emergency Services Council of Australia *
The Australian Emergency Management Volunteer Forum *.
The Waterways Authority Policy Advisory Group *
NSW Maritime Recreational Vessel Advisory Group *.
The Port Jackson Marine Safety Consultative Committee *
The NSW Safe Boating Council *
The Chartered Institute of Logistics and Transport. (Chartered Member Institute of Logistics and Transport)
The Central Sydney Operations Group of the Premier's Department. *
The MARDAP committee- Maritime disaster, NSW Police. *
Marine Rescue NSW Principle negotiator 20 years and founder
Marine Rescue NSW Board of Directors and Senior Government Liaison Officer
Marine Rescue NSW Protocol Officer
_______________________________
State Finalist Australia's Local Hero 2007
Michael Stringer OAM
Emergency services volunteer
Michael Stringer has performed nearly 900 rescue missions over his thirty-three years volunteering with the Royal Volunteer Coastal Patrol and the Marine Rescue Council. He and his crews have been responsible for more than 260 life saving rescues and another 1,800 Australians have been directly assisted in marine rescue situations. It's estimated that he has personally contributed well over 45,000 unpaid hours. He remains a tireless advocate of recognition for all emergency service volunteers. An example of the innovative way he operates was seen in the 1994 bushfires, when he converted pumps on board marine lifeboats into water borne pumping facilities to fight fires on the Pittwater foreshores. Apart from his significant contribution to Australian emergency services, Michael has also written books and articles on Australian history, agriculture, transport, and computing. At 68, he continues to perform rescue missions and train rescue crews. He's also said to be a great cook.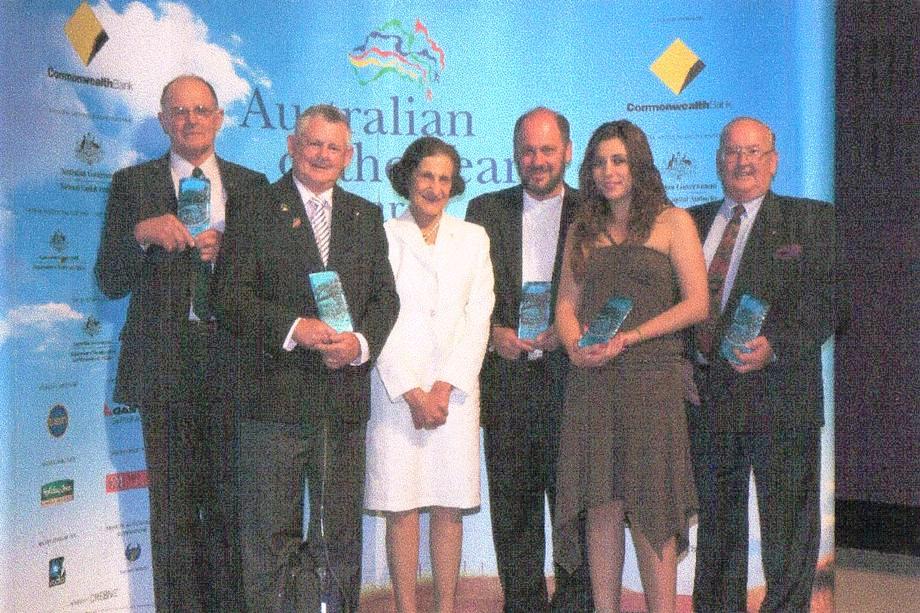 __________________________________
GUESTS ARRIVED BY PLANE.
Country Interest in Weddings.
Several country guests arrived by plane yesterday to attend the marriage of Miss Mary Elizabeth Carpenter and Mr. John Stringer, which took place last night in the chapel of the North Shore Grammar School, where the bridegroom attended school.
A special 'plane was chartered by Mr. George Bradford, of Cooma, so that he could arrive in time to act as usher. Miss Edna Rowe flew by plane from Lismore to attend the wedding.
Miss Carpenter is the only child of the late Mr. Alfred Carpenter and Mrs. H. W. Carpenter, of Potts Point, and granddaughter of Mr. A. A. Hutchison, of Parramatta, who was associated with the late Walter Hall and Cobb and Co. She wore an antique turquoise brooch which was lent by the mother of the bridegroom. He is the only son of Captain and Mrs. Stringer, of Cremorne.
Her white chantilly lace frock was mounted on white satin, the bodice tight-fitting, and the shirt cut on circular lines. A white circular tulle veil was held in place with a top-knot of orange blossom, and a bouquet of orange blossom and lily-of-the-valley was carried.
The Misses Mary Stringer and Essie Johnston attended as bridesmaids. The powder blue chiffon frocks were made on similar lies to the bridal gown. They also wore circular veils of powder blue tulle with topknots to match their cyclamen velvet girdles. Their bouquets were of mauve hyacinths and fuchsias. Mr. King Warrington was best man, and the ceremony was performed by the Rev. Nigel Backhouse. GUESTS ARRIVED BY 'PLANE. (1937, October 1). The Sydney Morning Herald (NSW : 1842 - 1954), p. 3. Retrieved fromhttp://nla.gov.au/nla.news-article17410488
Marriage of John Rickard Stringer and Mary Elizabeth Stringer JP (nee Carpenter) at Shore School Chapel
OBITUARY.
Captain J. R. Stringer.
The death occurred last Sunday of Captain John Robert Stringer, who passed away at his home in Cremorne. Captain Stringer was for many years in the employment of the Union Steam Ship Co. Ltd., and commanded some of their well known passenger liners. After leaving the Union Steam Ship Company.
Captain Stringer was appointed Harbour Master at Sydney, and remained in that position until his retirement. Then some years later he was appointed as secretary to the Royal Shipwreck Relief and Humane Society of New South Wales, and only resigned a few years ago owing to ill-health. Captain Stringer while in the Union Steam Ship Company's steamers and also as Harbour Master made many friends who will be sorry to hear of his death. Captain Stringer has left a widow and a married daughter(Mrs. David Spring). OBITUARY. (1945, March 14). Daily Commercial News and Shipping List (Sydney, NSW : 1891 - 1954), p. 2. Retrieved from http://nla.gov.au/nla.news-article162855415
Captain John Robert Stringer with his grandson, John Michael Stringer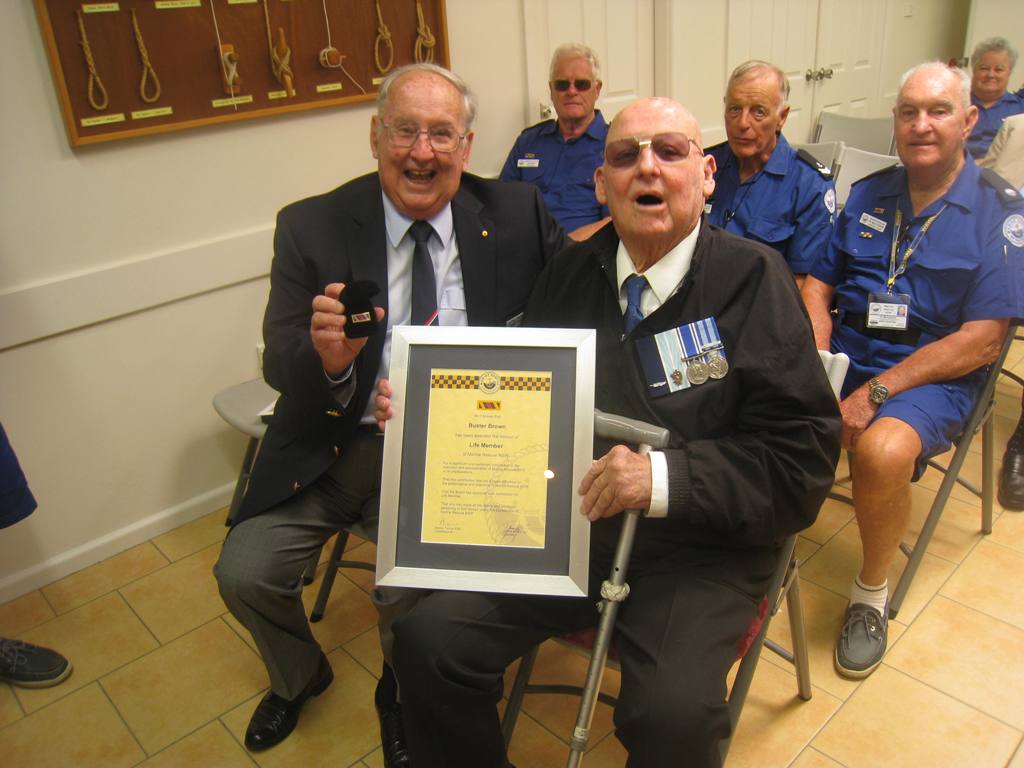 Above: Mike Stringer with 'Buster'Brown - with 'Life Membership Medal'. Photo courtesy Brian Friend OAM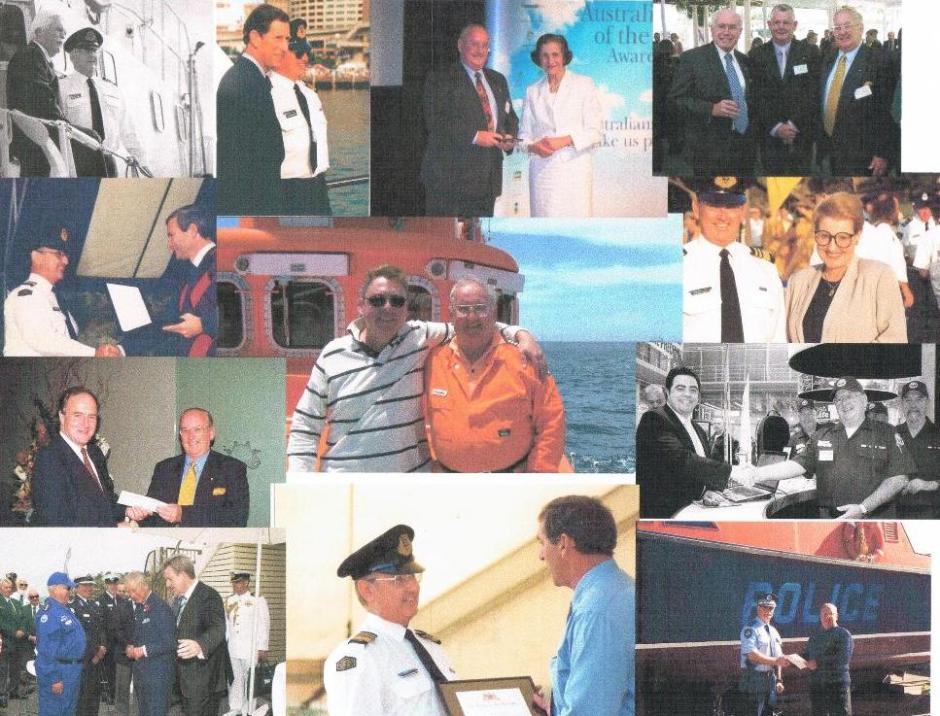 Copyright John Michael Armstrong Stringer AM, ESM, JP, CMILT, ASO, 2015.