May 3 - 9, 2015: Issue 212
JAPAN: AUSTRALIAN PERSPECTIVES
Adrian Boddy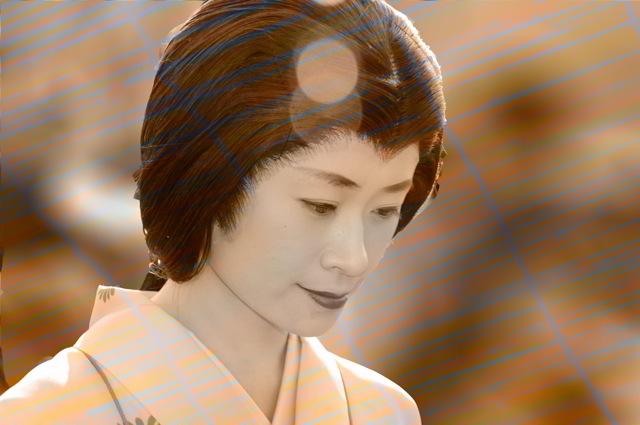 Pondering the past. Garasha Festival, Nagaokakyo, 2009.
JAPAN: AUSTRALIAN PERSPECTIVES
Adrian Boddy
At some point in their lives
How well they know themselves.
Photographers seek a moment of recognition
A glimpse of truth in the lives of others.
Background:
Between 1985 and 2009 I made five study trips to Japan. The sights, smells and experiences gained in that wonderfully unfathomable country, remain vivid, almost tangible.
My passion for Japan began in the 1960s, though I cannot explain why it took over twenty years to travel there.
The history of Japanese architecture was part of my studies at the University of Melbourne. To this day I treasure my 21st birthday present: '
The Japanese House
', by Swiss scholar, Heinrich Engel. Our school library also contained another equally influential book: '
The Roots of Japanese Architecture
' by none other than the pre-eminent photographer: Yukio Futagawa. This large-format publication, with text by Teiji Itoh and Isamu Noguchi, is memorable for Futagawa's monumental black and white architectural images: pavilions linked to landscape; material studies of wood, stone and earth; massive timber pillars and dynamic space; sweeping roofs of thatch or tile; framed views — views concealed. These pages contained more than pictures — they seemed to evoke something of the ancient, mystical-spirit of Shinto.
A more personal influence was my mother's interest in the Sogetsu School of Ikebana flower arranging. She regularly assembled dried plant material such as driftwood, seedpods and kelp, along with an array of fresh flowers from our garden. Sometimes these constructs were large and highly abstract; each week our modest suburban home was enhanced by a new organic 'shrine' of Japanese ambience.
In the pre-internet era our influences were few; perhaps this is why they remain somewhat larger-than-life.
Exhibits:
HAKO + SHOZO: Portraits in Boxes
HAKO + TATEMONO: Buildings in Boxes
Photography does not simply reproduce the real, it recycles it — a key procedure of a modern society. In the form of photographic images, [phenomena] are put to new uses, assigned new meanings, which go beyond the distinctions between the beautiful and the ugly, the true and the false, the useful and the useless, good taste and bad…
The photographic recycling makes clichés out of unique [moments], distinctive and vivid artifacts out of clichés. Images of real things are interlayered with images of images.
Susan Sontag, '
On photography
', New York 1973; 173 pp. 174-5
For an exhibition such as this, most photographers would travel with the singular purpose of gathering specific images.
My method, however, was to use an existing collection of approximately 2000 digital files as a starting point. Of all these pictures, the themes of 'people' and 'place' occurred most frequently — hence the two selected categories of portraits (SHOZO) and buildings (TATEMONO).
Presentation of photographs can take many forms — from conventional timber frames to electronic projections. I have chosen to place printed pictures into containers (HAKO) — a little like carefully prepared food being placed in bento boxes. The boxes are recycled cedar with joints suggesting (rather than replicating) traditional Japanese carpentry.
Almost all the portraits have been contextualized: given a setting that relates to the person in question. For example I have merged a calligrapher in calligraphy, or given the rail commuter an enhanced high-speed train and surrounds. This fusing of two or more images is not random or willful — rather the intent is to clarify the individual as he/she goes about daily life in Japan. It is also hoped that this technical intervention is unobtrusive — after all, it is the expressions of Japanese people that are of most interest.
On the other hand, the architectural photographs are essentially 'straight'. The images suggest something of the long history of Japanese building excellence; of space, light, structure, concepts and details.
Ultimately they are intended to encourage the viewer to seek the first-hand experience.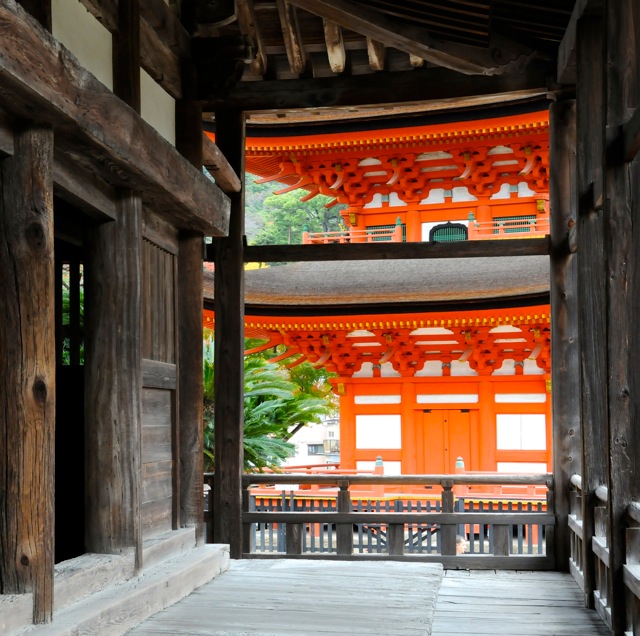 Frames within frames. Goju-no-to pagoda, viewed from Senjo-kaku — the hall of one thousand mats.
Itsukushima shrine, Miyajima Island.
Japan : Australian Perspectives
Official opening
Friday 8 May at 6pm
Floor talks
• Sunday 10 May at 2pm: Adrian Boddy and Tony Caro
• Sunday 17 May at 2pm: Keith Pike
• Sunday 24 May at 2pm: Tony and Gilly Coote
Incinerator Art Space: 2 Small St, Willoughby, Opening Hours: Wednesday to Sunday 10am-4pm
See: Japan : Australian Perspectives 6 May 2015-24 May 2015 at the Incinerator Art Space, sample of works by Pittwater photographer Adrian Boddy and date/s for talk by same gentleman and other participants