August 30 - September 5, 2015: Issue 229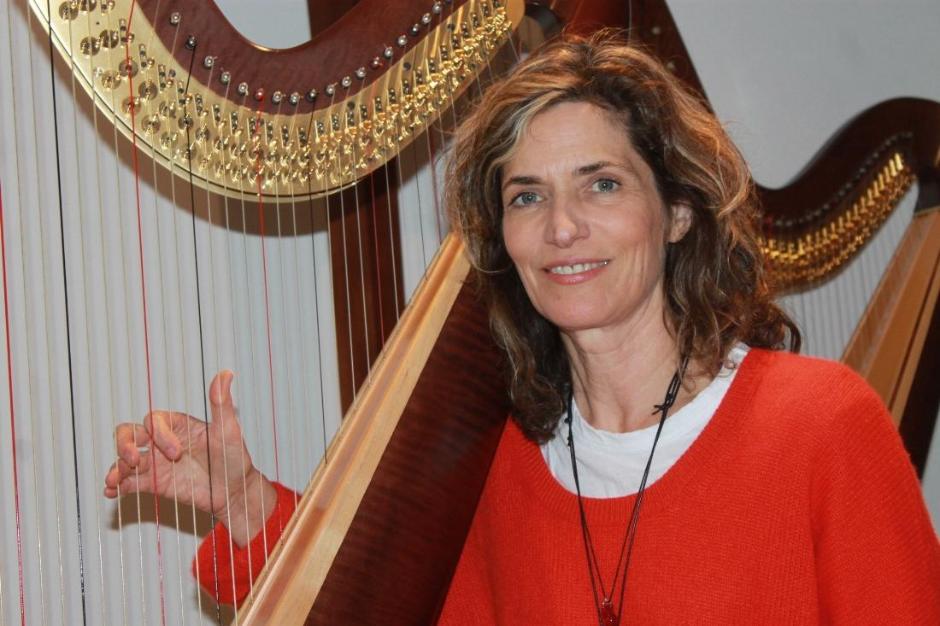 Jane Rosenson
Imagine you work so hard in the Discipline of Music, at getting it right, with each note sounded accurately and in place, that you are able to communicate a concord through sounds that speaks both anciently and of this very moment.
Imagine Music is your other Voice...
and that music as a voice, that is not perfect bird call at sunrise, has been part of you so for so long, at such a high level, you are able to immerse others in this most articulate communication too...
with the physical flick of a wrist from muscles that have memory of this...
For almost a decade I have been privileged to hear the practice sessions, and glimpsed the steady accompanying grounded walking and getting on with a full life outside of those hours of practice, of a vibrant intelligent lady...
Jane Rosenson is Principal Harpist for the Australian Opera and Ballet Orchestra, which, in a typical year, gives 175 performances of more than a dozen operas, and more than 80 performances of four ballets. This Orchestra, formed from Australia's and the world's premier musicians, in one Season will work with a dozen different conductors and perform repertoire ranging from Monteverdi to Berg.
Having begun her music studies at an early age with her mother Marion, a concert Harpist and Pianist, Jane later studied with Professor Ruth Dean Clark while completing her Masters Degree of Music Performance from the University Of Michigan School Of Music, where she was subsequently appointed lecturer in harp.
Jane has consistently delighted audiences with beautiful and engaging performances in the classical, popular and jazz arenas. Currently the Solo Harpist with Opera Australia, Jane has performed and recorded with many of the world's best orchestras including the Detroit Symphony, the Hong Kong Philharmonic, the Sydney Symphony and NHK Orchestra among others.
As a soloist, she has appeared with many ensembles in America and abroad including the Ann Arbor Chamber Orchestra, the New American Chamber Orchestra, The Meadowbrook Festival Orchestra, The Hong Kong Philharmonic as well as live broadcast recitals from CBC in Canada, Radio 4 Hong Kong and the ABC in Australia.
Performances with the iconic Betty Carter, Bob James, Alexander Zonjic and Earl Klugh or as a member of the Jeff Duff Orchestra, Jane has appeared on TV and radio in Australia and Japan and made frequent appearances at The Basement, Sydney's premier jazz club.
Jane's recordings include those with the Jeff Duff Orchestra, rock group Silverchair, the White Light CD and Dreamlines with Kirsten Williams, Sydney Symphony Associate Concertmaster. This year Vignettes with Emma Sholl, flautist, Sydney Symphony has been released, contributing 15 wonderful pieces of pure delight that reinstate music is a dynamic discipline that is ever evolving.
Where were you born?
I was born in Saginaw Michigan.
And you grew up there?
Yes. I led a fairly outdoors/sporty life there when we were young and spent most summer's at various camps in the north of Michigan where there are many beautiful lakes. Wintertime was an active time for sports too as my brothers played hockey, while I was doing figure skating or playing hockey too or skiing. In summer it was tennis, baseball, basketball and track and field.
Where did your music life begin?
My mum was a Harpist. She was also a piano Teacher and an Organist so my two older brothers and I were forced to learn instruments when we were very little.
We all started out playing the piano and one brother played violin, the other the flute and I played the Harp because well....girls play the Harp – She seemed quite determined that I was going to be a harpist or a Ballet dancer!— and I was also ferried off to dance lessons from age 5 too! I wasn't entirely happy with this and naturally rebelled!
How did you get from there to being Principal Harpist with Opera Australia?
My mother passed away when I was quite young, so my dad kept one of her harps and our agreement was that I had to continue with my piano lessons through high school and was allowed in various years to quit ballet lessons or the infrequent harp lessons. Although music came to me quite easily, I was more interested in getting into mischief, my social life and science/psychology too. Both of my brothers were extremely bright and science orientated. I was really fascinated with Human Anatomy and Physiology at the time.
I went to university to do pre-Med as my paediatrician was my mentor/inspiration. My Dad told me that unless I started playing my mother's harp he was going to get rid of it - this being at a time when I was more into partying, playing tennis and being off on my own!
Through my course of study at university I had to have two credits outside of my principal studies and thus I began music lessons through the Music School. Here I met my teacher who would guide me through the next 6 years of university. I think she was surprised at my low level of technique initially as she knew of my mother's reputation. As soon as I heard her demonstrate during my lesson it was like a lightening bolt going off through me – and I began devoting much time to the harp, even though it was a side course. As our lessons progressed, my desire grew and I had this feeling this was something I could excel at so I spent a year practicing on my own and practised quite a lot really. It was fun. I also liked the intimacy of the smaller studio classes that I was invited to attend– a contrast to the science classes where you could be among 300 other students during Lectures.
As the year progressed I toyed with the idea of transferring to the Music School.
I was thinking about this and enrolled myself at a Summer Harp Camp in Maine, which I just found somehow. I'm not certain how I discovered it, but my father told me later that my mother had gone there and he agreed to pay for this. When I was there the teacher asked me to audition for Peabody Institute where she taught, so I had the feeling I was improving!
I then auditioned to get into Music School at Michigan and was accepted. I had gotten a lot better during that year and now was probably as good as the worst student (laughs).
I was fortunate as my teacher really liked me and we had a great connection.
My Dad kept nagging me about how I was going to make a living, but I assured him that in eight years I could either be a Doctor or could learn to play the Harp really well, so I just kept going forward. I did work really hard, I was maybe near the bottom of the class of 15 harpists and then in two or three years, I was near the top.
I think this came from mostly hard work and natural instinct and perhaps that memory of my mum playing the harp repertoire that I must have heard in the womb.
This situation would be more difficult today to achieve today as kids start really young and are quite accomplished from an early age. I did begin when I was 4, but don't have much memory of practicing—only memories of playing baseball! However the concepts were there. My mother did make me take harp lessons from some of her students so they had that experience but they didn't inspire me and I was bored. Perhaps it was timing too.
After four years as an undergraduate, I won the Concerto Competition at school. I was lucky to go to a very good school with great Teachers – the University of Michigan Music School. During the time I was a student there Elizabeth Schwarzkopf was the Voice Teacher, in all areas they had wonderful faculty.
I continued working hard and did well. My teacher played jazz too and I was drawn into that area and had a choice to go to either LA to study with the best studio harpist or stay in Michigan to get a Masters - I chose to stay in Ann Arbor to continue to study with my teacher.
During my Masters, my teacher got sick, she had lung cancer, she smoked a lot – I recall during lessons she'd always have a cigarette in her mouth as she's call out 'louder! – do this!, do that' – I'm sure we all were exposed to a large amount of second hand smoke as she always had a cigarette dangling from her mouth.
Her lung cancer was quite bad and she was unable to teach for the following year and what I didn't know at the time was that her cancer was probably more advanced than we knew. The University auditioned harp teachers for those two years. After one year, they needed to find another replacement but failed to find someone acceptable. My teacher insisted that I take up her post at the University and so I was on the spot very quickly! At that point I was playing second Harp in the Detroit Symphony; everything happened very quickly in my professional career.
I also moved in with my teacher to help her with her care and keep her company as her children lived far away. To say the least, I had more than I could handle.
While at university, another teacher I was grateful to have while my primary teacher was on sabbatical was the Principal Harpist in the Detroit Symphony, Elyse Ilku, a really amazing Harpist. While working with her I began imagining I'd get to play in the Detroit Symphony one day and then the call came.
The Second Harpist quit unexpectedly when the DSO was in the middle of these recording sessions, so Liz called me. I remember being a really conscientious but light hearted student then (I think this is why she always liked me). In addition, I was really respectful of what I was learning and those who were teaching me – I would absorb everything I could at that stage, and not just from harp Teachers but from pianists, violinists, singers, oboists as well. Most of my close friends were pianists at school, not harpists, so I would listen mostly to this repertoire and gather my ideas from other instruments and singers. Anyway…..
When I was called in for these sessions, I was really nervous of course and really hadn't had much orchestral experience. It was scary and eye opening but I then performed with the DSO for the next 13 years, with some great old conductors and I would say that my playing greatly matured during that time.
I found that I worked so hard in College that when I graduated, many opportunities came my way; quite a few Concerto performances.

from Ludington Daily News - Nov 15, 1985
I became a bit weary for a while after this long stretch of intense work and was probably a bit burned out and found myself taking it really easy for a while when I probably would have benefited from some more study.
When Elyse retired from the Detroit Symphony though I was a finalist for Principal Harpist, I didn't win the job, though still played as Second Harp. Life was leading me in a new direction and I began thinking of looking somewhere else in the world to work and live as travelling was always in the back of my mind. I was then finalist for some important jobs in America and kept pursuing this orchestral harpist route.
Then, I began to focus on finding a position overseas. First I went to live in Hong Kong and was principal harpist in the Hong Kong Philharmonic and taught at the performing arts centre. I loved my time there but returned back to Ann Arbor and continued to seek out other opportunities overseas. I had offers to go to Sweden and then England, but the weather seemed a bit too gloomy to suit me.
Then, while looking in Das Orchestra Magazine, I saw a position advertised with the address, Strawberry Hills, Australia, for Opera Australia – so I rang them and inquired where Strawberry Hills was?? When I was told Sydney, I smiled to myself thinking of the ocean and sunny weather! They had taped auditions as there were many applicants from around the world. I was invited to come for three months as a mutual trial! I routed myself through Hong Kong to visit old friends and came in June with all my Summer Clothes! It hadn't occurred to me to figure out that June was your winter!
So I came out here for three months as a kind of working holiday,( think Tennis) and decided to stay but had my eye on jobs in Europe and the States until I met my husband Ian about 16 years ago.
And that was it!?
That's it, I'm still here.
What is it like being Principal Harpist for Opera Australia – there's big repertoire every season – how do cope with that workload?
It depends on what is scheduled each season. If there's something quite enormous that's coming up, for example, Wagner's Tannhauser, where the harp is on the stage and quite demanding, I will do some early preparation. I usually try to organise myself early as my schedule can be quite full. I can have other concerts in addition to this besides teaching, recording and travelling for my husband's work.
On Recording – you have just brought out a new CD, Vignettes, with Emma Sholl, Associate Principal Flute with the Sydney Symphony Orchestra, just beautiful music in these 15 pieces – how did that come about?
Emma Sholl is such a wonderful musician/ flautist and we've known each other for a while through other recording sessions and from performances in each other's orchestra.
A long time ago she said, 'we should play some music together' but we were both really busy. Many musicians find this – they are working so hard as part of an orchestra that they don't consider focussing any time on what could be parallel work in a solo career. Also the work in a symphony or orchestra is very demanding, you simply don't have much time and energy after fitting your practicing, your teaching and extra things you do.
She called me and said 'I want to make a recording – I played at this Music Festival and ….are you interested???
We had a few lunches discussing repertoire etc. Most things just fell into place as The Conservatorium where she is Principal Flute Teacher now, sponsored the project and David Boyle recorded and mastered the CD there. This was great advantage as making a CD is always an expensive endeavour and to have that support was crucial to be able to produce something new.
Kees Boersma, Principal in Double bass with the Sydney Symphony Orchestra said he'd love to be part of the project as did Percussionist Daryl Pratt. They both teach at the Conservatorium, so it really was a Conservatorium based project.
We wanted to include as much Australian music as possible as there are a lot of great composers. Emma also got a grant for a new composition for the group and Roger Lock, composer and guitarist, wrote a piece that is just fantastic, 'Geometry: Sphere: Light', and quite challenging at the same time! This is what I would term a more crossover piece and has some great contemporary edges to it.
What we thought originally maybe simply a classical CD, gradually morphed into something else. Australian jazz pianist Mark Isaacs made an arrangement of his 'Barcarolle' for alto flute and harp, Nigel Westlake gave us permission to make an arrangement of this Penguin Dance he wrote for the screen, for an IMAX film and we added Double Bass, with flute and harp. The arrangement worked out quite well and Nigel really liked it. It is great to have these three Australian Composer's works on the recording.
There's also an Ann Arbor connection – I introduced Em to some music she fell in love with. We made an arrangement with Alto Flute/flute.hp of Bill Bolcom's, 'Graceful Ghost Rag'. I know Bill pretty well from my time at the U of M. He has won a Pulitzer Prize for his compositions. Also, a student at that time from the University, Charles Rochester Young, wrote a great piece for flute and harp, 'Song of the Lark'.
And, we added a short piece by Dave Brubeck-I knew his son from school.
Included in the mix are some arrangements and also music written especially for this project for us by Yorgos Nousis, a really interesting and sensitive composer/guitarist who lives in Vienna.
Then, there's Claude Bolling's 'From the Suite for Flute and Jazz piano – Irlandaise, Sentimentale and Javanise' with these and Double Bass and drums. It's funny; when Rampal recorded that it was Number One in America for six years on the crossover lists
We worked really hard throughout the project, laughed a lot and produced something that hopefully will have a wide audience. As Em says about the Bolling Irlandaise, It's 'Happy Breezy Music'!
I think you're in a really happy place in your life now – you're more than established in your field, you're allowing yourself or pushing yourself to do all this extra work, you're still learning and allowing your own good judgement to guide you towards personal preferences – the quirky pieces, new works – it's great.
I guess so – we're actually working on another new project now – looking ahead to what may be good to do a bit further down the road.
What's the best part of creating these CD's and contributing or growing the great catalogue of music?
That's what Emma said! I think for the expansion of the Flute and Harp repertoire it was great to make these arrangements and to play, for Australian audiences, Australian compositions so people realise or understand that such wonderful music exists.
Today there are more and more transcriptions for Harp. The repertoire has always been limited, historically, so it's wonderful to see a lot of young composers and harpists writing and transcribing new works.
It's a beautiful instrument so I'm very pleased to know that and will seek these out. What is your favourite piece for Harp/or Composer?
I'm back in my Debussy phase at the moment. I used to really love French music and left that for a more jazz period and now I have returned to Debussy! I remember one year all I played Bach for a while every morning for the whole year. His music makes my brain really happy. I love Britten too, anything written by those two composers I just adore.
What are your favourite places in Pittwater and why?
The dog park, for Rosie – I love my time here watching her play with every dog she can.
I love Barrenjoey Beach, that part where hardly anyone is. I also, love walking in Angophora Reserve, looking to see what flowers are out - it's so beautiful – especially when you go there early in the morning or at sunset you have all the bids coming in to roost for the night and the sound is just incredibly beautiful.
What is your 'motto for life' or favourite phrase you try to live by?
All is One.
I remind myself too that everything is always changing moment to moment and to allow myself to flow with this. Mostly, I like to laugh, at myself a lot of the time!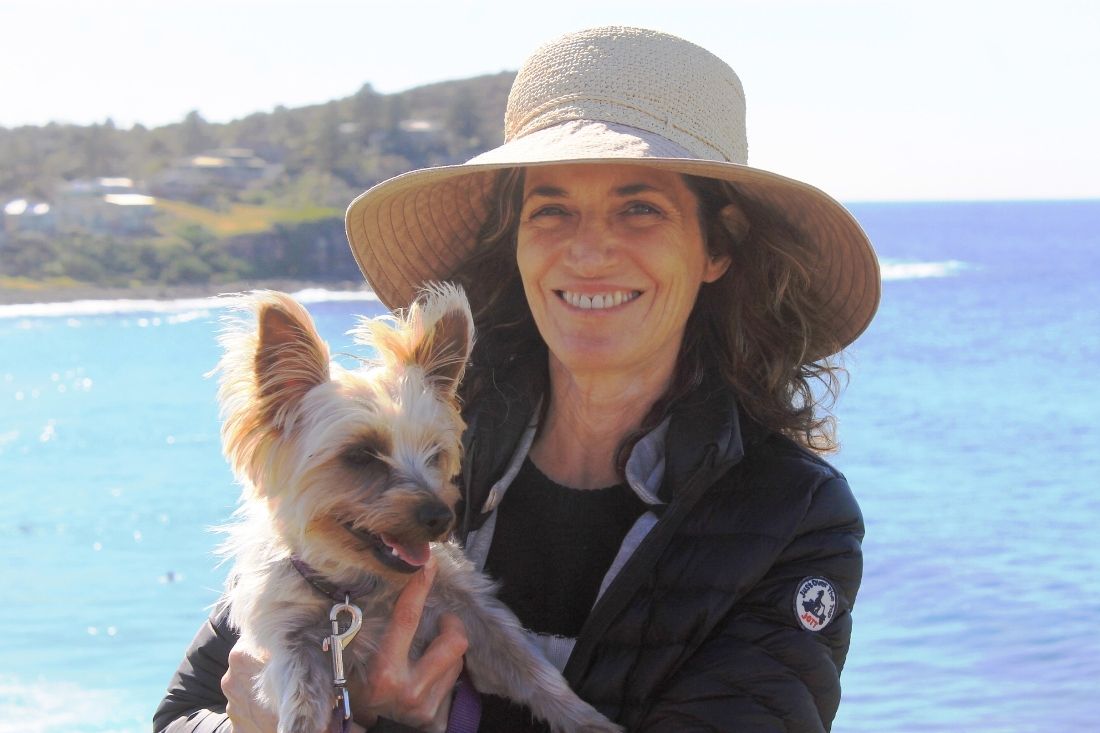 Jane with Rosie - South Avalon, 2015
Vignettes – Emma Sholl & Jane Rosenson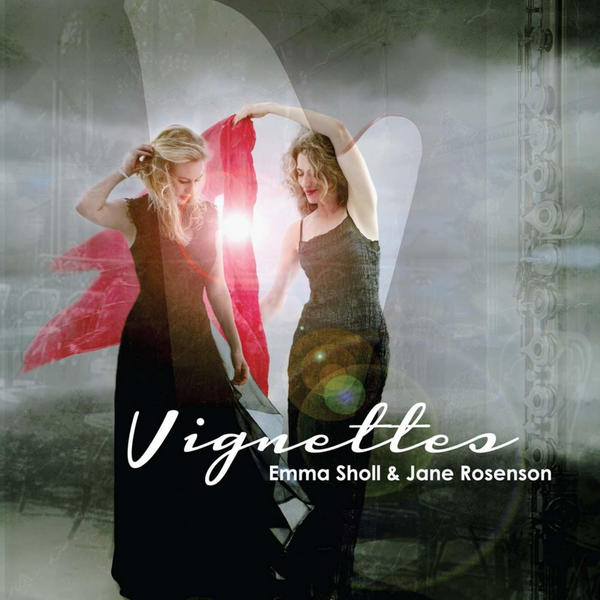 Enchanting melodies, energy-filled rhythms, this album is a rich contemporary kaleidoscope of works for flute/ alto flute and harp. Several of these tracks also feature double bass and percussion. This album comprises pieces by Australian and International composers from Westlake to Bolling and is performed by some of Australia's finest musicians - Emma Sholl, Jane Rosenson, Kees Boersma and Daryl Pratt.
Copyright Jane Rosenson, 2015.