November 9 - 15, 2014: Issue 188
James Spithill - ISAF Sailor of the Year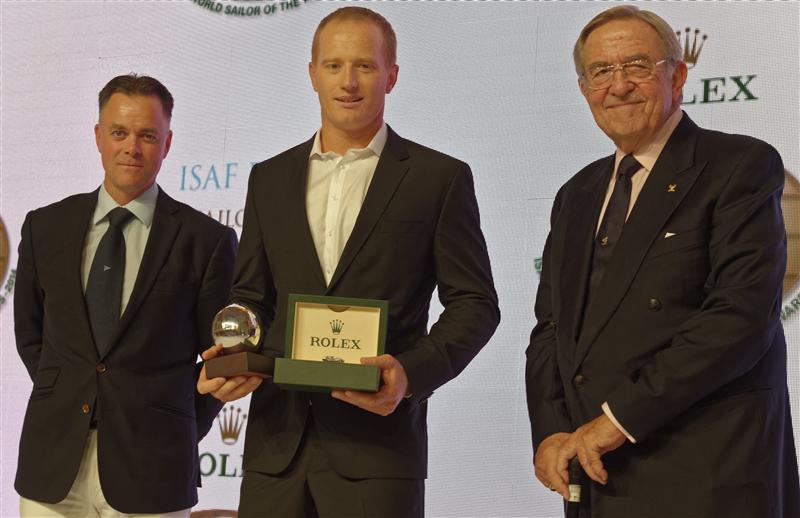 From left: Joel Aeschlimann, Rolex SA; James Spithill, male winner; HM King Constantine.
James Spithill - ISAF Sailor of the Year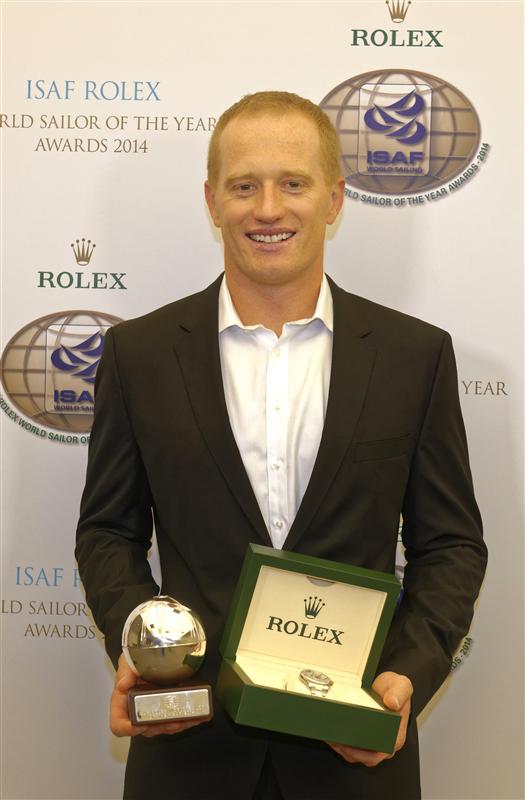 ORACLE TEAM USA skipper Jimmy Spithill and RPAYC Club Member was presented with the 2014 ISAF Rolex World Sailor of the Year (male) award at a ceremony in Palma, Spain on Tuesday evening (November 4th).
The award came as recognition of the magnificent comeback Spithill presided over as the skipper of ORACLE TEAM USA during the 2013 America's Cup. Down 8-1, on match point, Spithill and his team won eight consecutive races to retain the America's Cup 9-8 over Emirates Team New Zealand.
In collecting the award, Spithill reflected on the team effort required to persevere in the face of overwhelming odds.
"I think the biggest difference between the other nominees and myself is that this wasn't an individual performance. I'm accepting this award on behalf of the full team of ORACLE TEAM USA," Spithill said.
"I think it's recognition of the effort put in by all of the guys on the boat, as well as the designers, engineers, supporters, all the way up to Larry Ellison and Russell Coutts. This means a lot to all of us."
This is the first World Sailor of the Year award for Spithill, who joins team mates Tom Slingsby (2010) and Russell Coutts (1995, 2003) in the exalted club.
Avalon Sailing Club also passes on their congratulations: Jimmy had his first racing experiences with his MJ at the club. An inspiration to all ASC junior sailors!
JAMES SPITHILL – FROM PITTWATER TO SAN FRANCISCO BAY
When James Spithill remarked in a post-race press conference on 12 September 2013, "I think the question is, imagine if these guys lost from here, what an upset that would be. They've almost got it in the bag. That's my motivation," most present thought him delusional. His team was trailing the seemingly unstoppable Kiwis 6 to minus-1. Spithill's team would only lose two more races and would go on to successfully defend the 34th America's Cup in a sporting contest of unparalleled drama.
The competition was already astonishing. 72-foot, wing-sailed behemoths careening around San Francisco Bay barely in contact with the water. Sailing does not get any more spectacular than that for all its diversity. On receiving the award, Spithill was quick to acknowledge that victory was the ultimate in team effort, "Most of the other nominees were individuals in the way they were nominated, but it couldn't be further from the truth for me. It really was a team effort. I'm nothing on my own, and I'm heavily reliant on the guys around me both on the water and off the water. To all the guys at ORACLE TEAM USA thank you very much, this is for you and let's do it again."
Yet whatever the effort in the team compound and onboard, it was Spithill that publicly voiced the desire to win, the never say die approach, the determination not to let go. This resolve evident on the boat, presumably in team meetings and so apparent in press conferences was nurtured 7,000 miles away on stretch of water north of Sydney.
Born in 1979, James Spithill was at one with the water from an early age. When he was three, his family moved to Elvina Bay on Pittwater in New South Wales, Australia,
"My upbringing was fundamental to where I am today. It was essentially like a little island. There were no roads and the only way to get to school or the mainland was by boat. Everyday was in a boat to go to school. It was a way of life, spending hours on the water."
His competitive edge shone early. In 1989, at the age of 10, Spithill entered his first ever race and won sailing a wooden dinghy crewed by his 6-year old sister Katie. Apparently his local sailing club's honorary secretary sent a letter of congratulations, "A win in your first race must be like scoring a century in your first Test Match ... the club can expect great things of you in the future." Prescience.
Spithill's sailing career continued to develop through a mix of personal dedication, natural talent and luck. By 1996 he was an irrepressible force on youth match racing circuits in Australia and New Zealand, scooping more than one trophy. In 1997 he was awarded NSW Youth Yachtsman of the Year and at the presentation he was introduced to legendary Australian yachtsman Syd Fischer. This meeting was a seminal moment.
"Syd Fischer was an incredible experience. I got the apprenticeship of a lifetime. Definitely one of the hardest men I've ever met. He really came from nothing, and through hard work got there. He gave an incredible amount of responsibility regardless of how young you were or where you were from. It wasn't an easy time, but no question the most rewarding things usually take the most effort."
It was Fischer who opened the door to offshore sailing, and ultimately the America's Cup. In 1999, Fischer selected Spithill to steer Young Australia in his 2000 America's Cup campaign. Aged 19, Spithill would become the youngest ever helm in the event's long history. Another renowned Australian sailor Rob Brown, an America's Cup winner in 1983 and former coach to the young Spithill, raced with him during the campaign and believes it was during this period that his abilities to lead took shape.
Alongside his natural talent and skill, Spithill was developing the mental toughness that was critical last year in San Francisco; an interest in boxing when he was at school helped. "Boxing was a fundamental growing up with red hair in Australia," he laughs. "But the thing I love is that it doesn't matter what you look like, once the bell sounds it comes down to who worked the hardest and who wants it most. I think you have to think like that on the boat too. You can't take any prisoners."
In 2003, Spithill was snapped up by the American OneWorld America's Cup team, and against the odds led the syndicate to the challenger series semi-finals where it was beaten by Oracle BMW Racing.
There is a saying that 'what goes around comes around'. Spithill spent the intervening years before the next Cup cycle continuing to hone his skills and invariably winning. He finished second in the 2002 - 2003 Swedish Match Tour and won the Nations' Cup in 2003, 2004 and 2005. In 2005, he won the World Match Racing Championship, the Melges 24 World Championship, and the Bermuda Gold Cup.
Still young, his star was ascending and for the 2007 Cup Francesco De Angelis who he had beaten in quarter-finals in 2003, appointed him as helmsman of Luna Rossa Challenge. The team reached the final of the challenger series, comprehensively beating Oracle BMW Racing en route, outfoxing and outmaneuvering a more experienced team.
In 2010 it was only natural then that he was hired by Sir Russell Coutts and Larry Ellison to skipper & helm BMW Oracle Racing for the 33rd America's Cup. Following the team's comprehensive victory over the defenders, Alinghi, Spithill became the youngest-ever winning skipper in America's Cup history
For the future, Spithill's mind is on winning the America's Cup for a third time. At only 35 years of age he is still young, but he is mature enough to look at what is happening behind him, "One of the most frustrating things for me is to have young sailors come up and ask how do I get into the America's Cup. In my case it was luck. Meeting Syd Fischer was lucky. There needs to be a structured pathway like other sports that starts at school level, college level. Both Larry Ellison and Russell Coutts have been a huge part of making sure there is a pathway for the youth by introducing the Youth America's Cup."
As one would expect, there is no suggestion he intends to give up anytime soon, "With our sailing team now I am now the second or third oldest. There's no question the boats, the style of racing now, it's so physical. I'm hopeful I can hang in there as long as I can. I love being competitive, I love being pushed."
2014 AWARDS
The ISAF Rolex World Sailor of the Year Awards took place during the International Sailing Federation's (ISAF) Annual Conference, which this year was held in Palma de Mallorca. The ceremony, attended by international sailing stars, key decision makers and sponsors is a true celebration of the sport.
The annual Awards, sponsored by Rolex since 2001, are the highest honour a sailor can receive and is recognition of achievement in a twelve-month period, in this case from 1 September 2013 to 21 September 2014.
Competition for the 2014 Awards was formidable, with three outstanding female and five equally exceptional male candidates short-listed from a list of nominations made by the public at large. The winners were decided by the votes of the over 130 Member National Authorities of ISAF. Suspense was maintained until the very last minute, with the nominees and guests unaware who had won until the official announcement itself.
Double Olympic gold medallist and World Sailor of the Year in 2000, Shirley Robertson, hosted the ceremony. The Awards were presented by ISAF President of Honour HM King Constantine and Joel Aeschlimann of Rolex SA. Both winners were presented with a Rolex timepiece and an ISAF Rolex World Sailor of the Year trophy.
The nominees for the 2014 ISAF Rolex World Sailor of the Year Awards were:
Male
Mat Belcher and Will Ryan (AUS)
Peter Burling and Blair Tuke (NZL)
Bill Hardesty (USA)
Giles Scott (GBR)
James Spithill (AUS)
Female
Steph Bridge (GBR)
Martine Grael and Kahena Kunze (BRA)
Charline Picon (FRA)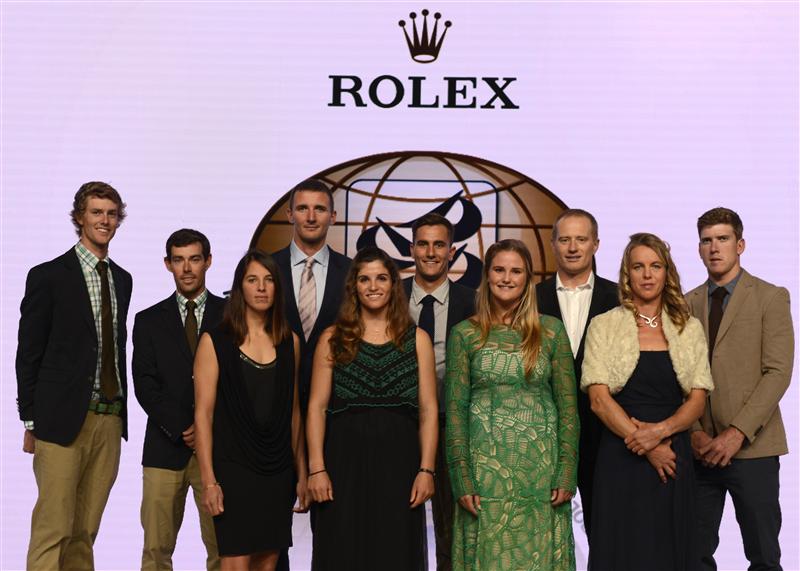 2014 ISAF Rolex World Sailor of the Year Awards nominees (from left): Will Ryan (AUS), Mat Belcher (AUS), Charline Picon (FRA), Giles Scott (GBR), Martine Grael (BRA), Blair Tuke (NZL), Kahena Kunze (BRA), James Spithill (AUS), Steph Bridge (GBR), Peter Burling (NZL).
Pictures courtesy ©Rolex/ Kurt Arrigo Photography, 2014.