January 27 - February 2, 2013: Issue 95
two Weeks with Jack 'Johnny' Carter – 65 Years of Children's Swimming Lessons at Palm Beach Rockpool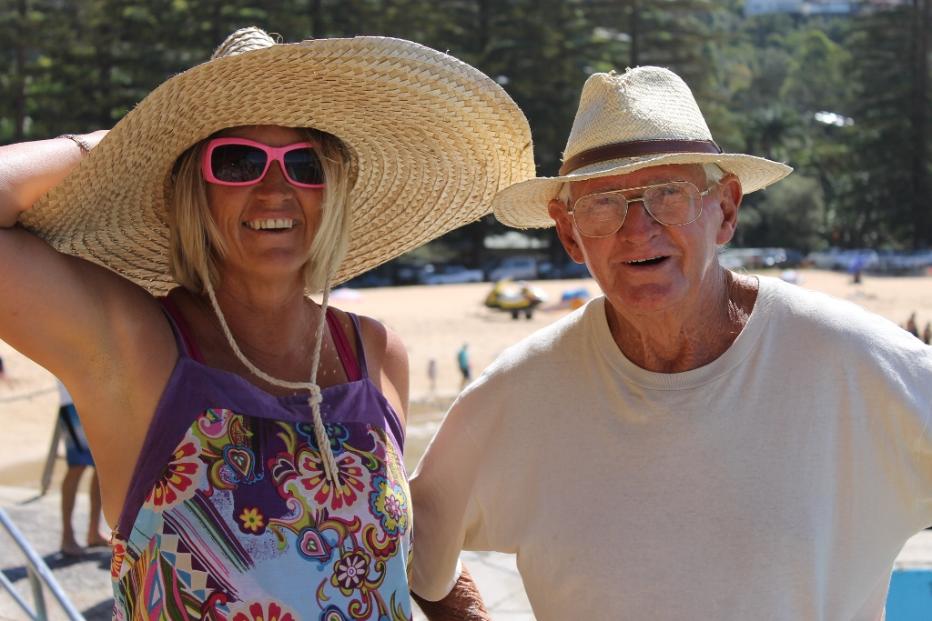 Robey (daughter) and Jack 'Johnny' Carter, Palm Beach Legend. Picture by A J Guesdon.
A Palm Beach Summer is not complete without a nod to Jack 'Johnny' Carter, the man who has taught suceeding generations of children to swim in the Rockpool at Palm Beach.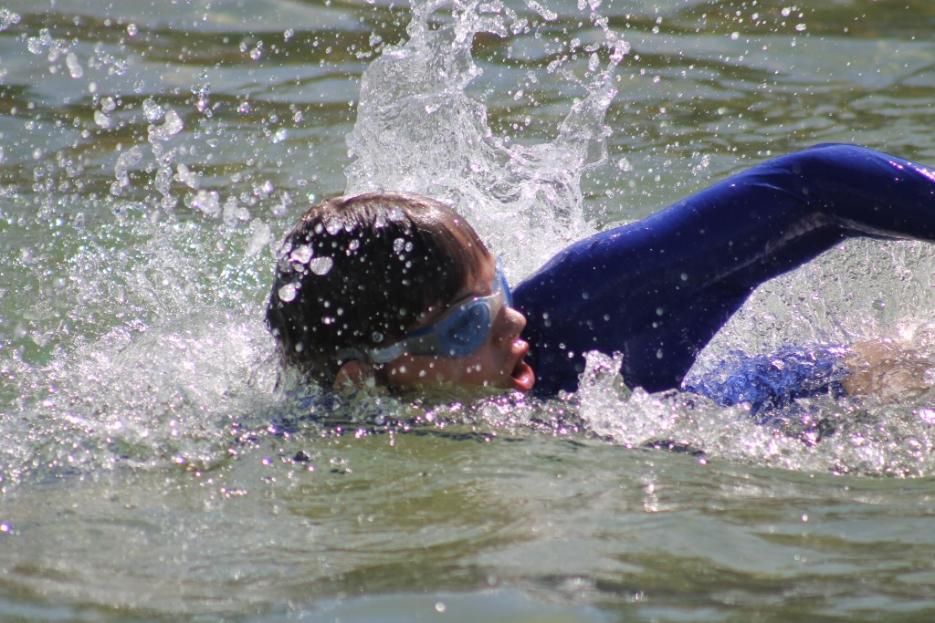 That wonderful lady, 2012 President of the Maria Regina Primary School at Avalon P&C, Joanne Seve sent us a quick note during the week about the swimming classes her four girls have been taking with legendary Jack 'Johnny' Carter and his daughter Robey in the Rockpool at Palm Beach from 7am to 9am for the last two weeks.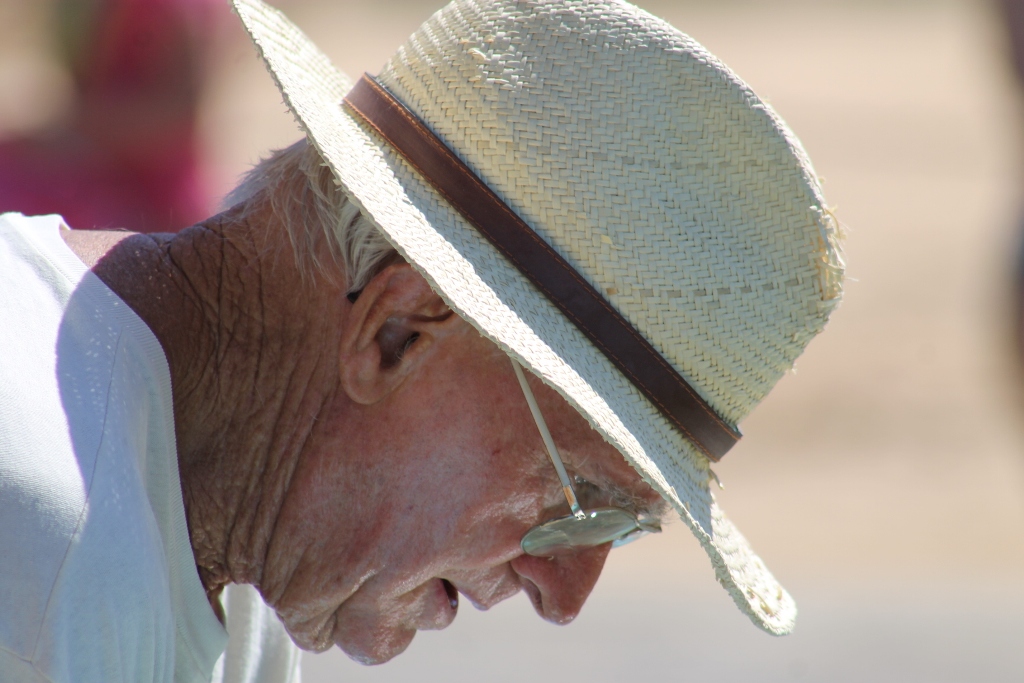 'The glorious setting, the rising sun over the ocean in the early mornings and the atmosphere of the classes have been absolutely exhilarating for children and parents alike.' Joanne wrote, telling us about a swimming carnival to be held on Thursday afternoon.
Mr Carter, now 82, has been on Palm Beach since 1947 when he commenced duties as a Beach Inspector*. He has been teaching children swimming and surf skills for 65 years. The gent who taught Kerry and Ros Packer to swim, then Jamie, "They've been very good to me," often sees succeeding generations of children brought by their parents to learn from one of the best. Watching him on Thursday shake the hand of each boy swimming and kiss the top of the head of every girl before their racing is seeing a man's love of his students.
After witnessing a relay race between boys and girls on Thursday, with the boys narrowly winning 2-1 in a best out of three, we asked Johnny a few questions:
What's the best thing about teaching the children to swim year in year out?
It's something I've been doing since 1948 and I love it … I'm getting a bit old now but I still enjoy it. I'm 82 now, have been teaching for 65 years. Around now (end of swim carnival) the kids would normally throw me in the pool…
Do you want me to throw you in the pool?
No, not really (laughs), my heart won't take it you see. Today we've had the boys against girls relay swim but we've also had an iron-man contest too you see; we have three teams and they pick their own teams, they're all good swimmers but not as competitive as Carlile.(swimming school). We swim more for fun, for having fun, and they have a good time as you can see. They swim well.
The Carlile school also has a link with Palm Beach; during the 45-46 surfing season Forbes Carlile joined the Palm Beach SLSC. At this time he was a lecturer in physiology at Sydney University and was coaching as part of the New South Wales Amateur Swimming Association. He was instrumental in the formation of the Palm Beach Amateur Swimming Club and its success in breaking NSW and Australian records during its first ever season, attributed to Carlile being selected as coach for the 1948 Olympics Australian Swim Team.
Johnny Carter, 17 when first on Palm Beach, must have seen these swimming techniques and legendary sportsmen such as R.M. 'Dick' Tooth who he recalls in Beach Beyond – A History of the Palm Beach Surf Club 1921-1996, training in the Rockpool with a four gallon drum strapped to his back.
Where did that little song the girls were singing come from… 'Girls are strong, like King Kong…Boys are weak…throw 'em in the creek'?
I sing that every year; sing that to them. Sometimes when the losing team's gotta go out I sing 'Goodbye Little Yellow Bird, hate to see you go'.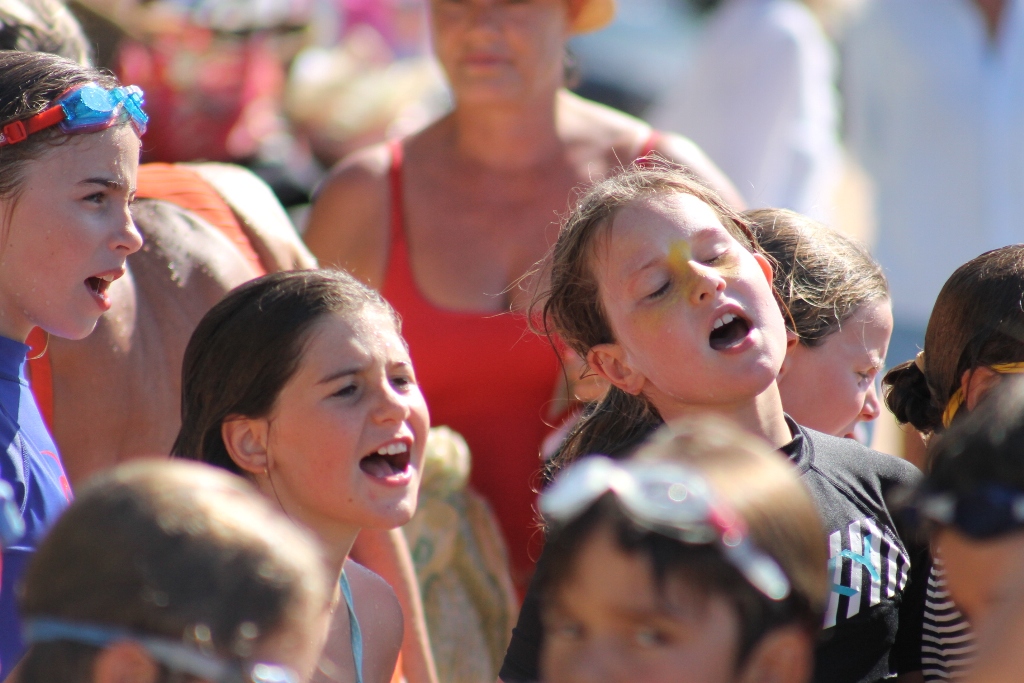 So how many children have you taught swimming in 65 years?
Ten thousand, at least ten thousand. I used to be the beach inspector here and some would come through via that and I'd teach them and it has just gone on and on since then. I come here from December through to Easter, I take some of the kids after school but it's for kids that need to learn to swim. I don't take them much under five or six (years of age) as before three, four or five they haven't got any memory of it.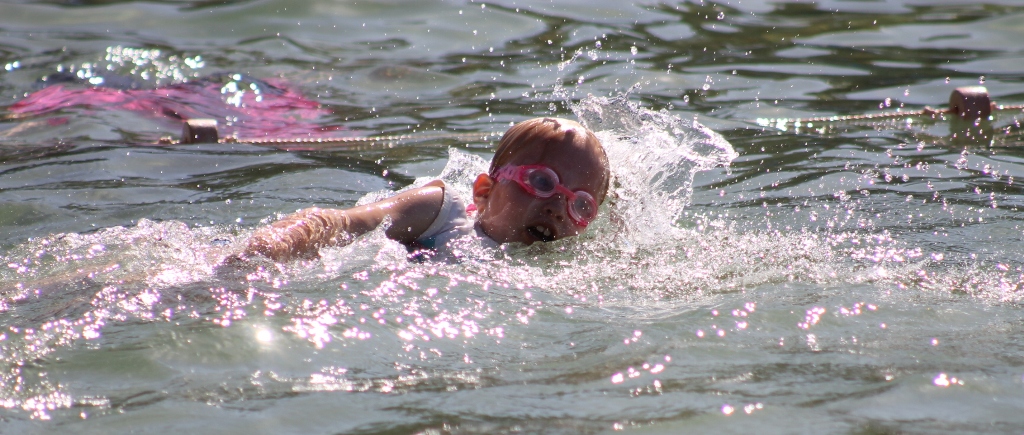 How do people get in contact with you if they want to get their children into a class?
After 65 years people know to just turn up here and I'll give them a time to come down after school for private classes. My daughter Robey is running the business now, she teaches up Newcastle way and comes down to help me. I stay here until Easter.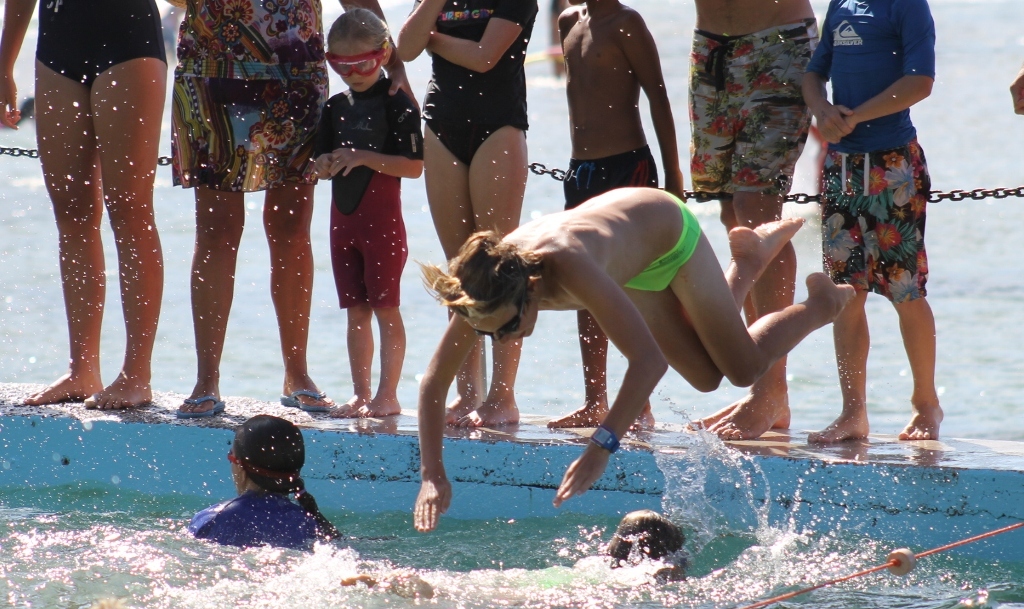 We also spoke to Sinclair, a young man who has helped Johnny and Robey out this Summer, by being in the water beside youngsters, ready to reach out and lift them up;
It's been really good being here this Summer. I was taught by him (Johnny) the last few years but I'm now sixteen so I've been doing it for a long time.
What's the best thing about working with him?
He's taught me a really good technique. I've had a good career; I finished going to State and Nationals in year 8 and can credit Johnny with my success.
Which school do you go to?
Riverview, I still continue to swim there. It's a great school.
Are you going to continue competitive swimming this year?
Yes. I hope to make the GPS Team.
Many people ascribe the advancement of their children's swimming skills to Johnny, stating 'He brings out the best in the children.' He knows how to make them laugh, he teaches them swim stroke and breathing methods and constantly reminds them to concentrate on this. While being taught all girls are 'Maggie' and all boys are 'Jimmy'. You can see the children respond to Johnny, will push themselves to try harder at getting better. The little human fish seen flying through the water on Thursday, their yells, laughter and enjoyment are a testament that this man gets it right and has for at least 65 Summers now.
A few days and almost six decades before the Thursday the 24th of January 2013 swim fun Mr Carter is noted rescuing another from the ocean, a dangerous place if you do not know where and when to swim; At Palm Beach lifesaver Johnny Carter rescued a man swept 200 yards to sea by a heavy rip. Man Rescued In Surf Gives Lifesavers £10. (1954, January 21).The Sydney Morning Herald (NSW : 1842 - 1954), p. 7. Retrieved from http://nla.gov.au/nla.news-article18405726
Johnny was not the lifesaver who recieved ten pounds. He charges less then the cost of a good bottle of wine for a week of lessons even now. He's clearly not in it for the money...
Reading the ocean, learning surf skills, improving your swimming each season are vital components of any Australian childhood. At least ten thousand of these have learnt how to swim from Johnny Carter. Imagine the sound of that many little voices yelling out 'Thanks!' and you get some idea of how beloved this Palm Beach Summer institution is.
Johnny's classes will continue when school goes back next week, after 3.30pm, at the Rockpool in Kiddies Corner at Palm Beach on Tuesdays, Wednesdays and Thursdays.
* Beach Inspectors were employed by Sydney Councils to manage beach activity and beach safety when daylight hours swimming became popular in the early 1900's. Ocean rescues and First Aid were part of their duties.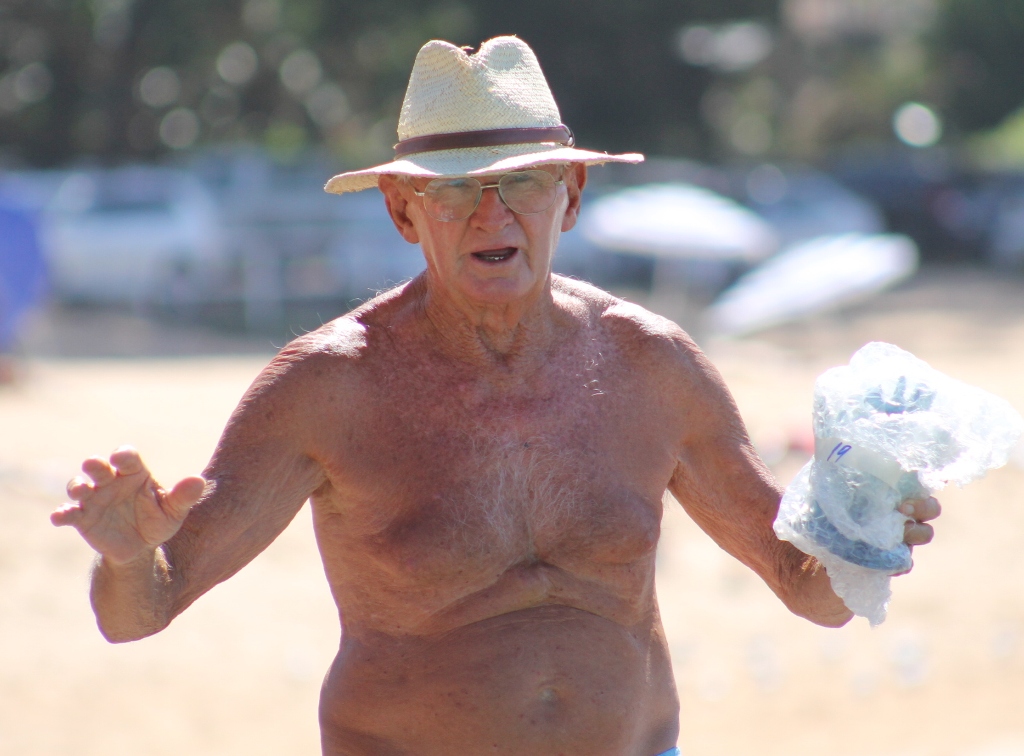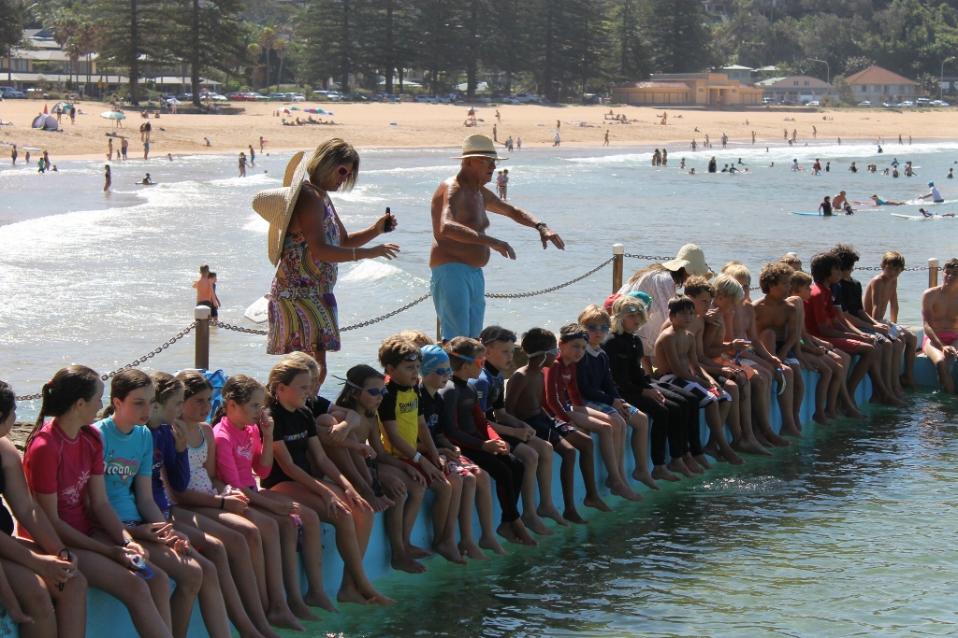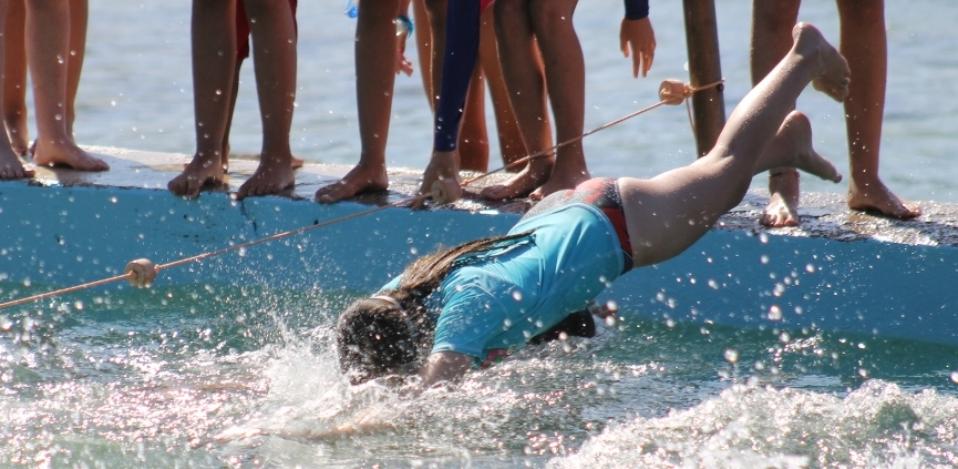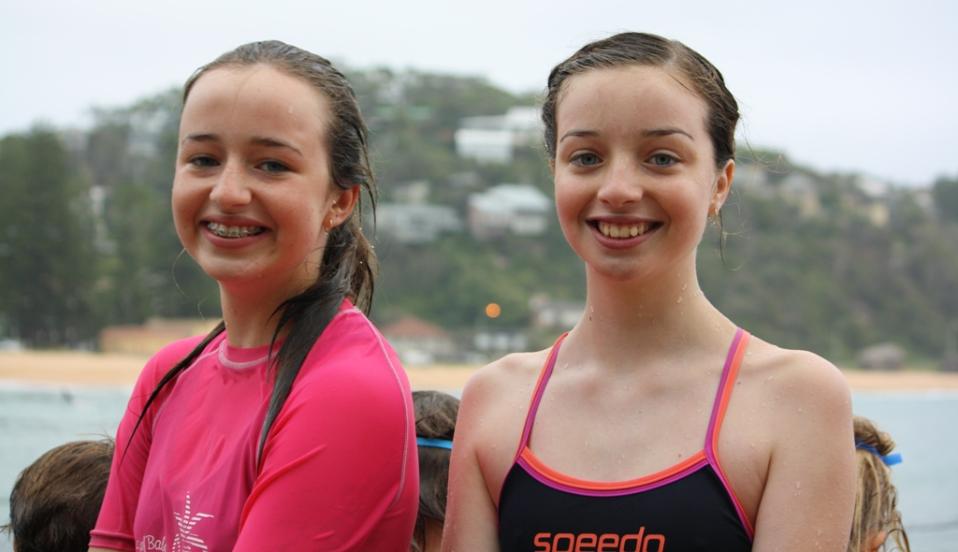 Therese Kelly (14) & Bernadette Kelly (12) . Picture by Joanne Seve.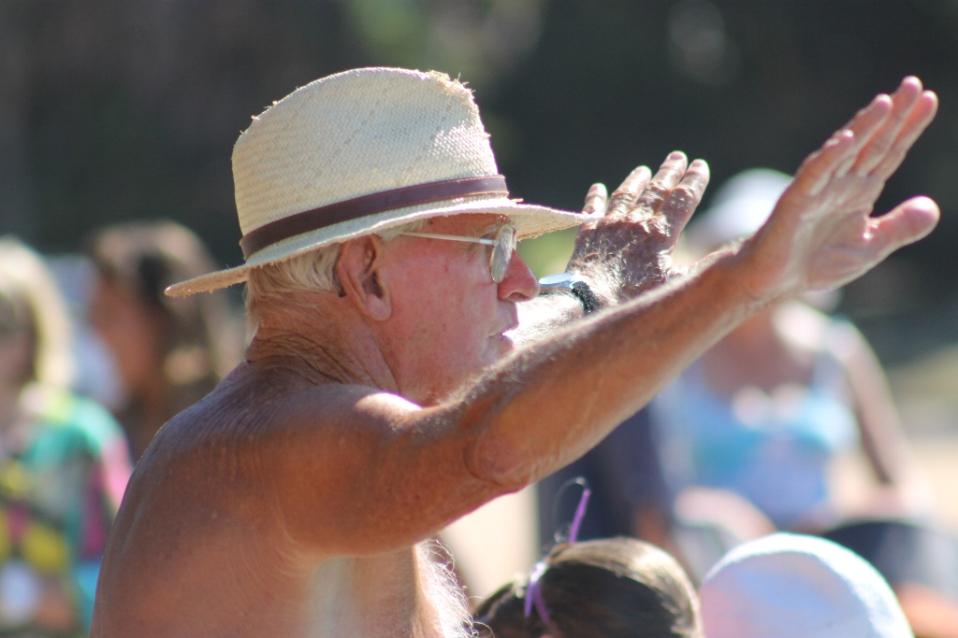 Photos and report by A J Guesdon, 2013.