November 9 - 15, 2014: Issue 188
ISAF Beppe Croce Trophy Awarded To Australian David Kellett AO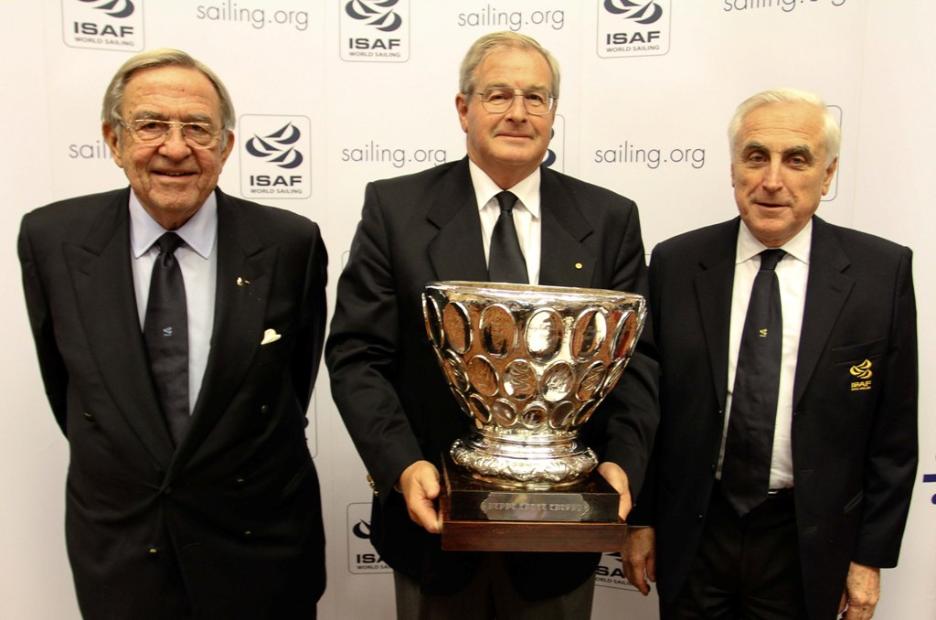 (Left to right) His Majesty King Constantine, David Kellett and Carlo Croce.
ISAF Beppe Croce Trophy Awarded To David Kellett AO

Friday 7 November 2014 - Issued on behalf of ISAF
David Kellett (AUS), a regular visitor to Pittwater, has been awarded the ISAF Beppe Croce Trophy, which honours an individual for their outstanding voluntary contribution to the sport of sailing.
The trophy, which was first awarded in 1988 in memory of Beppe Croce, ISAF President from 1969-1986, was presented to Kellett by ISAF President Carlo Croce at the 2014 ISAF Annual Conference in Palma de Mallorca, Spain.
Kellett is the first recipient from outside of Europe or the America's and on receiving the award, said, "Your Majesty, President, members of Council, fellow sailors. I am deeply honoured to be awarded the Beppe Croce but at the same time humbled and proud to be among the elite list of recipients.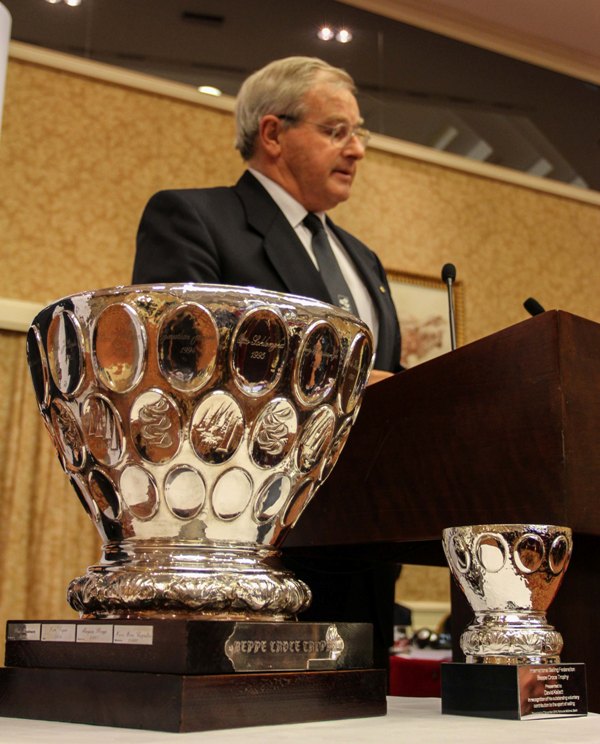 "When I started my ocean racing career in the late 1960's I sailed with a man who was the Australian representative on the ORC so I was aware of the structure of our sport. He educated me in the responsibility we had to give something back and serve the sport. Little did I imagine that in the late 1970's when I started serving my local yacht club that I embarked on a path that would lead me to the top levels of world sailing.
"Whilst you recognise those efforts with this award it would not have been possible without the support of my wife Kendi and my family, you can't spend 12 weeks a year working for ISAF for 20 years without such support. I therefore accept this as an honour for the both of us.
"Thank you President it is wonderful to be recognised for something you have been passionate about and enjoyed doing. I'm very honoured."
Picture: David Kellett awarded ISAF Beppe Croce Trophy


Born on 14 December 1948, Kellett has been a passionate sailor throughout his life. He started out in small boats and Olympic classes before making the move to ocean racing and the America's Cup.
Kellett's first involvement in ISAF came in 1992 when he became the ISAF Member of Council for Group L. Under the mentorship of distinguished administrator Tony Mooney, Kellett represented the region and his involvement and impact within ISAF was quickly felt.
From 1994-1998 Kellett was a Member of the Events Committee and played a key role in introducing the high-performance skiff, the 49er, into the Olympic Sailing Competition. He became a Member of the Oceanic Committee in 1997 and was vital in representing offshore sailing within ISAF.
In 1998 Kellett was elected as an ISAF Vice-President, a position he held through to 2008. During his time as ISAF Vice-President Kellett was pivotal in the creation of the ISAF Sailing World Championships. Having worked closely with event organisers at a combined World Championship in Melbourne, Australia in 1999 Kellett saw first-hand how successful the event could be. This was the spark that led to the 2003 ISAF Worlds in Cadiz, Spain and the largest congregation of Olympic sailors ever. Cascais, Portugal and Perth, Australia hosted the 2007 and 2011 editions and Kellett worked closely with the organizers of both to ensure their successful delivery.
As part of the ISAF Executive Committee, Kellett was responsible for Oceanic sailing and the America's Cup and made key contributions to Women's Match Racing, Team Racing, the ISAF Sailing World Cup and bringing sailing closer to the public. He oversaw the introduction of the Strategic Plan and the administration of the Advertising Code, Anti-Doping Code and Classification Code.
Serving as Treasurer from 2008-2012, Kellett guided ISAF through a challenging and difficult period of global financial crisis to ensure the financial stability of the federation.
Throughout his time within ISAF Kellett filled many roles around the Olympic Sailing Competition. For Sydney 2000 he was a Member of the 2000 Olympic Working Party, a member of the 2000 Olympic Advisory Board and President's liaison at the Sydney 2000 Olympic Games itself.
He was part of Athens 2004, Beijing 2008 and London 2012 Olympic Management teams and served as ISAF Technical Delegate for the Beijing 2008 and London 2012 Olympic Sailing Competitions.
Kellett is an experienced offshore sailor and has participated in the Rolex Sydney to Hobart Yacht Race 41 times. He skippered Sovereign to line and handicap honours in the 1987 edition and for the past 15 years has been an integral part of the safety network, controlling the race at sea. Kellett was also involved in three America's Cup challenges for Australia.
In 2002 Kellett was awarded the Order of Australia for services to yachting as a competitor and as an administrator. Kellett was awarded Yachting Australia's President's Trophy in 2013 for his long services to the sport in Australia. He is a past Commodore of Cruising Yacht Club of Australia and through involvement in various committees over the years he was awarded life membership at the club.
The Federazione Italiana Vela presented the trophy to ISAF in memory of Beppe Croce, ISAF President from 1969-1986. Awarded to an individual who has made a voluntary outstanding contribution to the sport of sailing, the ISAF Beppe Croce Trophy roll of honour is an impressive one. Including multiple Olympic medallists, rules gurus and designers, all have dedicated an outstanding amount of time to the sport of sailing:
1988 His Majesty King Olav V of Norway
1989 F. Gregg Bemis (USA) / Gerald Sambrooke-Sturgess OBE (GBR)
1990 Paul Elvström (DEN)
1991 His Majesty King Juan Carlos of Spain
1992 Olin Stephens II (USA)
1993 Paul J. Phelan (CAN)
1994 Jonathan Janson (GBR)
1995 Otto Schlenzka (GER)
1996 Henry H. Anderson, JR (USA)
1997 Carlo Rolandi (ITA)
1998 Peter Tallberg (FIN)
1999 Mary Pera (GBR)
2000 Livius Sherwood (CAN)
2001 Peter Siemsen (BRA)
2002 Jan Linge (NOR)
2003 John Tinker (CAN)
2005 Paul Henderson (CAN)
2006 Ken Ryan (IRL)
2007 Jacques Rogge (BEL)
2008 Nucci Novi Ceppellini (ITA)
2009 Bill Bentsen (USA)
2010 His Majesty King Constantine
2011 James "Ding" Schoonmaker (USA)
2013 Göran Petersson (SWE)
2014 David Kellett (AUS)
More on the previous recipients
www.sailing.org/about/isaf/awards/beppe_croce.php
Images courtesy ISAF.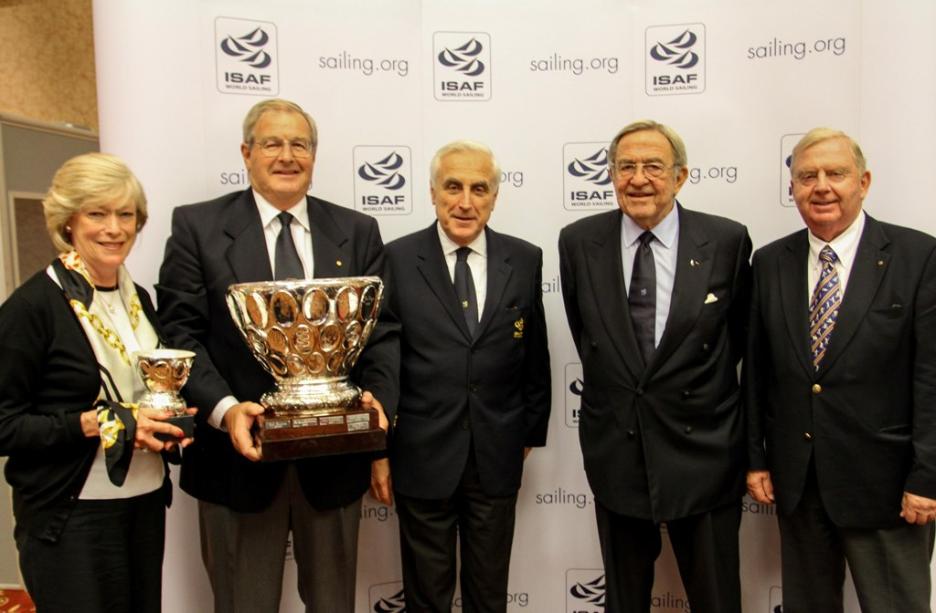 (Left to right) Kendi Kellett, David Kellett, Carlo Croce, His Majesty King Constantine, Goran Petersson.