November 11 - 17, 2012: Issue 84
Integrity Candles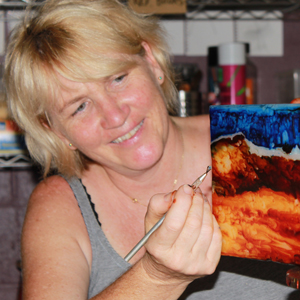 Former resident of Pittwater and Avalon Linda Saul has had an interesting journey into business and candle making. Her creative talents have blossomed in the later stages of life proving it is never to late to start a business and test your creative talents.
Linda grew up on the north shore and northern beaches of Sydney. Having two boys young in life and shortly after becoming a single mother Linda felt a change was in the air. She packed up her things and with her two young men headed to the beautiful country towns in the Northern Rivers of NSW.
Linda had always been a creative person, but acknowledging she needed to become a provider for her two young boys she put her creative aspirations aside (for the time being). Linda met her now husband Lenn in 1991 a few years after her move north, and with his help raised her family and forged a career in the health industry.
Lenn was diagnosed with prostate cancer in 2007, the same cancer type that had caused the death of Linda's farther only a year previously. "When my husband developed cancer, it led us to re-evaluate our lives" she said.
Linda decided to retire from her career in health management and began to work from home spending more time with her husband.
Integrity Candles was born. Linda began to make Jams, Candles, Honey and a whole range of products she could source from her own farm and other local farms. But it was her wax lanterns were she rediscovered her creative spark. "We make a hardened wax lantern, and then I melt the colours into the wax, this is quiet a layered process. Then I begin to carve my artwork." When a candle is placed inside the wax lantern, Linda's art come to life. They really are amazing.
This is now the third year Linda has come back to the northern beaches with her unique products. "I love coming back to Sydney's north and catching up with old friends and family, as well as selling my art, promoting my business, my friends businesses and getting good locally made products out to the people."

What makes Integrity Candles so different from others?
Integrity Candles turn candle making into an art form. We produce high quality candles but our artistic wax lanterns are what really separate us from any other candle maker. You haven't seen anything like an Integrity Wax Lantern before, and you can't get them off anyone but us.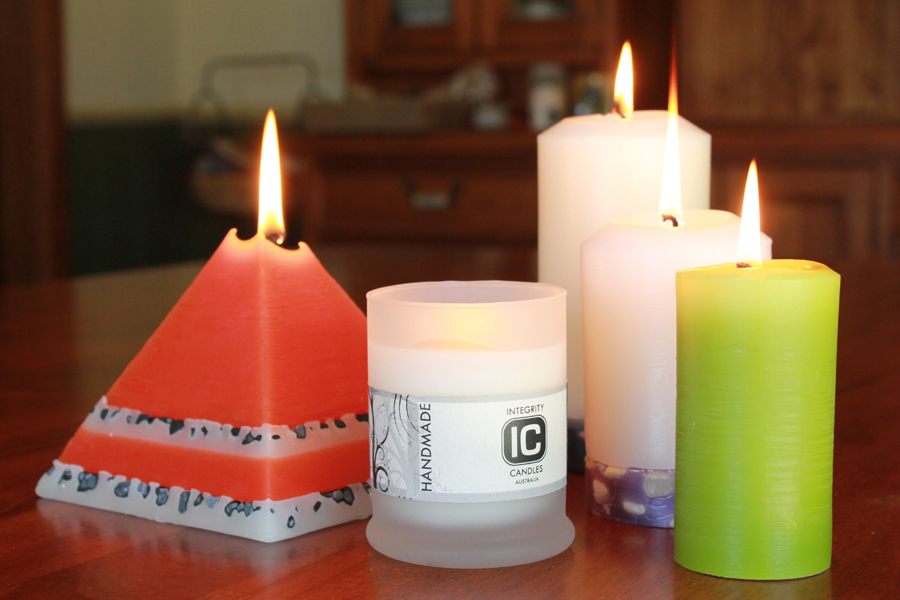 Why is it called 'Integrity' candles?
It was JFK that said "Our basic common link is that we all inhabit this planet, we all breathe the same air, we all cherish our children's future, and we are all mortal." We believe in looking after our community, our planet and our children's future before making our profits. We believe if our multinational corporations had this in mind the world would be a much more harmonious place to live.
The Cauldrons are very beautiful and made to order with the clients ideas in mind; can you tell us two examples of these and what their uses and sizes are?
The wax lanterns are beautiful for when entertaining guests or have a romantic evening with your partner. They are both beautiful and a talking piece. Lately we have been doing a lot for weddings. We usually carve a tree into the lantern, then couples name into the tree trunk. They have been very popular.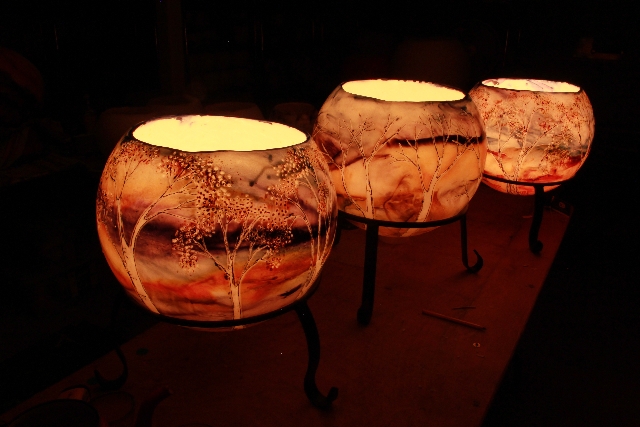 Where and when do you sell these?
We sell online and every Christmas we visit Warringah Mall for the month of December. This year we will also be at Northbridge Plaza. This year we have lots of local products from Byron Bay. Chocolates, coffee, honey as well as our candles.
What's the best thing about creating these products?
The best thing about creating our products is the feedback from customers. Having girls come up to us at the markets saying they received one of our lanterns from their husband for their anniversary and how much they love it! Its always special hearing those comments.
Best thing about being self-employed?
LOL the best and worst thing is work is just down stairs. Lol. It's a blessing and a curse sometimes. But mostly a blessing.
What is your favourite place in Pittwater and why?
Avalon. I visit my brother there in his beautiful home and it is just such a lovely relaxing environment. So Chill.
What is Integrity Candles 'motto'?
Stay true to yourself, your beliefs in life, your fellow man and the environment. That is how we try to approach every day in business.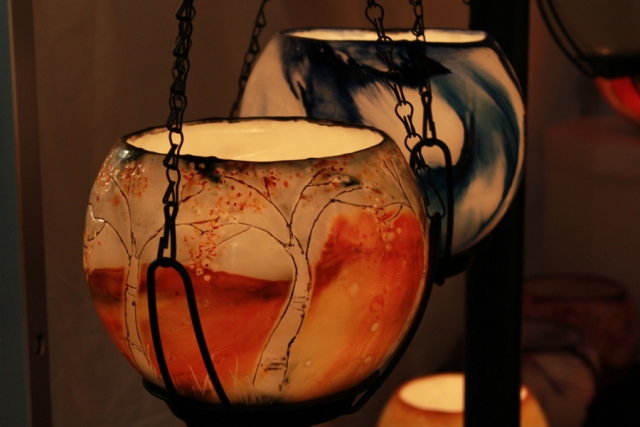 Mission Statement
To provide our customers with 100% Australian made, artistic, youthful and high quality candles, soaps and lanterns, competitively priced.
To make sure every customer smiles after working with us, and when using our products.
To recycle and leave as little impact on the environment.
To create unique lighting features that inspire imagination and beauty.
To give back to the community that supports our growth.
By donating prizes & arranging fundraisers for health awareness, community needs and or families in hard times we can help our local community prosper.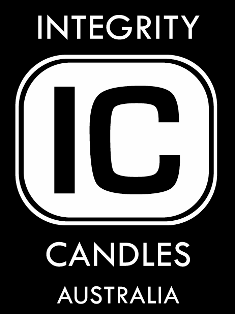 Integrity Candles will be at Warringah Mall, near the Dolphin Court from 26th of November 2012 until 24th of December and at Northbridge Plaza from 26th of November until 9th of December, 2012. Apart from the wonderful Cauldrons, she will be selling Locally made Chocolates, candles, soap, relish and honey. All done up in hampers making excellent gifts for Christmas. Website: www.integritycandles.com.au/
Copyright Pittwater Online News, 2012. All Rights Reserved.