March 16 - 22, 2014: Issue 154
Inaugural Scotland Island Paddle Race – Pittwater Festival 2014 – hosted by Royal Motor Yacht Club Broken Bay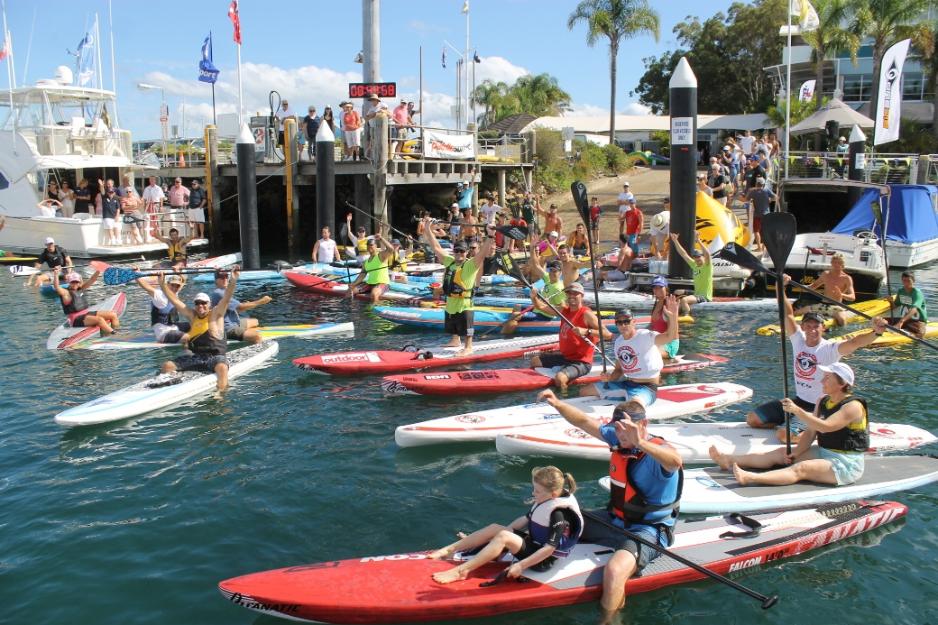 Inaugural Scotland Island Paddle Race – Pittwater Festival 2014 – hosted by Royal Motor Yacht Club Broken Bay

Stand Up Padding (SUP) has really taken off in Australia and last Sunday at the Royal Motor Yacht Club, which ran the Inaugural Scotland Island Race for paddlers in conjunction with Balmoral Surf, was where Horseshoe Cove met the future.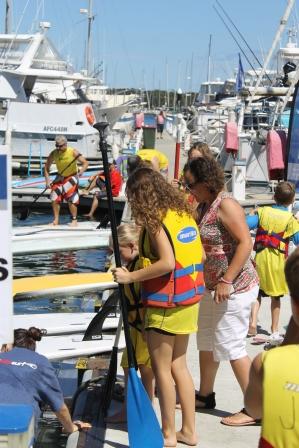 The site of the original RMYC Clubhouse was a playground for children and adults trying out this new way to have fun on the water and there were smiles all round for hours on end. The great thing about SUP's is they are something the whole family can do together, even you grandfather and grandmother, and if you fall off, it's a soft landing – in water. This is an inclusive sport and with inflatable versions now available, one you can take with you or keep on the boat without scratching the deck.

The sport has generated so much interest that there are teams that attend races and events and, like any sports, a concentrated effort and support activities are part of the discipline required to succeed. Some of the professionals competing last Sunday do three hours in the gym of a morning, go for a surf, then another hour and a half in the gym of cardio workouts or cross training on the beach of an afternoon and do this six days each week.
Chuck Patterson, a Big Wave surfer and member of the Naish team that scooped the pool last week, also does breath training for the hold downs you can encounter in Big wave surfing.

One of the youngest competitors, Oahu's Riggs Napoleon, spoke to us after the race:

How long have you been out here?
Just over a week now.
What is Oahu like?
Great, very beautiful. I have grown up there.

How did you get into Stand Up Paddle boards?
I grew up outrigger paddling and surfing so I found it an easy transition, especially since it is the two sports put together into one. My dad was the one who got me into it.

Have you done the Moloki to Oahu?
I did it when I was 12. I hope to do it this year with my dad.

That's a big paddle for a 12 year old.
It definitely was. The year Connor Baxter decided to do it I was on the beach when he crossed the finish line and he, at 14, was the youngest person to complete the Moloki. So I decided that next year 'I'm going to do that'.

What do you like about Australia?
There are numerous things I like about Australia from the people to the beautiful sights, the beaches, it's not like home but it will make you fell like you're home.

How long are you here for?
Until the end of April. I'll go back home and then go to California, then from Cali I'll go to Maui and from there I go to Tahiti.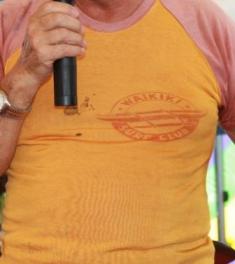 So there is a SUP circuit?
Yes, a Stand Up Paddle Board circuit was established in 2009. More people are becoming aware of this.

Do you surf as well?
Yes, I Stand Up Surf, regular surfing, anything that's in the water basically.

So you are now 16, what would be your motto for life at present?
Have fun and conquer your dreams.

Riggs is the grandson of Nappy Napoleon, one of Oahu's first Waikiki Beach Boys who has over 50 Molokai Channel crossings to his credit in an outrigger canoe. At the presentations of prizes Jim Geddes, a Royal Motor Yacht Club member, who related that 50 years ago he was lucky enough to meet Rigg's grandfather. Jim was in Hawaii with the first Australian Surf Team. He and Nappy swapped shirts and Jim, very pleased to meet his grandson, wore his shirt on Sunday to show Riggs.
"That's epic!" Riggs said, to which Jim replied "You have taken 50 years off my life today, it's so good to meet you."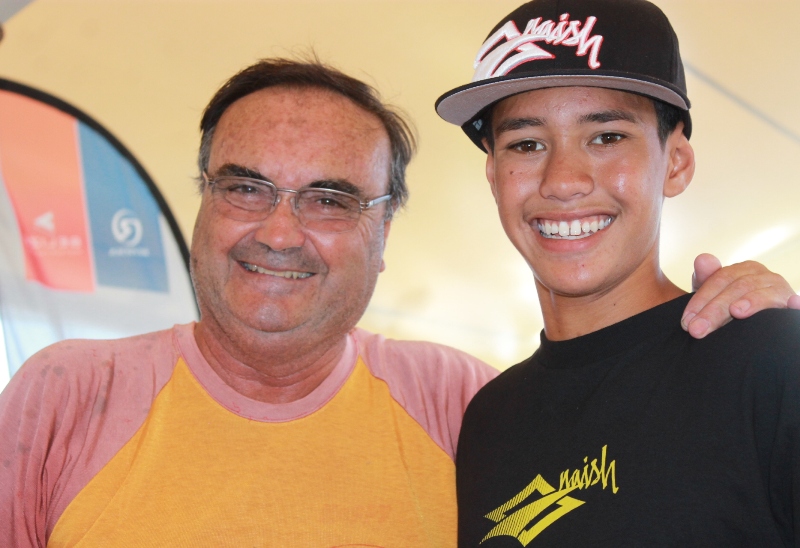 Jim and Riggs

We also spoke to two young Australians, Grant Hardiman (2nd), 23 years old and Toby Cracknell, 19 years old (1st) - in the JP Aus 14' Open Mens – 6 Km Paddle around Scotland Island

How long have you been SUPing?
Toby: About 14 months.
You've taken to it then – you were powering out there.
Toby: no, Grant was the one powering, I was just riding along on his wake.

You went in the 6 kilometre race around Scotland Island today - how was it out there?
Grant: Conditions were good. There was a little bit of chop around the back side of the island and a bit of boat wash but apart from that it was a pretty good race.

What is the longest race you have both been in?
Toby: 20 kilometres. That was Freshwater to Palm Beach, the 20 Beaches Race.
Grant: I've been in the 10 kilometre from Long Reef to Newport – that's a pretty standard length of these races.

What's the difference between racing on the ocean and racing on still water as we have here on the estuary?
Grant: There's more waves on the ocean obviously, more runners and the wind to contend with. Whereas here it's a more level playing field.
Toby: If you have a current it makes it more difficult, a headwind can be the same too, whereas with the flat water, even if you've never paddled before , you can jump on and you're fine.

What were you doing before being on Stand Up Paddle boards?

Toby: I was a triathlete and surfed. Growing up I was at the beach and in the Surf Club trying out all the sports and working out what I liked.
Grant: I came off a property. I grew up in Sydney and have been living on a property up in Queensland cattle and sheep farming. I came down about two years ago and have been paddling for about 12 months and started racing about six months ago. if it's something you enjoy it makes it easy to train and get further involved with.

What sort of training are you doing at present?
Grant: We do a Community Time Trial at Jamieson Park every Sunday on Narrabeen Lagoon.
Toby: I do my training at home, at Avoca on the Central Coast.

What is the best thing for you about Stand Up Paddling?
Toby: To me it would be that you can do it pretty much anywhere – in the flat, on the ocean, you can race, surf, just go for a cruise, as long as there's water you can have a paddle.
Grant: I would definitely back that – it can be done anywhere in any conditions. I found after giving up footy that it was a sport that suited me and I enjoyed it, so it was an easy transition.

Who did you play with?
Grant: I was a halfback with Newport Breakers.

Did you enjoy the race today?
Yeah, it was good.

So you will come back next year?
Definitely, for sure, it was unreal.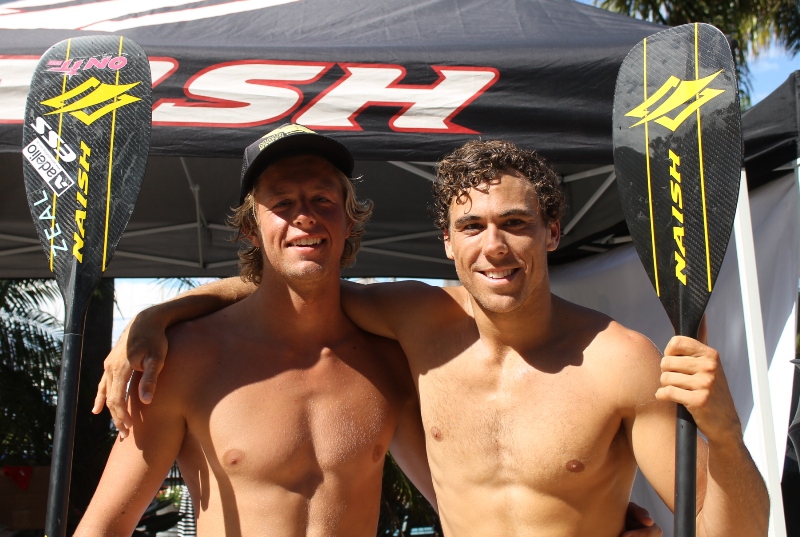 Troy and Grant

Chuck Patterson from Maui, Hawaii, a water sports aficionado in many disciplines also spoke with us:

How long have you been Stand Up Paddling?
I've been doing Stand Up Paddling since 2005/2006 out of California.

How did you get into Stand Up Paddling?
I'd been spending a lot of time in Hawaii doing windsurfing and kiting and surfing. You are around that element a lot and spending time with good friends of mine David Kalama and Laird (Hamilton), that's when we first saw it and then going back to California, there was something so addicting about it that makes you want to challenge yourself. Obviously like anything competitive you want to try it and from that first day until now I'm still finding it very challenging and enjoying it.

You are a Big Wave surfer as well?
Yes, I'm still doing that. I started as a skier back in the day and have evolved through the water sports until now.

So this is another means of getting on the water for you?
Yes. This is probably a nice combination that compliments and brings in to one windsurfing, kiting, surfing, the whole gamut and putting these together, you have Stand Up Paddling. It's probably one of the best methods of training and physical activity that you can use for all different walks of sports.

You are visiting Australia as part of the crew that raced in the recent outrigger events?
Yes – I'm Team Manager for Naish, Hawaii and came to visit our distributors here and participate in the outrigger race. We put together a really fun team of a couple of Naish paddlers along with Annabel Anderson from New Zealand, a World Champion, so our team was all Stand Up Paddlers and did the Hawaiian Airlines Sydney Harbour Challenge and had a blast, it was great.

Stand Up Paddling is just exploding in Australia – to what do you attribute the popularity?
The nice thing about Stand Up Paddling is you don't even have to know how to swim, although clearly you should learn before going into deep water. Stand Up Paddling is one of those sports that is so easy. To be able to get on your own board, which emulates a surfboard, for those who don't have that water finesse or skill, or might be a little put off by the ocean's hazards, they can get off the couch, get a little bit of guidance from a local SUP school and go out, and in the first 15-20 minutes you're doing what all the Pros do. You're your own captain so to speak, you can go paddle with friends, explore all the sea life or estuary life, you can go on the waves, lakes, rivers – it's one of those things you can do anywhere in the world and that's what makes it so addicting.

Will you be returning to Australia?
I come every year. To my way of thinking it's like California and Hawaii only on steroids. It's so lovely here, there's so much to do, it's all about the water, which is my favourite – I live in Maui for 8 months of every year and then California for the other 4 and travel a lot so for me coming to Australia is a treat.

So you grew up in …?
California. My mother, Bitsy Patterson, was a World Professional windsurfer. She has just had her 77th birthday and lives in Europe now – she has always been my hero and now working for Naish Hawaii has kept the dream going.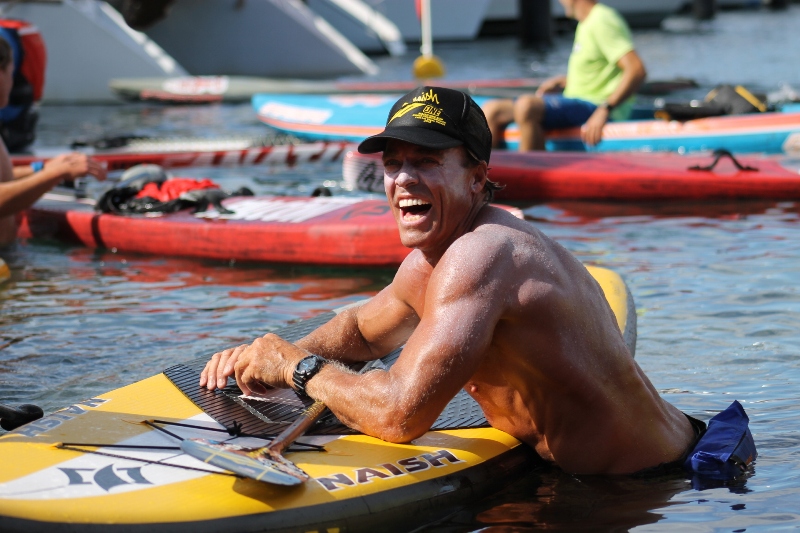 Chuck

______________________________________________________
The Pittwater Festival continues today with the BBGFC Game Fishing Tournament and the R-Riley Marine Riv Kids Fishing Competition.

The following weekend will be a great one for all those who love Classic Yachts with both the Saturday and Sunday given over to the Classic Yacht Regatta, expect to see some quite famous yachts, couta boats and the like there.

The final weekend will be for the Blue Water Navigation Trial on Saturday the 29th and another classic the Pittwater Paper Chase and the R Marine Riley Docking Competition.
___________________________________________________________________

Scotland Island Race 2014 - Results: Pittwater Festival Stand Up Paddle Board Scotland Island Race and Time Trial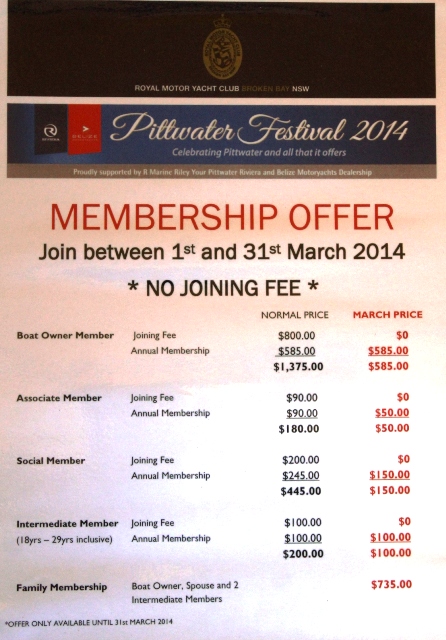 6KM SCOTLAND ISLAND RACE RESULTS

• Bic One Design – Open Men's: Bevan McKavanagh 45:08.1
• Bic One Design – Opens Women's: Sussannah Teng 55:01.0
• Bic One Design – Masters 45+: Rob Gittoes 41:11.5

• JP Aus 14' – Open Men's: Toby Cracknell 34:16.8
• JP Aus 14' – Open Women's: Tammy Montgomery 43:03.3
• JP Aus 14' – Masters 45+: Lee Johnson 36:23.5

• Lahui Kai 12'6 – Open Men's: Riggs Napoleon 35:36.0
• Lahui Kai 12'6 – Open Women's: Lucy Kelly 50:12.0
• Lahui Kai 12'6 – Masters 45+: Brett Baber 39:39.3

• Naish One Design – Open Men's: Scott Hardiman 39.59.1
• Naish One Design – Open Women's: Claire Eden 1:08:51.1
• Naish One Design – Masters 45+: Chuck Patterson 38:46.0

SUP ATX Short Course (11am Start)
• Max 12'Fun – Juniors: Daniel Allen 28:08.1
• Max 12' Fun – Open Men's: Marty Cole 23:16.6
• Max 12' Fun – Open Women's: Jill Wong 28:48.0
• Max 12' Fun – Masters 45+: Cameron Miles 29:08.7

TIME TRIALS (ALL CATEGORIES)
• Open Men's: 1st Riggs Napoleon 1-10-40
• Open Women's: 1st Tammy Montgomery 1-25-55
• Masters 45+: 1st Chuck Patterson 1-11-20
• Juniors: Tyler Ratcliff 1-47-14

There are some photos from this great event as part of this week's Pictorial. If you would like to find photos for your Family Albums we have given a full set to RMYCBB and they have loaded them onto their Facebook page HERE - * Not for commercial use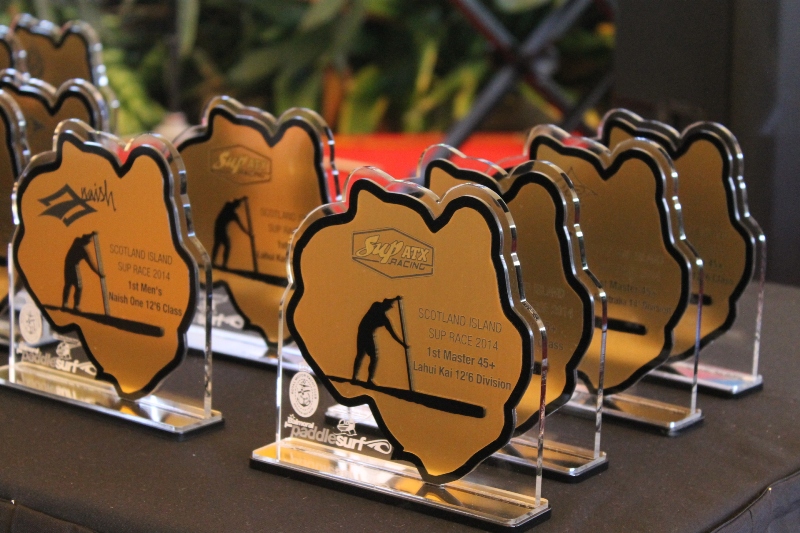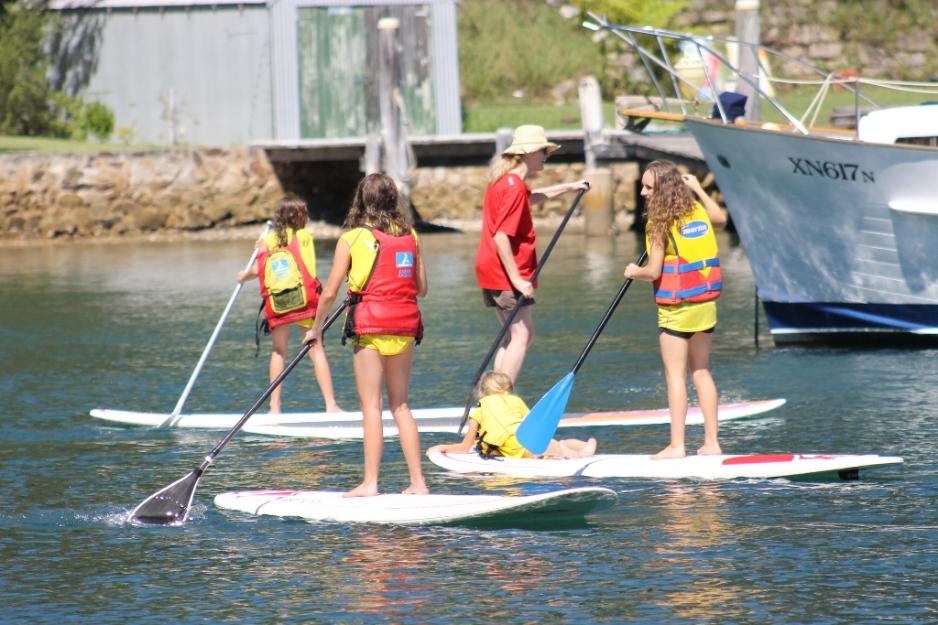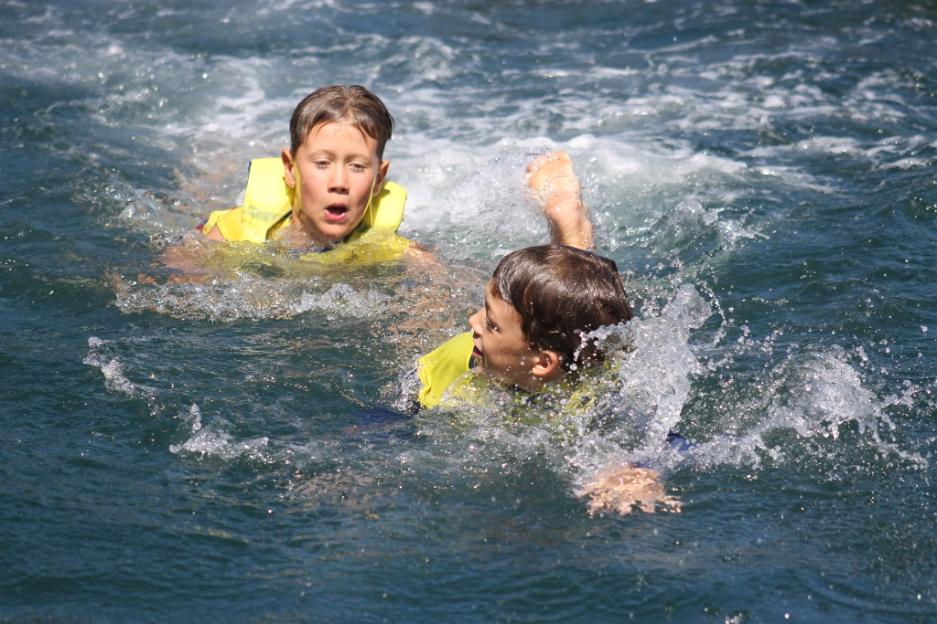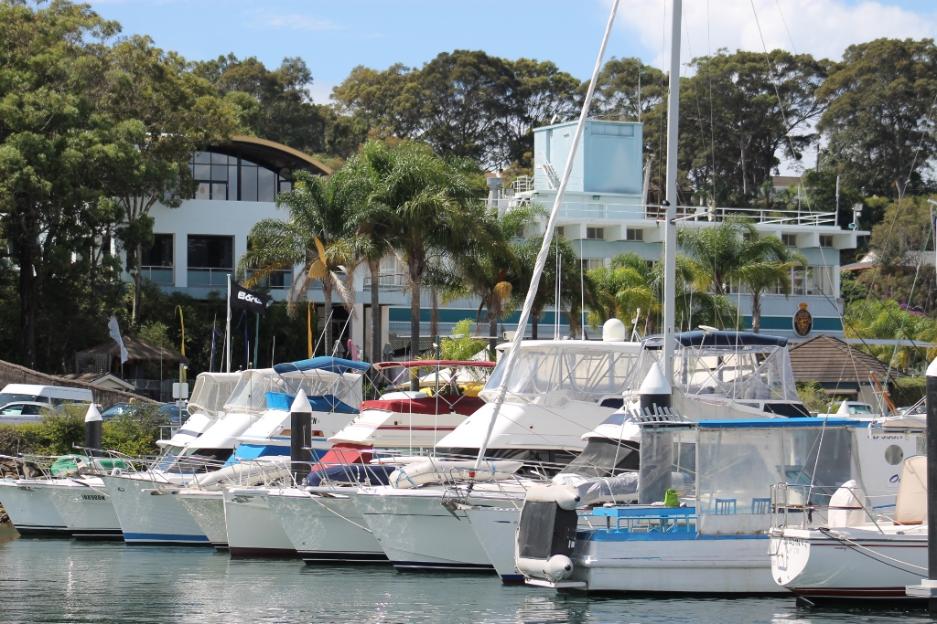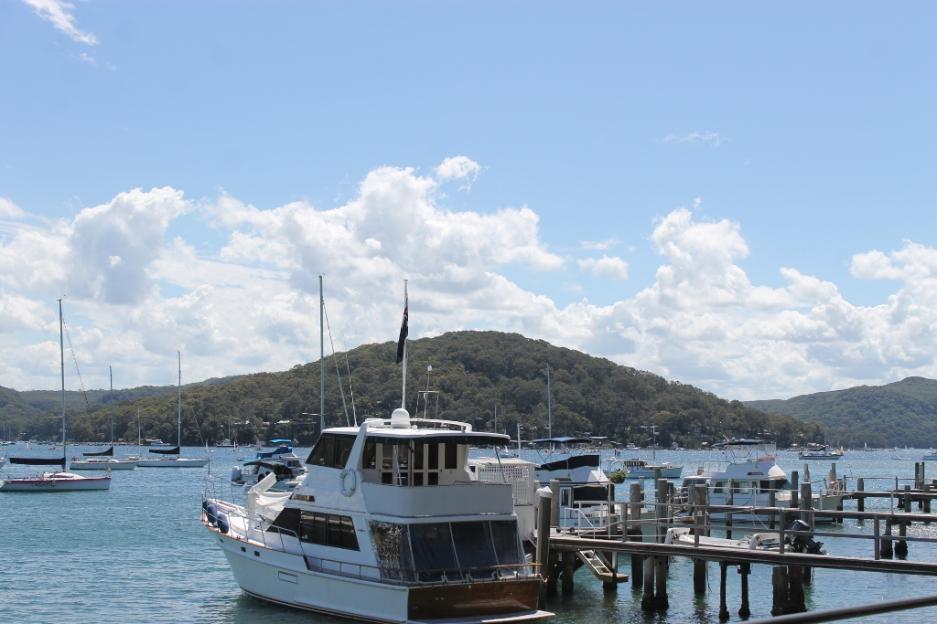 Report and Pictures by A J Guesdon, 2014.