September 14 - 20, 2014: Issue 180
THE INAUGURAL 315 KM SYDNEY HARBOUR AND COAST WALK‏
By John Illingsworth
THE INAUGURAL 315 KM SYDNEY HARBOUR AND COAST WALK‏
The Inaugural Sydney Harbour & Coast Walk finishes today, Sunday July 14th with a Celebratory Brunch at Lilyvale. Although the consensus from the road is that it has been a slightly damp 30 days, anyone worth their salt and familiar with walking tours, will know that revelling in how the blessings of rain keep you cool and bring to life any of the bush reserves you may visit along the way makes rain a bonus – no sunburn or heat exhaustion here.
Pittwater's John Illingsworth, supported by wife Lyn, has accompanied the Inaugural Walkers on their 30 day stroll from Barrenjoey Lighthouse to Lilyvale, and sent us a report this week as a way for us all to celebrate this wonderful venture. The Inaugural Walkers have arrived at Australia's first National Park, the Royal National Park, as we speak! What a succinct punctuation to illustrate much of what this first Sydney Harbour and Coastal Walk has been about - not only have the walkers been amongst the most beautiful areas, they have also visited many historic spots and deepened their appreciation of all to be seen along these ways.
Below are some screenshots from the wonderful film Mr. Illingsworth will create once he is home and able to – we look forward to sharing that with you when done and if these screenshots from his many days of filming are anything to go by, this will be a visual treat as much as a historical record.
For those unfamiliar with this great walk, and its launch just over four weeks ago, please see:Inaugural 315 Km Sydney Harbour & Coast Walk Begins At Barrenjoey
_____________________________________
From John Illingsworth:
Regarding the filming of THE INAUGURAL SYDNEY HARBOUR AND COAST WALK (315 km), this has been my most arduous job since 'Walkabout' some 45 years ago. It's also been very enjoyable.
Many of Sydney's Councils have greatly assisted us along the way, meeting and escorting us and feeding and watering us.
NSW National Parks and Wildlife Service and the Sydney Harbour Federation Trust have been generous with expert guidance through some of Sydney's most iconic lands.
The walkers are a great bunch. Our number varies from day to day but there are 6 or 7 stalwarts – Phil, Ian, Lee, Bill, Charles, David and Matt with John filming and Lyn supporting John.
Rain and strong winds have dogged us from the moment we assembled at Palm Beach on Day 1.
Day 3 along the beaches from North Narrabeen through to Manly was the worst. At Long Reef the wind must have exceeded 100 km/hour with driving rain and hail. Sodden sand blew as if in a desert. Drenched and with boots full of water we had to march on regardless – it was a bit 'army' like. At the mouth of Curl Curl lagoon we were faced with a big sea, rising tide and full lagoon. We think that waves breeched the lagoon just as we arrived. Several decided to go around but 3 crossed. One at a time they waited for a suitable break to sprint across in ankle/knee deep water. You should have seen them go! On the other side, somewhat elated, I asked how old they were – all are 73.
Today is DAY 26, a rest day spent at Kurnell. Tomorrow we walk through Kamay Botany Bay NP and on to Cronulla. DAYS 28 and 29 we'll be walking the Royal National Park through to Lilyvale near Otford where we finish on the 315th kilometer.
This is classic 'run and gun' shooting - wait to get a shot, then run to get ahead where the process repeats. All equipment is backpacked. I have two cameras, one a water-resistant action camera. There have been entire days when only the action camera could be used. All footage is hand-held because there is no room for a tripod, nor time to set one up. The capability of both these Sony cameras is remarkable.
Both cameras have good sound recording capability but strong winds throughout have created problems so I also use two digital voice recorders positioned inside clothing: these have proved invaluable.
Whereas the walkers have been accommodated all along the way, with a couple of exceptions I have returned home nightly to download and back-up footage, recharge batteries and replenish basic supplies. This has been necessary because of the volume of material – If not labelled, sorted and filed daily the editing task would be unmanageable.
I'm looking forward to the end but I'll be sorry to finish. I've made some firm friends that I hope to see more of. I'm optimistic that the resulting films will be of longstanding use to government and semi-government bodies and to the walking public.
Regards,
John Illingsworth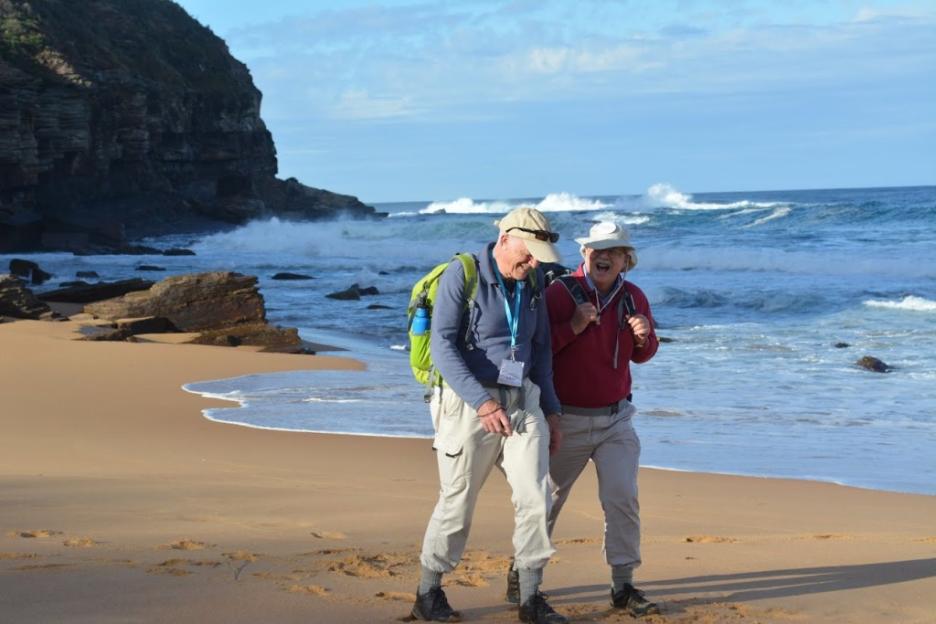 Day 1: Phil Jenkyn and Ian Napier at Palm Beach - photo taken by Matt McClelland.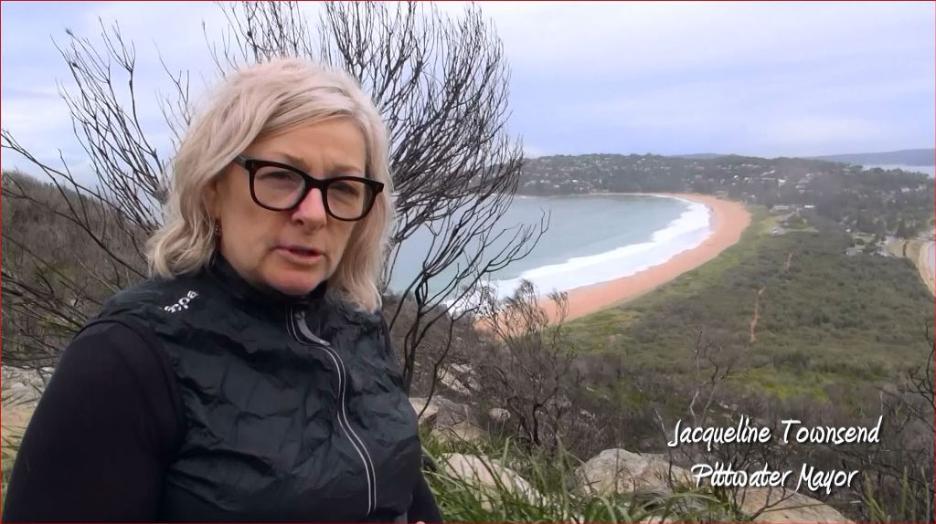 Day 1: Mayor Jacqueline Townsend at Barrenjoey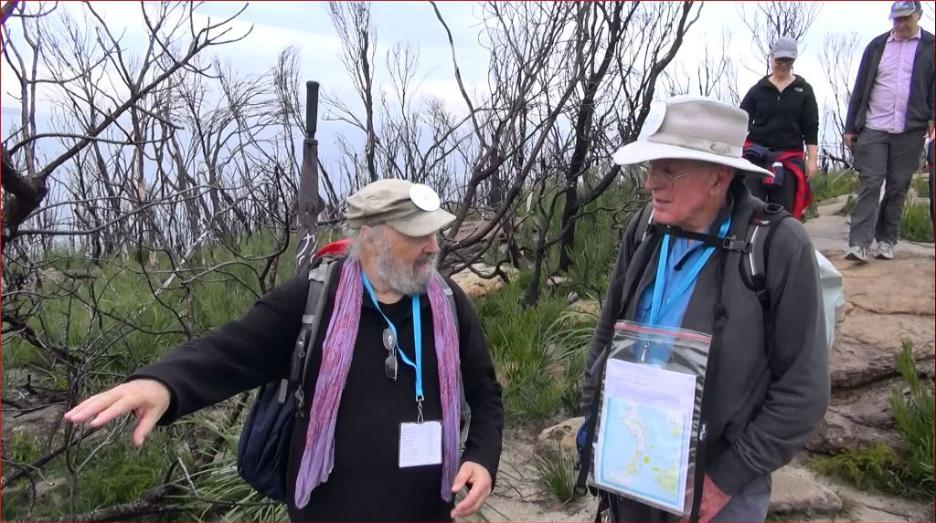 'the walkers are almost like prophets' - Rob Stokes. NSW Government Environment Minister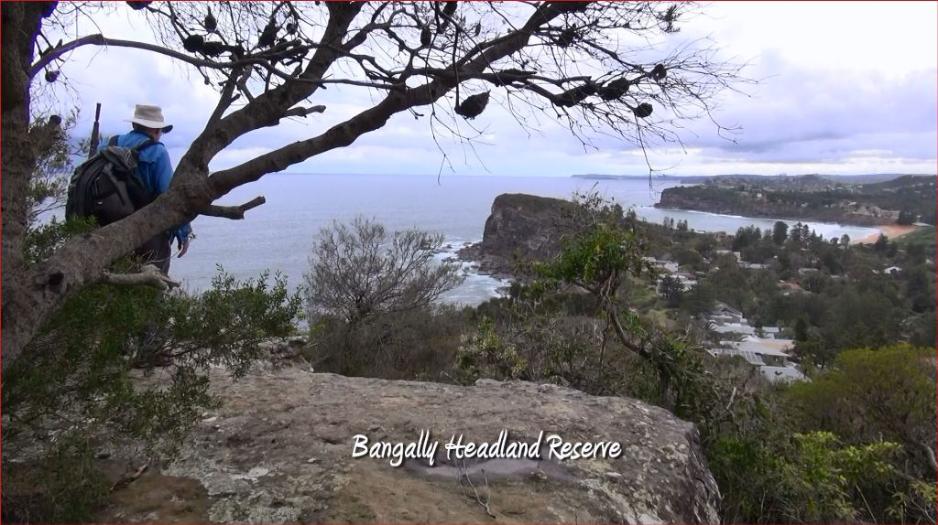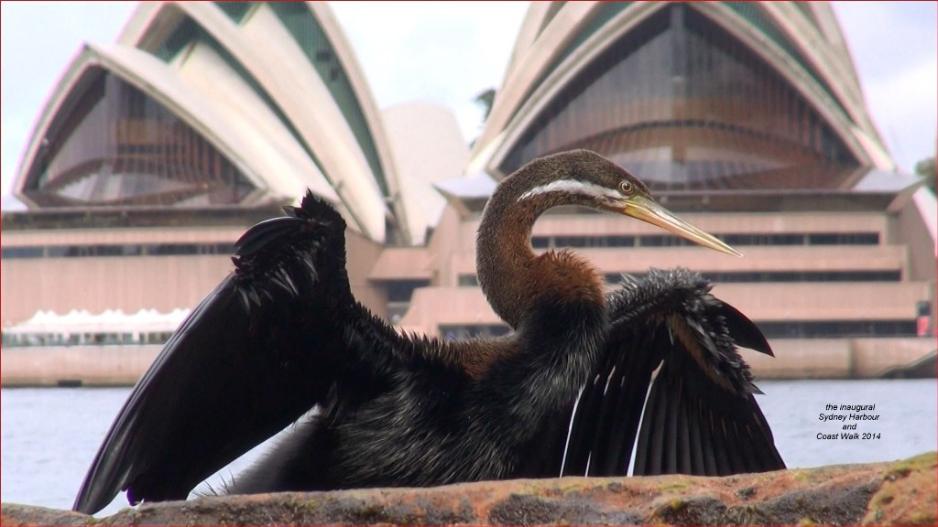 'not the only one trying to dry out' - John Illingsworth screenshot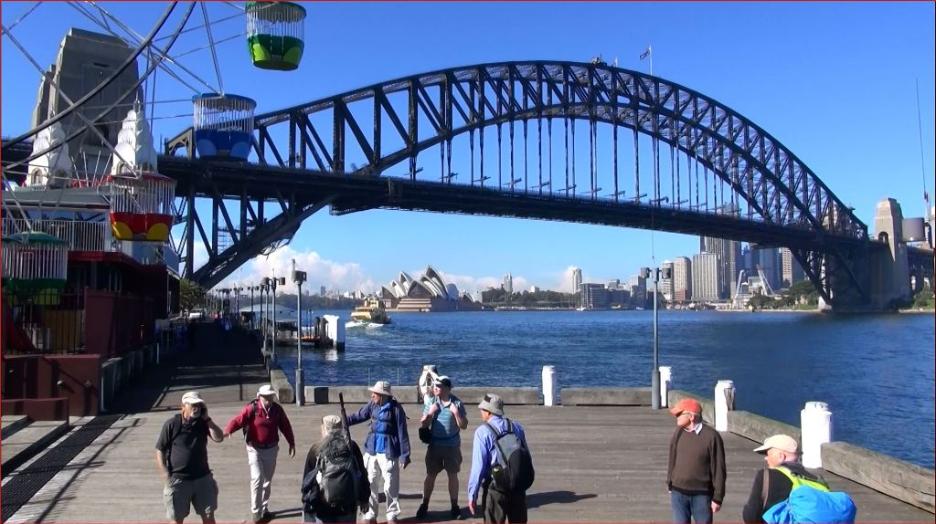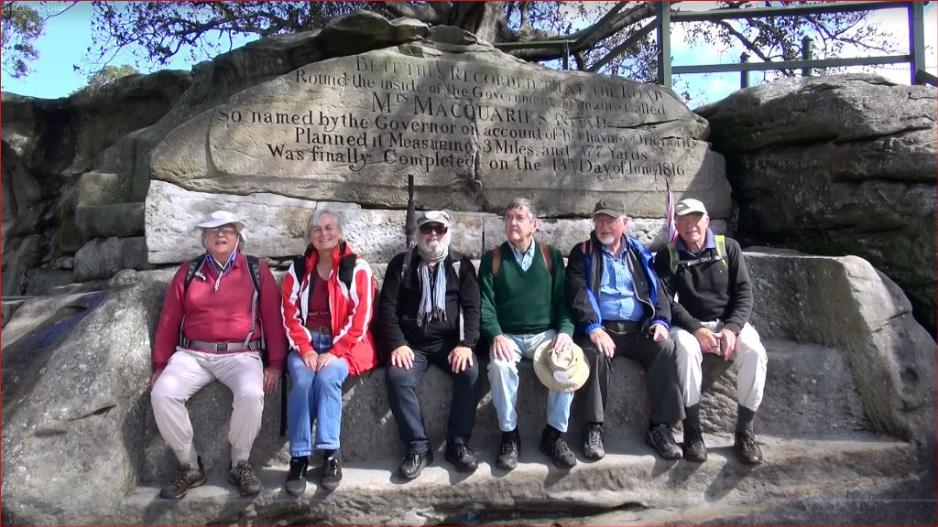 Day 22 - Mrs Macquarie's Chair.
Day 22 - the Bennelong Twins - these trees predate Europeans.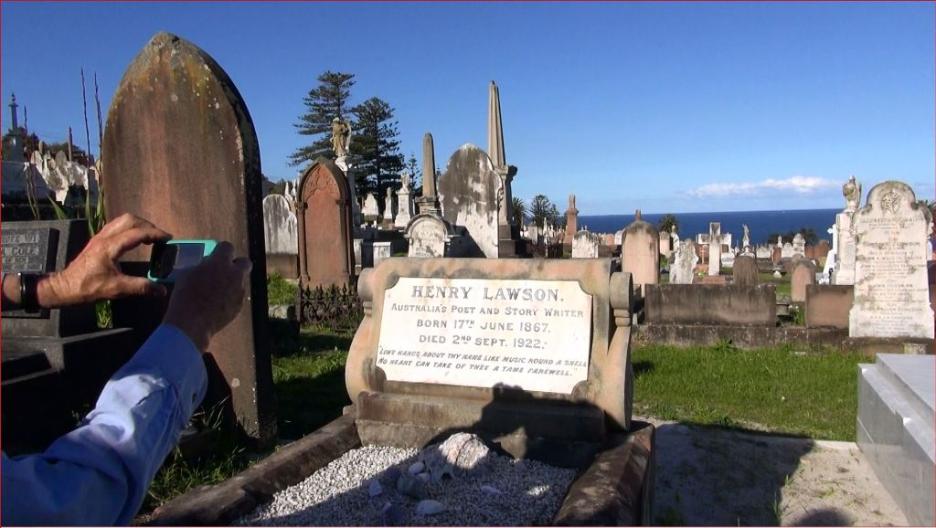 Day 24 - Waverley cemetery - 'got you Henry'.
Pictures by John Illingsworth, 2014