December 20, 2015 - January 9, 2016: Issue 245
Soibada Student Wants To Be Educated In Pittwater: Let's Help Her
2012 video of Tanya and friend.
Soibada Student Wants to be In Pittwater – Let's Help Her
Do you want a part in changing the world? A one off donation towards educating a child from Timor Leste, here, in our own community will have an impact on many in her home village in the future. Please help!
The Northern Beaches is renowned for our generosity and community spirit. Tanya has been offered a scholarship at Pittwater House School, but in order for her to accept this wonderful opportunity she needs sponsorship for other expenses. These include; uniforms, books, administrative fees, health cover and airline tickets etc.
A few months ago Pittwater welcomed this young girl from our sister village, Soibada, in Timor Leste. Sixteen year old Tanya da Costa became a familiar face around Avalon. Tanya was sponsored by the Watkins family and spent two months living here in Sydney to attend English courses and cultural awareness training. She spent four weeks at Sydney English Academy in Manly and had private English lessons with volunteer ESL teacher Skye Nolan Brown. During this time she also undertook dance class at Lamont Dance in Avalon. She joined the Youth Group at a local church and was a member of the children's choir. She participated in a local craft group. She represented Pittwater Friends of Soibada at numerous official functions. There were so many new experiences for her to absorb – from the mundane things we take for granted, a flushing toilet, a shower, kitchen appliances, washing machines to her first time at the beach (the Tasi Ibun she called it in Tetun her native language, meaning Sea Mouth). She tasted her first ice cream at Chill Bar and milkshakes and hot chips at Ibiza. She made numerous friends during her visit here and touched many hearts.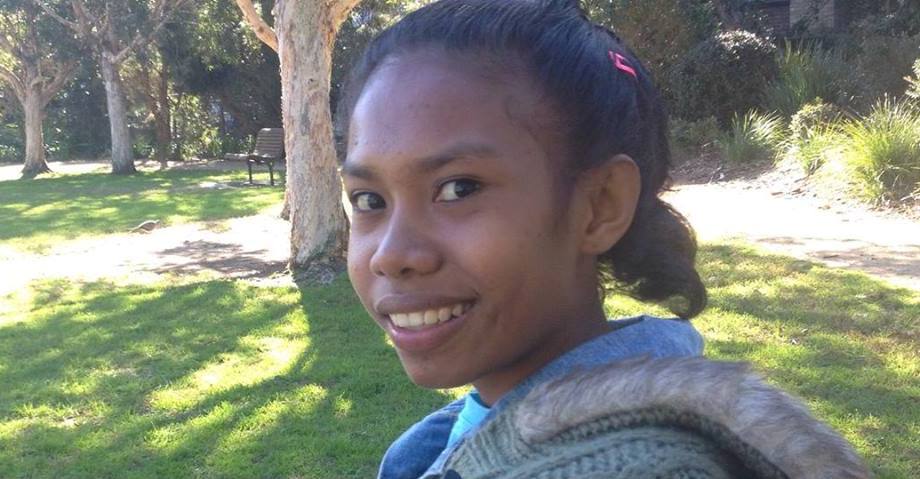 Tanya in Pittwater earlier this year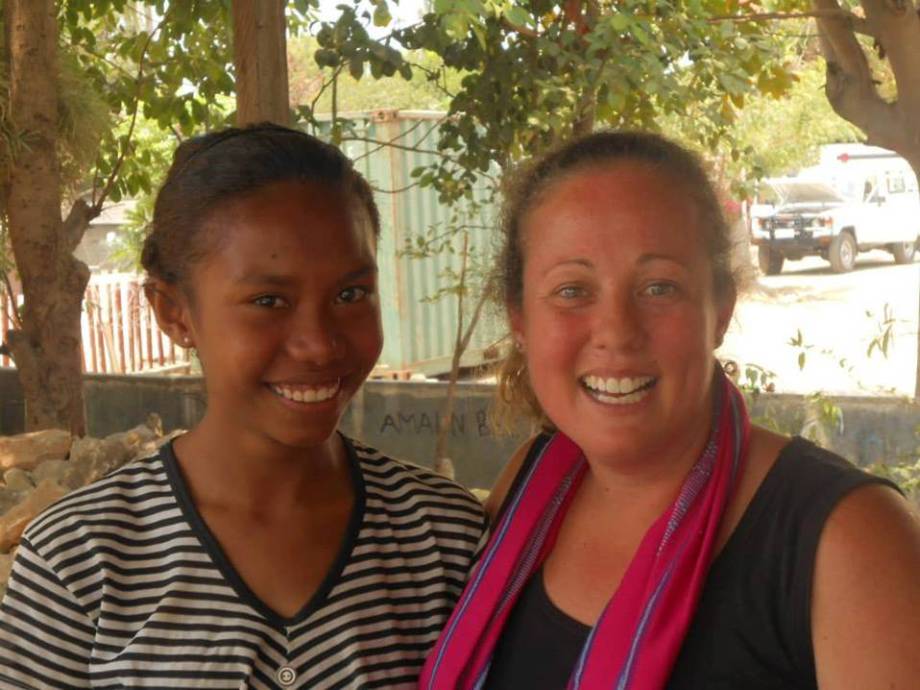 Tanya with Sally Watkins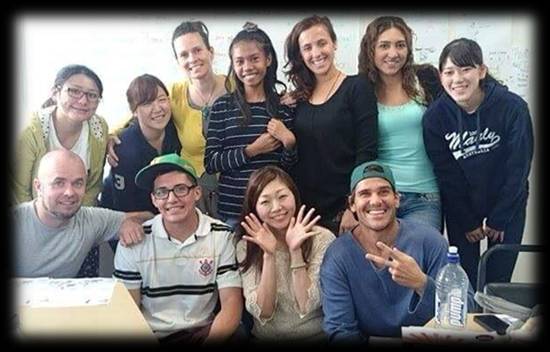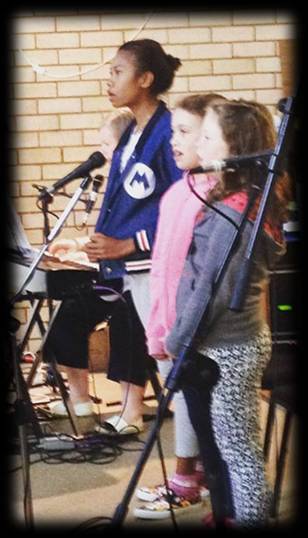 Tanya and her English Class in Manly. Singing in the Church Choir.
She returned to Timor Leste in October so that we could finalise arrangements for her foster care, schooling and visa. She is a high performing and conscientious student. We are very eager to have her relocated to Australia so that we can remove her from her current living conditions and provide her with a better education, greater opportunities for further study and the skills required to go back to Timor and help her people. It has been proven in Timor Leste and other third world countries that when you educate a girl she passes her skills and knowledge on to her community. Tanya will take her skills back to her village and pass them on to others. Her presence in our community will allow the privileged youth of the Northern Beaches to gain an insight into the lives of our nearest neighbours. It will be a symbol of repayment of the debt that Australia has to Timor Leste from WW2. (Over 40,000 Timorese, mostly young boys, were slaughtered by the Japanese as a result protecting our troops, hiding them, nursing them and feeding them in the jungle.)
I first met Tanya in 2009 at the Soibada orphanage where she lived with two Nuns and 73 other children. Her leadership qualities and the integral role she played in the running of the orphanage were immediately evident. She stood out amongst the other children due to her outstanding academic and social abilities. She voluntarily performed duties as our translator and thus was very involved in the development of the Pittwater partnership and featured strongly in the projects from the beginning. She can be seen in all of the videos and photographs that have promoted the work that Pittwater community has done in Soibada.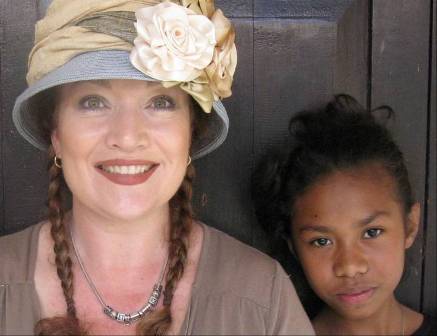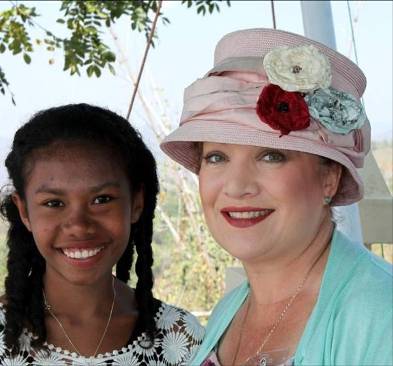 Tanya and Tamara in 2011 and in 2015
Tanya has been a part of the lives of some children in Avalon since the projects inception. The kids at Maria Regina have been working hard over the last 7 years to help Tanya and her classmates in Soibada gain access to clean water, books, school supplies and nutritious food. The aim of the friendship has always been to enable the people of Soibada to gain the skills to help themselves – they don't need our handouts – they need an education so that they can change their future for themselves!
This is how the Pittwater/Soibada Foster scheme idea came about. Tanya has been selected as the inaugural recipient by the village chiefs, Nuns at the orphanage, her teachers and parish priest. Pittwater Friends of Soibada Executive then conducted interviews. Tanya plans to become a doctor and return to Soibada to care for her people. Her community has rallied around her and given their full support. There was even a collection in this impoverished village in the mountains, where there is no running water and people live in extremely basic conditions, to purchase clothes for Tanya to wear to Australia. Her people see her and others like her, as the key to the future of their nation!
Tanya speaks several languages; Portuguese, Tetun, Malay, Indonesian and English. Although raised in the orphanage, she is not an orphan. Placement there gave her access to a better education and food (although that certainly was not much by our standards). She is the oldest of 6 children. Her parents are both in the police force stationed in different parts of the country. Her father was a Falintil independence fighter during the war. Her mother hid with her as a baby in the jungle from the Indonesians and Militia during the Timorese Battle for Independence after the 25 years of brutal occupation by Indonesia.
Tanya is now too old to live at the orphanage. She has been boarding with an Aunt in Manatuto so that she can attend high school. Her living conditions are appalling. There is no running water and little food. In Timor Leste Tanya attends school only in the mornings. In the afternoon she cares for younger children in her extended family, does all the cooking, washing, caring of the animals, water collection etc.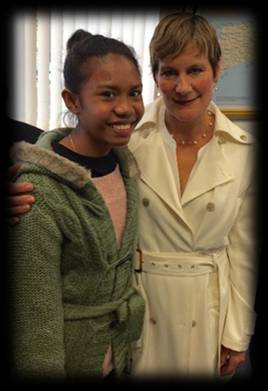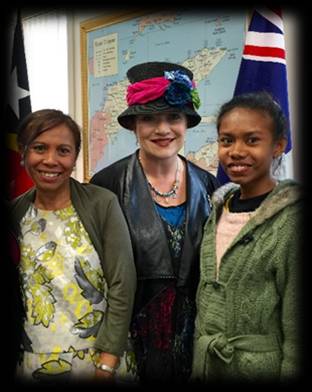 Tanya with Her Excellency Kirsty Sword Gusmao and with Her Excellency Ana Guterres (wife of Ambassador Abel Guterres) and Tamara Sloper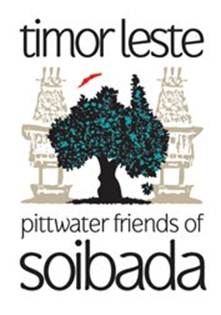 An education in Australia, especially at a prestigious school such as Pittwater House, will change the future not only for Tanya but for others in her community in Timor Leste. The list of benefits is endless. She will receive a better education and be eligible for university application. She will have the ability to assist her family financially. She will inspire her siblings and will be a role model for other children in Timor Leste. She will develop relationships and friendships with people in Australia that will also assist with programs in Timor. She plans to study as a doctor and work in medical and health fields.
Please help us change the future for Tanya and Soibada. Donations can be made by direct deposit to PFOS at ANZ bsb 012222 a/c 290469068 and state your name and the word "tanya" .
Ideas for fundraising or sponsorship will be most welcome; please contact me on tamara.harding@bigpond.com or 0403 226 699
Tamara Sloper Harding
Chairperson, Pittwater Friends of Soibada Inc
Tamara saying goodbye to Tanya at Dili airport in October 2015. We need to get her back to Avalon ASAP!