March 4 -10, 2012: Issue 48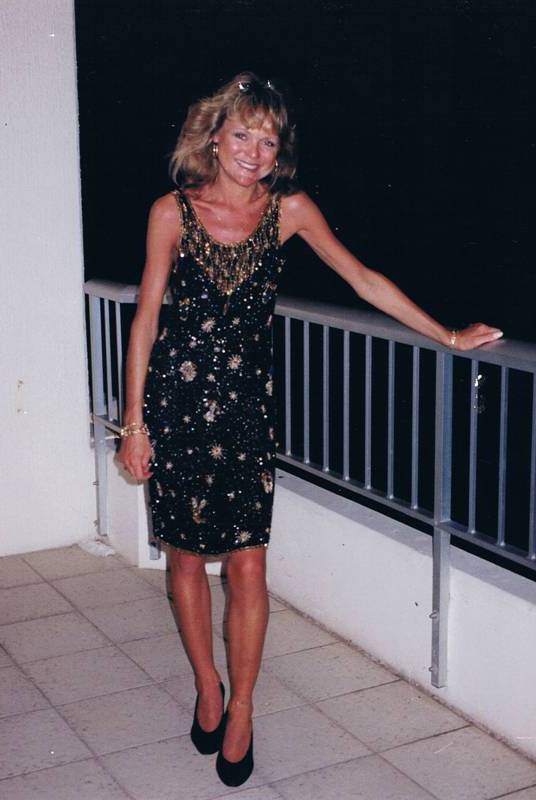 Above: A younger Hayley soon after arriving in Pittwater. Below; 2012 Flyer.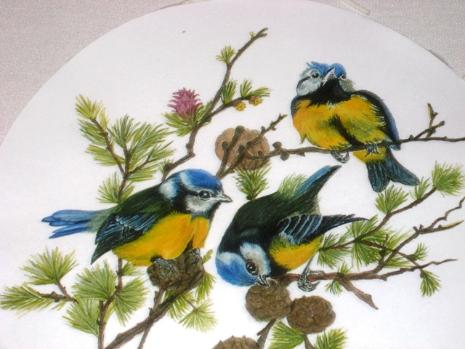 Above: Hayley's Picture for her Dad's Cake. Below: The Cake itself.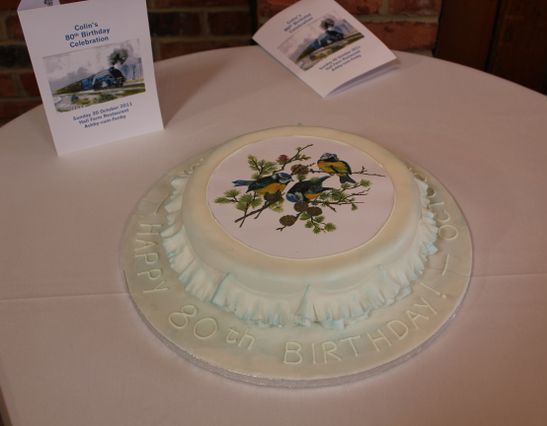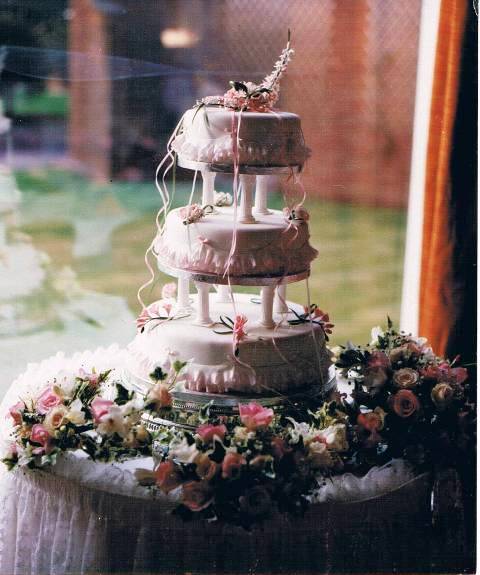 Above: Wedding Cake for her sister showing paste-work flowers. Below: the Golf Cake
Hayley Turner
Hayley Turner is a Mona Vale lady who has learnt her trade from the ground up. With a BSc in Food Science and Technology, Hayley was, prior to migrating to Australia from the UK, a National Food Buyer for Marks & Spencer in London. In Australia she became National Gourmet Food and Hamper Buyer for David Jones, a role which involved selecting and buying all the gourmet food for each store, deciding on the range to suit the store's location and catchment area, negotiating pricing with suppliers and working closely together to introduce new and exciting lines and brands, the development and design of the hamper range and involvement in the catalogues. Her commitment and food knowledge increased the hamper business by 200% in 4 years, increased the Gourmet Food business by 35%, an increase of $2m, and opened Gourmet Food departments in five new stores. Hayley has also been Store Manager at our own Avalon Fine Wine and Foods and The Palm Beach Food and Wine Company, and makes food as a volunteer at numerous local fundraising events so you may well recognise her lovely smile.
Big things aren't all Hayley does. When talking to us for this Profile she points to the small intricate paste-work flowers on some of her cakes, explaining some of the processes she goes through in making these. Designing and making celebration and novelty cakes, with those tiny flowers on occasion, is always in demand. A keen golfer and sports person – running, swimming, gym and skiing, with Dress Design and Making being pursued too, this lady's passion for cooking and entertaining over the last 20 years has led to organising, managing and executing hospitality events for family, friends and close acquaintances.
Describe your perfect Wedding menu for 100 and for 10pax ?
A Sit down menu for 30 guests
Canapés upon arrival: Coriander, lime and sesame tuna Skewers - Asparagus wrapped with Smoked Salmon and goats cheese - Fresh Figs with gorgonzola and prosciutto
Entrée: Seafood tasting plate;- salmon and tuna sashimi with soy and wasabi, King prawn stuffed with Mango salsa and coconut lime sauce, oysters natural, truffle scented scallops
Main: Scotch Fillet marinated in soy, honey, ginger and red wine - Garlic mushrooms - Asparagus spears - Sweet potato and pumpkin mash - Broccolini and snow peas with horseradish cream
Dessert: Cold lemon and passionfruit soufflé Or Crème Brulee Ice Cream with Berry Fruits
Cheese Platter with Walnut Bread
Canapés for 100 guests
Scallop Cervice (flavoured with herbs and coconut) - Thai spring rolls - Potato rosti with horseradish cream, rare roast beef and chilli jam - Garlic and coriander barbequed king prawns - Asparagus wrapped with prosciutto and served with a Hollandaise dip - Toasted cups with horseradish cream, smoked salmon and dill - Rosemary and wholegrain mustard crusted lamb cutlets with redcurrant sauce - Spicy chicken and rice noodle stir fry salad
Chocolate profiteroles
Cheese platter with walnut bread and lavoshe
If you could have your dream Dinner Party, who would you have attend and what would you cook and serve ?
Hugh Jackman, one of my favourite actors whom would be nice on the eye. Maureen Simpson, a great friend and wonderful person whom was the Food Editor for House and Garden Magazine for 30 years. An amazing knowledge of food and great cook. Gerald Butler, Scottish but also for his Irish accent, personality and singing voice to entertain us. Severiano Ballesteros, (Spanish) a golf legend with amazing charisma, focus and motivational ability. Bjorn Borg, (Swedish) my favourite tennis star whom has given my family in the UK so much fabulous entertainment. Ellen Degeneres. Ellen makes me laugh and I feel would be great entertainment with her stories and information. Stephen Bock, a friend whom climbed Mount Everest in 2010 whom is totally focussed, inspirational an excellent speaker and a lovely person. Rodger Craig,(Austrian and Tasmanian) my business partner, friend and mentor. Helen Jones, (Welsh) my great friend whom I'm sure would take part in and enjoy the evening.
MENU
Canapés: Toasted cups with blue cheese, fresh fig and prosciutto - Oysters Natural, Kilpatrick and Vinaigrette - Mini poppadums with seared duck and tomato chutney
Entree
Paella (Spanish for Seve) Or Trio of Seafood; -Tasmanian Salmon,- Gravad Lax with dill & mustard sauce served with sour dough bread, - Sesame crusted tuna with lime aioli - BBQ'd king prawn with mango salsa
Main
Lamb Cutlets marinated in mustard, mint and rosemary with a Redcurrant jus - Hassel back potatoes (Swedish), Broccoli florets with toasted almonds, Pumpkin and Caraway Mash, Griddled fig, pecan and haloumi salad (especially for Ellen as she is a vegetarian)
Dessert
Pavlova with tropical fruits or White chocolate cheesecake with mango and raspberries
Cheese Platter with Manchego (Spanish), Caerphilly (Welsh), Australian Goat's Cheese, St. Agur (French) Homemade Walnut bread - Fresh fruit
You make Novelty cakes, can you share with us some examples of these; who for and what you made?
My father's 80th birthday cake. My father is an artist and has painted hundreds of excellent paintings. One in particular that he painted in 2005 was of 3 Bluetits feeding on nuts. My elder sister chose this painting as the theme for the Celebration luncheon for 60 family and close friends, ie. For the invitations, menu and name cards and I was asked to replicate the painting onto the Birthday Cake. Never having used a paint brush I decided to attend my Father's art class in the UK for 2 hours each Monday for 5 weeks whilst I was there on holiday. I completed the painting which we then used for the top of the cake.
A golf Cake which I made for a friends 50th birthday in the UK when he was captain of his golf club. My sisters Kim and Tracy's Wedding Cakes.
You also run a successful Catering Business; what have been two examples of Events Menus you have provided ?
A celebratory birthday dinner for 2 in their home
Sydney Rock Oysters
Seafood and Broccoli Fettucine in Vodka Cream Sauce
Asian Style Braised Lamb Shanks – Asparagus - Snow Peas and Toasted Pine Nuts - Parmesan Crusted Carrots - Rice
Lemon Souffle with Almond Biscotti
Cheese and Biscuits
A wedding buffet for 130 guests
Canapés: Sushi - Toasted cups with caramelised peach, crème fraiche, blue cheese and chopped walnuts - Mushroom palmiers
Entree
King prawns with watermelon salad, mango salsa and & coconut lime sauce Or Caramelised mushrooms with ricotta toasts
Main
Whole Baked Salmon with wasabi tartare or Whole Beef Fillet with a filling of sundried tomatoes, pancetta, parsley and taleggio
Vietnamese chicken salad - Goat's cheese, beetroot, rocket and praline salad - Moroccan couscous salad - Roasted Vegetables with Rosemary
Dessert
Creme Brulee with almond biscotti - Chocolate and raspberry gateaux
A Selection of International cheeses and seasonal fruits
Wedding cake
What is your favourite dessert?
I am not a fan of desserts always choosing the savoury option of cheeses. This was due to having had to taste all kinds of desserts all day for 4 years whilst I was a Food Selector/buyer for Marks and Spencer in the UK, however I do love cooking desserts. Cold fruit soufflés always look spectacular when the decorated edges sit above the dish.
Favourite savoury dish or main?
I enjoy beginning events with canapés as I feel they set off the atmosphere for the party. Little morsels exploding with flavour and texture. I am a great lover of fish, seafood and sushi/sushimi
What is your favourite place in Pittwater and why ?
At the top of the lighthouse climb in Palm Beach. When I sit up there on our special rock overlooking Pittwater and Palm beach I realise how privileged I am to live in such an amazingly beautiful place and country.
What is your 'motto for life' or a favourite phrase you try to live by?
'The harder you work, the luckier you become'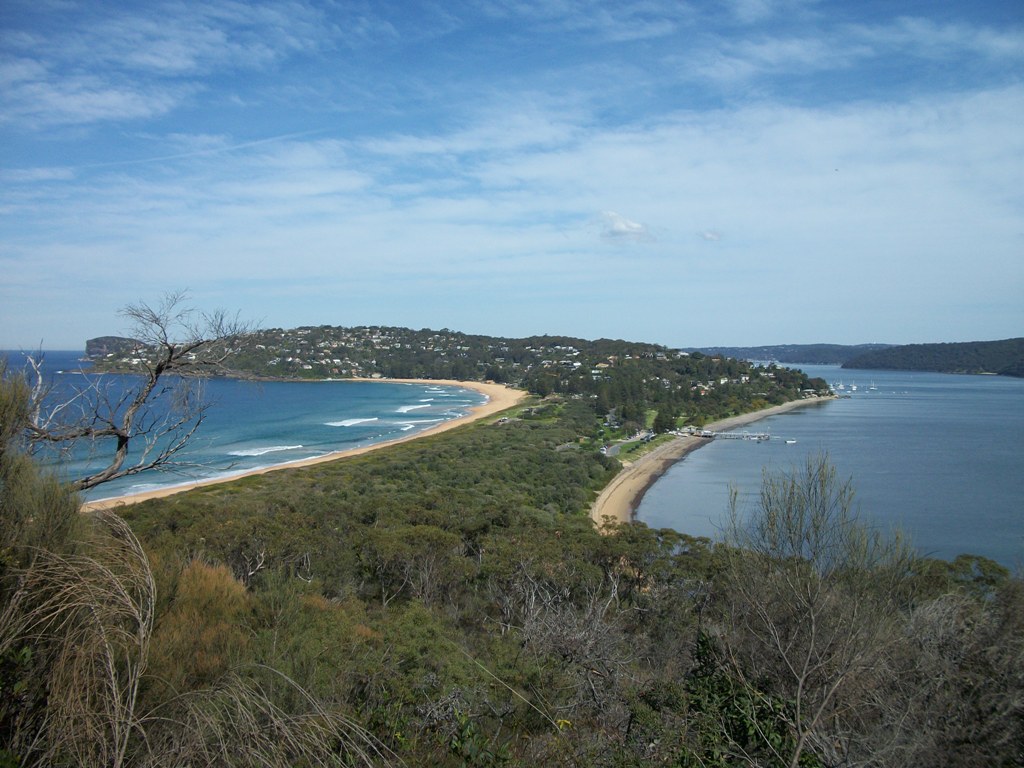 Above: view from Hayley's Favourite Pittwater place, the big rock on trail to Lighthouse, Palm Beach