April 21 - 27, 2013: Issue 107
Gwenyth Sneesby
Mona Vale resident and Pittwater RSL Sub-Branch Living Legend Gwenyth Sneesby shares some insights into her WWII Service.
When did you enlist?
I joined the Navy in 1942, 9th of December.
Why were you attracted to the Navy?
My father was in the Navy, he was in the British Navy and then he transferred to the Australian Navy. So the Navy was in my blood I suppose.
Where in Britain was your dad?
I don't remember that because I was so young. I do remember that he was at Plymouth. I was born here but because he was in the Navy he had to go back to England and we went back on a passenger ship and then he had to join the Navy in Barrow and they were in the first submarine that came to Australia. This was called the Otway.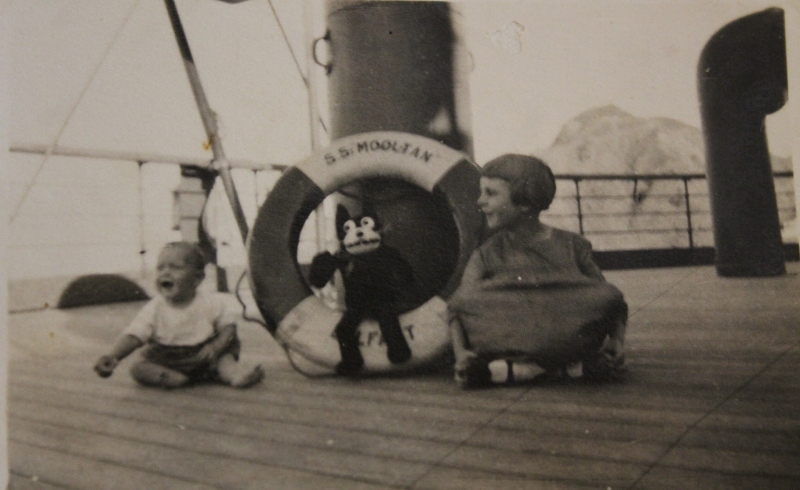 Gwenyth aged 8 months, 1925, on way to England.
How old were you then?
I was nine months when I went to England. The ship was three years being built so we stayed in Barrow in England. My father joined the Otway to come back here but my mother and I had to come by passenger ship. This took about six weeks. My mother was a very bad sailor and I believe all the waiters used to look after me because I was nine months old and not getting around much at that age, but mum was taken to her cabin for most of that time.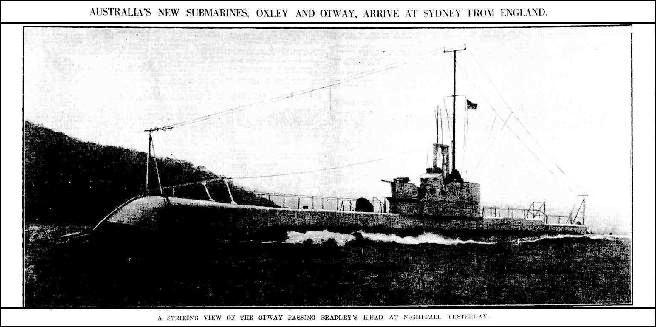 AUSTRALIA'S NEW SUBMARINES, OXLEY AND OTWAY, ARRIVE AT SYDNEY FROM ENGLAND. A STRIKING VIEW OF THE OTWAY PASSING BRADLEY'S HEAD AT NIGHTFALL YESTERDAY. AUSTRALIA'S NEW SUBMARINES, OXLEY AND OTWAY, ARRIVE AT SYDNEY FROM ENGLAND. (1929, February 15).The Sydney Morning Herald (NSW : 1842 - 1954), p. 16. Retrieved from http://nla.gov.au/nla.news-article16531518

Was it a rough trip?
Oh no, she had been back several times after that and she never improved. In my father's diary there are records "Taken to her cabin again." appears several times. But she still liked to go back to England because she was English and of course my father was English as well.
Where were they born?
They were born at St Helen's, in Lancashire.
Where were you born Gwenyth?
I was born at Northbridge on the 17th of June, 1924.
Where did your family settle when you came back?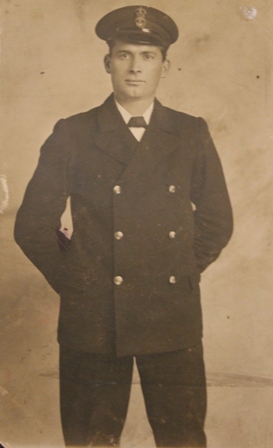 Willoughby. Dad was still in the Navy and on the ships there, having transferred to the RAN, on the Otway. After that he was shore based on the Penguin. His time expired shortly after that. He'd been in for 15 years, so he retired from the Navy. He bought a property in Turimetta street, Mona Vale in 1933 and built glasshouses and grew glasshouse tomatoes. This was nothing similar to his engineering experience that he had in the Navy….growing plants. He liked it.
Right - Mr. Forster, Gwenyth's dad.
He did very well with these tomatoes. About five of his colleagues in the Navy, they all retired about the same time, a few months later, and they all bought properties in various parts of Mona Vale…not Warriewood…Mona Vale. They all liked it.
How many glasshouses did your dad have?
He had about four glasshouses, they were big. He bought four blocks of land, they were quarter acre blocks, which made an acre for the whole thing. He built a house on one block and he had tomatoes in glasshouses on one block when he first started because he didn't know whether he'd make a go of it or not, and then he did well so he put glasshouses on the other block. He always kept the last block as one for his daughter to have when she got married. I didn't know at the time because I was only a child.
Were you the only child?
Yes. A lot of the sailors' wives didn't want any more because the sailors were at sea and it was too difficult bringing up children on your own.
What is the biggest difference between the Mona Vale of the early 1930's and the Mona Vale of 2013?
The transport was of course very poor. The tram line came as far as Narrabeen and then there was a bus from there but it didn't run very frequently. My father did get a car though; an Essex Tourer. We were very lucky to have that. The big shopping expedition was to go to Manly on Friday night. We would go in the evening because you have to look after tomatoes; you have to see that their ventilators are open in the morning and closed at dusk because that keeps the heat in.
I think a very important thing that I remember from when I was a child was the opening of the Harbour Bridge. I lived at Willoughby then. There were lots and lots of public Schools and Willoughby was one of them that were dancing around Maypoles in the Sydney Cricket Ground. There were Maypoles as part of the celebrations, about twenty or so of them. Willoughby school was one of those who participated in the preliminary celebrations. It was lovely. The older children did a big wheat display; they came into the field in all green clothes with little hoods on their heads, and they danced around and the girls, at a certain part of the music they undid a little string or something and the girls became all yellow…like corn. It was very impressive to see that, the sight of lots and lots of these children, hundreds of children.
SCHOOL CHILDREN To Celebrate Bridge Opening.
Schoolchildren in the metropolitan area will celebrate the opening of the Harbour Bridge at the Sydney Cricket Ground next Thursday. There will be a maypole dance, folk dances and physical exercises. More than 4000 boys and girls will give a display of flag drill. There will also be singing and a tableau representing the building of the bridge. Ten thousand children from 140 schools will take part in the display. Music will be supplied by the Young Australia League and Hurstville boys' bands. The Governor (Sir Phillip Game) will be among those present. SCHOOL CHILDREN. (1932, March 26). The Sydney Morning Herald (NSW : 1842 - 1954), p. 11. Retrieved from http://nla.gov.au/nla.news-article16850830
What did you think when deGroot dashed across the line and stole the show?
We were all amazed about that…I didn't actually see it because we were at the back; I was standing at North Sydney watching that and didn't see it but the word came around; people were saying "How dare he!" Everyone was very annoyed.
I was very happy later on when the Queen came in 1956. She came out to Palm Beach and we were watching and I can remember still telling my daughter how naughty she was; she had her head in a suitcase or something, looking for something in her bag, and she missed it. We still reprimand her for that.
Where were you standing?
Down on the corner here, on Mona Vale road, she was waving to everybody. She must have been going out there for lunch or something.
Where did you go to school?
Mona Vale Public School. It was three rooms then, a beautiful stone building. That's been pulled down now.
Did you go to the MVPS 100th celebrations last year?
Yes, we went. I went, not only to the daytime celebrations, but we were also invited to the dinner which was lovely. I caught up with people I hadn't seen for a while. My two daughters were pupils there too, so they were invited and my eldest daughter was also a teacher there too. They also had children who attended this school, so three generations have gone through Mona Vale Public School from our family. I was presented with a spoon that evening because I was the oldest inhabitant of Mona Vale, still, that was at the dinner. There were probably older ones who weren't perhaps able to get there because they're getting on a bit.
Where did you go after Mona Vale, after your primary school years?
After I finished sixth class I went to Manly Domestic Science School.
What is a Domestic Science School Gwenyth?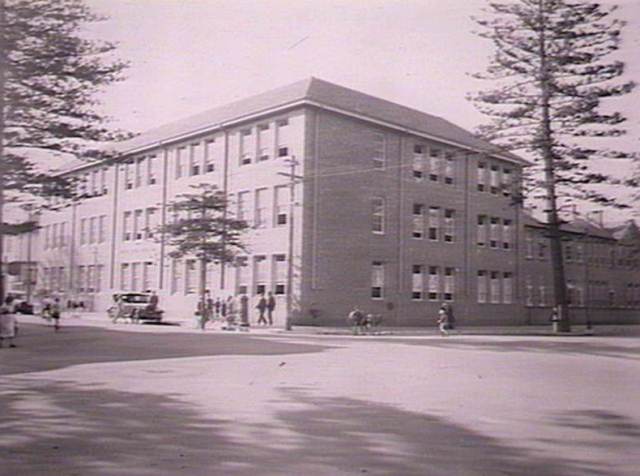 Well, they don't have languages. They taught very sensible things; you learnt cooking and sewing and a few business principles; shorthand and typing up to quite an adequate standard. You had to pass all that and it was really good, you could get a good position afterwards with only three years there. I think in those days there were High Schools where you could go to five years but it was too far to go to a High School for me. Cremorne Girls High School was the closest one and the buses didn't go directly to there. The buses were coming out here in those days, all the way to Palm Beach. I think you could board there but my parents didn't want me to do that.
DOMESTIC SCIENCE. MANLY'S NEW SCHOOL
The Manly Domestic Science School, which was opened by the Minister for Education last week, Is a three-story building, set in pleasing surroundings at the intersection of Darley-road and Victoria-parade, adjoining the Public school. Owing to the many buildings on the school area, the site for the new school was restricted, but the best possible use has been made of the space available.

Brickwork has been used throughout for the wall construction, the roofing being of semiglazed French pattern terra cotta tiles. The domestic section consists of a large kitchen, pantry, laundry, and two sewing-rooms, with necessary staff and change rooms, adjoining which are two shelter sheds, three classrooms, and lavatories. In this section, which is on the ground floor. Is a home unit, consisting of a kitchen, dining-room, bedroom, and bath-room, so arranged as to provide a domestic atmosphere for Instruction relating to the management of a home.
The first floor is devoted to classrooms, the headmistress's room, staff room, stores, and an assembly hall. On the second floor there are additional class-rooms, a typing room, and a library. The building, which provides accommodation for 720 pupils, was erected as an unemployment relief work, at an estimated cost of £15,200, by the Building Construction Industrial Undertaking, under the supervision of the Government Architect, from plans prepared in his office. Building AND CONSTRUCTION. (1931, October 20). The Sydney Morning Herald (NSW : 1842 - 1954), p. 5. Retrieved from http://nla.gov.au/nla.news-article16802600 Picture of Domestic science School, Manly from GPO locations, image No: D1-28553r, Courtesy State Library of NSW
What did you do after you had been there?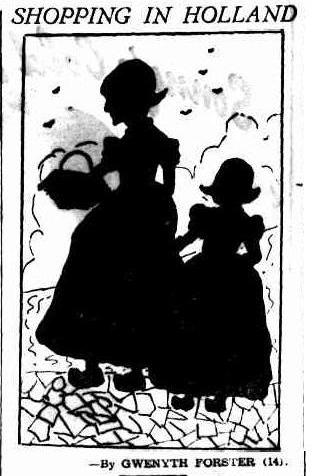 I won a scholarship, which was to a Business College which taught me more of the same but also ticket writing and commercial art. I'd always liked drawing. I was interested in the Ticket Writing and had just about finished a 12 month course there when my mother saw an advertisement in the Manly Daily for a department store in Manly which was called 'Coopers' who needed a ticket writer. I had just about finished my time so I took my portfolio over to Manly and I got a job there. I was sixteen when I was there. I loved the job, it was very interesting.
Left: SECTION FOR GIRLS AND BOYS Conducted by SOUTH WEST WIND. SHOPPING IN HOLLAND -By GWENYTH FORSTER (14). SECTION FOR GIRLS AND BOYS. (1939, June 5). The Sydney Morning Herald (NSW : 1842 - 1954), p. 23 Supplement: Women. Retrieved from http://nla.gov.au/nla.news-article27973270
What is 'ticket writing'?
Ticket writing was doing big signs because the tickets were displayed, and most of them didn't have prices on them, but they were on tables with big signs on them and I painted the signs, big or small. When there was a sale coming on of course and they all had to be wiped and another colour put on...similar to what they do today, and it was painting the signs with most of the prices on. The goods that were displayed in the windows, they all had to have signs on them. It was lovely.
So you were among all the best fashions and the newest things coming out?
Yes.
Did you try on any of these?
Oh no, but it was very interesting. The war was on by then of course, this was 1940. I joined the Navy from there. The recruiting office was in Loftus street, Circular Quay and I signed up there and went into the Navy then. I was eighteen then but was at Coopers for nearly three years.
There were a lot of Army girls and the Land Army, there were a lot of girls going in to that, and the Air Force but the Navy didn't recruit any and I often thought if they did I'd go in. I was interested in any of them but my father was interested of course. Reluctantly the Navy eventually would allow women in but we weren't very welcome. It was a very different culture from what there is today.
The Women's Royal Australian Naval Service (WRANS) was formed in April 1941 and by the end of the war more than 3000 women had served with the WRANS. Approximately 60 women joined the Royal Australian Navy Nursing Service (RANNS).
What did give you to do as your duties?
I was stationed at HMS Penguin which was at Balmoral. We did our Basic Training there, which was more or less marching around the oval and teaching us discipline. At the end of six weeks there were ten girls whose names were called out, and I was one of them, and they said, well you're going to go to HMS Kuttabul, which isn't in Garden Island as everybody thought. Garden Island was where the Kuttabul was moored and there was Garden Island, Pott's Point. Garden Island was being connected to the land at this stage, in those days. They were making a road, called the 'Burma Road'. Until then it was definitely an island.
Garden Island's name stems from being the colony's first food source when gardens were established on the island. It was given to the crew of the Sirius to feed the colony on 27 January 1788. HMAS Kuttabul is the Royal Australian Navy's primary naval base on the east coast of Australia and located on Garden Island. The base is named for the steam ferry HMAS Kuttabul that was sunk while docked at Garden Island during the Japanese midget submarine attack on Sydney Harbour at 2.30am June 1st, 1942. Garden Island has been host to a naval base since 1856, when the government of New South Wales suggested giving the area over to the Royal Navy as a base for ships serving on the Australia Station. (1)
On 1 May 1940, Prime Minister, R.G. Menzies, told parliament : "A dry dock of a larger size than any in Australia has been an important strategic consideration since the size of capital ships has increased so greatly. I do not need to elaborate the great value to Australia of a dock capable of accommodating not only the largest warships but also merchant ships of great tonnage. The possession of such a dock would make Australia a fit base for a powerful fleet and would, in certain contingencies, enable naval operations to be conducted in Australian waters without the necessity for ships to travel 4,000 miles to Singapore for purposes of refit and repair. It is estimated that three years will be occupied in the construction of the dock."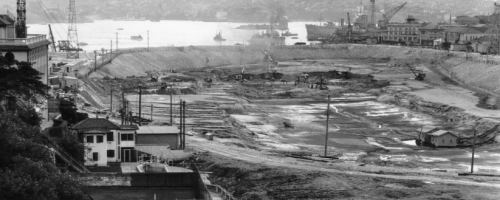 Garden Island was identified out of three options as the best and the construction of the graving dock, new workshops and modern machinery would be provided on the island, together with construction of a repair wharf with a 250-ton crane. The coffer-dam, known as the 'Burma Road', was commenced in December 1940 and completed in February 1942 this involved the reclamation of 30 acres between Potts Point and Garden Island and the construction of the graving dock approximately 1,140 feet (345 metres) long, 147 feet (45 metres) wide and 45 feet (14 metres) deep. (2)
Why did they carry on HMS Kuttabl even though she had been sunk?
It was a tribute I suppose, to all those sailors who were lost during that time. The Kuttabl was a training ship and all those boys lost were young trainees, some still teenagers. HMS Kubttabl was what was on our hats. It's still the Kuttabl today. I was home here at Mona Vale the night that occurred.
What were your duties during this conflict was?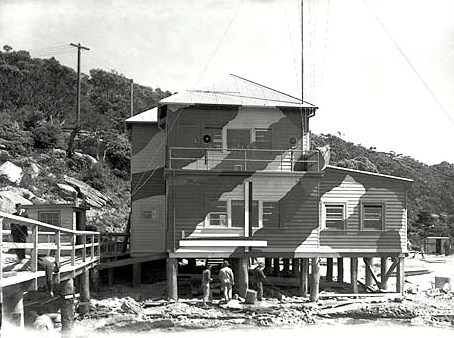 We were told we were to go to Bradley's Head. We didn't know what Bradley's Head was and we were quite worried because we didn't know of anything being there. An establishment had been built there by the American Navy, a camouflaged two storey building and it was called the Degaussing Range. I think because of my ticket writing training they decided I could do this work and we worked on charts there.
Degaussing is the process of decreasing or eliminating a remnant magnetic field. Degaussing was originally applied to reduce ships' magnetic signatures during WWII. It was the testing base really for degaussing; which is a bit of a complicated situation; but we used to operate ten instruments and from that the Electrical Officers who were with us would calculate the amount of electrical current that had to be passed around the hull of a ship to repel the magnetism of the mines, to make them safer in waters where there were these magnetic mines. It was quite a technical job.
We didn't do the calculations. We operated the machines. It was similar to those heart monitors that have the lines going up and down and the ten gauges, we had to operate those while the ship was going across the harbour and their magnetism was being recorded on these machines. We would then take off the tape off these twelve machines and put them together and we would trace over those and give them to the Officers and they would calculate the necessary adjustments that needed to be made to the electrical current. They were the clever ones. It was very interesting. The Navy, the American Navy, stayed there for a couple of weeks to teach us girls how to operate the machines. There were ten of us who worked there, and four Naval Officers. There was a lot of camaraderie between us girls.
Did you go out together or were you on base all the time?
We were on base and would travel home. We did shifts of four hours; four on and four off. It was a heavenly place. It was right underneath where the mast of HMAS Sydney is. It was lovely. We called it 'the hut' but it was a two storey building (above right).
Left: The foremast of the cruiser HMAS Sydney, renowned for taking part in the Royal Australian Navy's first ship against ship engagement in World War I, is mounted on the headland of Bradley's Head as a memorial to that battle. In June 2000 the mast was rededicated as a monument to all Australian ships and sailors lost in conflict.
What did you do when you went on Leave?
I went home to Mona Vale. We got plenty of Leave. We didn't have very good transport to get to Bradley's Head; we didn't sleep there for the first six months. Once the American Navy left us we were under different rules and we came back under the RAN. We cooked for ourselves here; there was a fully equipped galley. None of us could cook very well; although we'd all gone to Domestic Science schools we'd never really put it into practice. We managed ourselves and we received a 'living out' allowance because we were living out.
To get to Bradley's Head from Mona Vale we had to go to The Spit on the bus then a tram which finished at the Zoo (Taronga). Then we had to walk through Ashton Park to get to Bradley's Head. It was quite a walk. When we wanted to go home we often use to catch a lift from various boats from one of the ships that were anchored in the harbour. If they were going ashore they'd come past and see if we wanted a lift. We had a jetty out to the end of the degaussing establishment and we used to get a ride from any boat going past that was going to Man O' War steps at Garden Island. The girls would signal to them.
How many ships were in the Harbour?
Lots of them, lots of Merchant ships. They used to moor at Chowder Bay, which was just around the corner, and would have to pass us. They were bringing goods and supplies to Australia. When I think about it nowadays and all the dangerous things that happen to ladies, we were just so innocent, not thinking anybody would harm us, getting on boats with strangers, people from other countries, just to get a lift. You wouldn't go on your own of course, there would be two or three of you. There were real gentlemen and real ladies then.
Do you remember the day peace was declared?
Yes. I was with the girls at Bradley's Head that day; we were all celebrating. It was a wonderful day. We were still working so we just got on with it.
I had been married before then. I met him on the bus when I was going to work at Cooper's. He was on the bus going into the City where he worked at a firm. We fell in love then, I think we were 16; it was an on the bus romance. He joined the Army and I joined the Navy. He was sent to Townsville and in the Transport Section of the Army. They taught the boys to maintain and drive the trucks. When he got out of the Army he didn't want to go back to the office, he wanted to pursue this mechanical career that he'd forged while in the Army. He got an apprenticeship and became a motor Mechanic and liked that work very much. He had been training to be an Accountant prior to serving, so it was pretty different. I thought I was going to be ironing nice white shirts and ended up cleaning greasy overalls! So many of the Servicemen didn't want to pursue what they had been doing prior to that war, they were very much different. He came home on Leave once a year and that was the only time we saw each other. We just had to correspond in between. Then we were married early in 1945 at St Matthew's church at Manly.
At the end of 1945 I got out of the Navy and lived with my mum and dad. My husband was still away, he wasn't demobbed as quickly as I. I went up to Brisbane and he came down on one of his Leaves and we spent ten days there and I was demobbed after that. I went to live in Brisbane then, because I was out of the Navy, and all I wanted to do was have a baby. A little while after that I did get pregnant and I had to come home straight away more or less because you had to book into a maternity hospital almost straight away in those days. I came home, and I wasn't sure because I had nobody to ask what the symptoms were. I didn't have a doctor or anything like that then. So I came home and booked into the Mater at Crows Nest. Eventually Gordon got demobbed.
After that we lived with mum and dad because we didn't have a house. We then built a house on the block of land which my father had given to me and kept in case. My husband's father was a builder, he worked at Hayman and Ellis Timber Yard They were at North Manly there, near the bridge. He had our house built for us; he engaged tradesmen; we got a loan of course, through a Building Society in Manly and built our dream home in Turimetta street, with mum and dad next door to babysit.
So you had two daughters?
Yes. Just the two girls.
What was Mona Vale and Warriewood like in the late 1940's?
There were still a lot of glasshouses in Warriewood, more then Mona Vale. I've seen a lot of the big trees go from around here too; there used to be a lot more. We had double-decker buses then. The buildings have changed a lot; we didn't like that Delmege structure at first, didn't care for that at all, it was too modern. It's been a godsend really; all the shops that were there originally; the supermarket, the butcher, the delicatessen and a chemist and a newsagent was wonderful. Now that I'm almost 89 and there's nothing in there but Medical Specialists and that's just what we need now! Nowadays I don't give a hoot about the supermarket, it's the doctors I need; the supermarket can stay where it is now and we'll accept all the medical help we can get because we've got that big medical centre as well, so we're very well provided for, and this place is so handy, no matter what you can walk over there.
You must have seen the roads change a bit too; more of them and change from being dirt roads to tarred ones?
Turimetta street was very much a dirt road but quite early in the piece these side roads were tarred, this would have been the 1950's. I remember the sewerage tankers too. In 1945, when we were building the house, we used a fair amount of fibro initially, there wasn't anything else, and we had a pan down the backyard and a toilet block. In the Services you got deferred pay later on; so the best thing we did was buy a septic tank with our deferred pay. We were very very happy with this; I had a toilet inside and I had a tiled bathroom, I insisted on a tiled bathroom. Goods were very very hard to get, you couldn't get bricks, you could only get certain things and you had to put your name down for everything. You had to put your name down for carpet and it wasn't carpet it was called 'feltex'; it was soft but had no pile. You put your name down for Lino (linoleum) and the Service people got a little bit of preference. You had to put your name down for tiles. We did have a tiled roof, we were fortunate in that. My mother had a tin roof next door and it was very hot.
Gordon my husband died in 1974. I went back to work at David Jones in the Children's Wear Department at Warringah. I worked there until I was 60; it was company policy to retire us at 60 in those days, all that knowledge then went to waste of course. In those days at David Jones we had the Cash's woven name tags. All the parents stationed overseas had their kiddies in boarding schools in NSW. Parents would call from New Guinea, call in their lists of what was needed for their child, and the work room at David Jones used to put the name tags on for free, as part of the service; the parents would say, 'ask Mrs Sneesby to do such and such.
I did Meals On Wheels for some years after I retired; it's good to stay active, to be useful. I stopped doing that in 1999 though. I have been Activities Officer here too for a while (Pittwater Village – Mona Vale) and active in a few other areas with other people when asked. I knew Cora Adcock, she used to live in Elimatta Road here, she was a wonderful lady, did a great many things for so many people.
What is your favourite place in Pittwater and why?
Mona Vale. Because it is my home and has been all my life, since very early in the piece. I wouldn't want to do anything else apart from live in Mona Vale.
What is your 'motto for life' or a favourite phrase you try to live by?
Do unto others as you would have them do unto you.
References:

1. HMAS Kuttabul (naval base). (2013, April 14). In Wikipedia, The Free Encyclopedia. Retrieved from http://en.wikipedia.org/w/index.php?title=HMAS_Kuttabul_(naval_base)&oldid=550273844
2. Captain Cook Graving Dock, retirved from Garden Island NSW Community website at: http://www.gardenisland.info/1-02-010.html
3. Photo of A World War II degaussing building in use as a naval store, Bradleys Head, courtesy State Records NSW. Image no: MSBL 1826
NSW BDM's: 3507/1945 SNEESBY GORDON TABER FORSTER GWENYTH HEATON - Registered at MANLY
Wedding group portrait for the marriage of Private Sneesby (4th from left) to Gwen H. Forster (5th from left). The identity of the other members of the group is not known. Private Sneesby and the other soldier at extreme left are members of a Motor Transport Unit of the Australian Army Service Corps (AASC). The bride was serving as a Writer with the Women's Royal Australian Naval Service (WRANS). Owing to wartime shortages of dress materials, she had had to borrow her wedding dress from a cousin who had married before the war. The bridesmaids' dresses were made from lengths of fabric purchased with clothing coupons scrounged from sympathetic relatives. As ribbon was unobtainable, the ties used for the bouquets were made from dress material, which accounts for their wrinkled appearance. The large bouquets indicate that flowers at least were in plentiful supply. (Original housed in AWM Archive Store)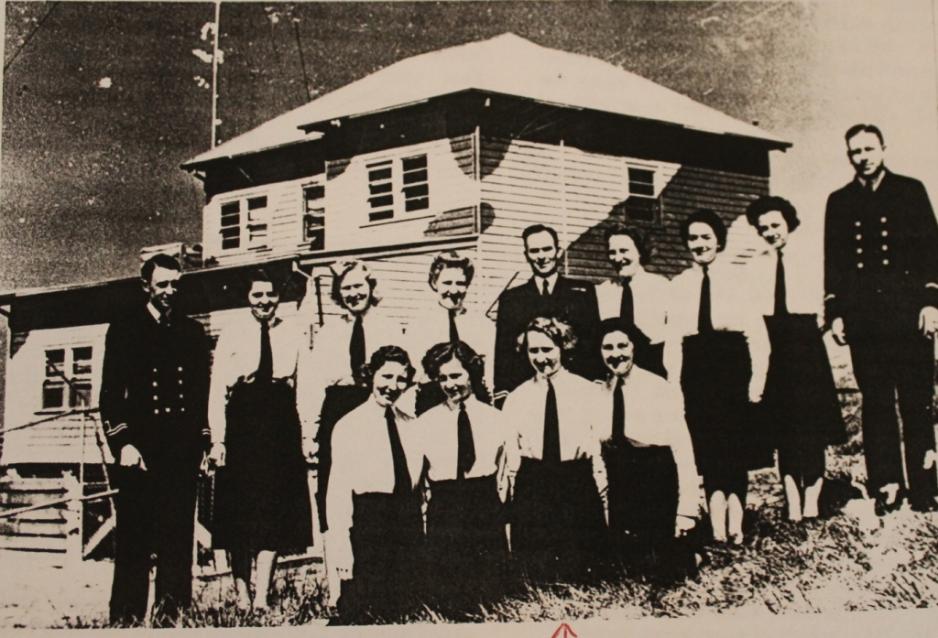 ''The Girls' at Bradleys Head - photo courtesy Gwenyth Sneesby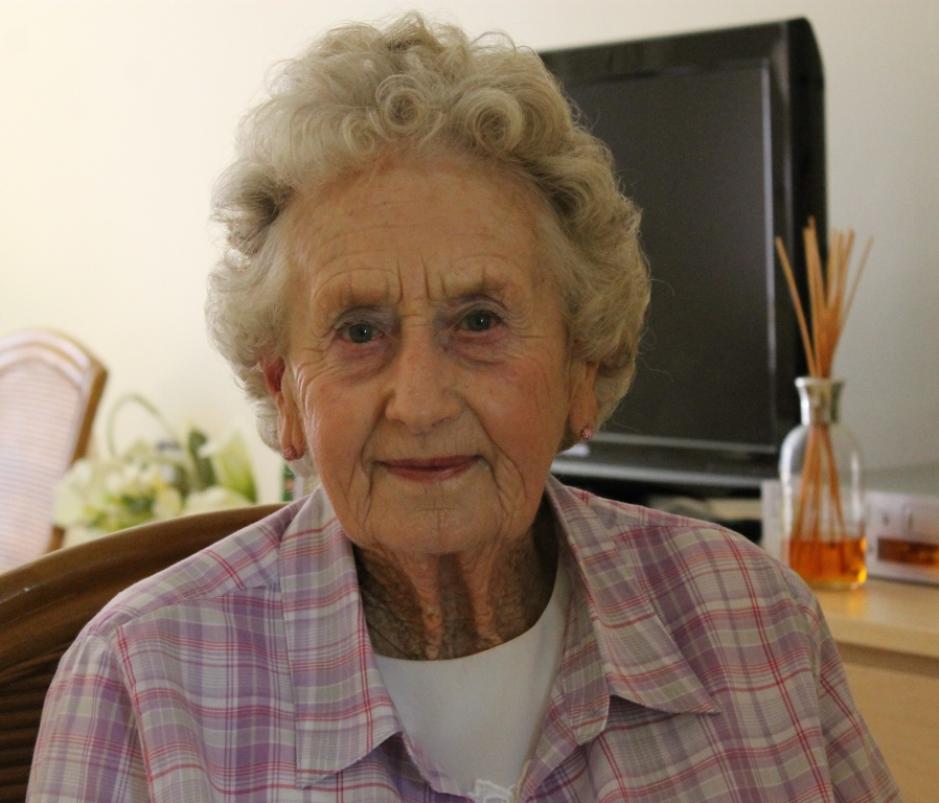 Gwyneth Sneesby, photo and interview by A J Guesdon, 2013.