May 10 - 16, 2015: Issue 213
Guringai Festival 2015 – Pittwater and Northern Beaches Events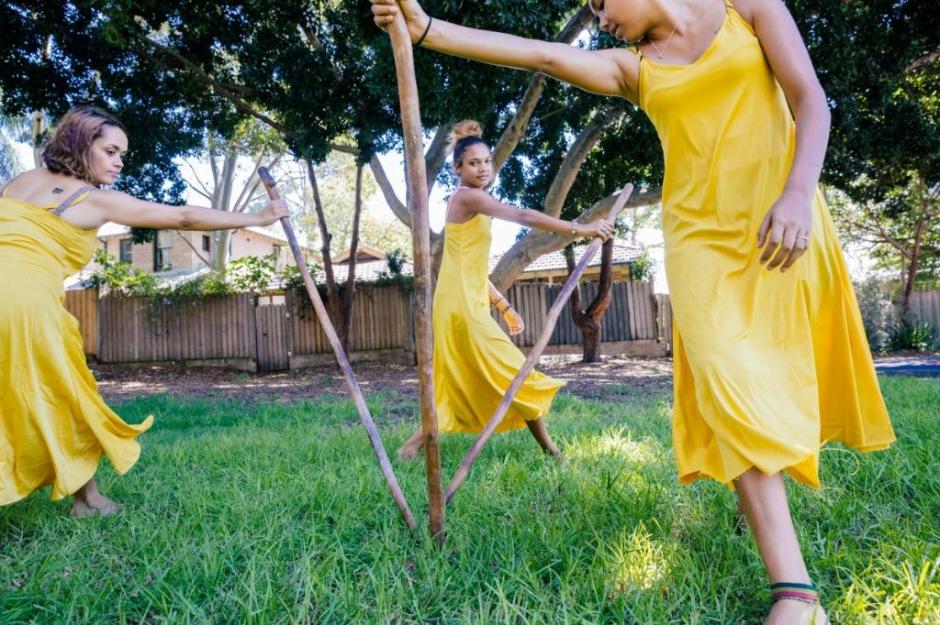 Boomerang concert rehearsal – Jannawi dance clan - picture suppled
Guringai Festival 2015 – Pittwater Events
In 2015 the Guringai Festival celebrates 15 years of sharing Australia's First Peoples culture and heritage in the Northern Sydney region.
Pittwater and Northern Beaches residents are invited to join in all the wonderful events and activities of this year's Festival. We hope you are inspired and learn something new.
The jam packed full festival program starts with "Pathways to Recovery" for Sorry Day, continues through Reconciliation Week and culminates at the end of NAIDOC week.
This year's Festival theme Story of Place has guided the activities with a line up once again filled with events that will touch your heart, make you laugh and celebrate US as a whole of community living in Northern Sydney, Guringai Country.
Join in the Guringai Festival 2015 Pittwater events and gain new insights and memories into the many Stories of Place featured through this year's activities.
Story of Place A Celebration of Aboriginal Culture and Heritage
Founded in 2001, the Guringai Festival aims to raise awareness of Aboriginal and Torres Strait Islander people living in the Northern Sydney region. The festival usually starts on Sorry Day, 26 May and goes through to the end of NAIDOC Week, the second week in July each year. The festival involves 11 Councils and numerous reconciliation and community groups. Events include workshops, art exhibitions, performances, films and talks.

Find out more at: www.guringaifestival.com.au

Pittwater Events - Guringai Festival 2015

Sun May 24 ASG MWP Sorry Day Remembrance Walk3pm - 5.30pm Free Event
– All welcome. An opportunity for Non-Aboriginal and Aboriginal community members to get together on a Journey of Healing.
An Invitation to join us - An opportunity for Aboriginal People and non-Aboriginal Australians to get together

WHAT IT'S ALL ABOUT
The systematic removal of children has a devastating intergenerational effect on families and communities. It's estimated over 100,000 Indigenous people have been affected.
The first Sorry Day was held in Sydney on 26 May 1998, and has been commemorated nationally on 26 May each year since then. Australians from all walks of life participate in commemorative meetings, survival celebrations and community gatherings, in honour of the Stolen Generations.
O Remembrance Walk – a Journey of Healing
O Smoking Ceremony and Welcome to Country
O Biala girls give a reading from Auntie Nancy Wood's short poem book Nobody's Child
O Boomerang painting, Craft and Jewellery making for the children – with a show at the end of the day with what they have made – and they receive an extra gift from the ASG.
O A talk on the Stolen Generations by Karen Smith from the Aboriginal Heritage Office
O Dancing by the beautiful Jannawi Dance clan Jannawi means With You, With Me
O A performance by Gerard McMinn, Aboriginal Dancer and Scott Romain on didgerido
O The BBQ is going all the time and refreshment will be available all afternoon
O The day concludes at about 5.30pm
O A free event – All are welcome

Mon May 25 'Hands On' Aboriginal Arts & Crafts activities evening
7pm - 9.30pm Free Event – All welcome. In the Assembly Hall of Narrabeen Lakes Public School.
1299 Pittwater Rd, Narrabeen in association with the Friends of Narrabeen Lagoon Catchment.
Details: Judith Bennett 02 9905 2135
Sat May 30 and Sun May 31 4 HOUR BUSH WALKS in the Narrabeen Lagoon Catchment
Free. All welcome 10am - 2pm – See impressive carvings and extraordinary biodiversity when traversing the Narrabeen Lagoon Catchment. Don't forget your camera! Allow a good 4 hours. BYO lunch and water. Meet up at 27 Morgan Rd, Belrose. Details: Conny Harris 0432 643 295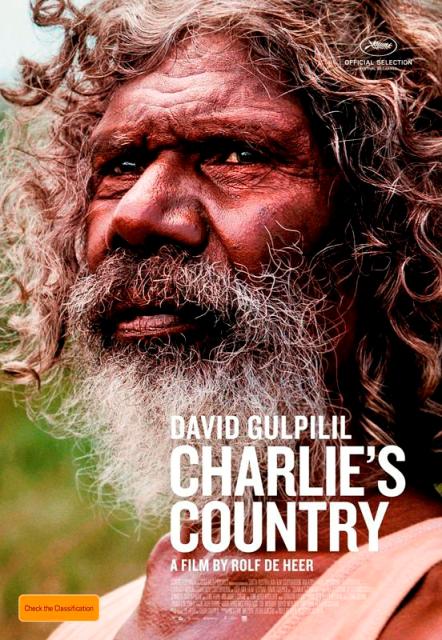 Wed June 17 Free Screening: CHARLIES COUNTRY – All welcome
9.30am - noon Charlie (David Gulpilil), an aging Native Australian living in the Northern Territory, is broke. He does not have a house. He is also hungry and his spirits are low as a result of the erosion of his way of life. The Intervention is making life more difficult so Charlie takes off. Thanks to Josephine and Roy Mustaca of Collaroy Cinema
Free screening at 1097 Pittwater Road, Collaroy
Details: 02 9999 3045
Sat June 20 KIDS BARK PAINTING with Karleen Green
10am - noon – $15pp - Kids just want to have fun (and they get to take their work home!) All equipment and refreshments included. Scout Hall, Bilarong Reserve Wakehurst Parkway, North Narrabeen. Bookings Essential: 0419 219 770
Sat June 20 NATIVE GRASS WEAVING with Karleen Green
1pm - 5pm – $15pp Karleen will teach you the basic skills in traditional grass weaving. Learn how native grasses can be made into beautiful and useful objects. All equipment and afternoon tea included. Scout Hall, Bilarong Reserve Wakehurst Parkway, North Narrabeen. Bookings Essential: 0419 219 770
Thursdays THE ALBERT NAMATJIRA ROOM
June 4 to July 9 1pm - 3pm – Free – All welcome. Only 6 Thursday Showings of these hidden national treasures! See original art work rarely displayed. The bigger than life size painting. Rare collection of spears. Not to be missed. Mona Vale Bowling Club at 1598 Pittwater Road, Mona Vale NSW 2103. More details: 0419 219 770
Sun June 21 WALK THE BASIN TRACK with Uncle Laurie Bimson
10am - 2pm – $50pp (max 30). Come and taste some Aboriginal food and culture; be quick! Maximum 30 persons. At the site you will have explanations as to how the rock carvings were made and be told stories of times long gone by. Bring your camera for the view from West Head. Amazing! West Head Rd, Ku-Ring-Gai Chase National Park. Includes BBQ lunch! Bookings Essential: GuringaiTours.com.au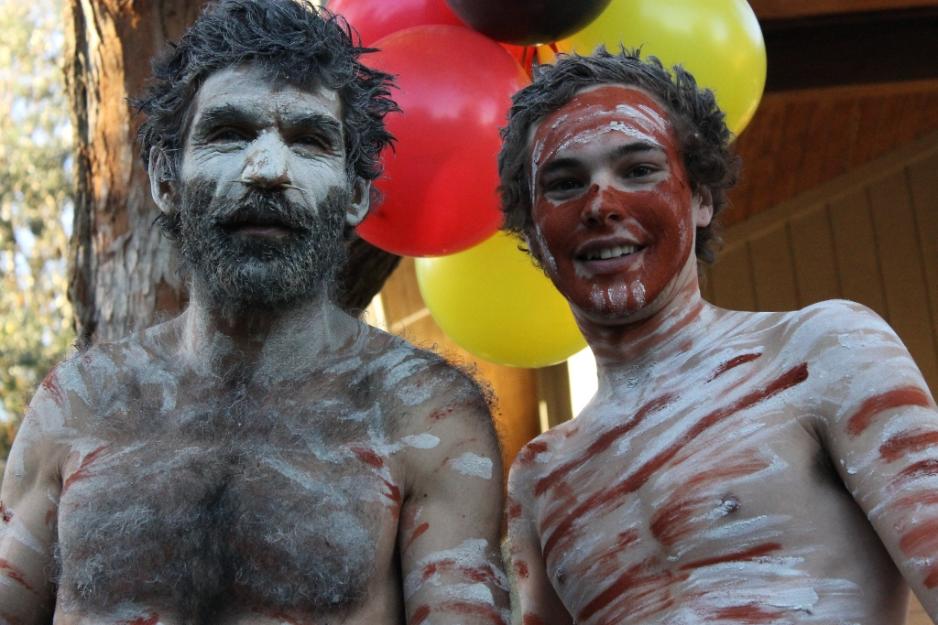 Les McLeod and Ged McMinn - A J Guesdon picture/