October 12 - 18, 2014: Issue 184
Grand finale for 2014 Yachting NSW Youth Championships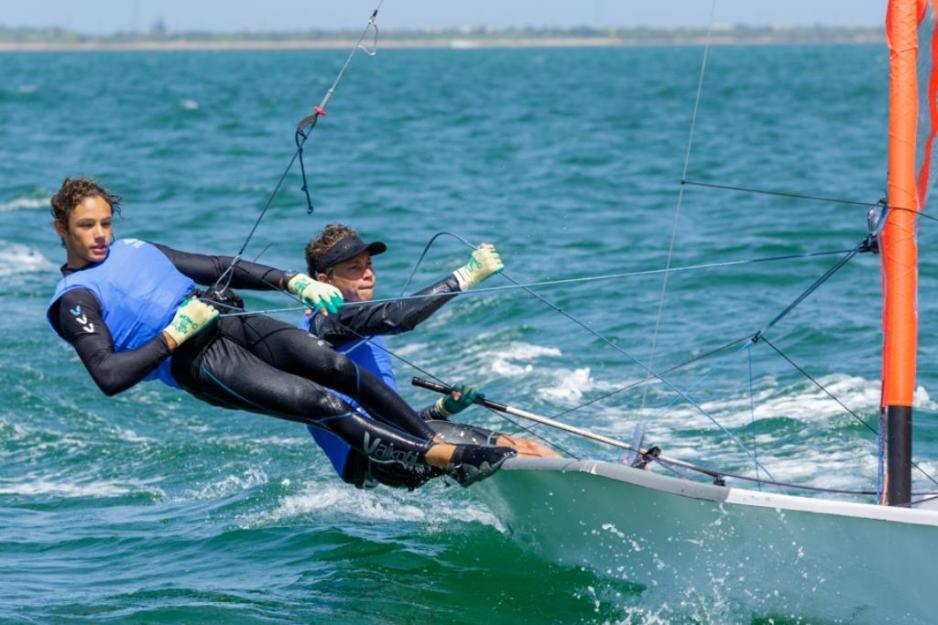 Kurt Hansen and Jim Colley - on Objective 29er - picture by Robin Evans.
Grand finale for 2014 Yachting NSW Youth Championships
by Lisa Ratcliff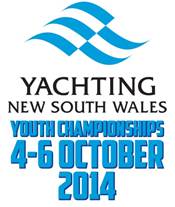 A 38 strong squad from NSW's Youth Sailing Team (YST) took a fair slice of the podium places at the Yachting NSW Youth Championships that wrapped up on Monday October 6, 2014, on Botany Bay south of Sydney's CBD.
Botany Bay saved its best for the finale. A glorious spring day and perfect breeze capped off the deciding three races of the annual Yachting NSW Youth Championships, a mass gathering of sailing's next generation run over the October long weekend out of Georges River 16' Sailing Club.
Finals day yesterday, Sunday October 6, 2014 began leisurely with crews again kept ashore under postponement as Saturday's overnight southerly change blew out and the breeze transitioned to the ENE at 10-15 knots. Wind shifts of 40 degrees had the race officers working up a sweat shifting marks to set the fairest course for the more than 300 competitors crewing 218 dinghies and vying for final precious points.
Eight classes representing five states and the ACT, from the world's most popular mass produced youth dinghy, the Optimist, to 420s and 29ers, almost completed a full schedule. Saturday morning's millpond and associated high temps compelled a long postponement and punctuated the otherwise excellent conditions; breeze never more than 15 knots, warm and dry, minimal chop and a clear racetrack.
GRSC played host to the event and club Commodore and youth championship Principal Race Officer Andrew McLachlan was delighted with the strong finish, "Monday was a fantastic day with perfect wind. We almost fit the full schedule in." He paid tribute to the club's 70 volunteers who pitched in and hoped the competitors had fun as "that's what a youth regatta is about".
All classes aside from the 29ers completed an eight race program, two less than the scheduled 10 races and more than enough to constitute a series.
Following last night's official trophy presentation, held up by a late flutter of protests that went to the jury room, the shutters were closed on another successful Yachting NSW Youth Sailing Championships.
With stacks of new friendships formed, hundreds of happy but weary kids, including a roll-call of new state champions, and just as weary parents hitched up trailers and hit the road close to dark on the final day of school holidays and headed home to wash boats and unpack kit bags, then pack school bags.
The next event on the circuit for some is Sail Sydney, 2-7 December, then the ISAF Sailing World Cup – Melbourne, 7-14 December, and the largest gathering of youth sailors for the 2014-15 season will assemble at Fremantle Yacht Club in Perth for the 2015 Australian Youth Championships 6-10 January, 2015.
Yachting NSW Youth Championships final results
Laser 4.7
Brody Riley's Spindrift from McCrae Yacht Club in Victoria wrapped up the Laser 4.7 division comfortably with a score of nine, seven points clear of Jordon Makin's Marge. The Royal Yacht Club of Tasmania's Sam King, a former Sabot national champion and winner of the Tasmanian Laser 4.7 championship in March this year, took home the remaining top three trophy.
Laser Radial
The Laser Radial is same Laser hull as the 4.7 but with a larger rig. Finnian Alexander and Infinity representing Double Bay Sailing Club trounced the eight-race series, top-scoring with nine points back to the second placegetter Stuart Plenderleith sailing PharLap for Middle Harbour Amateur Sailing Club.
Optimists
Optimists constituted close to half of the Yachting NSW Youth Championships starting list. The huge fleet was broken down into three divisions, open and intermediate and for the first time the green fleet, designed as an easy entrée to competition, raced under the event banner.
Optimist Open
Australian Optimist champion Otto Henry driving Chippa banged off seven bullets from eight races over three days. His consistency assured the NSW Youth Sailing Team (YST) member an outright win over fellow YST squad member, Woollhara Sailing clubmate and the Queensland Opti champion, Archie Cropley and his well campaigned Archenator in second place on 26 points.
Optimist Intermediate
Scores were closer in the Intermediate fleet, Philipp Roth's BIRD from Woollhara Sailing Club too good for Patrick Roos' Bubble Bath sailing for Canberra Yacht Club, but only by two points. Will McMillan's NB Sailsports was third.
Flying 11
The best results in the Flying 11 class came from sibling combinations. Daniel and Sascha Heyworth easily clinched the series with MWD for Manly 16' Skiff Sailing Club on 24 points. Second was The Big Apple crewed by Simon Murnaghan and Alistair Hunter from Avalon Sailing Club and third was the brother combo of Harry and Oliver Parker crewing Waverunner, another Avalon boat.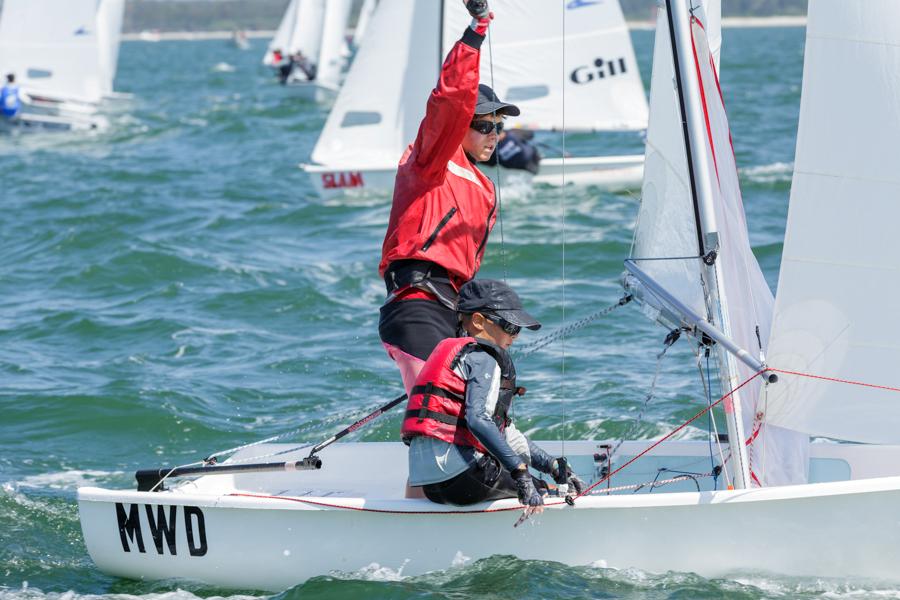 Flying 11 winners Daniel Heyworth & Sascha Heyworth with MWD- picture by Robin Evans
29er
Current 29er world champion Kurt Hansen is a name to remember for the future. Known as the 'wind whisperer', the 17 year-old Gosford sailor and YST member with oodles of natural flair made a clean sweep of the youth championship with his crew Jim Colley from Pittwater's Royal Prince Alfred Yacht Club. Second was Harry Lawson and Simon Hoffman's Frontline and third was the Grimes twins from Lake Macquarie with Swagamuffin.
420
Results for the 420 class were the last to be confirmed due to a backlog of protests being heard by the jury on the final afternoon. Nicholas Sharman and James Grogan's Azzurra (BRYC/MYC/SYC) waited patiently until they could finally celebrate their four point win over Finn Gilbert and Louie Collins' Middle Harbour Yacht Club based 420.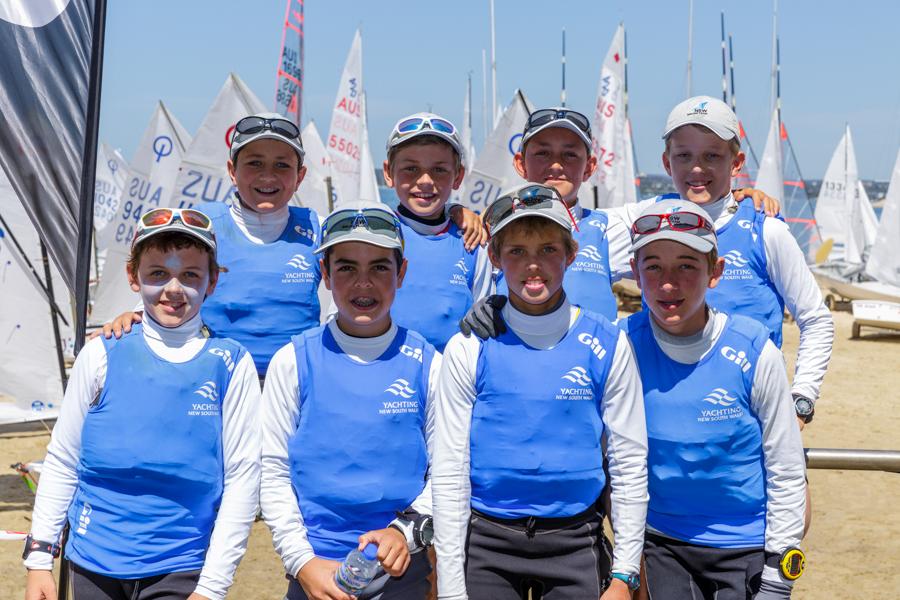 Opti YST Sailors - picture by Robin Evans
___________________________________
The youngest member of the YST, 11 year-old Optimist sailor Tom Green from Woollhara Sailing Club already has four years' know-how in the class. Being in grade 6 at Sydney Grammar Edgecliff affords him more time than the senior YST squad members but it's still hectic balancing school work plus coach Rob Brewer's rigorous training timetable that swallows up the entire weekend and one weekday afternoon.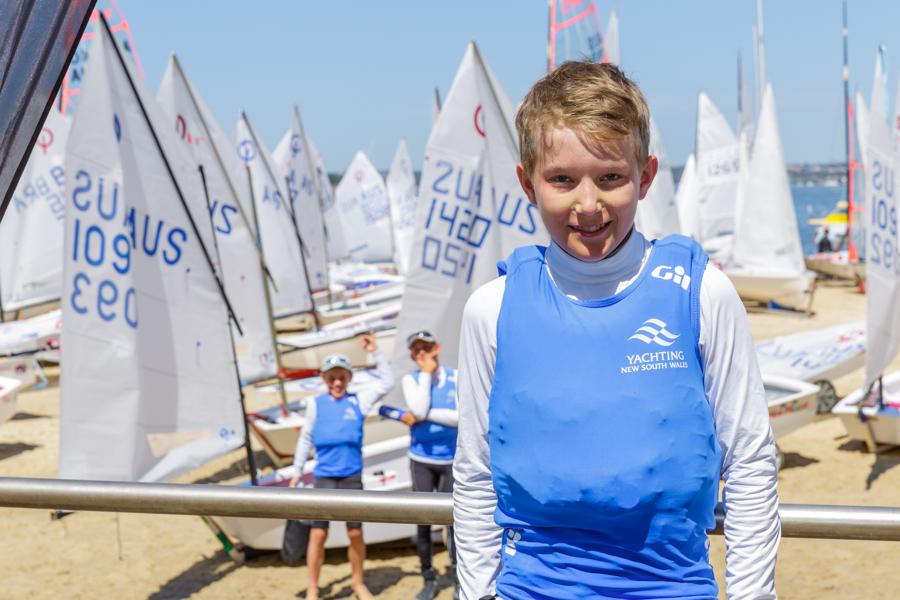 Tom Green - picture by Robin Evans
Green and his brother Oscar, who is nine and raced in the Opti Intermediate fleet over the October long weekend, have been on boats since birth. Like many of sailing's next generation caught up in the wake of Australia's world-beating results at the last London Olympic Games, Green's heroes include gold medallists Tom Slingsby and Matt Belcher.
Elbow room at the top of the 51 strong Opti open fleet wasn't easy to find out on the bay, especially with national champion and fellow YST member Otto Henry a late entry at the youth championship when the New Zealand regatta he was competing at last week blew out in 40 knot winds.
"We are all competitors but we are good mates at the end of the day," assures Tom. He finished up sixth overall with his Opti called The Green Machine. Henry's phenomenal results on Botany Bay of seven wins, and elsewhere, point to a boy wonder who could easily represent his country one day at the sport's peak.
Twins Jess and Tom Grimes sailing for Belmont 16' Sailing Club on Lake Macquarie's foreshore raced the 29er Swagamuffin, a play on Syd Fischer's famous series of ocean-going boats called Ragamuffin, into third overall. The son and daughter of well-known offshore yachtsman Richard Grimes paired up four years ago and both made the YST this season, Jess for the first time.
"We complement each other and being family makes it easy to coordinate training sessions," says Tom, the chatty one. Jess helms and Tom's heavier build is used out on the wire, to level the 29er out. A typical timetable for the year 11 Merewether High students is two Lake training sessions a week and two out of Sydney's Middle Harbour Yacht Club on the weekend. Then add on four gym sessions, time with a professional strength and conditioning coach and schoolwork.
If a sponsor signs up, the brother and sister combo can enter the Pathways program to complete their HSC. Spreading out their final year of school would give them time to travel and contest world championships and generally "hit it a lot harder without the pressure of full time study," Tom says.
On the 29er course the pair stood out on Botany Bay with their bright yellow helmets, a safety feature they happily adopted when 29er sailor Tess Lloyd suffered a skull fracture in a sailing accident in 2012. "We bonk heads a lot when we tack but after what happened to Tess we are happy to have the protection," said Jess at the host club, Georges River 16' Sailing Club.
Gosford's Kurt Hansen is the current 29er world champion and unsurprisingly he dominated the skiff class at the YNSW Youth Championships to be declared state 29er champion.
The gifted 17 year-old has been with the YST program from the outset, through Sabots, Flying 11s, 420s and now 29ers. In Kingston, Canada early this year he and Harry Moreton combined brilliantly to snare the world crown. At the youth championships he and new crew Jim Colley, after Moreton outgrew the one design class, raced their 29er called Objective for the Royal Prince Alfred Yacht Club and Gosford Sailing Club. They finished with a perfect scorecard.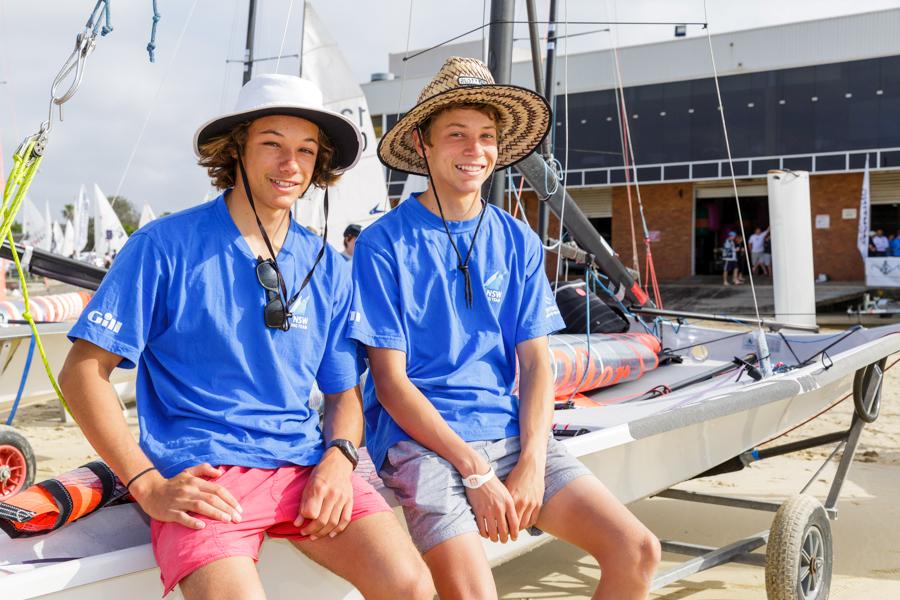 Jim Colley and Kurt Hansen - picture by Robin Evans.
On the YST Hansen had this to say, "It's a big part of my life. It's linked me with the sport's higher level people and all the coaching and experience within the squad has been awesome. It definitely created the pathway to my world championship win."
Reaching the pinnacle world championship level and training with the YST, which means travelling to Sydney and multiple times each week, keeps the Gosford High student on the go. When party invites are extended Hansen's hometown mates are used to the standard "I'm going sailing" response. "I guess it keeps me out of trouble," he mused.
Yachting NSW development manager Andrew Cribb is keen to talk up the program, "The YST underpins the state's sailing performance program and is crucial for developing youth sailors for state, national and youth world titles."
Program information is available here. Applications for the 2015/16 YST will be announced in December.
The state youth championship is run annually under the auspices of Yachting NSW, a not for profit organisation responsible for the administration, promotion and advancement of the sport of sailing at all levels throughout NSW. For the 2014 edition Gill and Nautilus Marine signed on as event sponsors and Roads and Maritime Services extended considerable support.
Report by Lisa Ratcliff, Photos by Robin Evans, 2014.