May 18 - 24, 2014: Issue 163
GARDEN WASTE COLLECTION BOOST FOR PITTWATER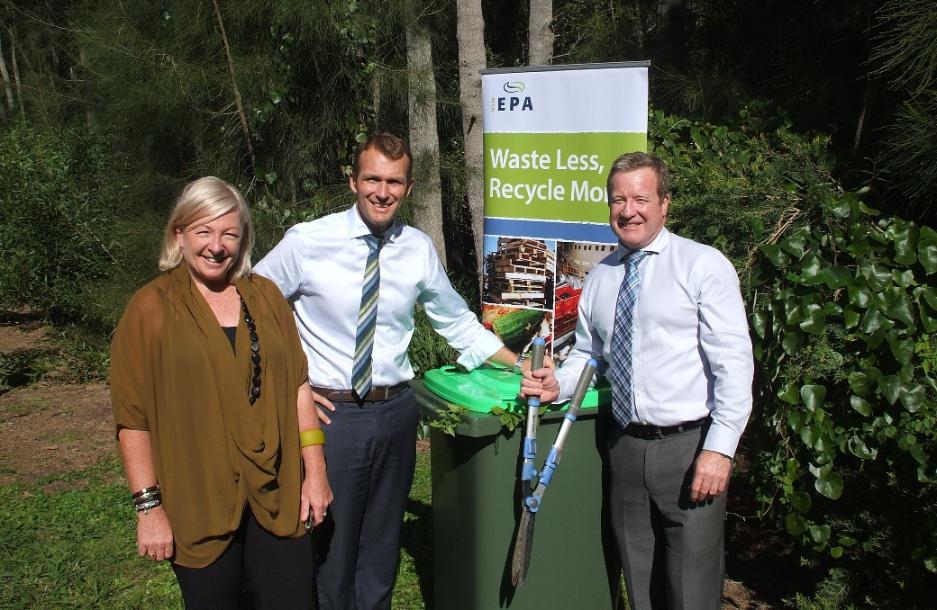 Cr. Jacqueline Townsend, Hon. Rob Stokes and General Manager of Pittwater Council, Mark Ferguson.
GARDEN WASTE COLLECTION BOOST FOR PITTWATER Friday, 16 May 2014

Environment Minister and Pittwater MP Rob Stokes today announced that Pittwater Council will receive over $1 million from the NSW Government to introduce new 240 litre garden waste bins and a fortnightly collection service for Pittwater residents.
Rob Stokes said the grant will benefit 21,000 residents on mainland Pittwater by providing garden waste bins to every household to dispose of their green waste.
"The grant will also enable the Council to introduce a fortnightly kerbside collection service for the new garden waste bin, replacing the old kerbside pick-up eight times a year.
"This is a fantastic initiative for our community that is expected to divert 3,500 tonnes of recyclable garden waste out of landfill annually.
"The NSW Government is providing significant investment into getting these organics out of landfill and across the state we expect projects such as this to recover and divert at over 150,000 tonnes of recyclable waste from landfill.
"The
Waste Less, Recycle More
initiative will see a number of grants awarded to councils and businesses across NSW and is expected to boost food and garden waste collections for more than 200,000 households, roll out new community recycling centres or services, and upgrade resource recovery facilities.
"That is a significant amount of recyclables saved from rotting in landfill and funnelled back into the productive economy helping to make a significant contribution to reaching our state-wide waste and recycling goals."
Pittwater Mayor Jacqui Townsend said that she was delighted that Pittwater residents will benefit from this funding.
"It will mean that residents will have a more frequent collection of their garden waste," said Cr Townsend.
This reduces the likelihood of garden waste being put in garbage bins and ending up as landfill," she added.
The NSW Government's Waste Less Recycle More initiative is a five year $465.7 million package to transform waste and recycling in NSW. It includes funding for business recycling, market development, managing problem wastes, new waste infrastructure, local councils and programs to tackle illegal dumping and litter.
For more information visit the website here:
http://www.epa.nsw.gov.au/waste/WasteLess.htm