June 28 - July 4, 2015: Issue 220
Avalon Beach SLSC Women's Antiques Boat Crew Rescue Rock Fisherman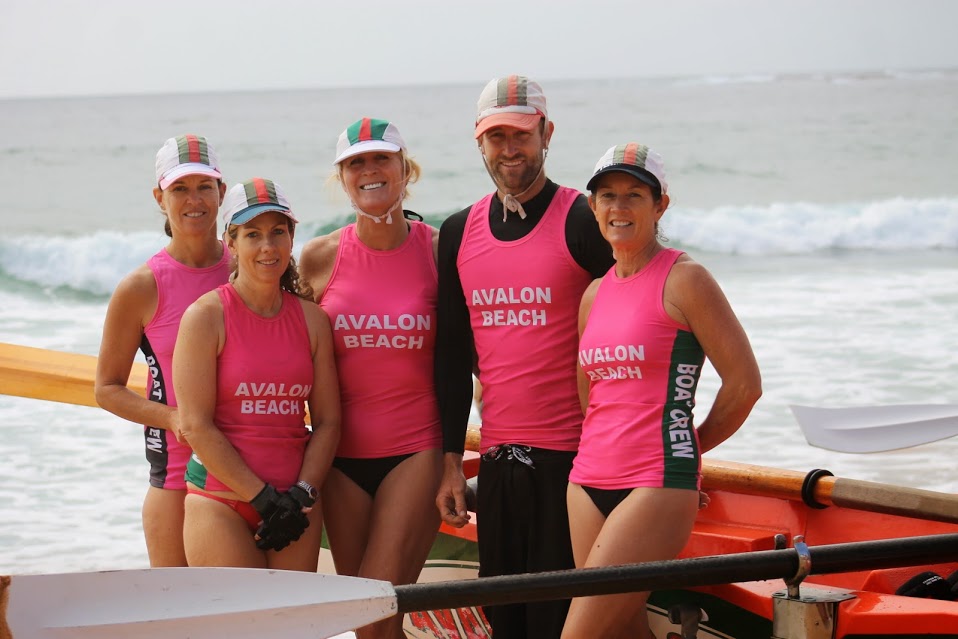 Avalon Beach SLSC Antiques girls with Nathan Wellings -sweep
Sat 27 Jun 2015 - SLSNSW
They may have missed out on winning Team of the Year at the Sydney Northern Beaches Awards of Excellence Friday night, but less than 12 hours later, the Avalon Beach Antiques masters women surfboat crew had redeemed themselves, rescuing a fisherman who had fallen from rocks at Warriewood Beach.
The crew were rowing off Warriewood at 7.20am when they saw a man fall more than 5 metres into rocks and roll partly into the water. When he wasn't moving, two of the rowers jumped into the water and swam over to the rock platform with a rescue tube.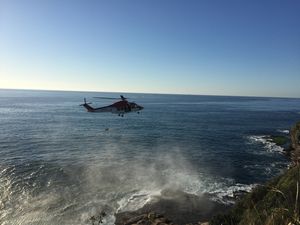 The remaining two rowers and the sweep headed back to the beach to raise the alarm and launch the IRB.
Police and Ambulance were called and the IRB sped back out around the headland with first aid, spinal board and oxygen gear.
The 5 times Australian Masters surfboat champions stabilized the patient and waited for help as it was thought too risky to try to get the man into the boat with possible spinal injuries.
"He was in a lot of pain, groaning and shivering from shock," said one of the rescuers, Bev Tilbury. "We couldn't walk him out either because we were trapped under a rocky overhang."
The Ambulance helicopter arrived and a paramedic was winched into the rocks, secured the patient in a stretcher then winched him aboard the aircraft.
"It was all a bit scary but I guess this is what we train for as lifesavers. We were talking a lot of rubbish trying to keep him distracted from the pain until help arrived," laughed Kate Munro.
The man was wearing a lifejacket, but was extremely lucky the crew were out training and were able to reach him so quickly.
"Who says surfboats no longer play a part in surf rescue," said the Avalon Beach crew.
It was a multi-club effort with Warriewood clubbies also involved, crewing the IRB and coordinating the rescue effort from the clifftop.
RPAYC's Pretty Woman Breaks Brisbane to Noumea Race Record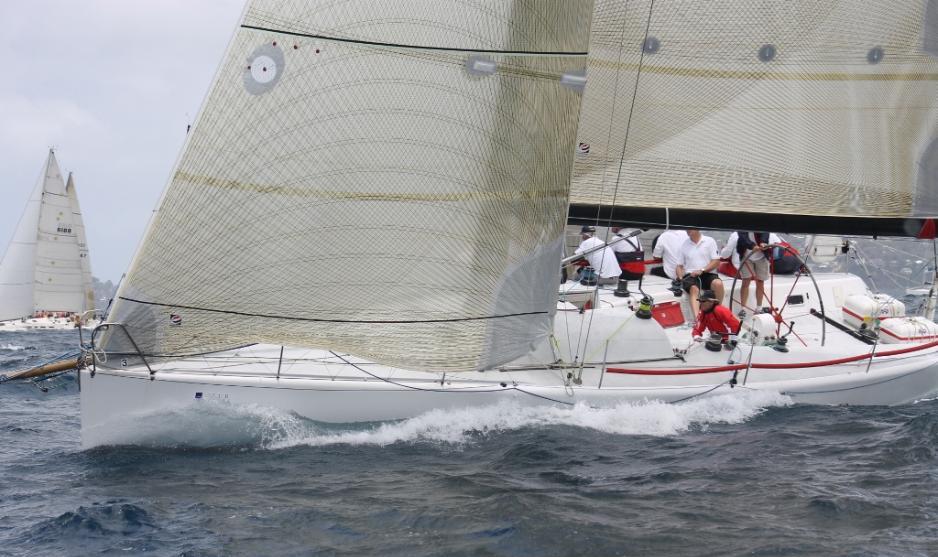 RPAYC's Pretty Woman - photo by A J Guesdon at start of 2013 Pittwater to Coffs off Barrenjoey Headland
Sail Noumea is the signature ocean yachting event for the Royal Queensland Yacht Squadron. After clearing Moreton Bay, Brisbane, yachts don't sight land again until they see the Amadee Light south of the capital of New Caledonia, Noumea.
On Wednesday, June 24th, Tam Faragher's sleek blue Ker 50 Kerumba finished at 1:45 am (AEST); 11 hours faster than the previous race record.
At 11am on the same day (Brisbane Time) Richard Hudson's Pretty Woman crossed the line, the third boat to better the previous race record. Pretty Woman's results in Brisbane to Noumea race: 3rd LH & broke race record. 3rd IRC. 3rd ORCi.
Bushcare Volunteers are Saving Pittwater's Environment Year Round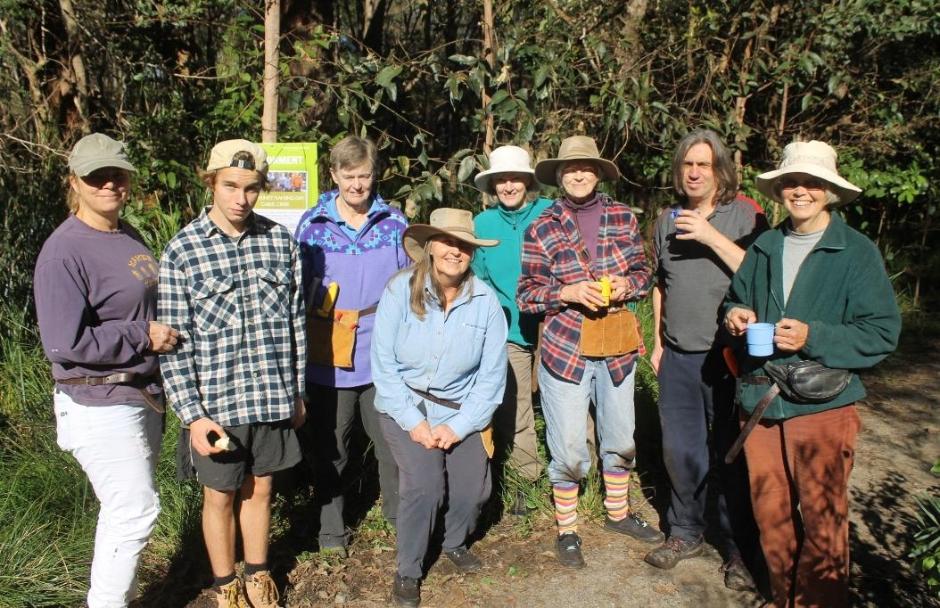 Bushcare planting at Careel Bay - Etival Street Planting Day 27.6.2015 - picture by A J Guesdon, 2015
Bushcare at Etival Street Careel Bay Wetlands Planting Day Saturday morning had a focus on planting trees. All Bushcare Groups in Pittwater are listed on Council's website - great fun, good for fitness and fellowship, and GREAT for our Environment. Without people such as these all our reserve areas would be overrun with weeds and restoration works would take a lot longer.
See HERE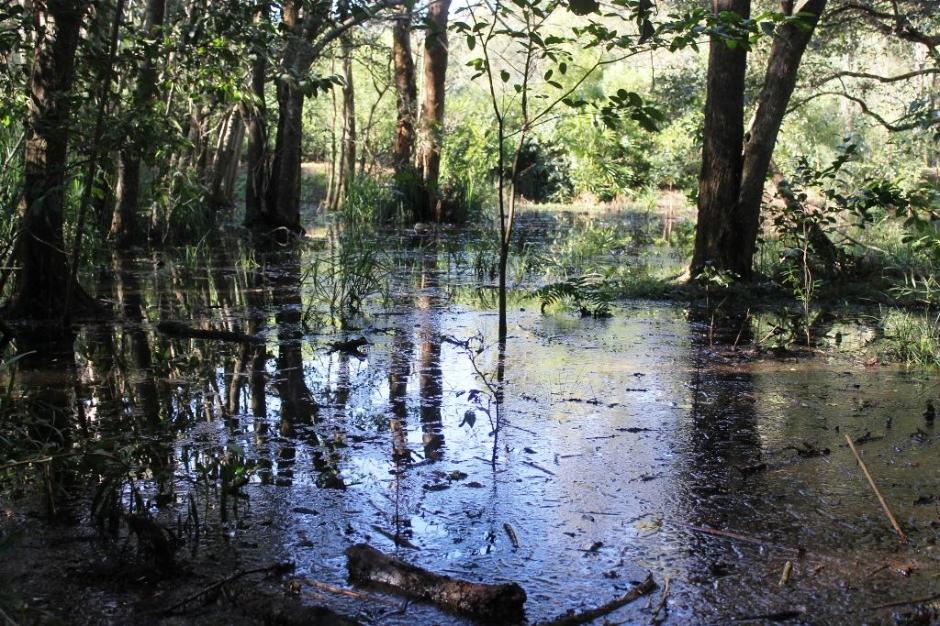 Careel Bay Wetlands, 2015 - photo by A J Guesdon
RMYC Broken Bay Golf Day for Alyse Saxby A Huge Success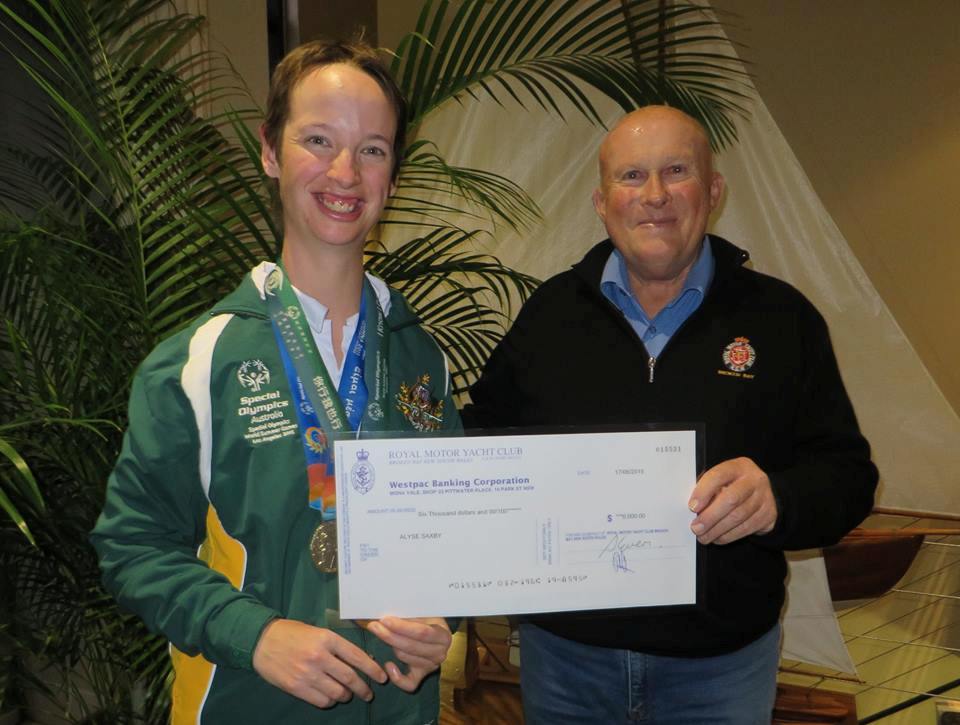 Commodore Peter Haig and Pittwater Sailor Alyse Saxby - picture courtesy RMYC BB, 2015.
Royal Motor Yacht Club Broken Bay Commodore Peter Haig presented Special Olympic Sailor Alyse Saxby with her cheque from the proceeds of the RMYC Golf Day fundraiser this week. Alyse would like to thank everyone for their very generous contributions to get her to Los Angeles in July 2015.
Alyse will be sailing in a Cal20 (California 20) with all Sailing events scheduled to be held at Belmont Pier in Long Beach.
On Friday 5th June, the Governor-General of Australia, His Excellency General the Honourable Sir Peter Cosgrove AK MC (Retd), Patron of Special Olympics Australia, officially presented Alyse with her team uniform.
"Special Olympics Australia has created a whole new world for me and these will be my third World Games in a row. I want to win gold and I want to do myself, my family and Australia proud." Alyse stated then.
The 2015 Special Olympics World Summer Games open on 25 July 2015 and will be the 14th celebration. The last was in Athens where Alyse secured a gold medal with strong support from coach Bob Hamilton.
We, along with all at the RMYC, RPAYC and Sailability Crystal Bay, and everyone in Pittwater for that matter, wish Alyse every success in her event and look forward to hearing about all her stories from the 2015 Summer Games.
Katandra Sanctuary Open Days 2015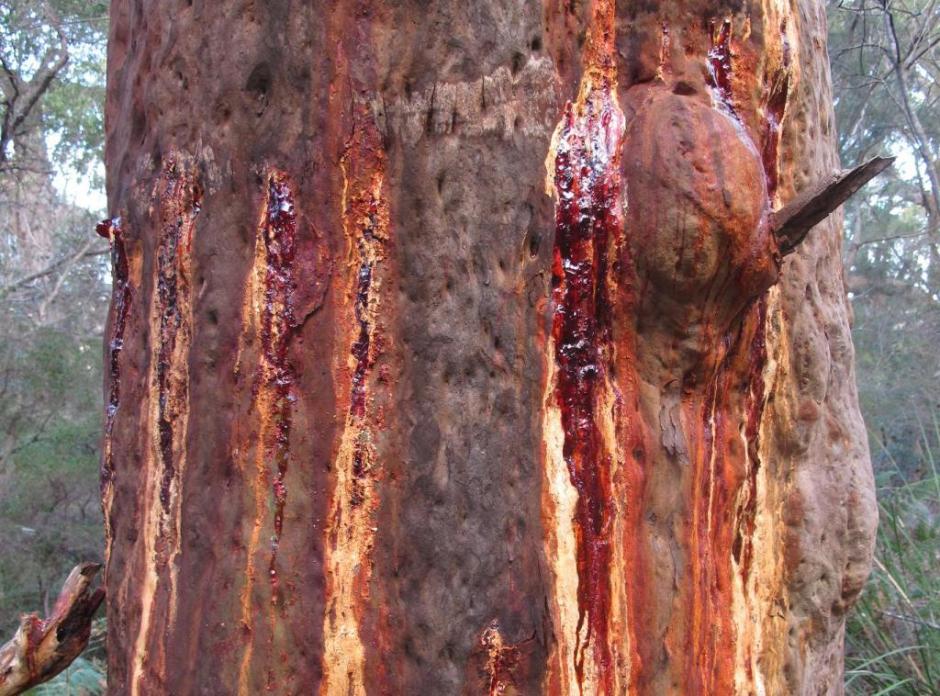 Above photo is of gum on an angophora costata. This indicates that it is being attacked by insects, but defending itself by exuding gum, called kino. This traps and smothers the insects, probably wood boring beetle grubs. Abundant kino is a sign of a healthy tree. Photo by Marita Macrae, 2015
Katandra Sanctuary opens to the public every Sunday in July, August, September and October, from 10am to 4pm. The first OPen Day for 2015 will be next Sunday, July 5th with entry by donation. This is a great way to spend a few hours in 12 hectares of a wondrous flora and fauna reserve on the Ingleside-Warriewood escarpment and an opportunity for families and environment lovers to experience one of the pockets of green Pittwater is famous for.
More pictures taken this week, to show you some of all you may see in this wonderful sanctuary, by Marita Macrae HERE
Pittwater Online News is Published 8 a.m. Every Sunday Morning and is By, For and About Pittwater - and all that adjoins her green hills and blue waters.
8 a.m. - Winter - 6 a.m. Summer