January 4 - 10, 2015: Issue 196
The Little Bugler Boy Saved By The First Australian-Born Captain Of The RAN
Kendall born man, and the first Australian-born man to be made an RAN Captain – Charles Farquhar Smith, went to sea at close to the age drummer boys in the British RAN were.
Drummer boys were children recruited as drummers for use on the battlefield on land. Until well into the 19th century, western armies recruited young boys to act as drummers. The drums were an important part of the battlefield communications system, with various drum rolls used to signal different commands from officers to troops. Although there were usually official age limits, these were often ignored; the youngest boys were sometimes treated as mascots by the adult soldiers. The life of a drummer boy appeared rather glamorous and as a result, boys would sometimes run away from home to enlist. Other boys may have been the sons or orphans of soldiers serving in the same unit. The image of a small child in the midst of battle was seen as deeply poignant by 19th-century artists, and idealised boy drummers were frequently depicted in paintings, sculpture and poetry. (1)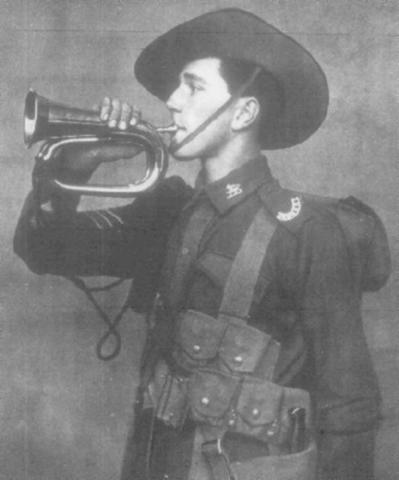 A similar role was fulfilled by Ship's Buglers. Listed as musicians on the Company Muster rosters, the bugler's role was to announce the daily duties outlined for those aboard ships. They became the mouthpiece of the Commanding Officer in Charge. The effectiveness of the bugler helped to determine the success of those serving, on and off the field.
Regulations called for the assignment of field musicians in each company and a principal musician (Chief Bugler) to be assigned at regimental levels. The Chief Buglers were responsible for training, appearance, and performance of buglers under him (the younger buglers). Chief Buglers were often typically closer in age to the officers. They were often quite literate and better educated than the average service personnel. Many even became officers. The officers and their buglers developed close special relationships.
Picture: "Fall in", 93rd Derwent Infantry Regiment - from the Tasmanian Mail, 20 August 1914, p 17 The first badge on the collar, a lion, which is the emblem of Tasmania. The shoulder title has the name "Derwent" which refers to the 93rd Derwent Infantry Regiment, Militia, one of three Tasmanian Militia Infantry Regiments. 93rd Derwent Infantry Regiment's Headquarters was located in Hobart with the companies located in these specific areas: "A" and "B" Companies - Hobart, "C" Company - Geeveston and Franklin, "D" Company - Glenochy, "E" Company - New Norfolk and Macquarie Plains, "F" Company - Lovett and Huonville. After the war the 93rd Derwent Infantry Regiment was renamed the 40th Derwent Infantry Regiment and later the 40th Battalion and 12/40 Battalion. Retrieved from: http://alh-research.tripod.com/Light_Horse/index.blog?topic_id=1104257
Their soundings of Attention, Assembly, To the Color, the Charge, Reveille, Retreat, First Call, Forward, In Retreat, Halt, Deploy, Commence, Firing, Cease Firing, Rally By Fours, and Taps were and are still used - some sources we researched cited over 100 calls a Ship's Bugler was required to know and be able to sound. It is a means of communication that dates back hundreds or possibly even thousands of years. - Manual For Buglers- U.S. Navy, Original edition 1919
An account of an Australian Ship's Bugler who served in WWII, Ordinary Seaman A. Gee, may be read on the excellent Naval Historical Society of Australia's pages HERE
The story of how an Australian helped one of these Ship's Buglers begins with a simple cable, as so many stories did during that conflict in times before cellphones!:
FIGHT IN THE NORTH SEA. THREE BRITISH CRUISERS SUNK GERMAN SUBMARINE'S WORK. Majority of crews saved.
MELBOURNE, Wednesday Afternoon. The following official cable message was received this afternoon by the Prime Minister from the High Commissioner in London, Sir George Reid: —''The armored cruisers Aboukir, Hogue, and Cressy have been sunk by a submarine in the North Sea. 'The Aboukir was torpedoed by the submarine, and while the Houge and Cressy were standing-by to save the crew of the Aboukir, they were also torpedoed.' Considerable numbers of the companies of the three ships were saved by a division of destroyers and by trawlers and boats.' The casualty list will be sent as soon as known.' FIGHT IN THE NORTH SEA. (1914, September 23). Evening News (Sydney, NSW : 1869 - 1931), p. 1. Retrieved from http://nla.gov.au/nla.news-article115804814
Besides 'considerable numbers' being saved, more died - see an account of these under Aboukir.
The first we hear about the Drummer boy aboard Aboukir:
COURAGEOUS CADETS.
The fate of the naval cadets, many of whom were only fifteen years old, was one of the most pathetic features of the disaster. These lads, who were at school at Osborne Naval College, had been recalled from their holidays when war: broke out, and were detailed, for service. The same spirit that possessed the mighty forbears of their race, and those on board the sinking cruisers displayed the complete self-forgetfulness that is the mark of truest heroism. Says one of the officers of the Aboukir who was saved; 'One midshipman' asked him quietly, with no thought of self, 'What can I do,sir?' The poor boys' call came early, but they were as cool as the old hands.' A sixteen-year-old drummer-boy from the Aboukir was saved on the ship's rum-tub, and when a' swimmer asked if he could do anything for him, the, youngster replied, 'No, thanks, old cocky,' . COURAGEOUS CADETS. (1914, September 26). The Farmer and Settler (Sydney, NSW : 1906 - 1957), p. 1. Retrieved from http://nla.gov.au/nla.news-article116689175
Was that 10-year-old drummer-boy saved from the sunken cruiser Aboukir one of the devil's own? The Temperance Alliance will hardly admit that it was a special Providence that set him afloat in the ship's rum tub. So one is forced back on the other explanation. A sailor swimming sturdily by asked, "Can I do anything for you, youngster?" "No thanks, old cocky," said the boy, cheerily. He knew that the man was busy, and therefore he didn't stop him. Any other time he would have asked Jack whether he had any cigarette-cards, but on account of things being pretty lively he just sat in the rum tub and waited for the first boat. If the stuff had been the same outside the tub as inside it he could have drunk enough and walked out. That's a little point the cableman forgot to mention, but we must make all allowances for him; he's doing his best for us in troublesome circumstances. So we may as well let the drummer and his rum tub go down with us, though it didn't go down in the North Sea. Truly the blue water is the one place from which romance is not yet banished. A NAVVY POEM. (1914, October 9). Rochester Express (Vic. : 1914 - 1918), p. 7. Retrieved from http://nla.gov.au/nla.news-article125659539
And of the Australian aboard:
LUCKY AUSTRALIAN SAVED FROM THE ABOUKIR.
The officers of the British cruiser Aboukir, which was, sunk by German submarines, included Lieut. Charles Farquar Smith, aged 26, son of Mr. A. G. Smith, of Kendall, on the North Coast (N.S.W.).His parents received a cable from the Admiralty announcing that he was among the saved. When quite a youngster: Lieut. Smith made up his mind to enter the navy, his love for sea being fed by the study of the life of Nelson. While other boys were reading "Deadwood Dicks" he was absorbing every printed line that he could find about England's naval hero. Winning a bursary at the local school, young Smith came to Sydney, to Fort-street, and thence to the High School. He extracted a promise from his aunt, Mrs. Sydenham, with whom he lived, that if he got through his examinations she would get him a ship. He passed, as he said he would, and Mrs. Sydenham, seeing that it was useless to try to dissuade him, obtained for him a berth as ship's boy on a vessel going to England. Young Smith was then only 17, but so hard did he study, that he passed every examination for which he sat. After securing an extra captain's certificate, in the White Star service, he joined the Royal Navy, and passed as lieutenant. He was for some time on H.M.S. Dominion, but a few months ago was transferred to the ill-fated cruiser Aboukir. LUCKY AUSTRALIAN. (1914, October 2).Queensland Times(Ipswich) (Qld. : 1909 - 1954), p. 5 Edition: Daily. Retrieved from http://nla.gov.au/nla.news-article123039732
Who then provided an eyewitness account:
ON THE ABOUKIR. AN AUSTRALIANS ACCOUNT. THE NORTH SEA DISASTER.
Councillor A. G. Smith, of Kendall, has received from his son a graphic account of the naval disaster In the North Sea, resulting In the loss of H.M.S's. Aboukir, Cressy, and Hogue. Lieutenant Farquhar Smith was an officer on the Aboukir, and he had a sensational experience, being in the water for three and a quarter hours, clad only in a suit of pyjamas. Lieut. Smith, who is now an officer in the R.A.N , and expects to take up duty in the Australian navy when the war is over, writes as follows:-
"Well, here we are back in England again, after a rather trying time. Of course, you received my telegram from Ymuleden, saying that I carne through quite safely. I suppose you would like to hear my experience of last week, so here goes.
"First of all, we had rather bad weather during the previous week-end, and had two boats smashed up, and three men hurt, one with a broken thigh. On the Monday night I had the first watch, from 8 o'clock till midnight, and at midnight turned In. I was awakened at 6.25 am. by an explosion. The explosion did not make much noise, but made the whole ship shake violently. I rather fancy I awakened simultaneously with the explosion, but the lights were all then out. Everyone rushed on deck, and found the ship heeling over to port, with the port sea boat in splinters, showing that we were hit abreast of the second funnel. The engine-room must have been flooded, for both engines stopped at once. The sick were at once got out of the sick bay, and put into the
remaining sea boat, which was then lowered. The picket boat and launch could not be got out on account of our not being able to get any steam. The Aboukir all this time was slowly going over. The stokers fell In on the forecastle, the marines on the quarterdeck, and the seamen amidships. The last I saw of Captain Field was when he was taking the confidential signal books to the bridge to be thrown overboard. The Fleet Paymaster was seen to have all his ledgers on deck. The captain then gave the order; 'Anybody may leave the ship.' Great numbers took advantage of this order. The rigging was soon horizontal, and a midshipman and myself walked up (or rather out) on the main rigging, and got as far as the 'fighting top ' The ship seemed to hang fire for a minute, and the middy remarked that he was sorry to lose his camera, as there were good 'snaps' of the commander and myself In It.
"Then occurred the strangest sight I have ever seen. The water began to pour Into the funnels, and as the water rushed into the lower part, huge volumes of black smoke were pouring out of the upper part. Then I found myself In the water, and was caught by a wire on one shoulder. I got clear of that, and then found myself tangled In another wire. I managed to clear myself, and then came to the surface. The middy had then disappeared, and after searching for him for about 10 minutes, I sadly concluded he must have been caught by something, and had gone down with the wreckage. How pleased I was on arriving at Chatham to hear that he had been saved, and had only been in the water about 10 minutes.
A target then came up from the sunken ship with a great swirl, so I swam and got on it. The Aboukir was still partly bottom up for another five minutes before she sank, with one propeller and one bilge keel high in the air.
We then set about gathering all the people we could on to the raft, and at one time had 35 on it. About an hour after we were struck the Hogue appeared to be hit in three places at once-on the starboard side, abreast of the second funnel and after 9.2 gun, and portside amidships, and in one minute her stern was under water, and stem high out of the water Her two steamboats floated off her deck. She remained thus for about a minute, and then turned over so sharply on to her star-board side that her funnels crumpled up like paper. Dozens of men fell right across her deck when she turned over.
"The Cressy had all her boats in the water and had taken some people aboard before she was hit. She was hit twice with an interval of about ten minutes When the second torpedo was fired our target was in a line between the Cressy and submarine, for the torpedo passed directly underneath the target, and the Cressy was firing at the submarine, so that the projectiles were passing about three feet above our heads. I am sure that a great number of men gave in when they saw the Cressy sink, for there was nothing In sight except two sailing trawlers, which did not appear to get any closer. We had to be very rude to a couple on the raft to keep them from jumping off and going down.
A drummer boy, aged sixteen, who, when we first got him on the raft, lay in my arms for at least half an hour without moving, was as plucky as any. The worst job I had was when a man died and I wanted his shirt and singlet to put on one of the living. I did not like giving the order, so took them off myself, and then had to insist that they should be put on, for some of the men appeared quite helpless and hopeless. In all we had six die, and then took twenty-nine off the target. When the Flora came up the captain of the Hogue, who was In one of the cutters, put all the people except the boat's crew on the Flora and then came and took us off. We put them aboard the Flora. The captain also went aboard, then I took charge of the cutter and made four more trips to the Hogue's steamboats, which could not get up steam on account of both being damaged and leaking, the water being above the furnace bars. I cannot speak too highly of the Dutch skipper and his crew. We left not a particle of food on the vessel, and not an article of clothing aboard her-neither blanket, door- curtain, or anything else. We only had one die after we got aboard the Flora.
Right: Boys by the outbreak of World War I (1914), no longer appear to be in the British Army, but younger teenagers still served in the Royal Navy.
"We arrived at Ymuleden about 6.30 p.m., and after getting the names of the saved and sending them off it was nearly midnight and so passed perhaps the longest day I have ever spent. The next morning weleft at 9.30 for the Internment Camp by special train. At each station we were treated to cigarettes and chocolates. The Dutch could not do too much for us. At 4 p.m. we carne to the end of our train Journey, at 4.45 to the end of our tram journey, and were now at st. Nicholas, in the Friestland district; from there we had a sixteen mile walk to the camp arriving there about 930 p.m- quite done up. Our little drummer was quite done and I walked arm and arm with him for an hour to keep him going. He was a very plucky chap. A hot dinner awaited us at the camp, and from there we went the house and turned In on straw beds very soundly (Wednesday evening) . The arrangements made by the Dutch were very good. ON THE ABOUKIR. (1914, December 26). The Sydney Morning Herald (NSW : 1842 - 1954), p. 9. Retrieved from http://nla.gov.au/nla.news-article15562214
And did this experience, apart from being a 'trying time', influence Farquhar Smith?: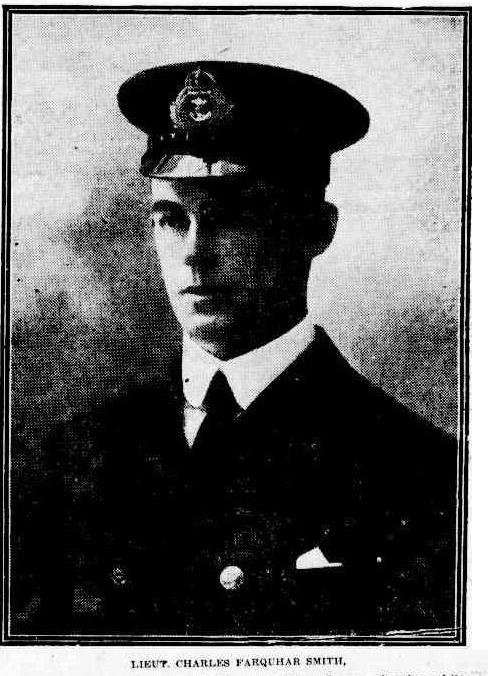 Portrait: HERO OF A SUBMARINE EXPLOIT- LIEUT. CHARLES FARQUHAR SMITH, Who, according to advices just to hand, accounted for a German submarine and its crew. He is the son of Mr. A.G. Smith of Kendall, Hastings River, and was educated at the Sydney Boys' High School. Lieut. Farquhar Smith is one of the survivors.of H.M.S. Aboukir, which was torpedoed, and is now employed in trapping enemy submarines. HERO OF A SUBMARINE EXPLOIT. (1916, January 11). The Sydney Morning Herald (NSW : 1842 - 1954), p. 5. Retrieved from http://nla.gov.au/nla.news-article15636305
Mr. W. G. Hopper local inspector A. and T. Association, L., has received word from his brother-in-law, Lt.- C. Farquhar-Smith, R.A.N., that after doing the long course of specialising-in torpedo work he came out first in his examination at Greenwich (Eng.),with the high average of 93 per cent., or 7per cent, above the second competitor. He ranks now as a torpedo lieutenant, and has the honor of being the first Australian in the R.A.N, to be a torpedo specialist.
Lt. Farquhar-Smith. who is 32 years of age, has had a career full of interesting incidents. A son,of Mr. and Mrs. A. G. Smith, of Kendall, he won a bursary and completed his scholastic education at the Sydney High School. After matriculating at the age of 17 he shipped as ordinary seaman, and saw nautical-life at-sea in its various stages, taking his extra master's certificate and passing in steam at 24.
He was an officer Of the White Star liner Arabic, when at the beginning, of 1913 he joined the English navy, getting his lieutenancy prior to the war. When the battleships Aboukir, Hogue and Cressy were torpedoed at the Dardanelles Lt. Farquhar-Smith was aboard the former, and had the good fortune to be one of the 40 to survive.
He was next commander of a fleet of trawlers submarine hunting, and was responsible for the sinking of a German submarine, for which the English Government awarded him £100 prize money.After a term of mine sweeping he was given command of the destroyer Racehorse, and subsequently took a lower position aboard H.M.A.S. Sydney, in order to be in the R.A.N., holding this rank until just before the Sydney left for Australia after the war, when he resigned to enter the special course in torpedoing mentioned above. PERSONAL. (1920, October 11). Northern Star (Lismore, NSW : 1876 - 1954), p. 2. Retrieved from http://nla.gov.au/nla.news-article93066551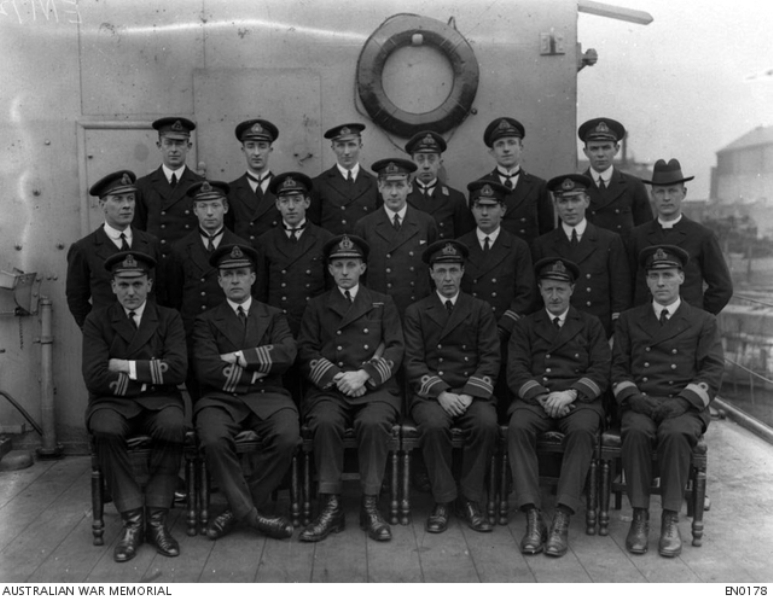 Group portrait of officers on board HMAS Sydney. Not all have been identified. Identified left to right: back row, unidentified lieutenant (gunnery officer); unidentified; possibly Chief Gunner William Chisholm; possibly Paymaster Midshipman Thomas F Maynard; unidentified midshipman, possibly from the Royal Australian Naval Reserve; unidentified. Middle row: possibly Lieutenant Frederick John Herbert, Royal Naval Reserve; unidentified; possibly Sub Lieutenant Harry L Howden; unidentified; two unidentified lieutenants; Chaplain Rev Hubert H Trigge. Possibly in these two rows are Lieutenant Charles Farquhar-Smith; Lieutenant Cyril E Lowther; Engineer Commander John N Allenby; Engineer Lieutenant Samuel L Beeston; Engineer Sub Lieutenant Raydon B Smith; Paymaster Sub Lieutenant Allen Freyer; Gunner Sydney J Scott; Boatswain Patrick Roache. Front row: Lieutenant Commander Rupert Clare Garsia; Commander Henry Priaulx Cayley; Captain John Saumarez Dumaresq, RN, holding a telescope under his arm; Lieutenant Commander Cuthbert John Pope; Surgeon Lieutenant Commander (Acting) William J Carr; Paymaster Lieutenant Commander Donald Andrew Peart. Picture: 21 January 1919 – Image No.: EN0178.courtesy Australian War Memorial
RAN service people have a saying, 'once in the Navy, always in the Navy, and this sometimes becomes a whole family love for the sea. Farquhar Smith's other first for the Royal Australian Navy:
CAPTAIN FARQUHAR SMITH. The promotion of Commander Charles Farquhar Smith, R.A.N., to rank of captain has been announced by the Navy Board. He is the first Australian-born officer in the Australian Navy to reach that rank. CAPTAIN FARQUHAR SMITH. (1931, January 16). Dungog Chronicle : Durham and Gloucester Advertiser (NSW : 1894 - 1954), p. 2. Retrieved fromhttp://nla.gov.au/nla.news-article140906052
FARQUHAR-SMITH-AITKEN - The marriage of Bettwyne, daughter of the late Mr R. G. Aitken and of Mrs G. A. Aitken, Melbourne, to Lieut Alan Farquhar-Smith, RANR(S), eldest son of Capt C. Farquhar-Smith, RAN, and Mrs Farquhar-Smith, Hobart (T), took place at the RAN Dockyard Chapel, Garden Island, Sydney. Miss Aitken is a writer in the Women's Royal Australian Naval Service. She was attended by Miss Nan Sydney-Smith, who is also in the WRANS. Family Notices. (1943, September 18). The Argus (Melbourne, Vic. : 1848 - 1957), p. 8. Retrieved from http://nla.gov.au/nla.news-article11784495
WELCOME surprise early yesterday morning for Mrs Charles Farquhar-Smith, of Vaucluse when her son-in-law, Major J P C Curlewis arrived unexpectedly on leave from New Guinea First thing he did was to go to St Luke's Hospital to see his wife and his son who was born on December 19. Mrs Curlewis was formerly Miss Joan Farquhar –Smith, Captain Charles Farquhar-Smith, RAN and Mrs Farquhar-Smith have just returned to Sydney to make their home her again after 11 years absence in England and more recently in Hobart. Captain Farquhar-Smith has gone back to sea where his two sons are also serving Lieutenant Alan Farquhar-Smith RAN whose wife is living in Melbourne and Mr Ian Farquhar-Smith who is in the Merchant Navy both spent Christmas away from home. Marriage Preferred to Diplomatic Career... Daughter for Joyce Greer. (1944, December 27). The Sydney Morning Herald(NSW : 1842 - 1954), p. 6. Retrieved from http://nla.gov.au/nla.news-article17933066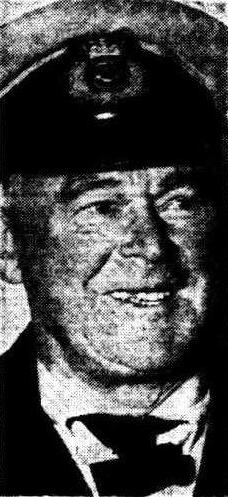 BACK AT SEA
Mr. Charles Farquhar Smith, mate of the 1,500-ton Interstate freighter Kindur, who retired from the Royal Australian Navy three years ago with the rank of rear-admiral. He went to sea in 1904 at the age of 17 In the barque Crompton, and later served as a captain In H.M.S. Iron Duke and in H.M.S. Delhi and as a commander in H.M.A.S. Australia. Early in World War II he was Naval Officer-in-Charge, Fremantle. When he retired Mr. Farquhar-Smith found that shore life was too dull and, against the wishes of his wife, took his present post. BACK AT SEA. (1951, July 17). The West Australian (Perth, WA : 1879 - 1954), p. 4. Retrieved from http://nla.gov.au/nla.news-article48980928
Mr. Charles Farquhar-Smith, mate of the 1,500-ton inter-state freighter Kindur. He went to sea from Sydney at 17 in 1904 aboard a barque, became a captain of H.M.S. Iron Duke and H.M.S. Delhi, and a commander in H.M.A.S. Australia, and retired a rear admiral three years ago. No title. (1951, July 13).The Mercury (Hobart, Tas. : 1860 - 1954), p. 3. Retrieved from http://nla.gov.au/nla.news-article27039136
Rear Admiral Charles Farquhar-Smith, R.A.N., retired, has been appointed to the board of directors of the Newcastle and Hunter River Steamship Co. Ltd. He fills a vacancy caused by the- death of Mr. W. D. M. Merewether. PERSONAL. (1953, August 12). Daily Commercial News and Shipping List (Sydney, NSW : 1891 - 1954), p. 1 Supplement: Supplement to "Daily Commercial News and Shipping List".. Retrieved from http://nla.gov.au/nla.news-article164048902
And just who was this little drummer boy, reported as 10, and then 16 and more accurately – 15 years of age,?:
Among a small party of rescued bluejackets and Royal Marines arriving at Chatham from Holland was a Royal Marines drummer-boy of the Aboukir-Cecil Kneller, aged fifteen, son of a railway porter living at Chatham. He said he was in the water about four hours, supporting himself with an empty rum cask, he was as rosy-cheeked as when he went away. WAR INCIDENTS. (1914, December 8). Clunes Guardian and Gazette (Vic. : 1918 - 1918), p. 4. Retrieved fromhttp://nla.gov.au/nla.news-article135780590
Who was not a Drummer boy but a cadet bugler: Kneller, Cecil, Bugler, CH 18128 - survivors of Abouki - from: http://www.naval-history.net/xDKCas1914-09Sept.htm
________________________________________________
HMS Aboukir was a Cressy-class armoured cruiser built for the Royal Navy around 1900. Upon completion she was assigned to the Mediterranean Fleet and spent most of her career there. Upon returning home in 1912, she was placed in reserve. Recommissioned at the start of the First World War, she played a minor role in the Battle of Heligoland Bight a few weeks after the beginning of the war. Aboukir was sunk by the German submarine U-9, together with two of her sister ships, on 22 September 1914; 527 men of her complement died.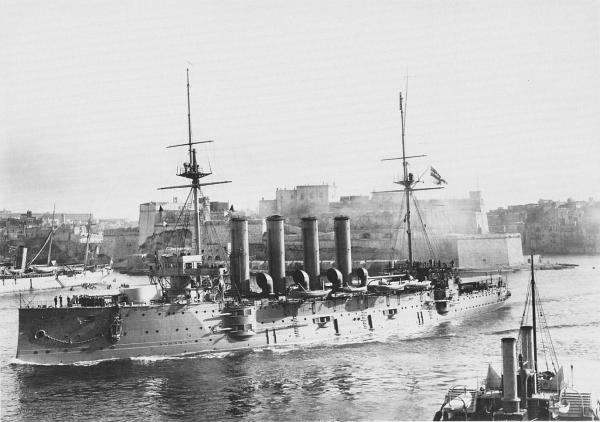 Aboukir was designed to displace 12,000 long tons (12,000 t). The ship had an overall length of 472 feet (143.9 m), a beam of 69 feet 9 inches (21.3 m) and a deep draught of 26 feet 9 inches (8.2 m). She was powered by two 4-cylinder triple-expansion steam engines, each driving one shaft, which produced a total of 21,000 indicated horsepower (16,000 kW) and gave a maximum speed of 21 knots (39 km/h; 24 mph). The engines were powered by 30 Belleville boilers. On their sea trials all of the Cressy-class cruisers, except the lead ship, exceeded their designed speed. She carried a maximum of 1,600 long tons (1,600 t) of coal and her complement ranged from 725 to 760 officers and enlisted men.
Her main armament consisted of two breech-loading (BL) 9.2-inch (234 mm) Mk X guns in single gun turrets, one each fore and aft of the superstructure. They fired 380-pound (170 kg) shells to a range of 15,500 yards (14,200 m). Her secondary armament of twelve BL 6-inch Mk VII guns was arranged in casemates amidships. Eight of these were mounted on the main deck and were only usable in calm weather. They had a maximum range of approximately 12,200 yards (11,200 m) with their 100-pound (45 kg) shells. A dozen quick-firing (QF)12-pounder 18 cwt guns were fitted for defence against torpedo boats, eight on casemates on the upper deck and four in the superstructure. The ship also carried three 3-pounder Hotchkiss guns and two submerged 17.72-inch (450 mm) torpedo tubes.
Aboukir was laid down by Fairfield Shipbuilding & Engineering at their shipyard in Govan, Scotland on 9 November 1898 and launched on 16 May 1900. In March 1901 she arrived at Portsmouth Dockyard for fitting out. She was completed early the following year, and commissioned on 3 April 1902 by Captain Charles John Graves-Sawle.
On the morning of 22 September, Aboukir and her sisters, Cressy and Hogue, were on patrol without any escorting destroyers as they had been forced to seek shelter from bad weather. The three sisters in line abreast, about 2,000 yards (1,800 m) apart, at a speed of 10 knots (19 km/h; 12 mph). They were not expecting submarine attack, but they had lookouts posted and had one gun manned on each side to attack any submarines sighted. The weather had moderated earlier that morning and Tyrwhitt was en route to reinforce the cruisers with eight destroyers.
U-9, commanded by Kapitänleutnant Otto Weddigen, had been ordered to attack British transports at Ostend, but had been forced to dive and take shelter from the storm. On surfacing, she spotted the British ships and moved to attack. She fired one torpedo at 06:20 at Aboukir that struck her on the starboard side; Captain John Drummond thought he had struck a mine and ordered the other two ships to close to transfer his wounded men. Aboukir quickly began listing and capsized around 06:55 despite counterflooding compartments on the opposite side to right her. By the time that Drummond ordered "abandon ship" only one boat was available because the others had either been smashed or could not be lowered because no steam was available to power the winches for the boats.
As Hogue approached her sinking sister, the ship's captain, Wilmot Nicholson, realized that it had been a submarine attack and signalled Cressy to look for a periscope although his ship continued to close on Aboukir as her crew threw overboard anything that would float to aid the survivors in the water. Having stopped and lowered all her boats, Hogue was struck by two torpedoes around 06:55. The sudden weight loss of the two torpedoes caused U-9 to broach the surface and Hogue's gunners opened fire without effect before the submarine could submerge again. The cruiser capsized about ten minutes after being torpedoed as all of her watertight doors had been open and sank at 07:15.
Cressy attempted to ram the submarine, but did not hit anything and resumed her rescue efforts until she too was torpedoed at 07:20. She too took on a heavy list and then capsized before sinking at 07:55. Several Dutch ships began rescuing survivors at 08:30 and were joined by British fishing trawlers before Tyrwhitt and his ships arrived at 10:45. The combined total from all three ships was 837 men rescued and 62 officers and 1,397 enlisted men lost. Of these, Aboukir lost a total of 527 men.
In 1954 the British government sold the salvage rights to all three ships to a German company and they were subsequently sold again to a Dutch company which began salvaging the wrecks' metal in 2011.
Picture: HMS Aboukir, British First World War cruiser. UK Government - Clydebuilt Warships, from UK Government.
HMS Aboukir (1900). (2014, October 14). In Wikipedia, The Free Encyclopedia. Retrieved from http://en.wikipedia.org/w/index.php?title=HMS_Aboukir_(1900)&oldid=629611608
Photo: A Dutch diver prepares to go down 28ft. to the sunken cruiser Aboukir, as United Nations salvage operations get under way at Suez. The cost of Suez. (1956, December 31). The Argus (Melbourne, Vic. : 1848 - 1957), p. 2. Retrieved from http://nla.gov.au/nla.news-article71773829
Kendall is a town on the Mid North Coast of New South Wales, Australia. Kendall was originally named Camden Heads, as it is located on the Camden Haven River. In was renamed Kendall, in 1891, after the Australian poet Henry Kendall, and not, as some tourists suspect, after the similarly-spelled ancient town of Kendal in the County of Cumbria in England. Henry Kendall lived in the area from 1875 to 1881 when he was the first Forest Inspector for New South Wales. The original residents of the Kendall area were the Birpai people. Kendall is located 3 kilometres from Kew and 36 kilometres southwest of Port Macquarie via the Pacific Highway. It's one of seven villages that make up the Camden Haven region of the Port Macquarie/Hastings Local Government Area. Kendall, New South Wales. (2014, January 21). In Wikipedia, The Free Encyclopedia. Retrieved from http://en.wikipedia.org/w/index.php?title=Kendall,_New_South_Wales&oldid=591721041
References
1. Drummer boy (military). (2014, October 31). In Wikipedia, The Free Encyclopedia. Retrieved from http://en.wikipedia.org/w/index.php?title=Drummer_boy_(military)&oldid=631865357
The roll of honour. A biographical record of all members of His Majesty's naval and military forces who have fallen in the war (1916) - includes Australians.