February 21 - 27, 2016: Issue 252
Face to Face with Gargoyles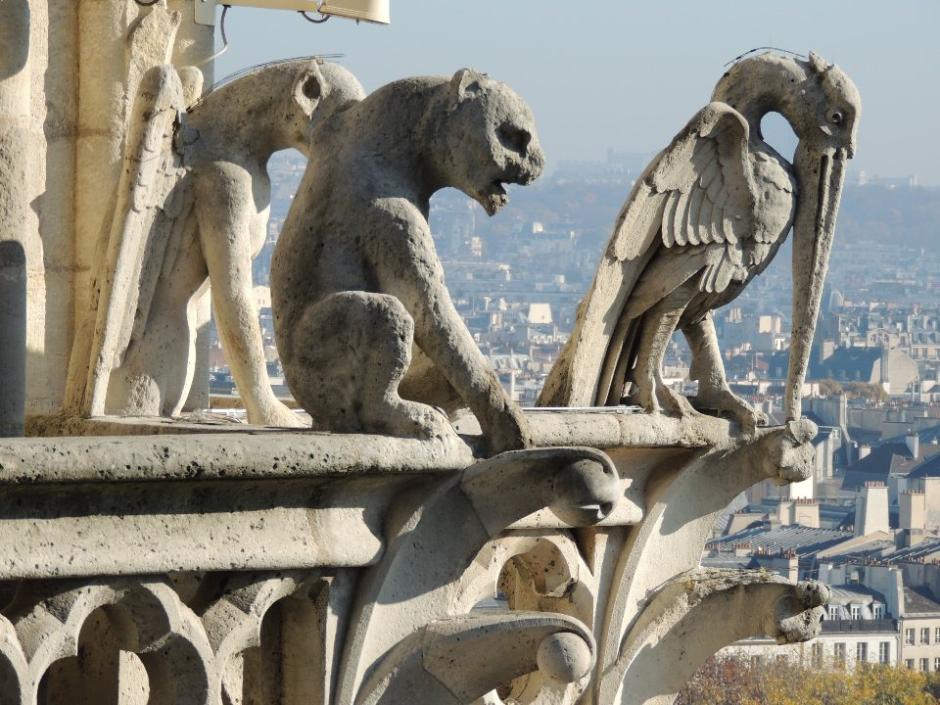 Face to Face with Gargoyles
by Robyn McWilliam
A fascination with cathedrals draws me to the heart of Paris. Early Sunday morning my friend, Gillian, and I cross a bridge to the Ile de la Cité. In cool autumn sunshine we head towards the city's finest Gothic cathedral, Notre Dame.
Notre Dame's façade.
As yet there is no huge line snaking its way from the gigantic portal to the building's dim interior. However, we join a rapidly growing queue flanking the cathedral to climb its towers. We do not realise that on the first Sunday of the month to encourage locals and tourists alike admission is free. French accents abound.
Inside the north tower, 387 worn stone steps spiral up its centre. We emerge onto a walkway and expansive views over Paris. Between the towers, the Galerie des Chimerès, legendary gargoyles can be seen up close. A pelican, captured in stone with two other creatures, stares down at amassing crowds. Fourteen million visitors a year pass beneath their eyes.
We enter the south tower with its crisscross timbers supporting a massive brass bell. Outside, edging along the caged-in walkway, visitors snap photos in every direction before descending. To the north Sacré-Coeur's dome, the Eiffel Tower spearing the sky and below a Seine cruise boat.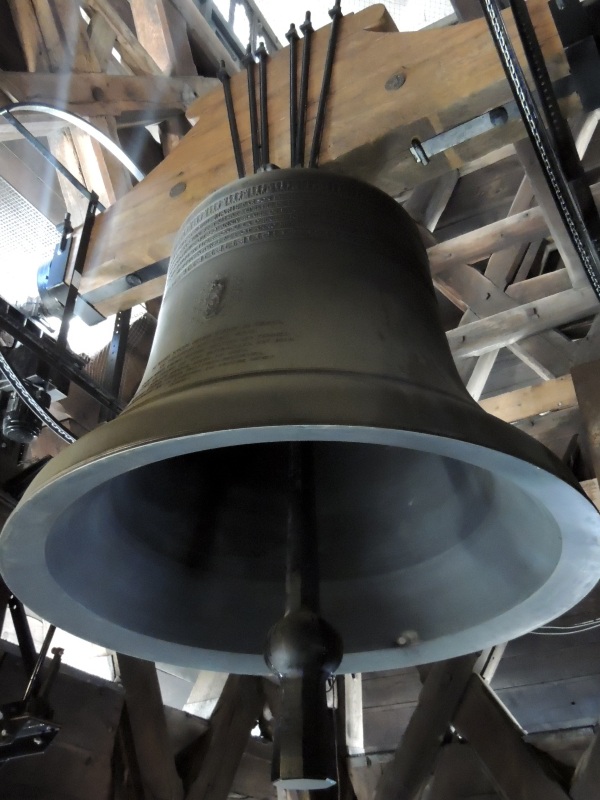 A Tower Bell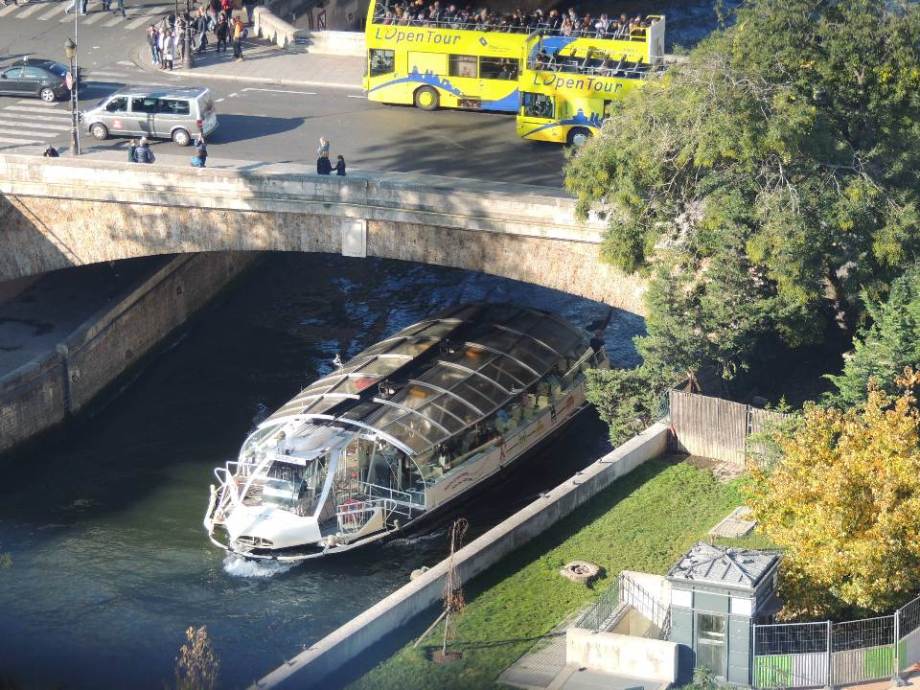 Seine cruise boat
Once inside, my eyes are drawn to the high-vaulted central nave then the rose windows. One of my favourite books, Ken Follett's Pillars of the Earth features the building of a cathedral. An amazing effort for an edifice such as this.
Notre Dame's construction, initiated by Bishop Maurice de Sully in 1163, required 170 years of toil by architects and medieval craftsmen. Its towers completed in 1245 rose 69 metres into the sky and bells were installed at first in the north tower.
With state-of-the-art imaging technology, the French have been able to trace the cathedral's construction and how it has been altered and restored over eight centuries. Revolutionaries in 1793 ransacked the building and banished religion. The cathedral was returned to the Catholic Church on 18 April 1802 in a dilapidated condition. Two years later Napoleon crowned himself Emperor inside.
In 1846 two architects won a competition for a major restoration. They replaced missing statues, fixed gargoyles and raised the spire. So much of France's history is felt in this sombre building. There are friezes of Christ's story. Light enters through blue and red stained-glass windows. Many feature biblical stories. I zoom in on Adam and Eve in the Garden of Eden. A model of Notre Dame on display shows how its flying buttresses support this masterpiece of Lutetian limestone.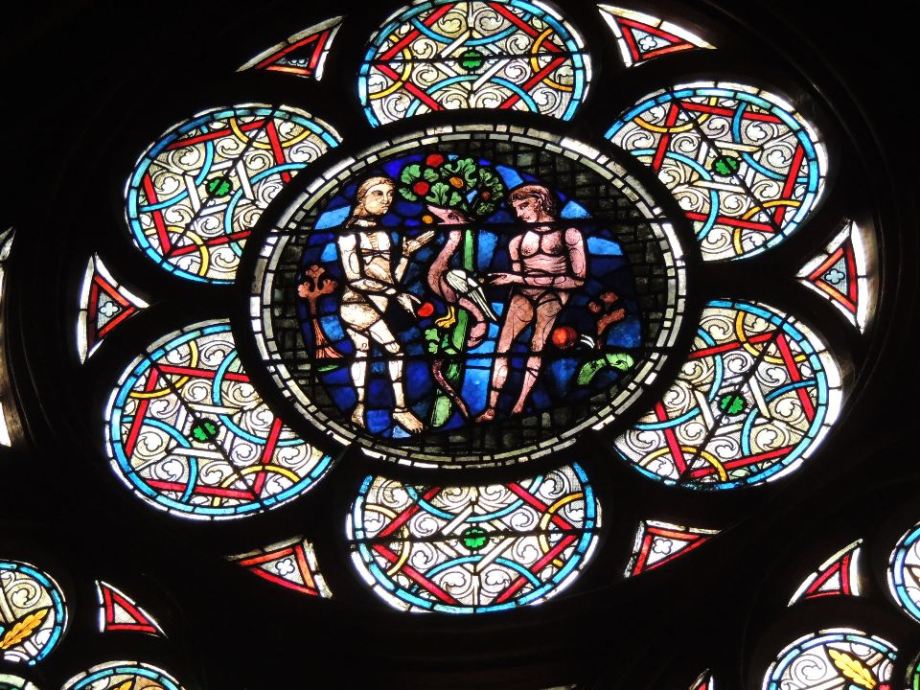 Adam and Eve in stained glass.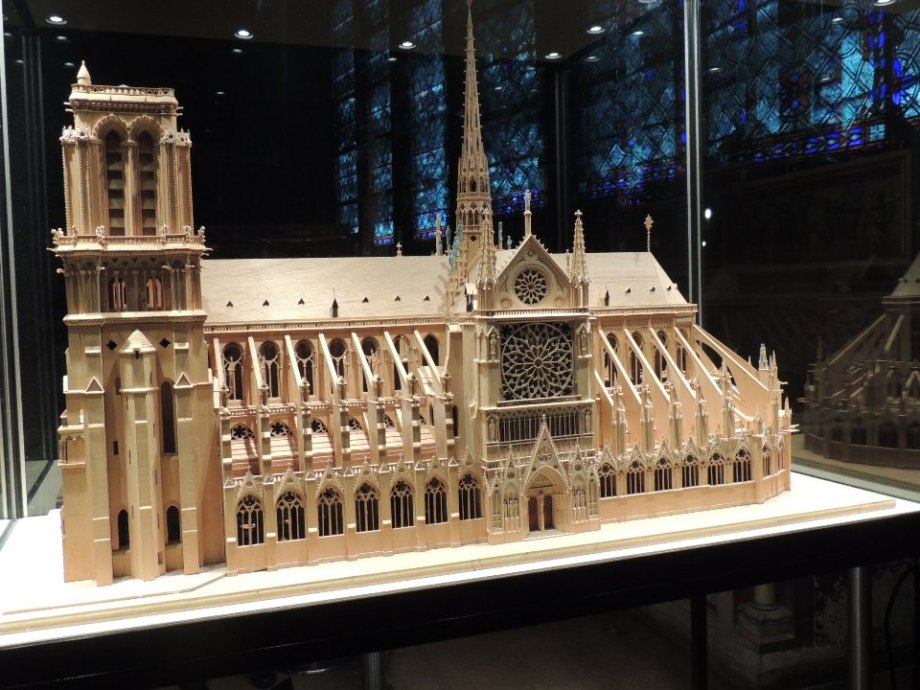 A model on display inside.
I had been in this cathedral five years earlier but was not aware I might climb the towers. A lot of Australians in Europe suffer ABC (another bloody church) but spectacular Notre Dame is not to be missed. It's a slog up the towers but from their giddy heights you'll be rewarded with a unique perspective of Paris.
Article and Photographs by Robyn McWilliam.