November 4 - 10, 2012: Issue 83
E G Constructions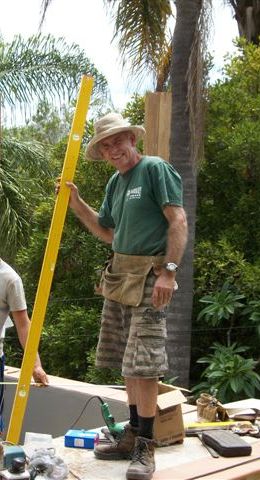 The basis of any business and how good it may be is inherent in whoever began that business, their acumen and approach to their work. Years of experience, training and ongoing education of self contributes to the quality of their product. The shifts and changes they have seen in their industry, particularly if they've worked for decades in one field, is also a record of how an Australian industry changes and how the areas we live in have changed or been shaped by the impact of an industry. Co-ordinating other tradesman with a schedule of work, keeping up to date with changes in law requirements, acquiring further certifications is all part of any field if you are the boss. The Australian Building Industry, where many once had a 'job for life' has changed during the past two generations; projects that once took years must be completed in months, skilled tradesmen undertook further study and became licensed builders. Suburbs where workmen were once instructed to 'use the servant's entrance' a mere fifty years ago are now the same places these gents own homes in. Financial dependence, through pursuing education, has become financial independence. This week we thank Eric Gumley, our main sponsor, for sharing a few insights on construction.
When did you begin your apprenticeship?
Aged fifteen, 1971. This was a carpentry ticket as most males did an apprenticeship then so they would have a trade, become a Tradesman, especially of they weren't seeking further education in the form of a degree. Australia still had a perception of a 'job for life' so men could support their families, as opposed to current employment trends where people may have several jobs or positions during a career. In my early 30's I decided to get my Builder's Licence; hard work on top of a long day but worth it.
What local works did you do as part of this training and once qualified?
Built Maria Regina Church at Avalon with my dad while doing my apprenticeship; this was Mears and Richards project. Everytime I see it I remember how high up we were, laying bricks. Worked on Avalon Retirement Village during the early 1980's; this was a Leighton's project. I also worked on the Lake Euncanbean Spillway during the 1980's, a large project with a big team. This was a big eye-opener and also an intensive 'work only' project as many of the tradesmen had to live in huts nearby. I have also built numerous houses or done renovations throughout Pittwater. It's nice to drive along so many streets and see these homes still standing.
What are the main differences you notice between the Pittwater of the 1970/80's and now in terms of homes?
People want bigger homes. Once the area was mostly holiday cottages but now each block seems filled to capacity. We seem, alongside these structures, to be trying to squeeze more people into less space in other areas.
What is your favourite project and why?
My favourite is at Palm Beach; this was a two storey Architectural design by Stephen Lesuike with unusual uses of hardwoods and steel beams that made a spectacular house for the client. I found the challenges and intricacies of this job satisfying.
If you hadn't been involved in the Building Industry for the last 40 years what you have rather done?
Be a Rock Star! No, I like building, like working with natural products and restore old furniture on weekends. I do also have a great love of music and a guitar collection to match; all of which are played regularly to keep them in tune.
What is your most useful tool?
A combination rotating head mitre saw; these are used for cutting pieces of timber to length. The other would be a hand planer; used for planning wood.
Please describe your ultimate dream house:
High ceilings, open plan living, tiled floors, a swimming pool and spa bath.
What is your favourite place in Pittwater and why?
My home and the waterways. Also Palm Beach because it still has a laid back atmosphere.
What is E G Constructions 'motto' or a working phrase you strive to live up to?
E G Constructions is not only a pun on the initials of my name it also stands for 'an example' and this is what we strive for in our work; to look after the client, to help them with documents and forms and translate complicated terms into understandable English, to finish all jobs to the highest possible standard. A lot of work in this industry comes through word of mouth reference and some jobs are large and involve many aspects. You have to keep your eyes on the details and the whole picture. Building on any scale can be stressful for clients, part of your job is to lessen this stress by keeping them up to date, by helping them understand best possible products, by ensuring their budgets are kept to.

Eric Gumley Ph: 0409 991 697. Email: egconstructions@bigpond.com