February 5 - 11, 2012: Issue 44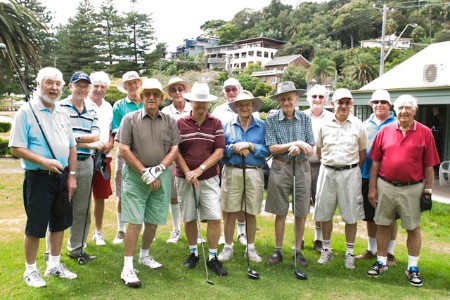 Above: Front row from left Brian Kennedy, Derek Dickinson, Alan Smith. Phil Morgan, John Hackett, Dick Bull, Tony Peacock John White. Back row David Martin, Alan Newton, Peter Marquis, David Buckley. Photo by Michael Mannington.
Below: north end of Palm Beach Golf Course. Photo by A J Guesdon.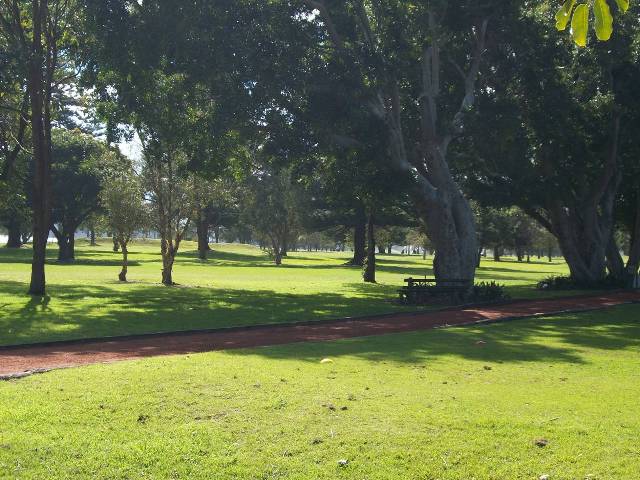 Copyright Brian Kennedy, 2012. All Rights Reserved.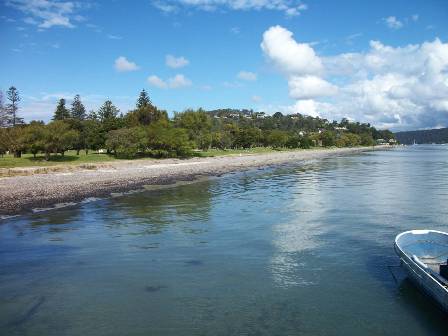 Dad's Army Battles On
By Brian Kennedy
Palm Beach Golf Club founded in 1924 is one of the oldest golf clubs in the Sydney metropolitan area and one of its sub-clubs, Dad's Army, will turn 40 next year. As the name suggests it is a club within a club made up of retired men. The name Dad's Army obviously comes from the popular television show of the same name. A glance through Google shows that a number of other golf clubs have their own Dad's Armies. The Palm Beach branch was formed from two groups. The oldest was founded in 1973 by Arthur Stockman. Its members included Ted Hock for whom Edmund Hock Lane in Avalon is named. Another group began playing on Mondays about the same time. It included the late Albert Sims the founder of Sims Metals. One member of this group Erwin Brurer is still a member of Palm Beach Golf Club. The second group was a little younger at that time and referred to the older slower group as Dad's Army. The older group adopted the name as a badge of honour. In 1978 the two groups amalgamated and the club within a club has been thriving ever since.
Back when it was founded in 1973 many of the members were in fact returned servicemen but the years have taken their toll. Dave Palmer, who served with the Australian Navy during World War II, retired from golf in 2011 just a year short of his 90th birthday. Today only a few members can claim any connection with the armed services. Alan Smith served in the Royal Australian Air Force in post-war Japan. Graeme Camier, a retired pilot with Cathay Pacific, began his career with the RAF. John Hackett a retired engineer and an active member of Avalon RSL has fond memories of his time as a national serviceman in the 1950s . Col Casey, a Bilgola Plateau resident who retired from golf in 2011, also served with the RAAF. A recently joined member Martin Burton also served in the air force.
A tradition has grown of presenting members with a bottle of Scotch on their 80th birthday. Recipients in the last few years have included Alan Smith, the retired RAAF member, Dick Bull, a retired doctor, and Peter Marquis, a retired businessman. Coincidentally these three men went to Shore together and met up again when they moved to Pittwater after retirement. Other active octogenerian golfers include Bill Kearney, a retired builder, Don McFarlane, a retired plumber, and John White, a retired engineer. Alan Newton, a retired executive with Rolls Royce aircraft engines will receive his bottle of whisky in March. As the list indicates a wide variety of occupations is represented. The membership of 30 men also ranges in age and includes men in their sixties, seventies and eighties. Many are members of Palm Beach Golf Club but this is not compulsory. The group meets every Monday at 11.30 and welcomes new members. Further information is available from Brian Kennedy phone 99180937 or Dave Buckley 9974 5320.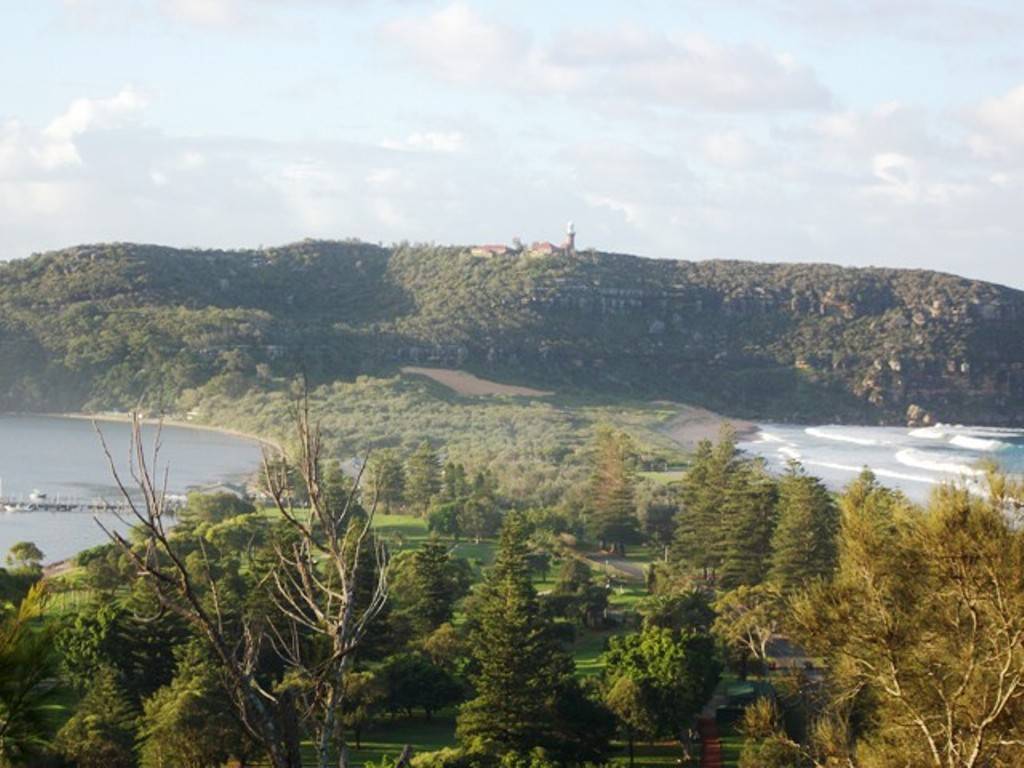 Palm Beach Golf Course viewed from Sunrise Hill in late afternoon salt haze. Photo by A J Guesdon.