March 1 - 7, 2015: Issue 204
Concerns Over On Water Speed Regulations at Middle Harbour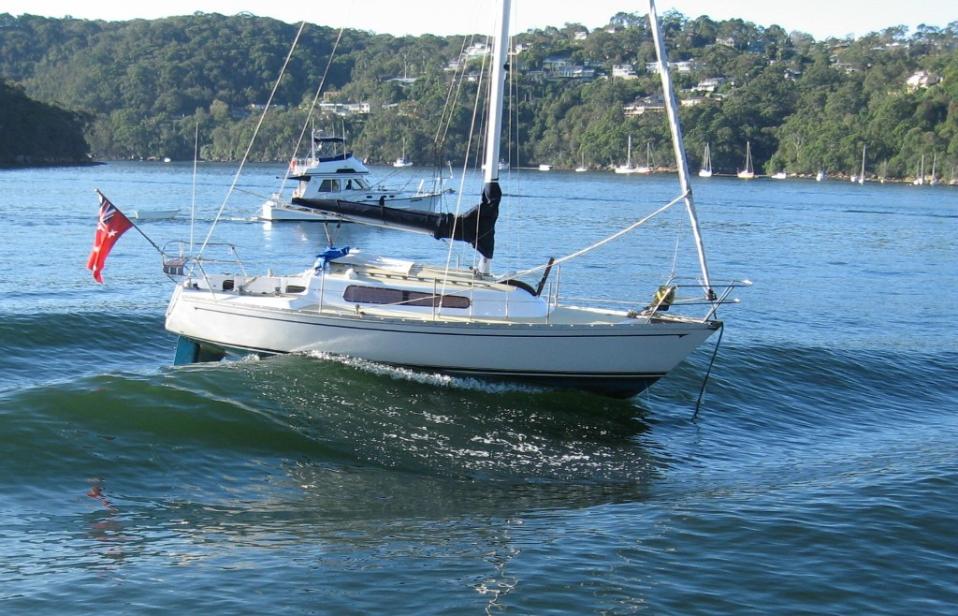 Stink-boat waves rock the boat - inconsiderate cruiser owners
Concerns Over On Water Speed Regulations at Middle Harbour
By John Vaughan
A comparison of the speed restrictions applying Pittwater compared to Middle Harbour (see RMS maps below) show a disparity that is causing problems on one of our sister waterways.
The environmental and safety speed regulations on Pittwater make for responsible boating whereas on Middle Harbour most of the precious waterway is open slather allowing large cruisers to create a surf-like wash. This excessive wash is dangerous and destructive for users of kayaks, dingys, rowing sculls etc and in particular for the natural and built environment. Sea grasses are retreating, mangroves and the shoreline being eroded and aboriginal heritage being desecrated.
As a long term boat owner on Middle Harbour I treasure the environment on, in and adjacent to our uniquely beautiful and rare waterways.
The last few years has seen the usage of upper Middle Harbour increase dramatically.
Large cruisers used as ski-boats are a common sight on weekends as is the rafting of multiple vessels on single RMS moorings in precious areas such as Bantry Bay.
In summary many boat owners and time-share skippers do not seem to know or care about fellow waterways users. There is a rapidly diminishing adherence to good manners afloat to the point where tempers are frayed, the natural and built environments are being severely damaged and the irreplaceable Aboriginal heritage is being irreparably damaged and destroyed.
The excessive wash from large vessels driven at speed or without proper trim often creates surf-like, multitudinous waves has become unbearable for users of many small and medium sized boats.
The lack of etiquette afloat coupled with the increasing usage of the Middle Harbour waterways has created a most dangerous situation where someone could be hurt or killed.
Motor vessels over 6 metres in length need to be restricted to a maximum speed in Middle Harbour of say, 8 knots and NO WASH restrictions effectively enforced and offenders penalised. To save manpower, perhaps solar-powered cameras should be placed on strategic Port and Starboard pylon markers, for example the Port marker opposite the entrance to Bantry Bay.
Most importantly to my friends and myself is the devastation and destruction of Aboriginal cultural sites such as middens caused by excessive, frequent and unnecessary wash.
As the population and prosperity of the people of greater Sydney increases, the toll on waterways, such as Middle Harbour is becoming disastrous.
Action needs to be taken now with a maximum speed on Middle Harbour of 8 knots for all craft over 6 metres in length and NO WASH restrictions must be diligently enforced.
_________________________________________________
If you too are concerned about this matter, please voice them to: Neil Patchett, Manager, Stakeholder and Community Engagement, Maritime Management Centre (Transport for NSW): or provide feedback on the RMS website HERE
www.rms.nsw.gov.au/documents/maritime/usingwaterways/maps/boating-maps/9d-middle-harbour.pdf : You can enlarge these to see restrictions currently in place
www.rms.nsw.gov.au/documents/maritime/usingwaterways/maps/boating-maps/9a-pittwater.pdf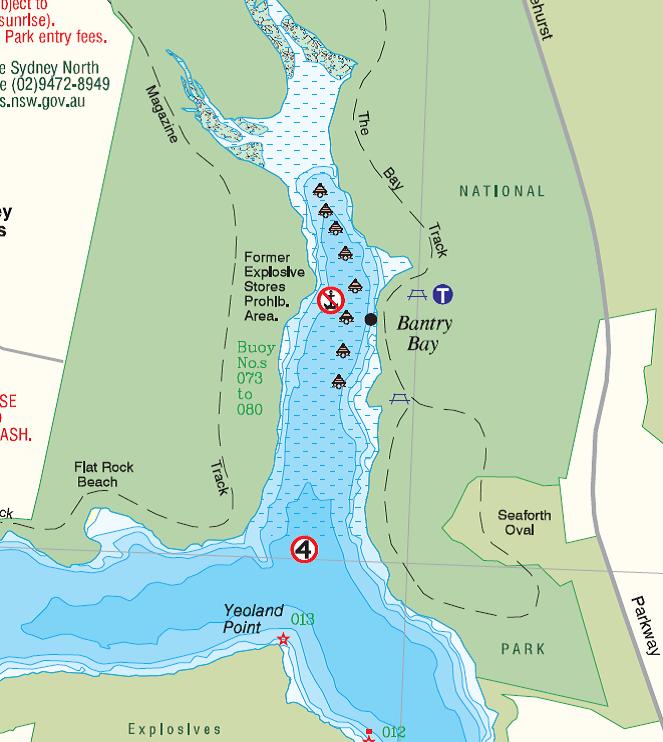 Bantry Bay section from RMS Map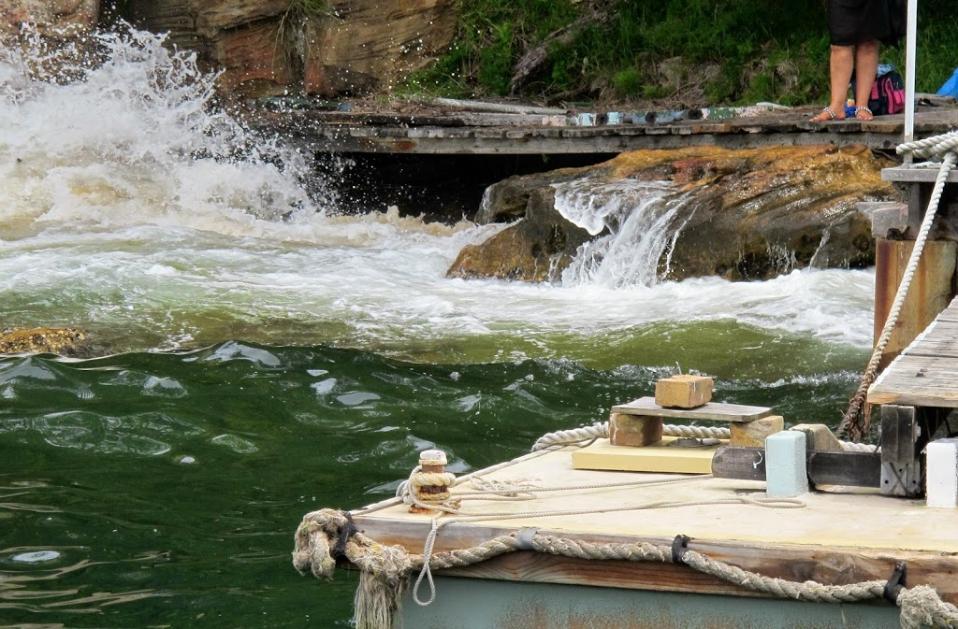 CASTLECRAG - Waves behind pontoon.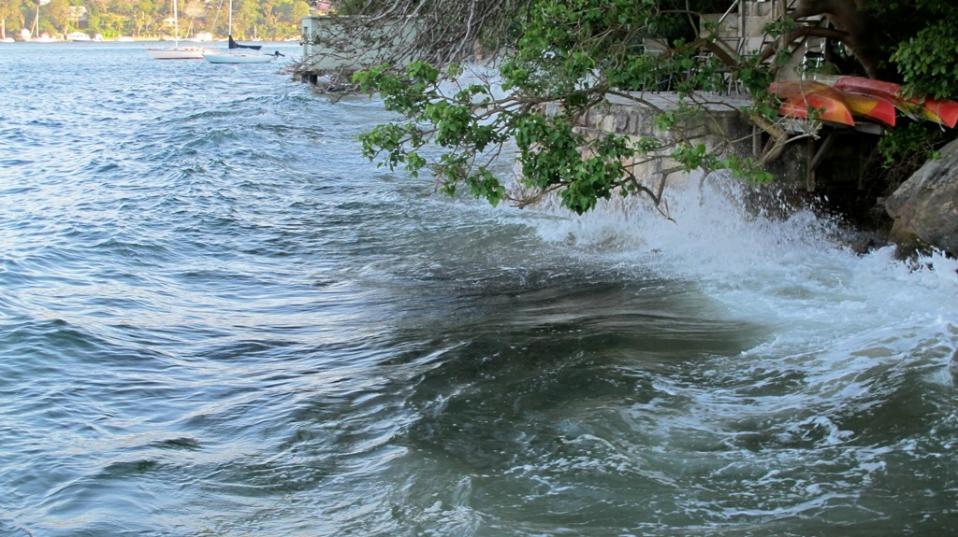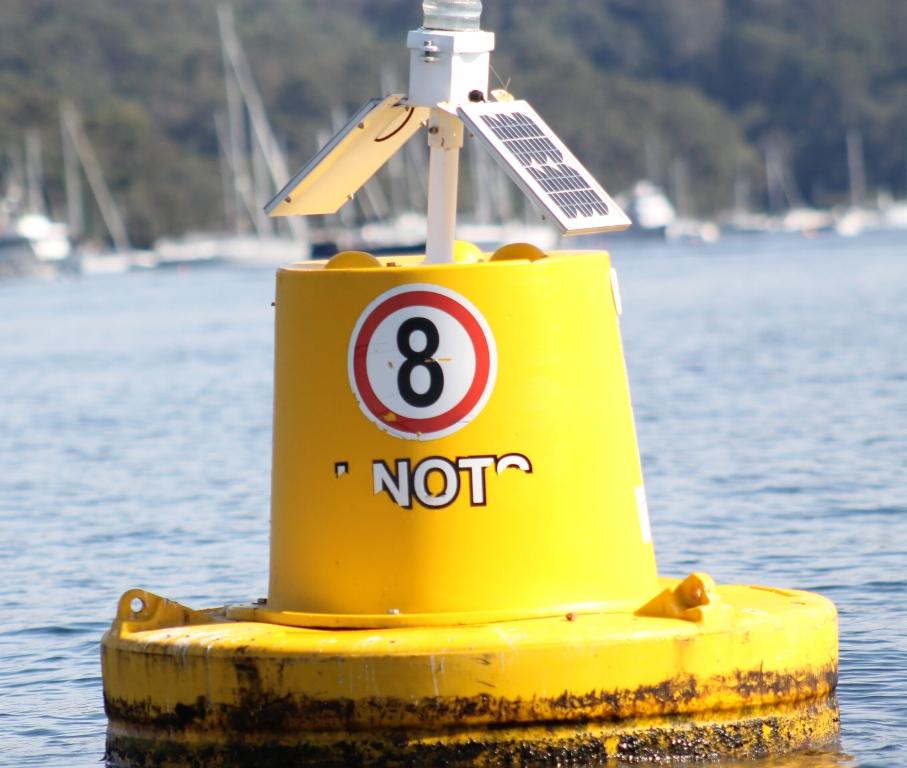 Pittwater - inshore indicator off Bayview
Navigation marks and signs
from RMS Website
Speed signs
In some areas, speed restriction signs are used for safety reasons in NSW. These usually show four or eight knots.
Wash
The operator of a vessel must not produce wash that causes unreasonable damage or impact to:
Any dredge or floating plant
Any construction or other works in progress
Any bank, shore or waterside structure
Any other vessel, including a vessel that's moored.
In the event this rule is not adhered to, penalties apply.
No Wash signs
'Wash' is the wave effect created by a vessel moving through the water. 'No Wash' signs are placed in some areas where the wash from a vessel is likely to cause damage to the foreshore or vessels, or injury or annoyance to people.
Restrictions exist for boating traffic passing under the Spit Bridge on Sydney Harbour.
Travel at a speed which creates minimal wash when you see this sign and when near moored or anchored vessels. Look behind occasionally to see if your boat is creating wash that affects other boats or the shore. Adjust your speed if necessary.
Regardless of signs, you should never navigate your vessel in such a way that excessive wash endangers other vessels or causes an unreasonable impact. Roads and Maritime considers this an offence and therefore penalties apply.
Travelling at the speed shown on a speed restriction sign does not guarantee that you're not creating wash
John Christian Vaughan is a Sydney historian, vexillographer and public speaker. He is the former CEO of the Royal Australian Historical Society.
Among his other credits, he is the national spokesperson for the Australian National Flag Association and was employed as an expert commentator by Channel 7 for the First Fleet re-enactment during the Australian Bicentenary in 1988.
Article and Images by John Vaughan, 2015