August 2 - 8, 2015: Issue 225
Changing of the guard at Avalon Beach SLSC: New President and Director of Lifesaving (Club Captain)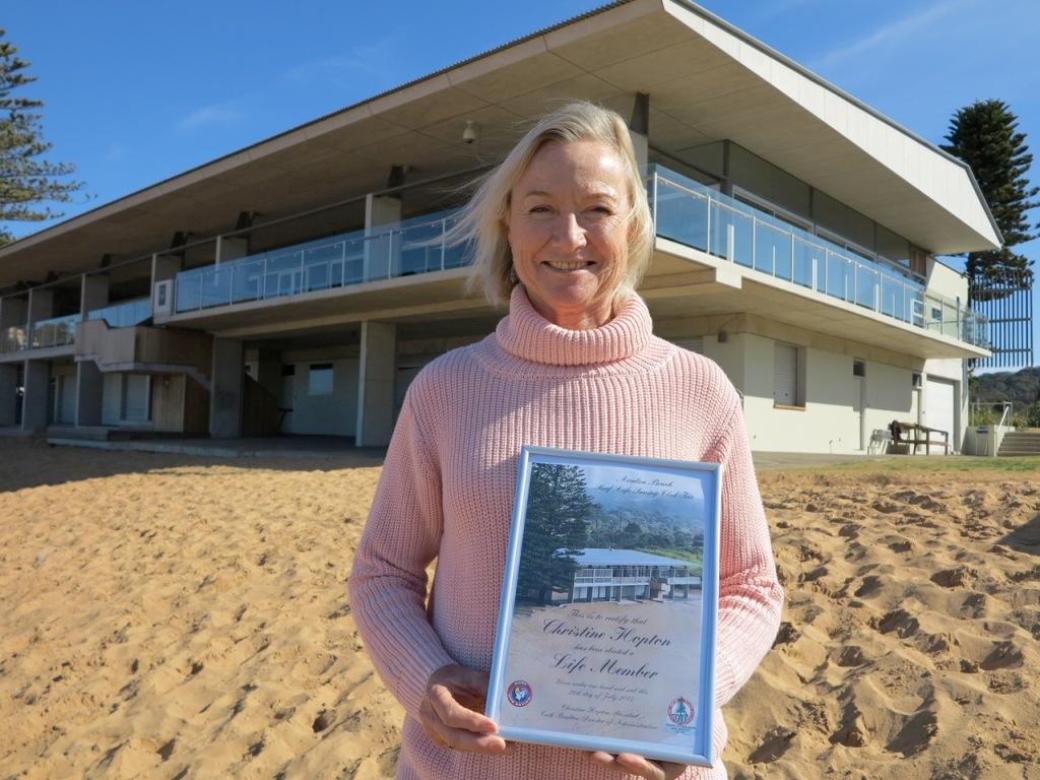 Christine Hopton - Life Membership of Avalon Beach SLSC
Changing of the guard at Avalon Beach SLSC – New President and Director of Lifesaving (Club Captain), Life Membership and 20 Years Awards
Avalon Beach SLSC's AGM held on Sunday 26 July 2015 was well attended. The club's lounge area was filled with members and guests, including the local Federal Member the Hon Bronwyn Bishop, Councillor Bob Grace representing the Mayor.
Christine Hopton stood down after eight years as the Club President. Members unanimously supported the nomination of Richard Cole as President. Richard thanked Chris for her outstanding service to the Club as President.
Richard Cole is a patrolling member, IRB competitor and was an integral part of the development of the new facility.
Richard, an architect, was heavily involved in the club's redevelopment and worked closely with Christine Hopton and her husband Robert on the project.
''Christine said she would always step down as President once it [the building] was complete,'' Richard said. ''She nominated me [for President] and I was very honoured.
''Christine has done all the hard work. It's a fantastic club, there's a great team there and we are on an upward trajectory.''
Richard is heavily involved in the IRB's and has just completed his first year as a driver. Like a lot of parents do, Richard Cole became involved in surf lifesaving when his son Christopher joined Avalon Beach Nippers. From Age Manager to Club President in 12 years. The Club is in good hands.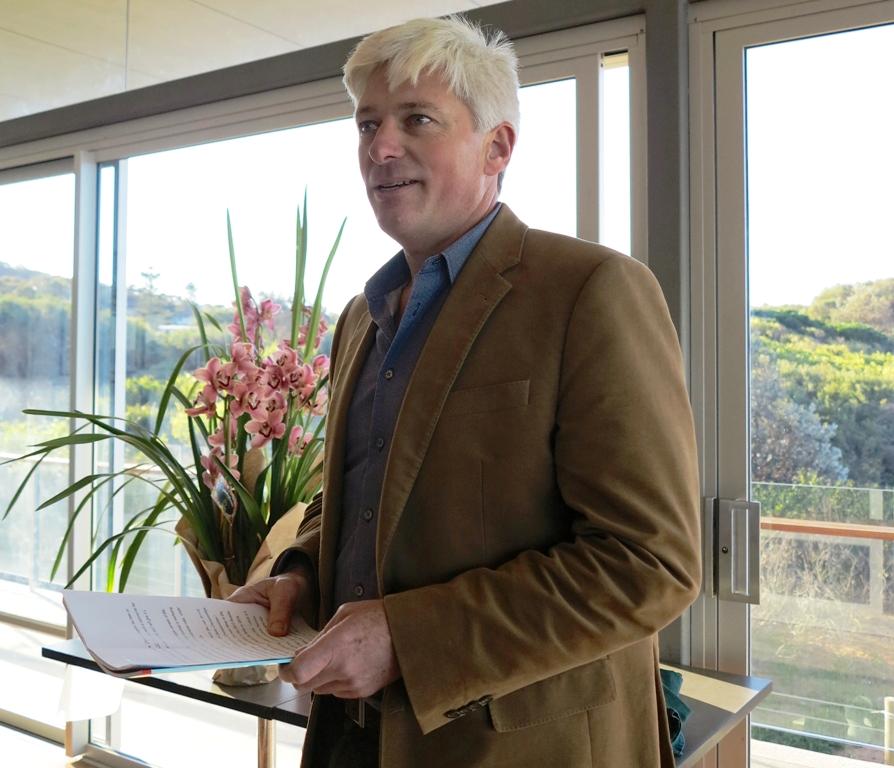 Richard Cole
Melissa Hall is the new Director of Surf Life Saving, Club Captain, and she brings a number of skills to the role including her Gold Medallion the highest award for surf lifesaving proficiency. Both Michelle and Richard are IRB drivers.
Nathan Wellings had stepped in as Acting Club Captain after Steve Parkes had a horrific road accident just before the start of last season. Steve's wife Jenny presented a new award, the Steve Parkes Award for Innovation in Training, to Mike Stanley Jones. Mike does an amazing job especially in engaging with younger members training for their Bronze Medallion, who by their increasing numbers clearly appreciate his methods and enthusiasm. This award is open to any member of our Club who strives for excellence in education on the beach.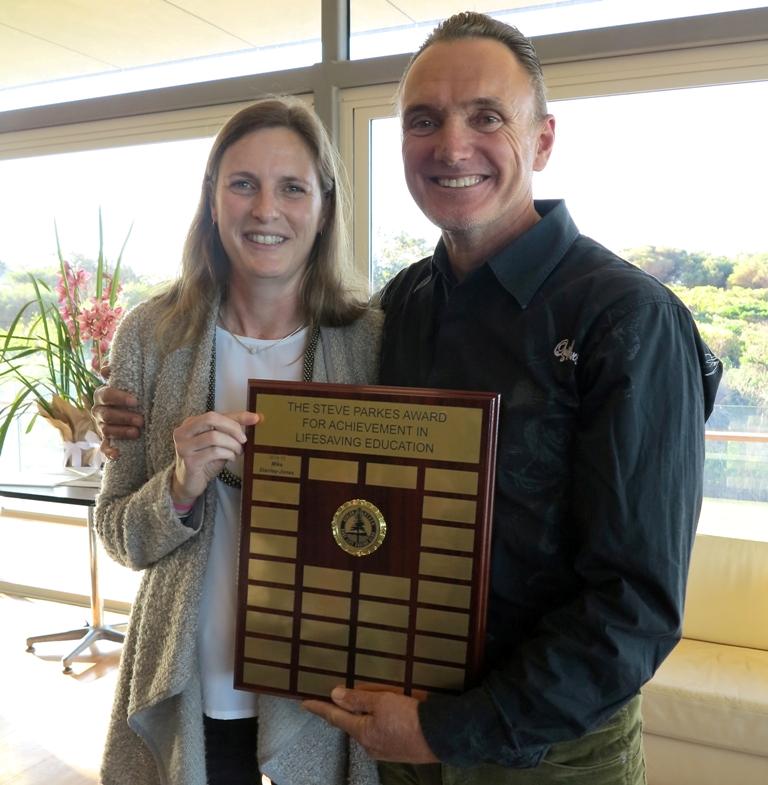 Jenny Parkes with Mike Stanley Jones
The Club's Life Members Committee, chaired by Michael Byrnes OAM, unanimously reached the view, which was heartily endorsed by members' votes at the meeting, that Chris should be awarded with the great honour of Life Membership of the Club. She will continue serving the club in a number of capacities.
Avalon Beach SLSC is very fortunate in having a large number of members willing to serve the club, and through it the community of which the surf club is an integral part. The surf club is a focal point for the local community.
The prestigious award of Life Membership was also conferred on the Club's Vice President Peter Carter. Pete has provided sustained and outstanding service to the club over the 36 years he has been a member. Peter joined the club as a 4 year old Nipper and after gaining his SRC, Bronze and IRB Drivers became Junior Club Captain and was awarded the Junior member of the Year in the 92/93 season. Pete has been rowing for the Club since the mid 90's and has won Gold at State and Nationals.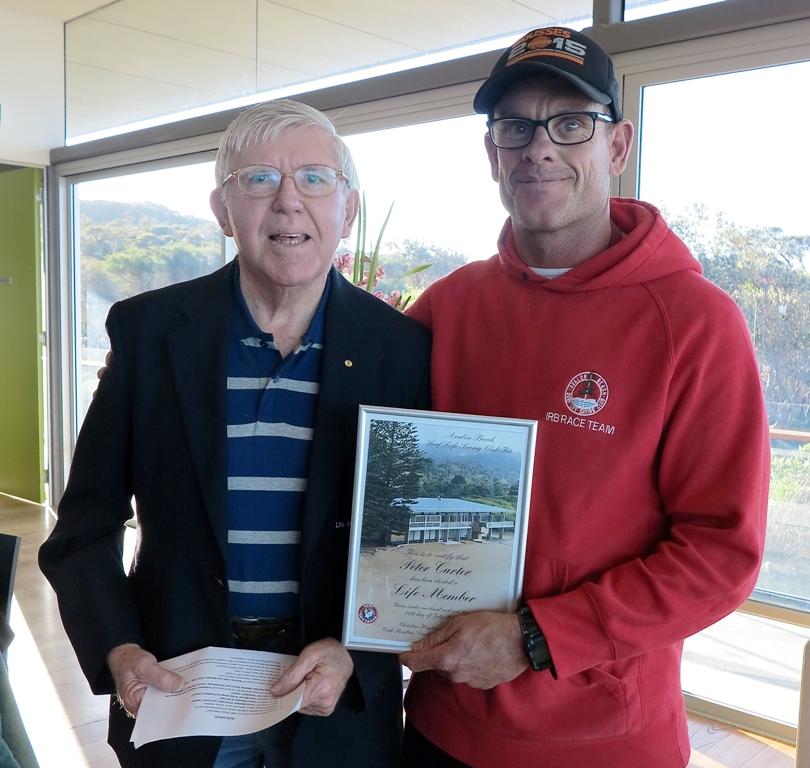 Michael Byrnes OAM with Peter Carter.
He has been awarded the President's Award, the Norman Cook Club member of the Year and the Award of Courage and is Vice President of the Club. Pete was presented with Life membership by Michael Byrne OAM who is the Chair of the Life Membership and Service Honours Awards Committee.
Distinguished Service Awards were presented to two former Presidents of the club who continue to provide outstanding service to the Club - Mark Heffernan and Wilson Gamble. They are the club's inaugural recipients of these well deserved awards.
20 year awards for active service at Avalon Beach SLSC were presented to:
Rob Dieters, Wilson Gamble, Mark Heffernan, Nathan Wellings , Michael Luke , Geoff Searl, Nick Wood, Shaun Wolthers, Tim Hixson , Warwick Wilcoxson
The Club's annual report which outlines its successes and activities over the past year was presented at the AGM. It is available here: avalonbeachslsc.com.au/2015/07/ABSLSC2015AnnualReport.pdf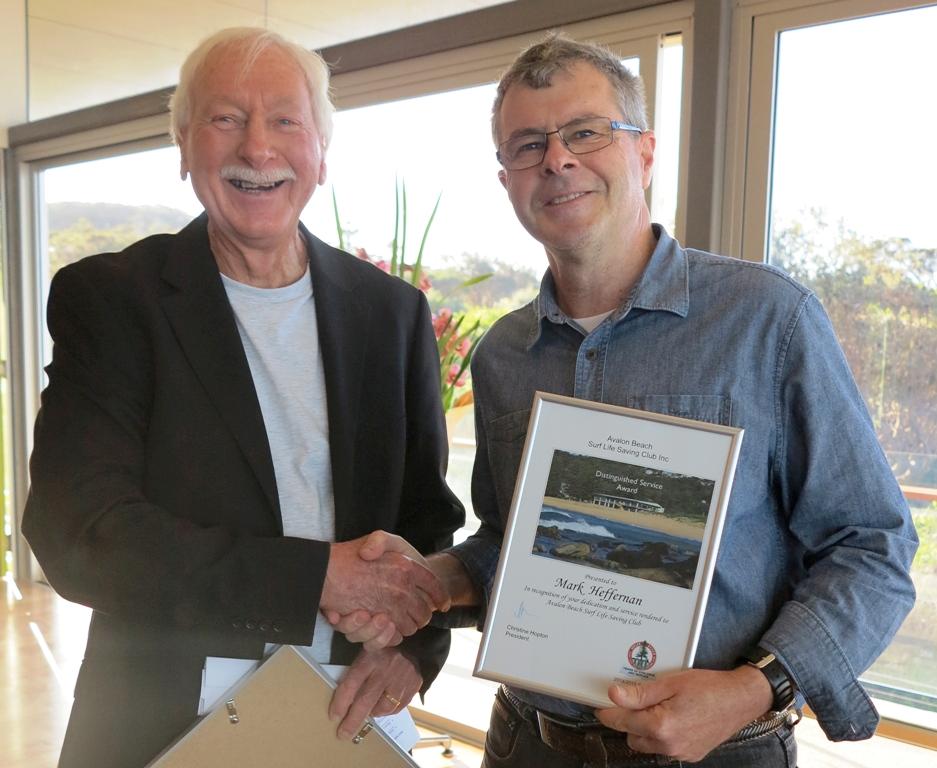 Roger Sayers with Mark Heffernan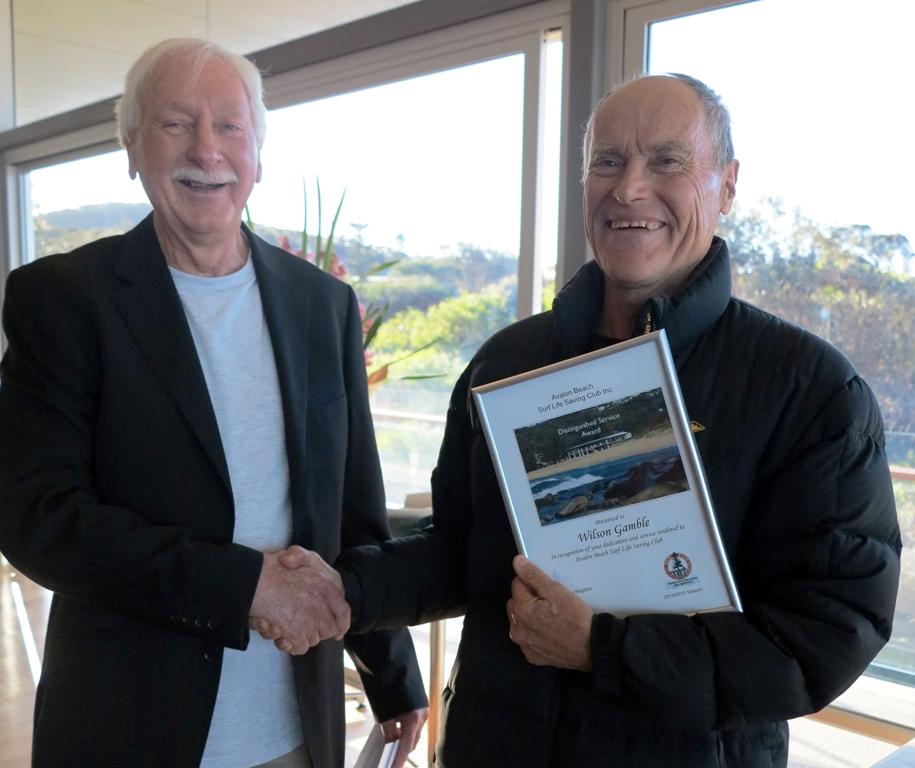 Roger Sayers with Wilson Gamble
___________________________________
Christine Hopton, who after 8 years as President of Avalon Beach SLSC, has stepped down as President, is the first female Life Member at Avalon Beach SLSC. Christine's dedication and outstanding service to the Avalon Beach club, our community and Surf Life Saving Australia, was recognised in 2014 when she was named Pittwater Woman of The Year by Pittwater MP, Hon. Rob Stokes at the annual Women's Day breakfast hosted by Zonta Northern Beaches at the Royal Prince Alfred Yacht Club.
Chris is also an outstanding athlete, teaming up with Newport SLSC members Eva Channells and Lise Barry to win medals at World, National and State level in Masters. We spoke to the lady after her presentation to congratulate her:
What are the highlights of your eight years as President of Avalon Beach SLSC?
There are many but one of the most satisfying of being involved in Avalon Beach SLSC has been to see just how much it has grown in the community sense. It is just such a focal point in the Avalon Beach community now, particularly with the Kiosk and the Restaurant open. I've been down there everyday and there are crowds of people looking at the beach, whales and dolphins. We have 1200 people involved in our club now and this is a massive increase from 8 years ago when we had around 400 members. Apart from this growth I love the fact that it is now so engaged with the rest of the community as opposed to being a little club on the beach that nobody took much notice of unless you were involved.
One of the highlights would be to see the youth that is retained by our club. There has been some fantastic work done by Mike Stanley and Jeff Nesbitt and their crew. The number of young kids that have stayed engaged with the club, using the Cross Fit gym, patrolling, doing some wonderful activities is really a testament to the trainers that we have currently at the club.
Are you going to get a bit of time to yourself now?
I'm staying on as Sponsorship and Marketing Officer as that's my background in the work sphere. I've had all these ideas for years but haven't been able to do these due to other work commitments. Now I can look at the ways we can engage with local businesses and people and get others involved. Even if they are not members of the club they can assist the club in its endeavours to keep the beach safe and train our youngsters.
Your fitness levels seems to be constantly going up and now you're teaching yoga at dawn a few mornings each week?
I am. I did my Level One Teacher Training with A Fine Balance last year and am now teaching at the Surf Club one day a week and at the Avalon Yoga Studios two days a week. I'm using the yoga as part of the warm-up exercises for our Masters group that trains on Saturday mornings. I'm also doing Swimming Training now at the Barrenjoey Swim School in Patrick street and teaching youngsters three to four mornings a week teaching those from the age of around 3 upwards to 10 or 11. It's wonderful dealing with children and seeing hw they progress in the water even after a few weeks when their confidence is built up.
Last year I decided to give away the computer and office jobs and go more into wellness and health so yoga and swimming obviously ticked those boxes.
Does the yoga help balance the physical aspects of the competition sports you go in?
Absolutely. The job as President, as you can imagine, was very very full on and quite stressful, during the last 12 months particularly so with me having to go to court on numerous occasions due to our local vexatious litigant and trying to get the surf club building works finished, all the documentation and meetings, all that was involved. Doing the yoga helped me keep my equilibrium. In practicing this everyday I found it changed my whole way of thinking and kept everything a lot calmer. It's also such a great way to energise your body and calm the nervous system, as well as build strength and endurance. People may think it's just a bit of stretching but there is a very strong practice involving mind, body and breath which is very important. This is a mindful activity which promotes grounding and centering in people. I find quite a few of the paddlers are now coming to the classes and are feeling the benefits and understanding that there is more to an hour's yoga practice that helps them with more than just fitness.
____________________________________
Those wishing to join one of Chris's yoga classes can contact her via email at: chopton@icloud.com
The opening of the new Avalon Beach SLSC immediately followed the 89th AGM at which Kevin Veale was granted Life Membership - Warren Young's pictures included a photograph of this gentleman - from the 2015 Annual Report of the Avalon Beach SLSC
Life Member – Kevin Veale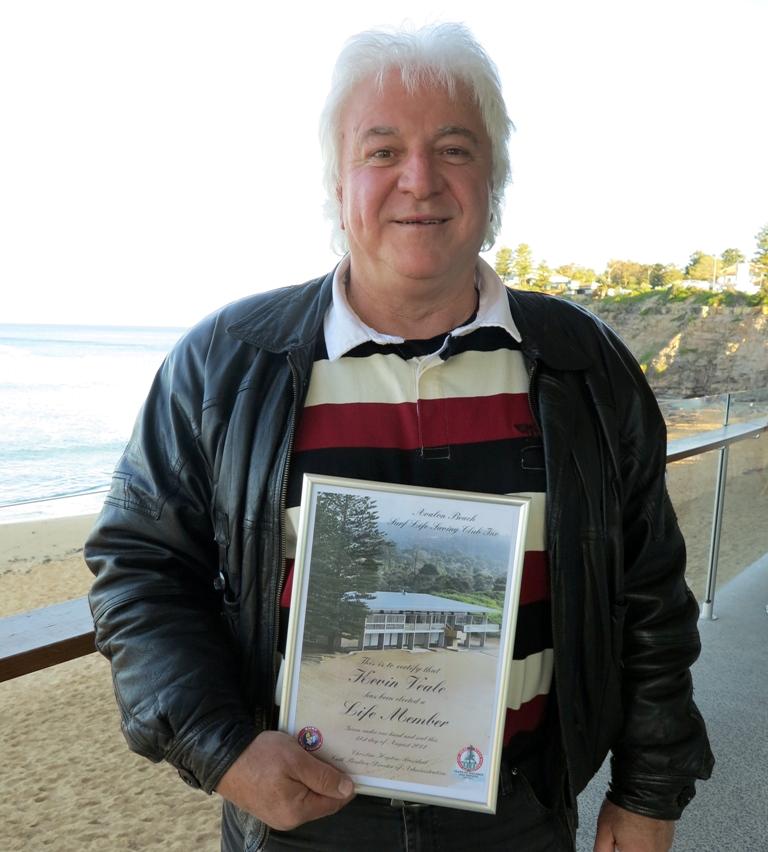 Kevin Veale is a long serving member of our club achieving sustained and conspicuous distinguished service over than 25 years. He obtained his Bronze Medallion and commenced patrols at Avalon Beach during the 1990/1991 season and has patrolled the beach every season since. In 1992 he was appointed Captain of Patrol 10, and continued to captain a patrol for at least the following 10 years.
In the 1991 Kevin was elected Treasurer of Junior Activities Committee before moving in as Senior Club Treasurer taking over from Michael Byrnes in 1994, remaining in that position until the end of the 1999/2000 season. After a year's absence he again took on the role and assisted as Alternative Treasurer during the following three seasons.
As well as carrying out these roles, Kevin was also the Radio Officer. He has remained in that position ever since, a total of 21 consecutive years. The requirements of this position are not only to buy and service the radios, but also to ensure that enough are serviceable every week throughout the patrol season. During the running of our annual Ocean Swim the importance of radio communication is paramount to set the course, coordinate rescue and first aid needs and to align the start and finish of the event to allow the places and times to be worked out. Throughout years he has been Radio Officer, Kevin has had responsibility for coordinating this aspect of the event.
In 1998, ABSLSC ran the National IRB Championships. Kevin with his financial background and radio knowledge was on the organising committee for that very successful event.
In 1996 ABSLSC won the 'Most Outstanding Club' award at the annual Surf Life Saving Sydney Northern Beaches awards. Kevin, as Treasurer of the Club, was part of the successful committee behind that award. In that same year the Club Captain's Report in the club annual report records an 'out of hours preventative action' that he carried out with Peter Fraser.
Kevin has carried out these multiple overlapping committee, equipment, and patrolling roles with dedication, thoroughness, and without complaint. He has given generously of his time over those 24 years, and one only has to contemplate who would have filled those roles if he hadn't to realise that in Kevin we are very fortunate to have a long serving and devoted member.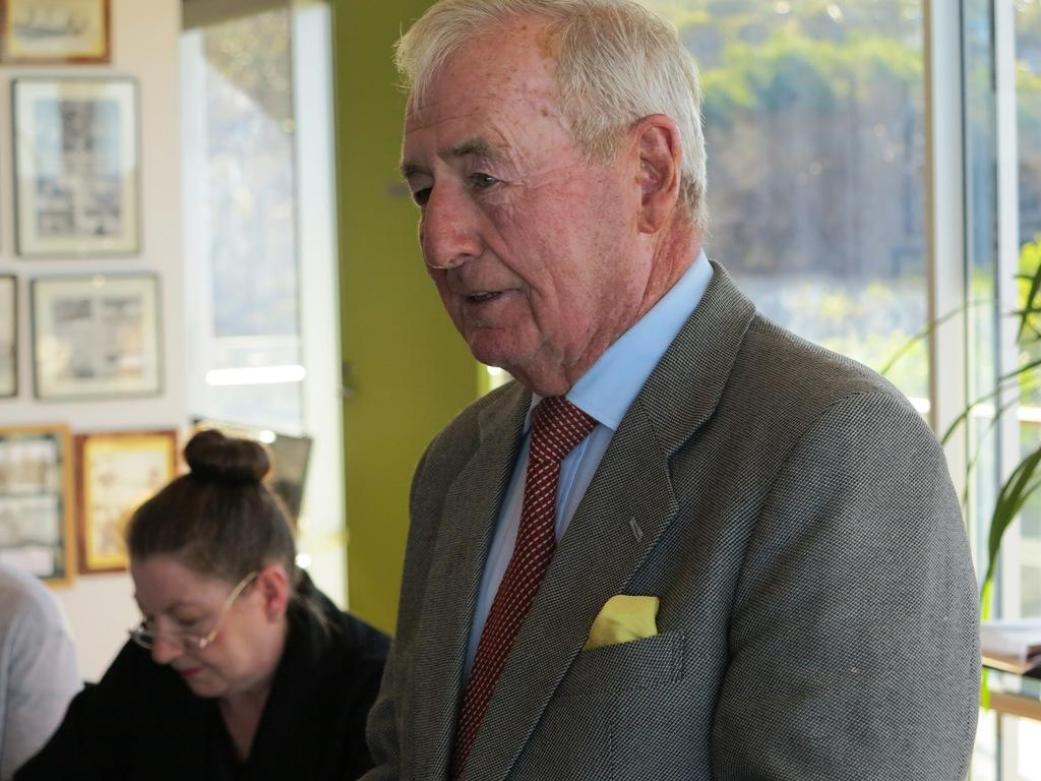 Pittwater Councillor Bob Grace
Report by Roger Sayers, Photos by Warren Young OAM - Christine Hopton Interview by A J Guesdon, 2015