December 25 - 31, 2011: Issue 38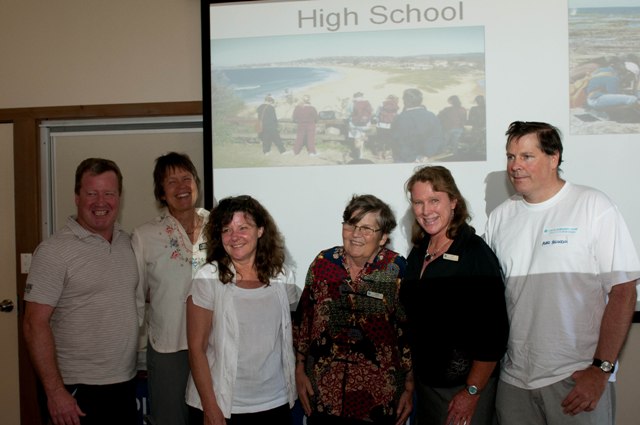 Mark Ferguson with CEC team members Sharon Kinnison, Joanne Tulau, Cathy Hemery, Toni Wilson and Mark Beharrell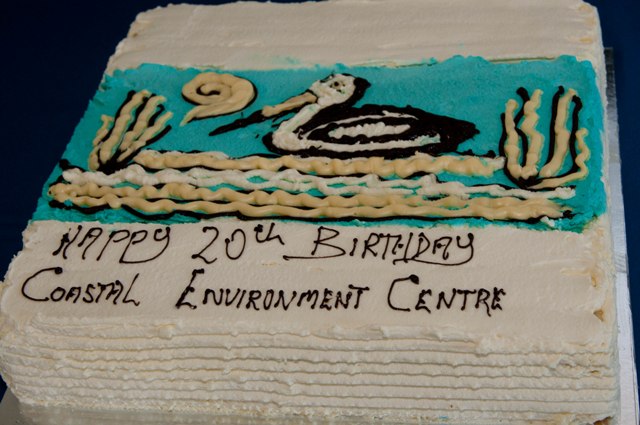 Pelican cake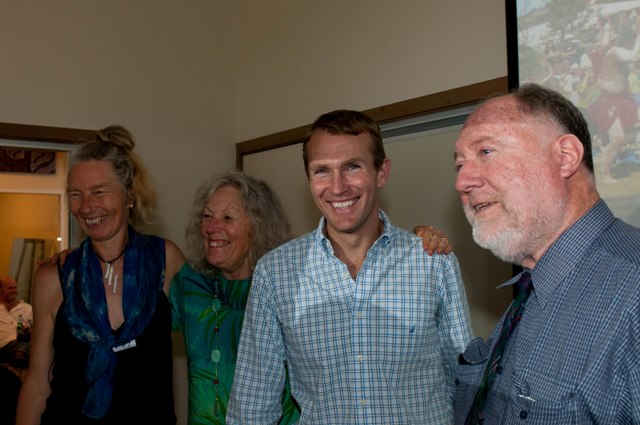 Member for Pittwater Rob Stokes with Pittwater Mayor Harvey Rose, Warringah Councillor Connie Harris and Director of the Manly Environment Centre, Judy Riezes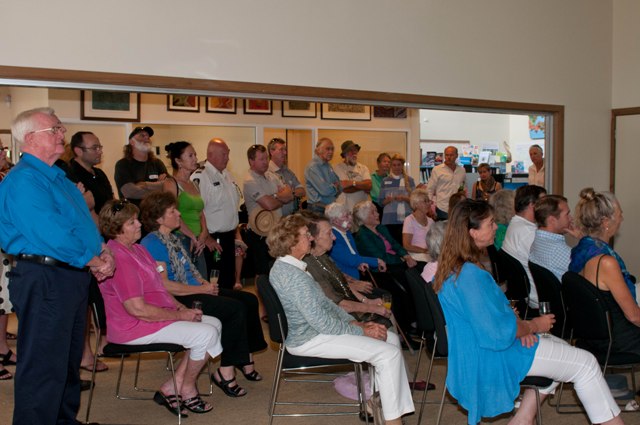 Guests at the function
Words copyright Joanne Tulau 2011. Images copyright Michael Mannington, Volunteer Photography, 2011.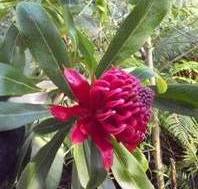 Pittwater's Coastal Environment Centre Celebrates 20 Years of Service
by Joanne Tulau
Sustainability Engagement Officer
Natural Environment and Education Unit
Pittwater Council
Pittwater Council's Coastal Environment Centre (CEC) at North Narrabeen celebrated 20 years of community environmental education on Saturday 10 December on the lakeshore at Narrabeen Lagoon. The birthday bash included a pelican cake, entertainment and support from around 120 friends, supporters, staff and volunteers both past and present.
The CEC was officially opened on 13 December 1991 by the then Premier Nick Greiner and the Mayor of Warringah, Councillor Brian Green. The Centre passed to the newly constituted Pittwater Council with the secession and has grown to become Pittwater's environmental flagship and a highly regarded regional community environmental education centre with a string of awards to its credit.
Cr Green was among the guests who heard an overview of the Centre's history, importance and achievements over 20 years from Joanne Tulau who managed the Centre from 1997 – 2009. Council's Natural Environment and Education Manager, Mark Beharrell shared some thoughts on future directions for the Centre.
Also present were the Member for Pittwater Rob Stokes, Pittwater Council's Mayor Harvey Rose, Councillors Jacqui Townsend, Julie Hegarty, Bob Grace, Ian White and Council's General Manager, Mark Ferguson. Warringah Council was represented by Cr Connie Harris. The inaugural Manager, Robyn Brake travelled from Tasmania for the event.
The CEC was established to increase community understanding and appreciation for our natural environment and its conservation. Over the years, more than 250,000 people have benefited from the education and information services offered by the Coastal Environment Centre.
In recent years, there has been an increasing focus on sustainable living. The Centre was upgraded in 2008-09 as a demonstration site that showcases integrated and sustainable energy, water and waste management initiatives. Eco-features include a 2 kilowatt grid connected solar panel system, water tanks, water efficient native garden, no-dig herb and veggie gardens, compost bins and a worm farm.
Education programs include curriculum-linked school excursions, school holiday programs, community eco-walks and eco-living workshops. Through the Centre's specialist environmental library visitors, students and local residents have been assisted with locating information on the natural environment for research or study. The Centre has developed several publications outlining walking tracks and features of the local area, with particular reference to the Narrabeen Lagoon Catchment.
When the Centre opened in 1991 it was said to be 'ahead of its time' and was thought to be the first environment centre of its type in Australia. At the time, there was little engagement by local government with environmental education as a tool for achieving environmental protection and conservation goals. But in the years since, things have changed.
The role of an informed community where local people appreciate, value and care for the natural environment around them and actively engage in its protection is now well understood. Through Pittwater's Community Strategic Plan, community learning is recognised as a key strategy for protecting Pittwater's natural heritage with a range of initiatives in place to be progressively rolled out.
The Coastal Environment Centre is well placed to support community learning for sustainability needs into the future with its team of talented environmental educators, a well resourced training room together with the support of Councillors, volunteers, and the wider general public of Sydney's beautiful northern beaches area.
The new online events booking system makes getting involved with the Centre's program even easier. Check out the Centre's exciting new summer programs by visiting the new website at www.pittwater.nsw.gov.au/cec or phone 1300 000 CEC (232).
Next time you are passing along Pelican Path on the Narrabeen Lagoon foreshore please feel welcome to drop in for a visit. Collect some walking track brochures, use the library, buy a book or a gift at the shop or just be inspired by the Centre's eco-features and ideas for how we can reduce our ecological footprint.