December 20, 2015 - January 9, 2016: Issue 245
Carols by the Sea 2015: Hosted by Avalon Beach SLSC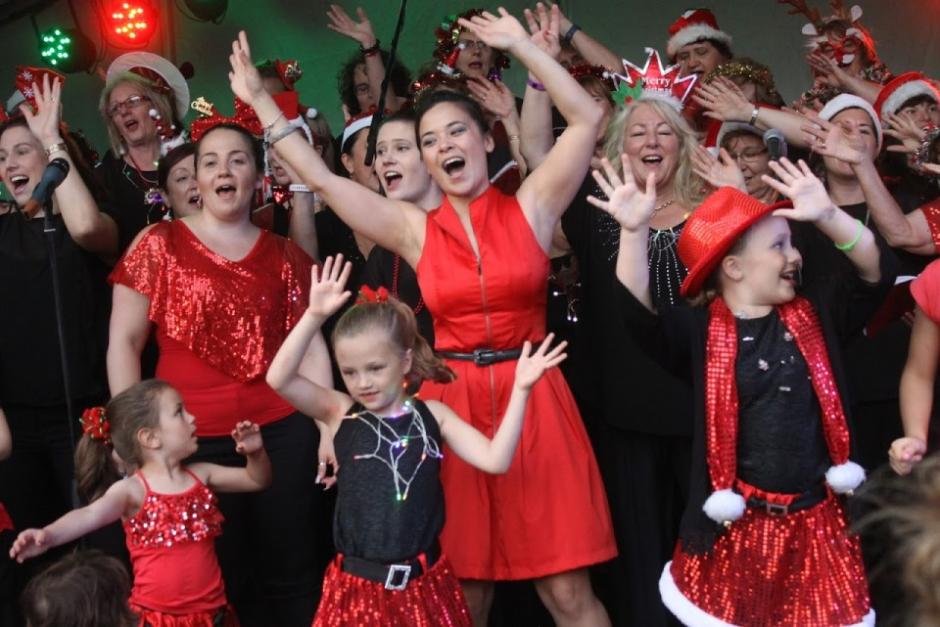 Carols by the Sea 2015: Hosted by Avalon Beach SLSC
Thousands of people made a spot on the green beside Avalon Beach for their children and themselves to enjoy wonderful traditional Christmas Carols led by the amazing Rock' n Soul Choir.
Opening with "Gloria in excelsis Deo" and following this with "Silver Bells", "Hark the Herald Angels Sing", and "Mary's Boy Child", the choir invited every small adult who wanted to onstage to join them for the next, "Silent Night".
Then an element of the ".. 'n'Soul" practice was added with a great "Lifting Me Higher", a great old song originally sung by Jackie Wilson in 1967. The and soul part of the Rock' n Soul Choir gave the local audience a chance to hear a few numbers from some male members of the choir this year, The Ryders providing two songs, "I Swear" and, as a tribute t being beside the sea, a number made famous by the Beach Boys, "Barbara Ann".
The Ryders are keen to expand their 'and boys/men' contingent for anyone interested, you can find out more here.
MC for the evening was Ron Wilson again this year, a gentleman who clearly entered into the spirit of things, joining Pittwater's Hon. Bronwyn Bishop on a few Carols during the second set.
The Member for Mackellar has just returned from the Australia-Israel-UK Leadership Dialogue and is looking forward to a short break over the Christmas - New Years period, but not before she joins in a few more Carols today!
Our Federal Representative told this publication of her intentions to stand again in the Federal Election, slated to be around September-October 2016, so she may continue to represent and speak for our Seniors, and our juniors for that matter. We hope to bring you something a bit more in depth next year on all this dynamic lady has done and plans to do.
Earlier in the evening Pittwater's MP Hon. Rob Stokes spoke about the meaning of the True Spirit of Giving and asked we all be mindful of those who will be on duty this year throughout the holiday period - While most of us are enjoying good company and great food over the Christmas-New Years break, among us will be some on duty as Volunteers in our Surf Life Saving Clubs or as part of our Pittwater Rural Fire Brigade Services.
On Tuesday morning, December 15th, 2015, Tumbledown Dick RFB members left to assist at the fire located to the west of St Albans, in the Hawkesbury, currently burning and being controlled by backburns and establishing retardant lines. This fire has so far burnt 3745 hectares. All of our local surf clubs will have Patrols on the beach on Christmas Day, Boxing Day and New Years Eve and January 1st, 2016.
Nurses will work all Christmas and through New Years, as will our Police Service, Ambulance services and many other 24/7 services. Whether volunteers who have paid for their own training and uniforms and then give up their life's time to serve others, or members of the services that look after and out for all, these people are sons and daughters, mothers and fathers too.
Mr. Stokes closed in wishing everyone a Merry Christmas and wonderful New Year.
Pittwater's Mayor, Cr. Jacqueline Townsend paid Respects to the Traditional Owners and Elders of the land everyone was gathered on before also thanking all the volunteers and organisers for making this year's Carols by the Sea such a huge success as well as those who would serve on the beach over the Summer.
"And congratulations to all those who got their Bronze (SLS) today!" rang out from our Mayor prior to wishing everyone a very Merry Christmas.
The main Address for the evening came from Richard Cole, President of Avalon Beach SLSC:
PRESIDENTS' SPEECH CAROLS BY THE SEA 2015
The Honourable Bronwyn Bishop, Member for Mackellar, The Honourable Rob Stokes, Member for Pittwater, Mayor Jackie Townsend, Ladies and Gentlemen, Boys and Girls,
Welcome to the 2015 Carols By The Sea. Avalon Beach Surf Life Saving Club is very proud to host this wonderful event again which brings our Pittwater community together on this beautiful summer night.
Everything you see here tonight is done by volunteers, so I do need to say some thank yous. Please put your hands together for the fantastic voices of the extremely talented Rock' n Soul Choir who have so generously donated their services for tonight's performance.
Tonight would simply not have been possible without the very generous support of our Gold Sponsors,
L J HOOKER AVALON BEACH and
COL CRAWFORD HYUNDAI — BROOKVALE AND NARRABEEN
David Mackay and his team at LJ Hooker Avalon Beach have been great supporters of the Club over many years. They have generously committed to supporting this event for a three year period. They are a great local business with a vast local knowledge, and over their 30-year history must have helped buy or sell every house in Avalon, so if you are in the real estate market, please help them support us and go and see David and all the team down at LJ Hooker.
This year we welcome Col Crawford Hyundai at Brookvale and Narrabeen as new gold sponsors of Carols. It is wonderful to see a third generation local business put their hand up to support this great event. They have some of their vehicles on display down near Barrenjoey Road tonight, so please go and have a look, or check out their showrooms at Narrabeen and Brookvale. They have quite a team here tonight who I am sure would be more than happy to answer any of your questions. Thank you again to Col Crawford Hyundai.
I would like to personally thank all of our wonderful volunteers. The Carols Committee have spent countless hours over the last 6 months making tonight happen, so please give a huge round of applause to our organisers:
Cedric Lee, Rebecca Schofield, Scotty Wilcox, Elizabeth Dale, Volker Klemm, Sean Mulcahy
I am always in awe of our volunteer Lifesavers and Club Members who not only carry out their patrols and compete in carnivals, but give up their time for events such as this. To all of them, and the friends of Avalon Beach SLSC and local businesses who have worked incredibly hard to set up, run and support the event this evening, thank you.
Tonight is a fundraising event. Over the past decade the Club has by necessity been concentrating its fundraising and expenditure on the provision of a new clubhouse. Now that this is complete, we need to replace our aging collection of rescue and training equipment. Last year, volunteer lifesavers in NSW completed almost 6000 rescues, saving at least 320 lives. Here at Avalon Beach, we average 58 rescues a year. We cannot carry out these rescues effectively without proper rescue and training equipment. You will see volunteers in the red and yellow walking around with donation tins. Please give generously and remember that the next life we save could be yours.
On behalf of Avalon Beach SLSC I wish you and your families a safe, relaxed and joyous Christmas. Enjoy our wonderful beach this summer but always remember Avalon Beach does have some dangerous rips and if we can't see you we can't save you, so please, please, please, swim between the flags. Thank you and Merry Christmas.
Richard Cole - President Avalon Beach SLSC
There was some fantastic dancing done by the youngest Pittwaterians attending this year and Santa Claus did indeed turn up just as the choir launched into "Santa Claus Is Coming to Town".
Some pictures from last night run below, as well as a great video of the fireworks closing the 2015 Carols by the Sea Joanne Seve sent through to us, which we immediately converted to a YouTube video!
Pictures for you:
Families who want pictures for their own Family Albums may download them from HERE - they are in the 'Carols by the Sea 2015' file