September 14 - 20, 2014: Issue 180
Bi-Centenary Commemoration of Governor Phillip Honoured In Pittwater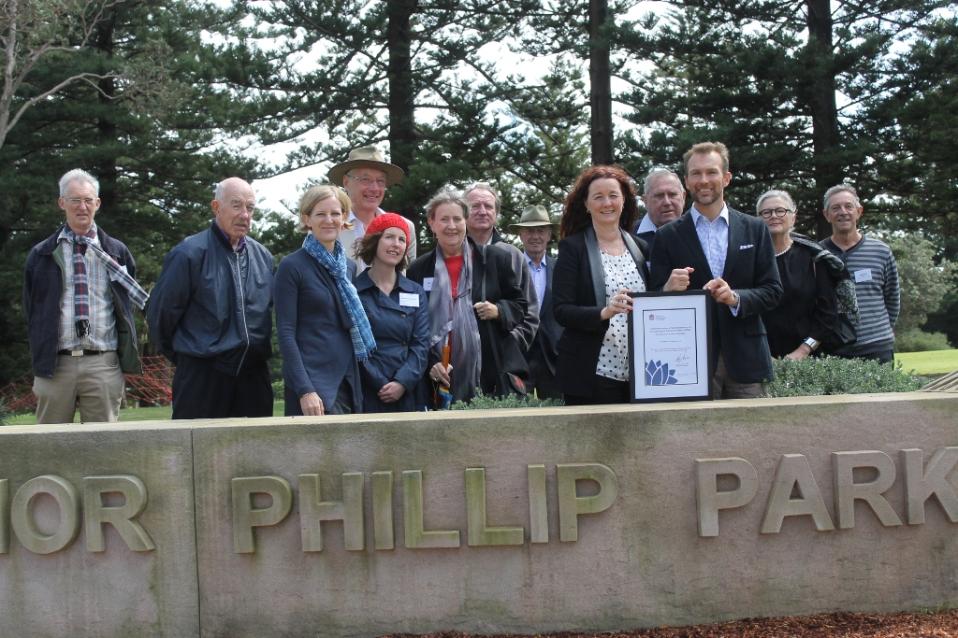 Hon . Rob Stokes, Member for Pittwater and NSW Minister for Heritage and NSW Minister for the Environment, was at Palm Beach's Governor Phillip Park to commemorate 200 years since the Governor Phillip's death on August 31, 1814 yesterday. Along with presenting Deputy Mayor Kylie Ferguson with a Certificate marking Pittwater Council's Contribution to the Heritage of Pittwater itself, Mr. Stokes announced that one million dollars worth of repairs and renovations at Barrenjoey Lighthouse and Headland are now well underway and guaranteed no inappropriate developments would take place on one of the few lightships still as it was when first created on his watch.
Hon. Rob Stokes:
Ladies and gentleman, thank you very much for coming today. The reason we're here in Governor Phillip Park today is very significant. We're here to acknowledge Governor Arthur Phillip, formerly Captain and ultimately Admiral of the Blue – the second highest rank in the Royal Navy, second only to Admiral of the Red which can only be held by a member of the Royal Family.
Governor Phillip was Commander-In-Chief of colony of New South Wales, Governor In Chief of the settlement Port Jackson and Norfolk Island. He served with absolute distinction for seven years from 1788 to 1795 and you may see in his writings, and those of his officers, that he clearly envisioned this as a great nation and this is what Australia has become.
Governor Phillip died on the 31st of August 1814, having retired in 1805, in his 76th year. When considering the privations he suffered throughout his career it's a testament to his resilience that he survived to what was considered such a ripe old age in those days.
It is worthy that we commemorate and celebrate such a fascinating man in this eponymously named park which is Pittwater's contribution to remembering the achievements of this great man.
His father Jacob Phillip, a Frankfurt-born language teacher from the Prussian kingdom migrated to England. He married a sailors widow Elizabeth Breach. Jacob died a year after he was born and Phillip's mother claimed her first husband as the father of her son so he could be enrolled in the Greenwich Hospital School, part of Greenwich Hospital,a free school for the orphans of men lost at sea supported by Queen Mary.
He became a true Renaissance man; he spoke German, he spoke French, he spoke Portuguese. Arthur Philip saw service in The Seven Years War and served in the Spanish-Portuguese War. He was a Flag Officer not only with the Royal Navy but also with the Portuguese Navy.
An interesting aside to that is that one of the oldest Naval Treaties in the world is between England and Portugal – the reason for this being that when Britain was in one f its frequent wars with France, the British upper classes couldn't get hold of French wine., the only place they could get wine from was Portugal.
Unfortunately the Portuguese transported their wine to market in pigskins and so it was undrinkable. So the English, being enterprising as well as very thirsty, added Brandy to the wine to make it drinkable and created Port, a name taken from the Port of Port and secured by the Naval Treaty between the two countries.
This was why Governor Phillip was able to join the Portuguese Navy and saw service with them in one of their frequent spats with the Spanish Empire over in South America.
He was an extraordinarily well travelled naval captain as well as a farmer in Lyndhurst in Hampshire and it is therefore extraordinary that when he came to Port Jackson, and later on March 2nd 1788, in a cutter that is beautifully commemorated down in the playground of Governor Phillip Park. Full credit must be given to Pittwater Council and the Palm Beach Association for the installation of this as part of a children's park.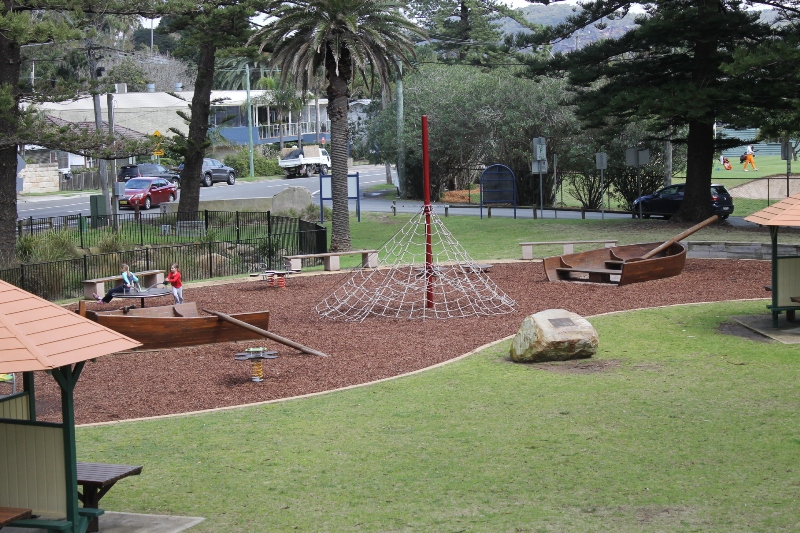 When Governor Phillip came here, in apparently driving rain, and saw this body of water, having seen service in the Mediterranean in the Battle of Majorca, in fact right around the globe in the most glorious places, he declared our little bay 'the finest piece of water I ever saw'.
While he named Sydney Harbour after British Home Secretary Lord Sydney. He named this body of water after the second longest serving British Prime Minister of all time, a man who was a real hero to the British of then, he named Pittwater after William Pitt the younger. So clearly in Phillip's mind he considered Pittwater far more significant.
I'd like to thank the key stakeholder groups who are here today, from the History Council, from the Heritage Council, from the Royal Historic Society, from our wonderful Pittwater Council – Dept. Mayor Kylie Ferguson, Councillor MacTaggart, thank you so much for the service you provide to our community in serving us so faithfully, to the Avalon Beach Historical Society, Geoff Searl, to the members f the Palm Beach and Whale Beach Association – Jeanette, Jim and Bryce, to Jim Boyce from the Manly Warringah Pittwater Historical Society – it's great to see so many people who are so passionate about our Heritage which is, effectively, our story.
These are events that we have inherited for custodianship to hand on to the next generation.
I would like to take this opportunity to present a certificate to our Deputy Mayor in recognition of Pittwater's custodianship of five Listed and Registered items here in Pittwater to which I hope to shortly add the West Head Fort in working to progress a nomination for that important reminder of the wonderful service of our servicemen during World War II on West Head.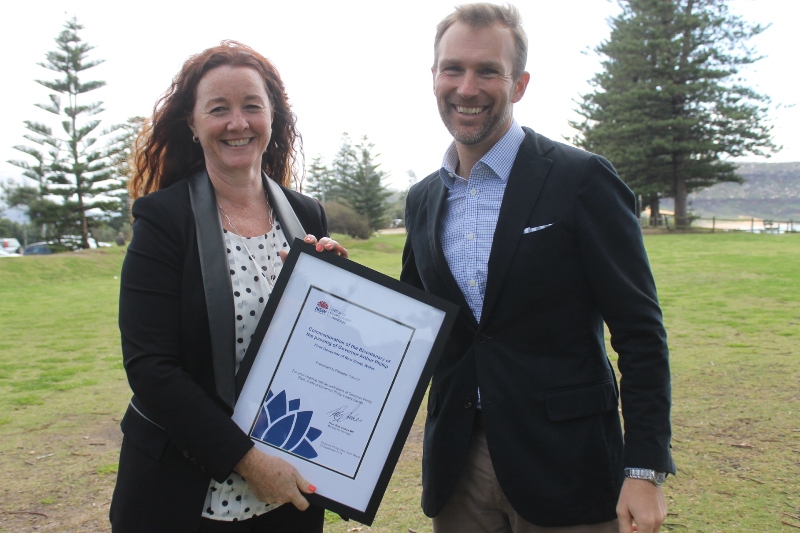 This as well as 136 items on the Local Heritage List. I'm aware that Pittwater Council is currently finalising a review of its Heritage Study through a Grant the NSW Government was able to provide as part of the $398,000 going to 77 local councils and $423,000 for more than 89 local government heritage advisers across the State.
In concluding I'd like by announcing two items regarding Barrenjoey Headland.
It is wonderfully fortuitous that not only do I get to be Member for Pittwater but also now get to be the Minister for the Environment and for Heritage as well. I wanted to clarify that there is no way that I will consent to any inappropriate development whatsoever, however that may be described on Barrenjoey Headland.
(Applause).
So you have that absolute, cast iron guarantee and commitment that as long as I am in this position nothing of this sort shall occur up there.
I can prescribe however that that area needs to be properly restored and repaired and made available for the public to have use of. This may include things like a toilet facility for people going up there and so I'm pleased to announce today that more than $1 million dollars will be spent on renovating, which we can currently see underway, to the amazing Heritage buildings on Barrenjoey dating from the colonial administration period, as well as to the Customs Station at the base of the headland which dates from an even earlier period, as well as the final completion of the track to really liberate opportunities for people to enjoy this lightship.
Barrenjoey is a beautiful sylvan park and example of Pittwater's contribution to the wider community and one of the reasons we can make the case to oppose inappropriate over-development of our community is because of what we offer to the rest of Sydney, New South Wales and the world in terms of visitation opportunities.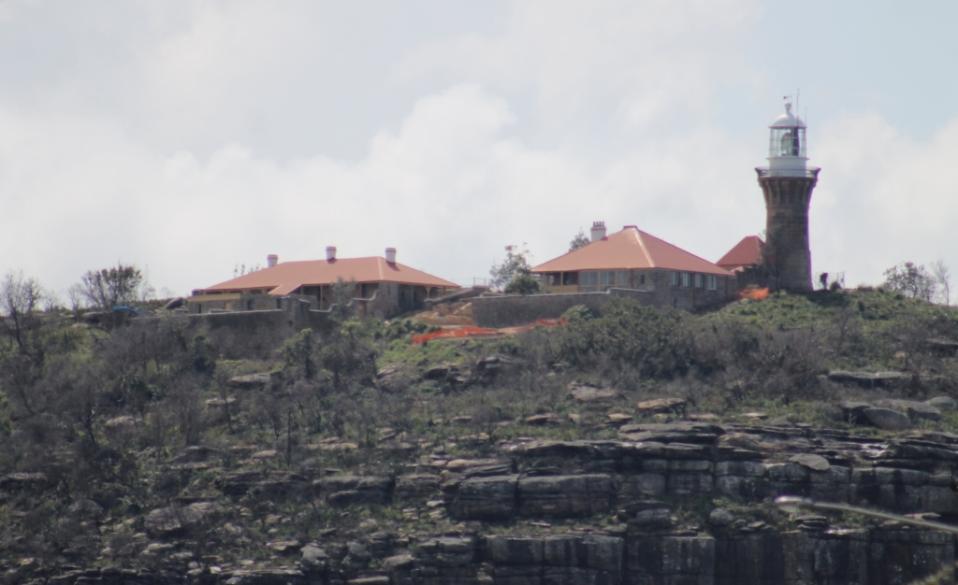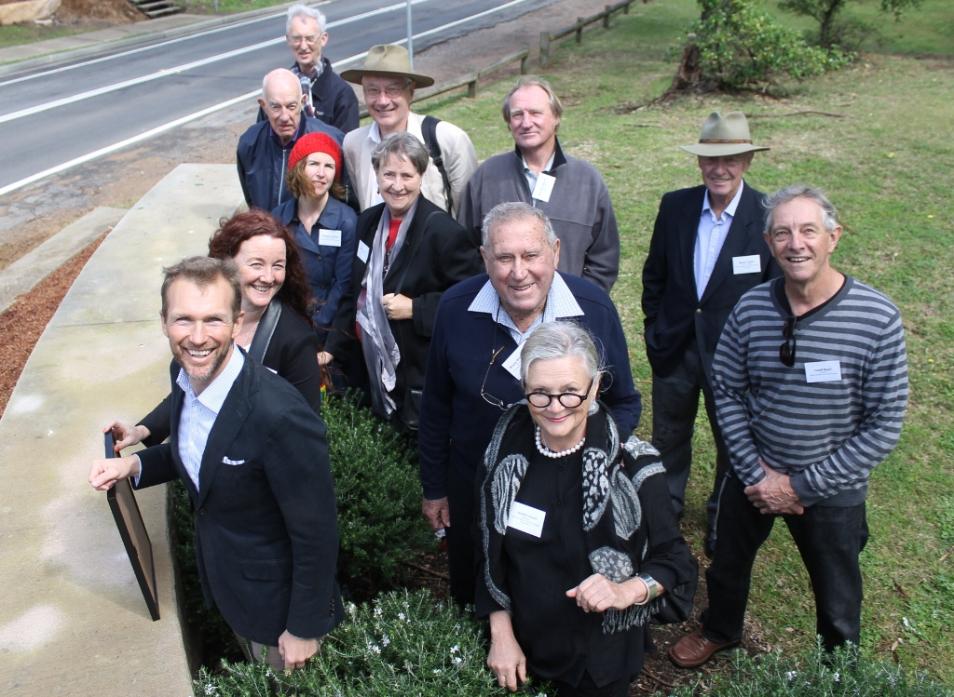 Pictures by A J Guesdon, 2014