July 27 - August 2, 2014: Issue 173
Bayview's Team Windcraft Offers Amazing Grace - A Hanse 345 to Support Sailors With DisABILITIES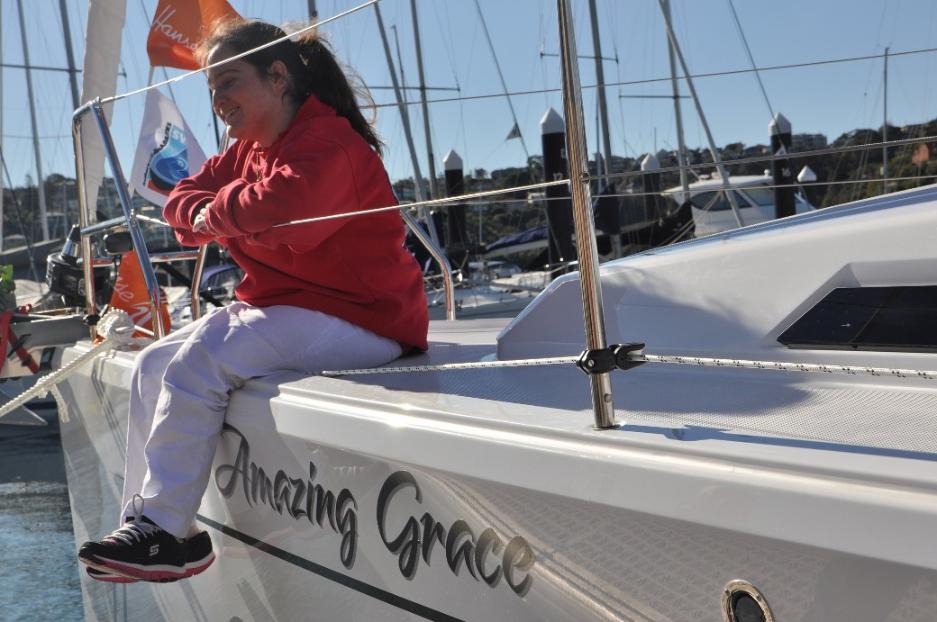 The amazing Grace Kennedy aboard Amazing Grace at her christening - July 2014.
Bayview's Team Windcraft Offers Amazing Grace - A Hanse 345 to Support Sailors With DisABILITIES
For a few months we've been keeping in our pages an extraordinary raffle being run by a local Bayview yacht company to raise funds to support Sailors with disABILITIES, a not-for-profit organisation, that brings a lot of joy to a lot of people through sailing.
A little about SWD from the Sailors with disABILITIES website:
We are Creators of Optimism. We encourage people with a disability or those in difficult circumstances to take another look and perhaps see things a new way. By showing what's possible we also change society's perception of those facing disability or disadvantage.
How do we do it?
We use sailing as a tool to build confidence, self-esteem and new relationships. Through sailing people start to forget about what they can't do and concentrate on what they can. We provide free sailing and training programs for people with a disability, disadvantaged children and adults and their carers.
Our programs start with Try Sail - the first step for many on the journey towards accepting their circumstances and believing they can achieve more. SWD's Winds of Change Program opens a whole new world of challenge, skill development and discovery for young people who have disengaged from learning. Our carers days are a chance for the amazing Mums, Dads, Grandparents, Guardians, Brothers, Sisters, friends and others who care for disabled and disadvantaged people to take a bit of time out for themselves.
A few weeks ago we brought you a snippet in our Community News page about the christening of this beautiful vessel:
Premier Mike Baird Christens Prize Yacht in Amazing Grace Raffle - 14th July 2014
A perfect Sydney day greeted NSW Premier Mike Baird as he arrived at Middle Harbour Yacht Club to officially name the prize Hanse 345 in the Amazing Grace raffle. The yacht raffle with a total prize value of over $250,000 is being organised by the Windcraft Group to raise funds for Sailors with disABILITIES.
The yacht is named Amazing Grace after Grace Kennedy who has Spina Bifida and was just 19 when she competed in the 2013 Sydney to Hobart yacht race. Mike Baird spent time chatting to Grace before the ceremony, leaning about the skills and courage needed to race to Hobart.
In a short speech Mr Baird praised Grace's determination and dedication. Mr Baird also took time to recognise David Pescud the founder of Sailors with disABILITIES and the opportunity the organisation offers to over 3000 children and adults living with disability or at disadvantage each year. Sailors with disABILITIES uses sailing as a tool to build the confidence and self-esteem of participants whilst learning the thrill and freedom of sailing in a team environment.
Windcraft's Mary Bickley then read out the traditional Christening poem before Grace Kennedy and Mike Baird poured champagne over the bow of the boat. The boat looked absolutely fabulous in the Sydney sunshine - Premier Baird even stood behind the wheel perhaps dreaming of a sailing her on the harbour. It's amazing to think that someone will win this yacht for $100!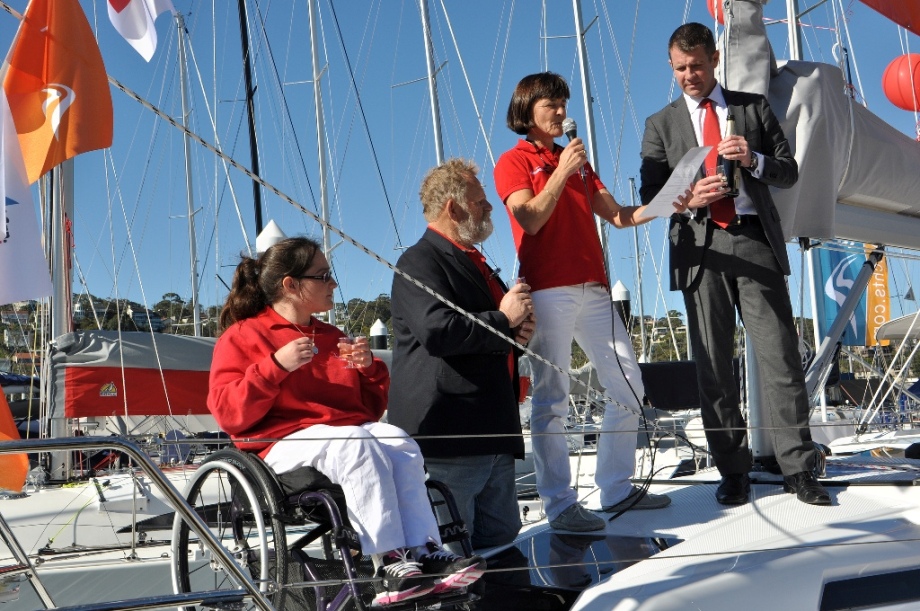 L to r: Grace Kennedy, David Pescud, Mary Bickley and Premier Baird
____________________________________
Team Windcraft are a yacht importing company based at Bayview. Peter Hrones is the owner and managing director. Peter lives in Avalon with his three young boys and wife Catherine and has also given a lot of support to a local rugby club his boys are involved in.
During the week we spoke to Mary Bickley, Hanse Brand Manager, about this raffle only to find this is not the first time this local company has done a raffle to support a more than worthy investment in community and people.
"Peter is a wonderful employer to a loyal team which includes ten of us at the Bayview office alone. My job is to sell the Hanse Yachts (the best job in the world)." Mary said this week,
"As our company became more established l was keen for us to "give back''. We all have a good life here in paradise and our work revolves around the "sheer joy" of sailing. The relationship with Sailors with disABILITIES feels like the "right fit". SWD provide the opportunity to those with a disability or disadvantage to also experience that thrill of sailing. As Grace's mum once said to me - there are not many ways for wheelchair bound people to feel speed, to feel exhilaration.
We first did a Yacht Raffle in 2011 and raised $252,000 for Bear Cottage. Peter had the confidence in my rather ambitious plan and took the risk of funding the yacht until proceeds covered the cost.
I asked everyone involved with the supply and local commissioning of the boat to donate or reduce the costs. Simple equation, the more we could keep costs down the more we could give to Bear Cottage.
Sometimes l think l am mad to try it all over again! However, over the last couple of years we have found a natural synergy with Sailors with disABILITES and we feel like they are part of our Windcraft community. Indeed one of the three large yachts they use for their programmes is a Hanse, donated by a Northern Beaches man. The skipper of the SWD boat in the Sydney to Hobart just past was Kirk Watson - a Newport man, who is legally blind!
The yacht raffle is such a great fundraiser, a win win all around. If we can sell all the tickets SWD will get at least a quarter of a million of much needed funds. Someone will win a beautiful new yacht for just $100.
It brings the boating (and wider) community together. The truck drivers, crane drivers (from Manly), riggers, shipwrights, electricians, mechanics, bimini makers etc etc. They are all taking such pride in "Amazing Grace" - the campaign belongs to all of us!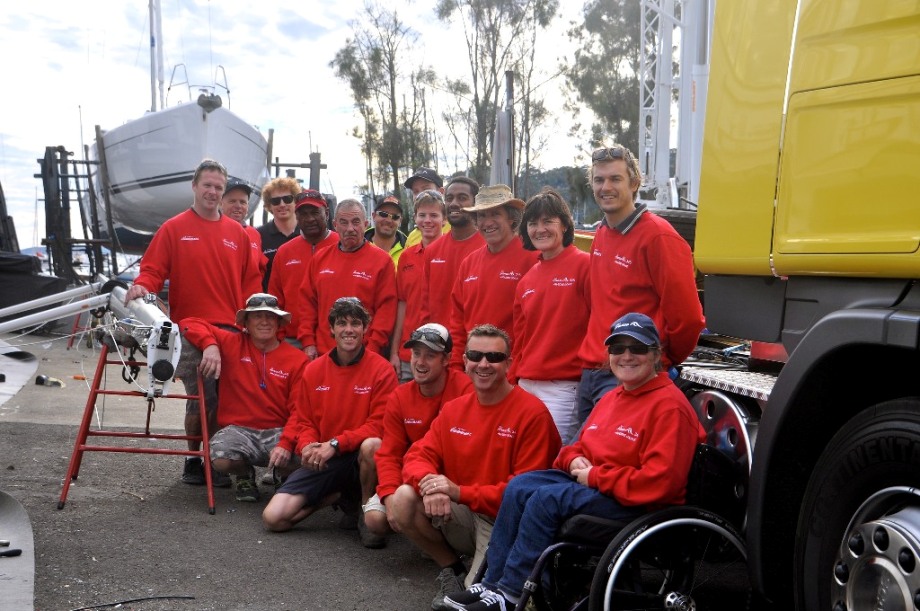 The Team Windcraft Bayview crew with Grace - the day Amazing Grace arrives for fitout - June 2014
I am constantly surprised and heartened by the generosity and support for the campaign. It is difficult to run a fundraiser but most people are happy to support one and this has become a real team effort.
Yesterday she went down to the CYCA for final display on Saturday before going to Darling Harbour on Sunday for the Sydney International Boat Show which starts on Thursday, July 31st 2014.
At the show we hope to sell the rest of the tickets. When the public actually go aboard they cannot believe that they have a very good chance of winning this yacht for $100."
"Amazing Grace" will be on display at the Windcraft stand on the eastern side of Darling Harbour.
If you cannot make it to this year's Sydney International Boat show we feel we should warn you there are only 5000 tickets for sale at $100 each.
Sailors and the general public can support the initiative by buying a ticket online at - raffle finishes August 31st - www.winahanseyacht.com.au
Find out More about Windcraft at www.windcraft.com.au