May 20 - 26, 2012: Issue 59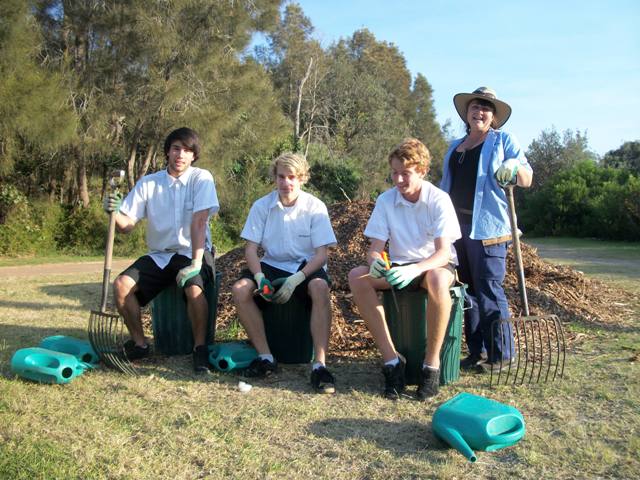 Duke of Edinburgh Award 2012 participants from Barrenjoey High School: Robert Rufatt, Michael Zonneveldt, Rory Wilkins and Sonja Elwood, Bushcare Lady, Pittwater Council. Below: Careel Creek resident, The Australian White Ibis, same afternoon; 17.5.2012.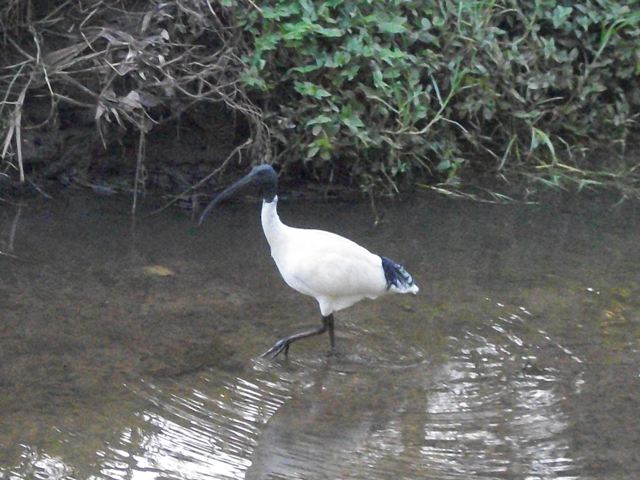 50th Anniversary Program from: DofE website
During our 50th Anniversary year, we are celebrating these past and present achievements through a series of campaigns, events, and projects to strengthen the successes we have already achieved and to support the future growth of our organisation.
Our 50 New Ambassadors for our 50th Anniversary
In conjunction with the 50th Anniversary celebrations from April 2012 - April 2013, our mission is to secure 50 new Ambassadors around the country to join our Ambassadors Program and support the next generation of young people wanting to participate in the program.
50th Anniversary Dinner at Buckingham Palace
This very special evening will be hosted by His Royal Highness, The Earl of Wessex, Prince Edward KG GCVO, International Trustee and Chairman of The Duke of Edinburgh's Award International Association in mid 2012. For further information please contact Angela.skates@dukeofed.com.au
Reception at Government House Sydney
This Reception will be generously hosted by Her Excellency, Marie Bashir, Governor of NSW in early August 2012. This will salute the 50th Anniversary of The Duke of Ed in Australia.
50 Icons Search and Dinner
During our 50th Anniversary year, The Duke of Ed will be searching for 50 Duke of Ed Icons. Each icon will play an integral part in the 50th Anniversary celebrations with their stories being shared through a number of channels, a dinner being held with all 50 icons in attendance and a commemorative 50th Anniversary Book including each of the icons to be presented to HRH, Earl of Wessex during the proposed royal tour in early 2013.
Proposed Royal Tour in early 2013 with His Royal Highness, Prince Edward
Ambassadors
In October 2009, The Duke of Ed Ambassador Program was launched by Her Excellency Prof. Marie Bashir, NSW Governor, and HRH Prince Edward, Earl of Wessex, at a ceremony in Sydney.
The Duke of Ed Ambassadors are both leaders and grass-root members of the community who use their talent, position and/or network to promote the value, relevance and importance of The Duke of Ed for young people in Australia. Their support helps to us continue our work to expand and develop the Program Australia wide, especially supporting disadvantaged young people to participate and access the program. As part of our 50th Anniversary celebrations in 2012 our mission is to grow our Ambassadors Program to secure 50 new Ambassadors around the country.
Barrenjoey High School students participating in 2012 Duke of Edinburgh Award
Three young men, Robert Rufatt, Michael Zonneveldt and Rory Wilkins from Barrenjoey High School are currently undertaking a Silver Duke of Edinburgh Award. This entails six months of Community Service as a volunteer, a Physical component of improving in an area of sport, dance or fitness activities, developing Skills that encompass developing practical and social skills and personal interests and an Expedition: planning, training for and completion of an adventurous journey .
All three boys are pictured here with Sonja Elwood, of Pittwater Council, giving their time and energy each Thursday to help with the Careel Creek restoration works currently underway as a joint project between our Council and the Pittwater Natural Heritage Association. These works are being funded by a Caring for Country Grant and the Hawkesbury Nepean Catchment Management Authority as well as Council.
Robert and Michael, apart from enjoying this hands on aspect of doing work they'll see grow, are also doing Muay Thai, a form of Thai kick boxing for their physical component, where Rory is involved in soccer and will join them in the kick boxing when the season ends. For their Skills development the boys are learning a new language and involved in tutoring. Their expedition will involve a lengthy walk which they will do a practice run in and then the actual walk itself.
The Duke of Edingburgh Awards are celebrating their 50th Anniversary year in Australia in 2012, with over 33 000 participants each year and over 700, 000 who have completed the Duke of Edinburgh Award during these five decades.
The Duke of Edinburgh's Award (commonly abbreviated DofE), is an award given for completing a programme of activities that can be undertaken by anyone aged 14 to 24. It is the largest holistic youth development program in Australia. A pilot award scheme "for Boys" started in 1956, with Prince Philip, Duke of Edinburgh as chairman, the programme borrowed from the Moray Badge, instituted at Gordonstoun School by its headmaster, Kurt Hahn, a German educator whose philosophies are considered internationally influential, in 1934. Hahn's educational philosophy was based on respect for adolescents, whom he believed to possess an innate decency and moral sense, but who were, he believed, corrupted by society as they aged. Hahn believed education would prevent this if students were given opportunities for personal leadership and to see the results of their own actions. He was also involved in the foundation of the Outward Bound Organisation.
The Australian Duke of Edinburgh Awards has a motto of 'Experiences that last a lifetime'.
From the Australian Duke of Edinburgh Award website:
The Duke of Ed is an enriching program inviting young people aged 14-25 to participate in a number of activities over a set length of time. Participants design their own unique program centered around their interests and passions, and is entirely voluntary.
It is our vision is that all young people in Australia are empowered to explore their potential and achieve success through access and participation in The Duke of Ed.
Australian Duke Of Edinburgh Award website http://www.dukeofed.com.au/
Anyone aged between 14 and 24 can do a Duke of Edingburgh programme at one of three progressive levels which, when successfully completed, lead to a Bronze, Silver or Gold Duke of Edinburgh's Award.
There are four sections at Bronze and Silver level and five at Gold. With assistance from adult Leaders, participants select and set objectives in each of the following areas:
Volunteering: undertaking service to individuals or the community.
Physical: improving in an area of sport, dance or fitness activities.
Skills: developing practical and social skills and personal interests.
Expedition: planning, training for and completion of an adventurous journey in Australia or abroad.
At Gold level, participants must do an additional fifth Residential section, which involves staying and working away from home doing a shared activity.
Each section must be done for a minimum period of time. It must be monitored and then assessed by someone with knowledge of the chosen activities to achieve an Award. Each progressive level demands more time and commitment from participants: Bronze 3-6 months; Silver: 6-9 months; Gold: 12 months.
Copyright Pittwater Online News, 2012. All Rights Reserved.