January 24 - 30, 2016: Issue 248
Straight back to work for MC38 class as national title looms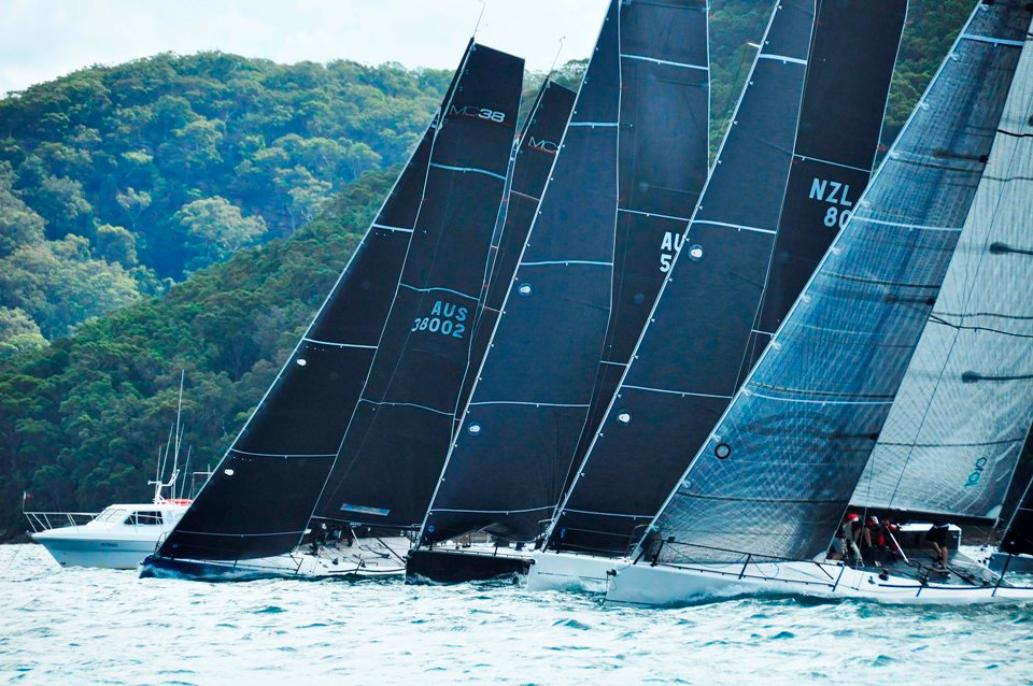 2015 Aust Champs on Pittwater - photo by Bob Fowler
Straight back to work for MC38 class as national title looms
Event: 2016 MC38 Australian Championship hosted by the RPAYC February 5-7 and 2016 MC38 Australian Season Championship regatta dates
The MC38 class is straight back to work after the Christmas break with their Australian title planned for the long weekend of February 5-7, 2016 on shifty Pittwater, an hour north of Sydney's CBD.
Royal Prince Alfred Yacht Club will host the three day inshore series and class President John Bacon expects at least seven of the high performance one designs to compete, including Howard Spencer's Auckland based Menace, the 2016 season point-scoring champion, and Leslie Green's Ginger, aiming for a trifecta of national title trophies.
In 2014 Ginger reigned at the class' major title at Audi Hamilton Island Race Week and last year they won out against the tough one design fleet, beating Marcus Blackmore's Hooligan and Bacon's Dark Star. In 2016 the Menace that's been absent from the last three Australian Championships is fronting, and the tough-talk has begun.
"Howard's Emirates Team New Zealand stars are always the favourite on paper, but they are just another boat on the water and we will manage ourselves," says Ginger's tactician David Chapman. "By the last race hopefully we'll be in with a shot of a three-peat for Leslie."
"We are cranking up with the same team; absolutely we are going for it," owner/skipper Green concurs. On temperamental Pittwater as the racecourse he says, "you get what you get. Fingers crossed!"
Bacon says his RPAYC team is quietly working towards the nationals, and taking it very seriously. "We haven't been able to quite cut in over the past couple of years; Howard took the 2015 season series and Ginger the national title. We are fired up to make amends in 2016!"
Bacon's coming to this year's competition brandishing some new hardware. His brains trust has worked with one of North Sails top designers to develop a new mainsail, within the strict one design class rules, that is geared to making them a couple of boat lengths faster to windward.
"The class is so tight, if we can find a couple of lengths that could be the difference in taking out a regatta, or not," Bacon said. "Our not-so-secret weapon is going on the boat next week for some trials. We are looking forward to dialling into the nationals with a brand new set of development sails, both the main and new set of headsails."
Coming off last year's inaugural MC38 Australian Season Championship there was a strong push from owners to make the annual series span summer rather than the whole year. The 2016 series will be a three round pointscore following the nationals and Middle Harbour Yacht Club's Sydney Harbour Regatta, on March 5-6.
The dates for the 2016 MC38 Australian Season Championship rounds are:
• April 16-17: round 1, venue TBC
• May 14-15: round 2, venue TBC
• June 18-19: round 3, venue TBC
The 2016-17 season will begin in the second half of the year and continue through summer into 2017. Discussions are ongoing between the class and Hamilton Island for the fleet to make an appearance at Audi Race Week in August.
RPAYC has offered MC38 crews wanting to hone their skills coming into the national showdown a series of lead-in events starting on Tuesday February 2 with a separate start for three short inshore races.
On Wednesday February 3 MC38 crews are invited to compete in the afternoon Pittwater race commencing at 1400hrs and on Thursday the class will conduct a full race training session from 1600-1800hrs. Following training all MC38s are welcome to stay out on the water and compete in division 1 of the Thursday evening twilight race, commencing at 1805hrs.
The 2016 MC38 Australian Championship begins on Friday February 5 for three days offering northern Scotland Island and Clareville waterfront residents, plus those out boating on the weekend a unique viewing opportunity. Harken has thrown its support behind the class once again, as sponsor of the final presentation BBQ on the Sunday afternoon.
By Lisa Ratcliff
Australian MC38 Association media
Vino (RPAYC) out among Saturday afternoon race fleet - November 2015 - A J Guesdon/Pittwater Online News Gif.s