June 17 - 23, 2012: Issue 63
Avalon Tattoo - 16th of June, 2012 - Air Force
Aviation Displays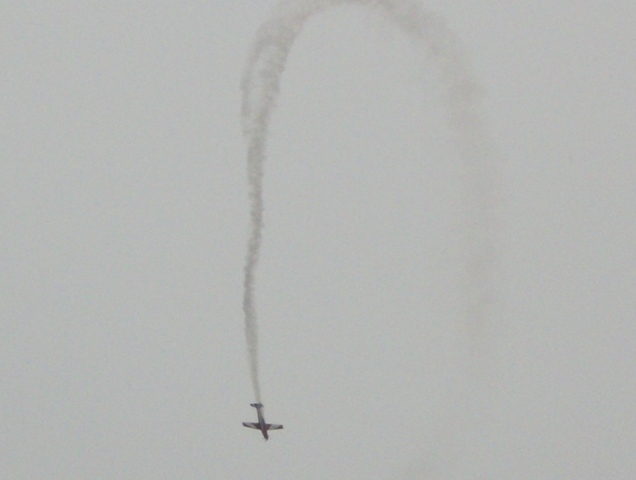 The aviation segments had Gary Criddle in his Combat Dragon, Paul Bennet in his Pitts S1 followed by FLT.Lt. Jay Tuffley of the Roulettes. The Roulettes are select pilots from the Royal Australian Air Force's Central Flying School, located at RAAF Base East Sale, 2hr drive East of Melbourne. Aerobatics and formation flying are core skills of all military aviators. The smoke we saw was generated by spraying a mineral-oil and diesel mix into the hot exhaust gases, where it is vapourised. This is used to not only visually enhance the display but to also pilots locating each other when separated from formation.
Participants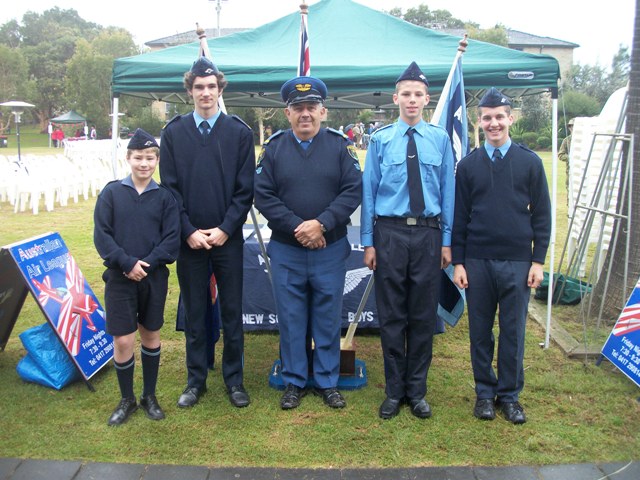 Australian Air League in Manly since 1934: Left to right; Zach Collins, Hamish Lumsdaine-Boyd, Jon Conrad(Air Activities Commissioner), Matija Simovic, Joey Montague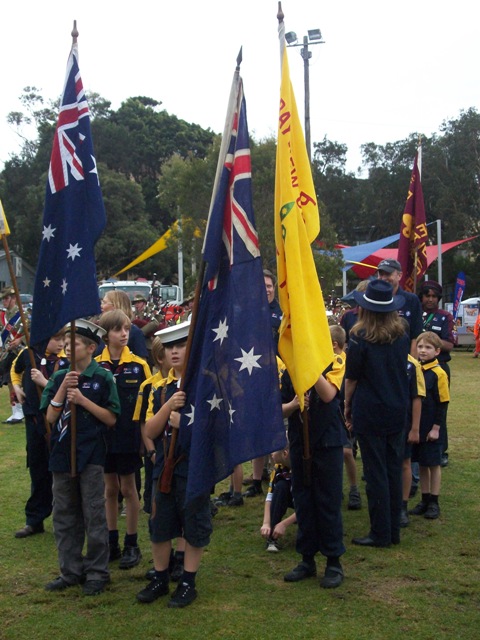 Sea Scouts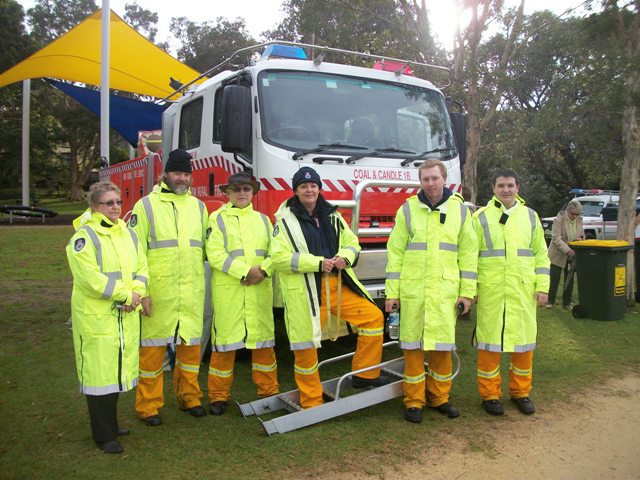 Coal and Candle Creek Rural Fire Service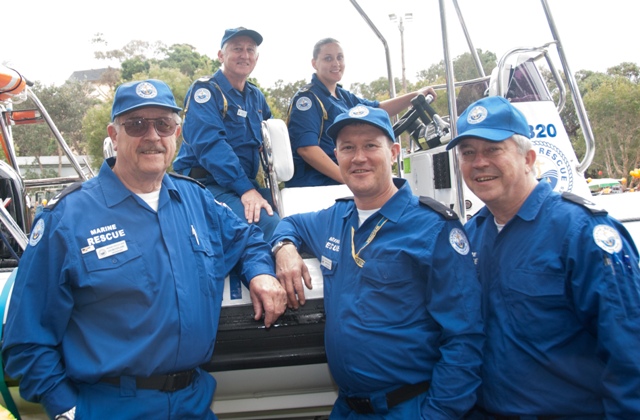 Broken Bay Marine Rescue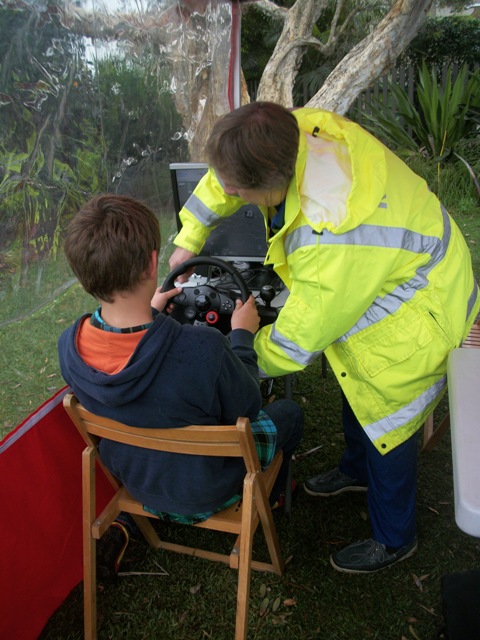 BBMR Rescue simulator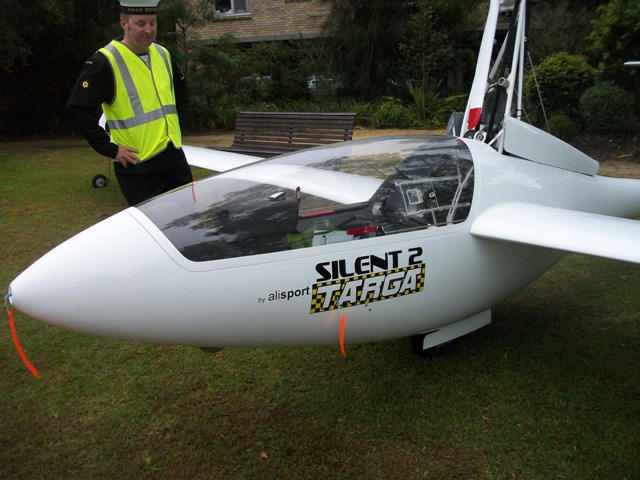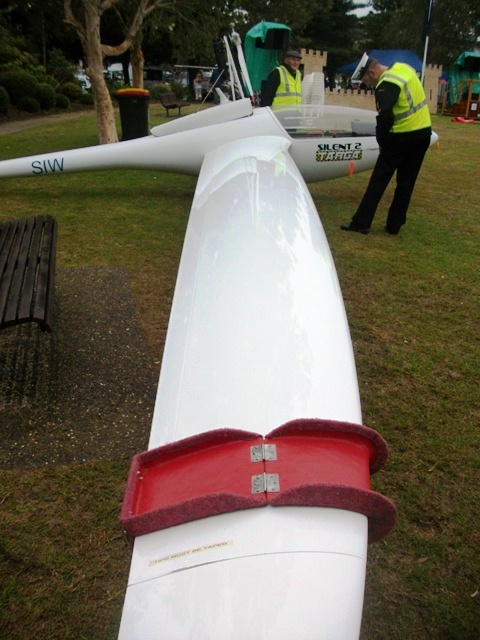 Glider
Pittwater Friends of Soibada. Left to right: Tamara SloperHarding, David Haythornthwaite and Dr. Peter Saxon-Williams who will be accompanying the team to Soibada in July.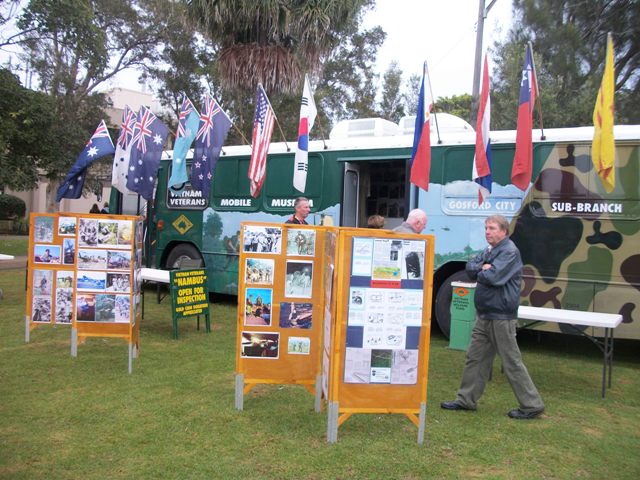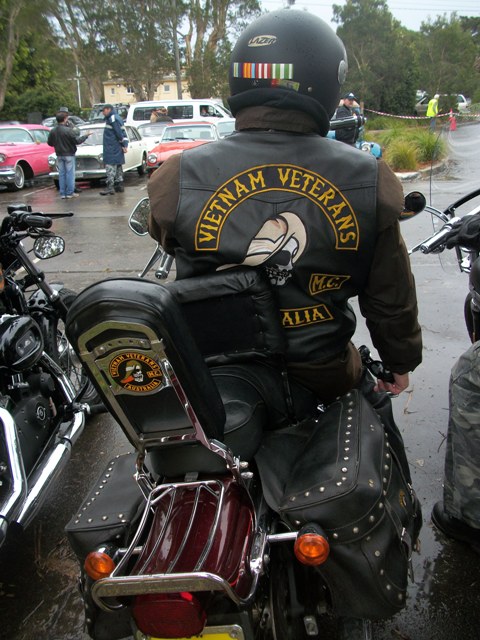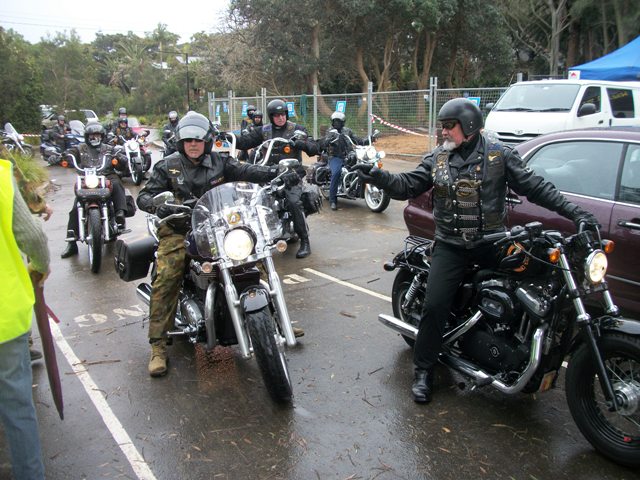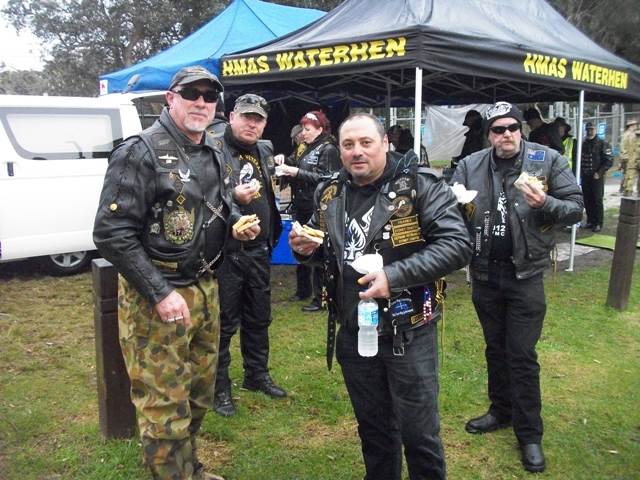 Visitors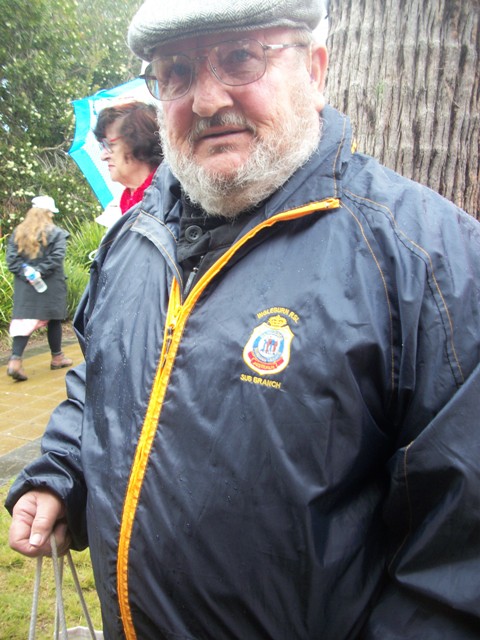 Allan Hennessy - Ingleburn RSL Sub Branch
Photos Michael Mannington, A J Guesdon - Report A J Guesdon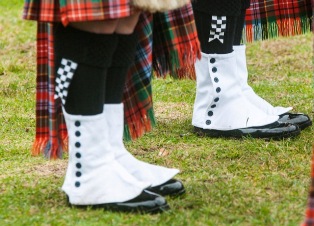 Avalon Tattoo 2012 Pipe and Drum Bands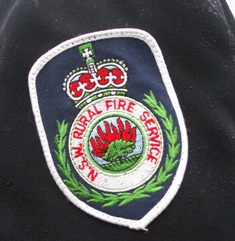 NSW Rural Fire Service Pipe Band: Lead by Drum Major Michael Donachie and Pipe Major Peter Jakobsson Wearing the Campbell of Cawdor Tartan, formed in 2006. RuraI Fire Service Pipes & drums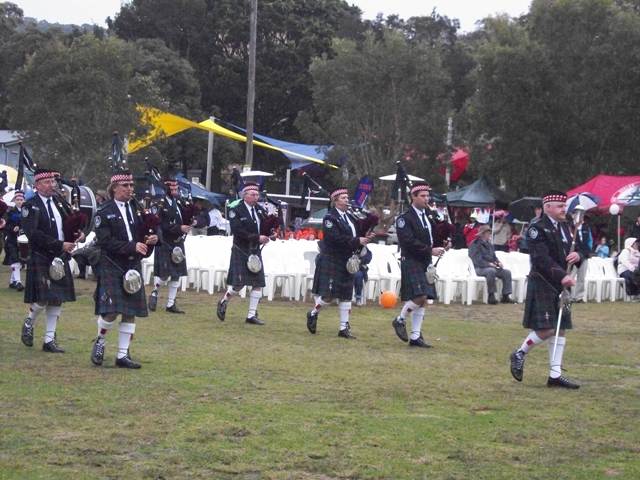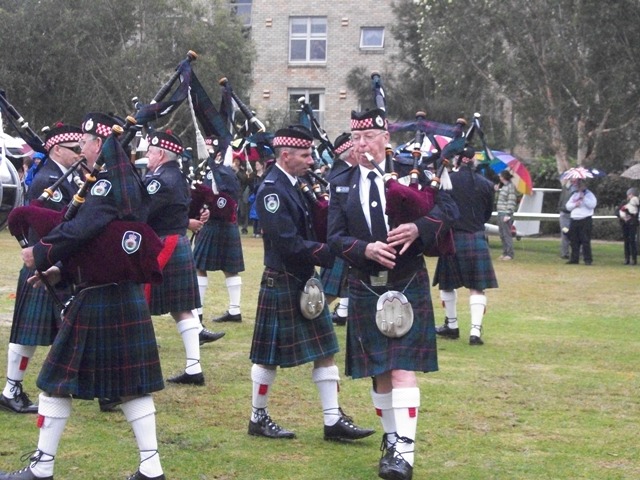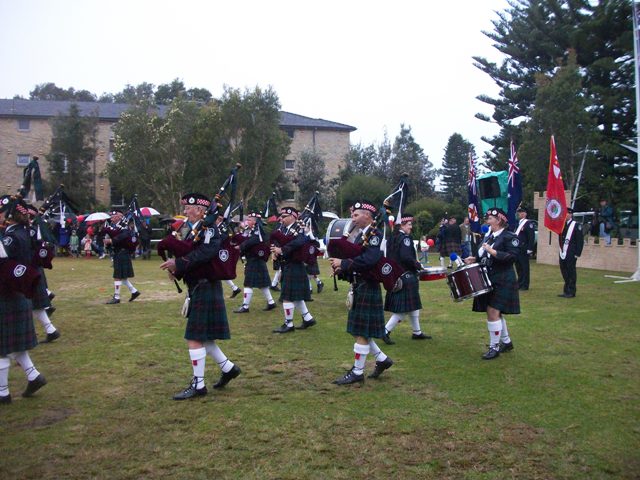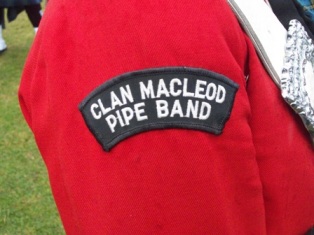 Clan MacLeod Pipe Band: Lead by Drum Major Jim Brennan& Pipe Major Bruce Wheatly, Wearing Macleod of Harris Tartan, formed in 1949 as Mosman Pipe Band, Renamed in 1963 as Clan MacLeod Pipe Band. Ron Clement was the founding Pipe Majqr and served in that role until 2010.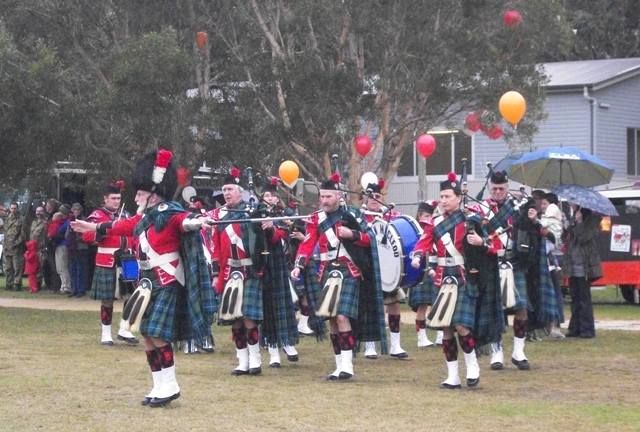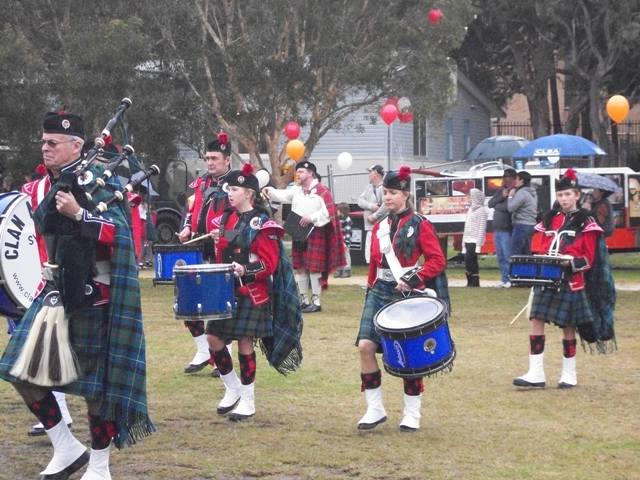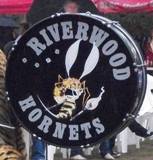 Australian Air League Riverwood 'Hornets' Drum Corps: The Riverwood Squadron Band has an enviable record amongst the Australian Air League. The Band has had many successes over recent years. In 2002 the Band retained their title as the "Best Band" within the Australian Air League (AAL) at the AAL Review, held on the Gold Coast in Queensland. The Squadron also retained the title of "Best Drum Major" in 2002, won by Ian Kent.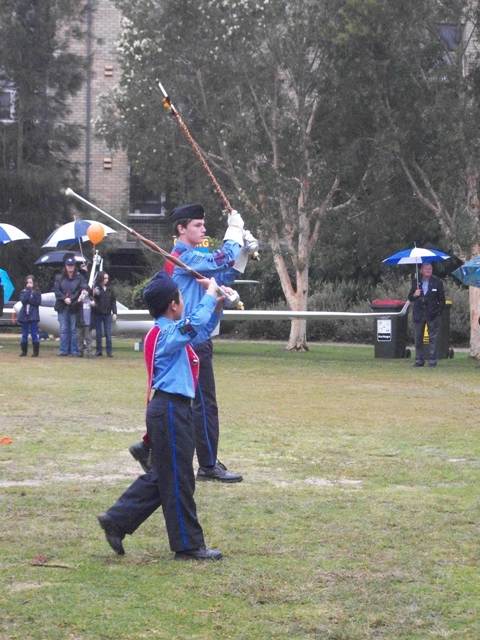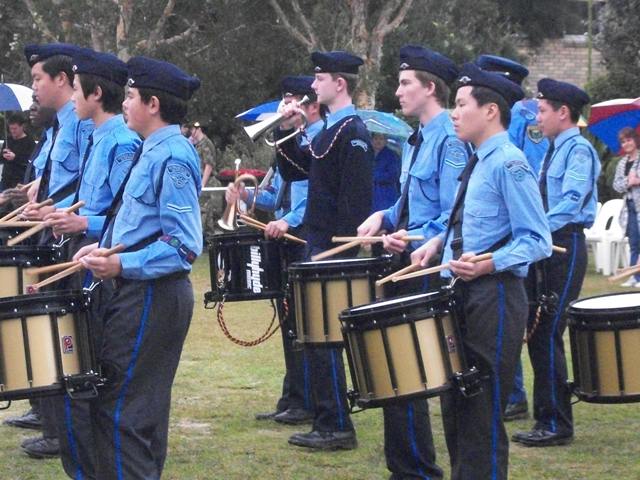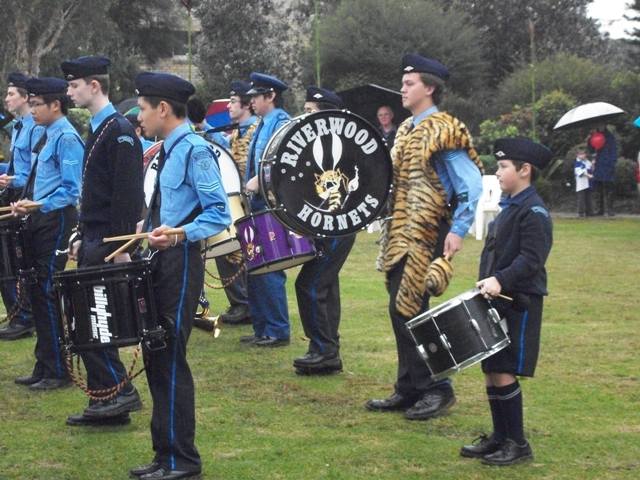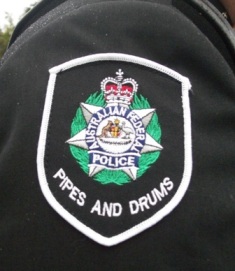 Australian Federal Police (CCPB) Pipe Band: They performed at the Edinburgh Tattoo in 2008 to great acclaim, and have been invited and shall attend this year's Edinburgh Tattoo, (August 3-25, 2012). This will be the 62nd extravaganza to be staged at the Scottish capital's ancient Edinburgh Castle.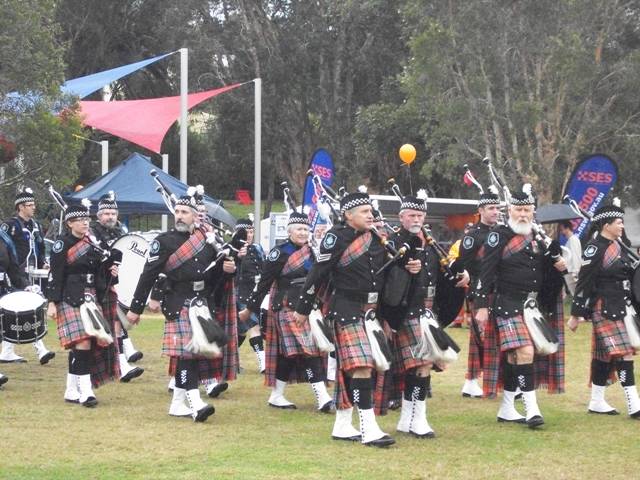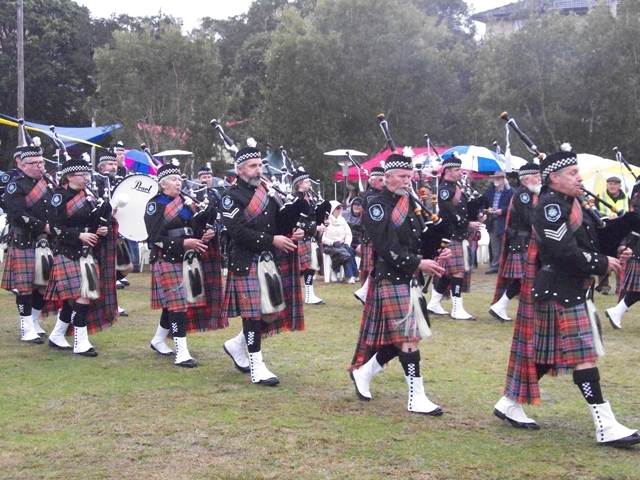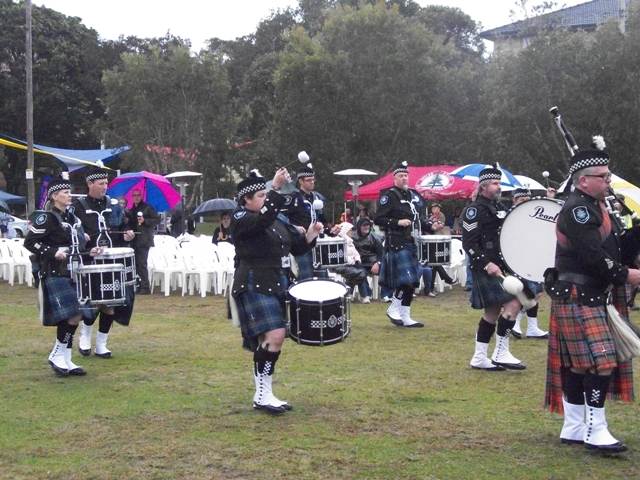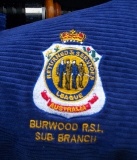 Burwood RSL Sub Branch Pipe Band: Lead by Drum Major Geoff Lazar and Pipe Major Frank Fraser. Wearing the Black Stewart Tartan. Formed in 2005 from Suydney Uni Regt. Pipes and Drums. They recently won the State mini-band championship and are the current State quick-step champions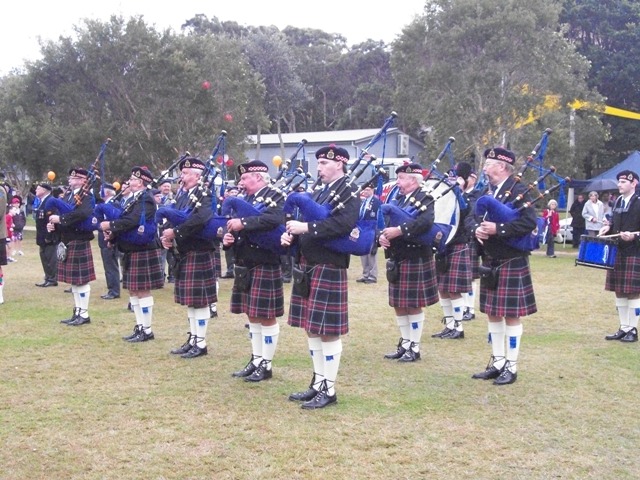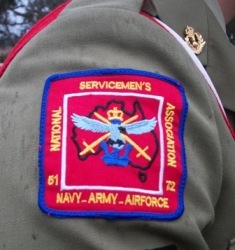 Pipes and Drums of the National Servicemen's Association: Lead By Drum Major Nick Davies With Pipe Majors John Armfield & Ian Millard. Wearing the Cameron of Erracht tartan as worn originally the 2/61st Bn Qld. kilted regiment. Formed in 1999 of Serving & retired ADF memebers & tri- service cadets. They wear the same badge as the 61stBn. Cameron Highlanders. Travelled from Brisbane to attend and particpate in this year's Tattoo.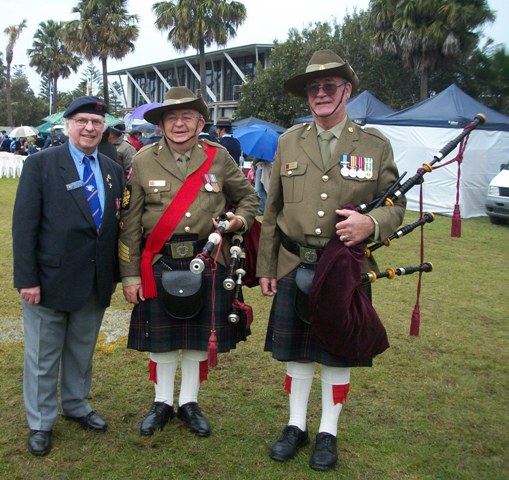 Left to right: Ray Lynch ( 11 N.S.T. Btn. 3/57), Ian Millard, Paul Reid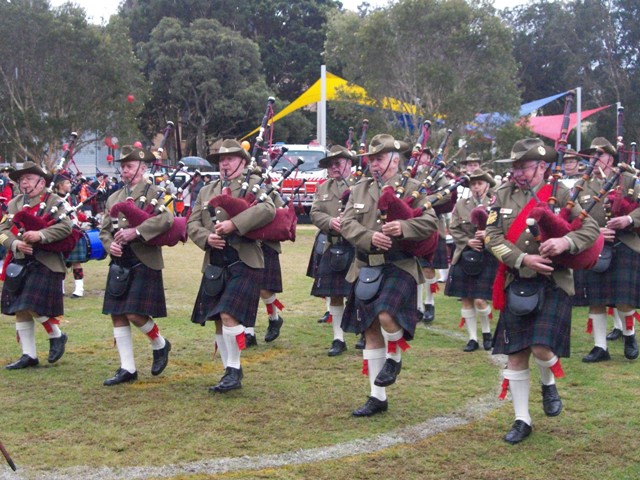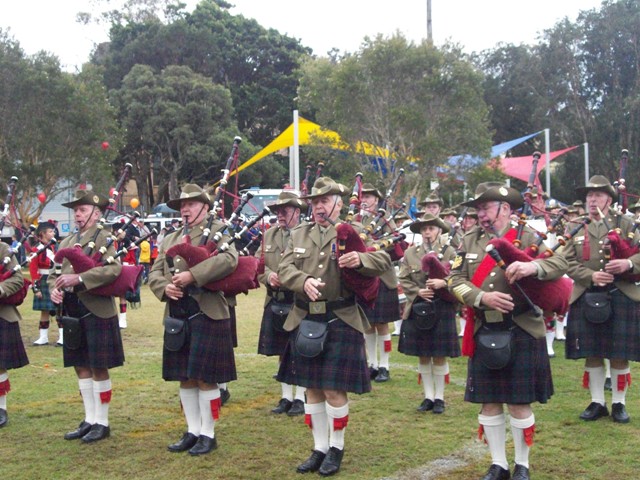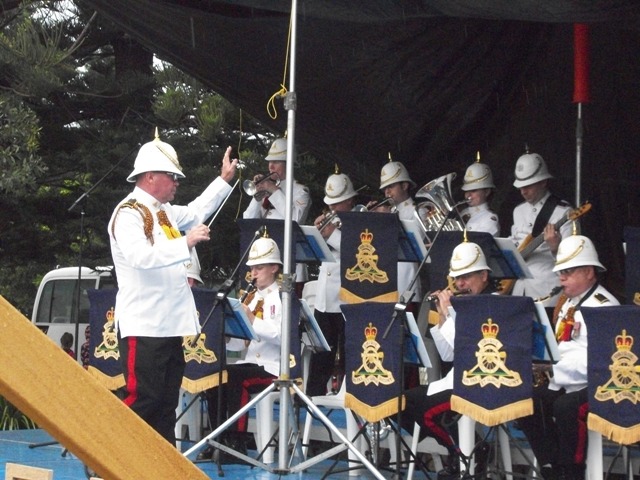 Above: 2/3 Field Regiment Band: Two Three Field Regiment Band title is borrowed from 2/3 batteries at El Alamain, old gunners would know this. Lead by LCDR Ross Griffiths.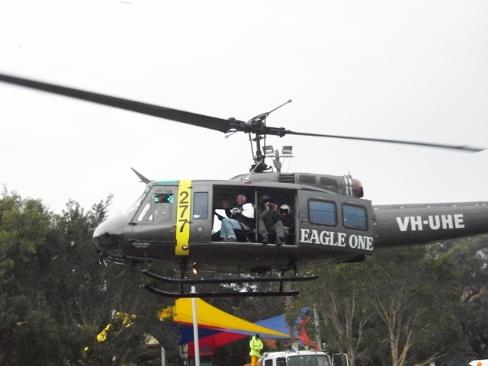 AVALON TATTOO 2012 PARTICIPANTS
Bands: Australian Air League Riverwood "Hornets" Drum Corps, Australian Federal Police (CCPB) Pipe Band, Clan MacLeod Pipe Band, NSW Fire & Rescue Band and Precision Marching Team, NSW Police Pipe Band, NSW Rural Fire Service Pipe Band, The Pipes and Drums of the National Servicemen's Association, NSW Ambulance Concert Band, 2/3 Field Regiment Band,
School Bands: Barrenjoey Symphonic Wind, Mater Maria, Pittwater
Units: RAN Reserve-MGDSTS, ANR DT Five, Army Reserve, RAAF 22 SQN (City of Sydney Squadron) – Permanent RAAF, 305 SQN AAFC, 201 ACU, Air Force Fire Service, Australian Navy Cadets – Drill Display Team, Rural Fire Service, Australian Air League, Sea Scouts
Aviation: Roulettes solo display, Combat Dragon (Gary Criddle), Huey Helicopter UH-1H , courtesy Patrick Soars, Australian Native Landscapes, Pitts S1 (Paul Bennet airshows maxxgaerobatics), Glider Pilot Simulator
Displays: ANR DT Five Dive Tank, Defence Force Recruiting, Pittwater Friends of Soibada, NSW Rural Fire Service, NSW Ambulance, NSW Fire and Rescue, NSW Marine Rescue (Broken Bay), NSW Police, Pittwater Motor Enthusiasts, Warringah Scottish Society, Vietnam Veterans Motor Cycle Club, Vietnam Musuem Bus, St Johns Ambulance, SES, RSL Recruiting
Additional Groups: French North Africa War Veterans, National Servicemen's Association Northern Beaches Sub Branch