May 24 - 30, 2015: Issue 215
The 10th Avalon Tattoo - Saturday June 13th, 2015 - A 10/10 Community Event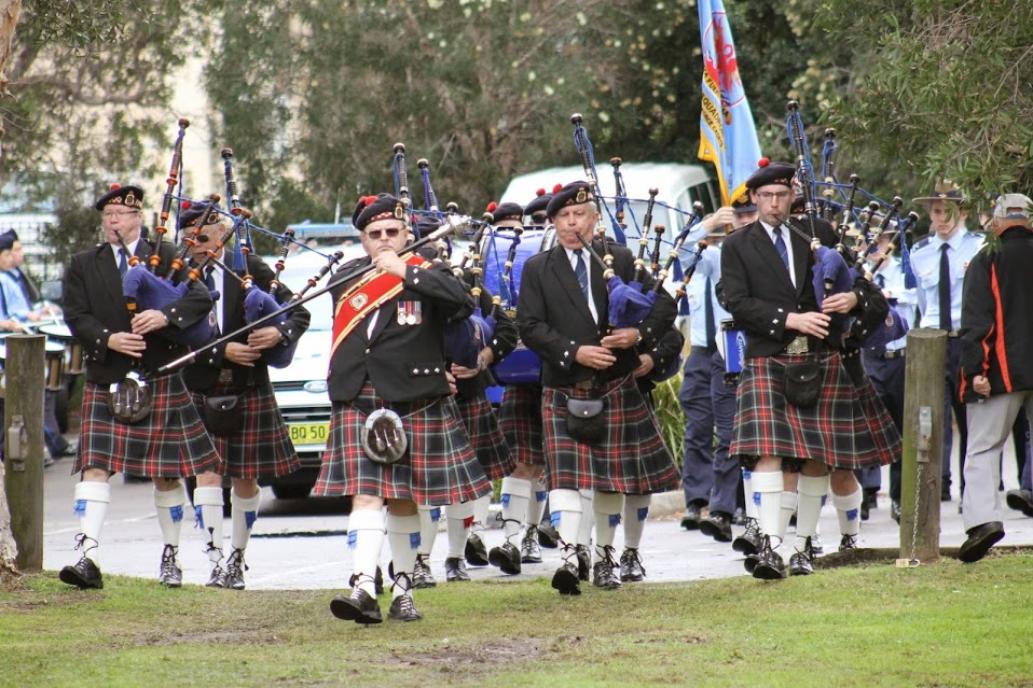 Lead Pipe Band for 2015 Avalon Tattoo- the Burwood RSL Sub-Branch Pipe Band
The 10th Avalon Tattoo - Saturday June 13th, 2015 - Set to Be A 10 out of 10 Community Event
May 24, 2015
What commenced in 2006 as an Expo to showcase the roles of ADF Reserves and Cadets in the community has continued to expand as a mini Edinburgh Tattoo. Free to the community, the Avalon Tattoo celebrates its 10th event this year.
The Avalon Tattoo, the only annual suburban Tattoo in Australia, combines community groups and local music with the music and displays of traditional Pipe Bands in an all ages family event. Great food, wonderful and educational displays and insights into the self empowering cadets services are on offer along with special throughout the day dynamic displays such as the Barrenjoey and Marta Maria High School bands on stage during the morning, the landing and taking off of Huey Helicopters RAN UH-1B and ANL UH-1H (ANL).
The midday Street Parade through Avalon is spectacular and this year there will be an early afternoon Aerobatic Displays by A37B Dragonfly (Criddle Group)- CAPT Dunn and Wolf Pitts Pro biplane - Paul Bennet Airshows.
The moving Ceremonial Sunset will be followed by a brilliant fireworks display, sponsored in 2015 by RSL Sub-Branches Dee Why, Seaforth-Clontarf-Balgowlah, Forrestville and Palm Beach, while Johnson Brothers Hardware have again contributed to this favourite part of the Avalon Tattoo.
New this year is the Karinya A Cappella Choir, while the RAN Band, Australian Air League Band and the Pipe Bands are also attending again. The lead Pipe Band this year is the Burwood RSL Sub-Branch Pipe Band, who, having formed in 2005, are celebrating their 10th year as well.
Burwood RSL Sub-Branch Pipe Band is mostly members who were formerly part of the Sydney University Regiment while other members were Reserves as part of the Regimental Band of Reserves. With the support of the Burwood RSL Sub-Branch they were able to form this relatively new pipe band. The age of musicians ranges from High School through to retirees.
Yesterday we spoke to Graham Weeks of the Burwood RSL Sub-Branch Pipe Band who stated the Avalon Tattoo is a great favourite of their members and a good get together for pipe band members from all over Sydney. Burwood RSL Sub-Branch Pipe Band is a competition band who, apart from doing two stand alone items this year will be part of the Mass band display.
As part of the Centenary of ANZAC Commemorations their programme for this year's Avalon Tattoo will also include WWI songs 'It's Long Way to Tipperary', 'Kiss Me Goodnight, Sergeant Major' and 'Keep The Home Fires Burning'.
In 2016 the Burwood RSL Sub-Branch Pipe Band is one of several Australian Sub-Branch Pipe Bands who will be travelling to Europe top take part in events in Belgium and the Netherlands to commemorate the Centenary of Conflict in these places – fields far from home where Australians served.
During the First World War pipers were amongst the first to leave the trenches, leading fellow service people into battleand were those whose ranks were decimated during the fighting. Cinema paid tribute to this in the famous film The Longest Day, which was set during the Second World War. Historic records indicate that after the First World War pipers were banned from conflict zones.
Pipers still play in remembrance of all soldiers, whatever their nationality and many Scottish and European pipe contingents have organised their own remembrance trails where they play at German, French and Commonwealth sites of remembrance.
2016, which has many dates and places where Australian soldiers entered this conflict - The Battle of Fromelles, where the First Australian Imperial Force (AIF) first saw action on the Western Front in France, the 5th Division, positioned on the left flank of the salient, being the first to see action on 19 July 1916, and suffering a staggering 5,533 casualties in a single day , or the horror now known as the Somme, where Australians, within three weeks of the beginning of the Allied offensive, in four divisions of the AIF, had been committed to the battle.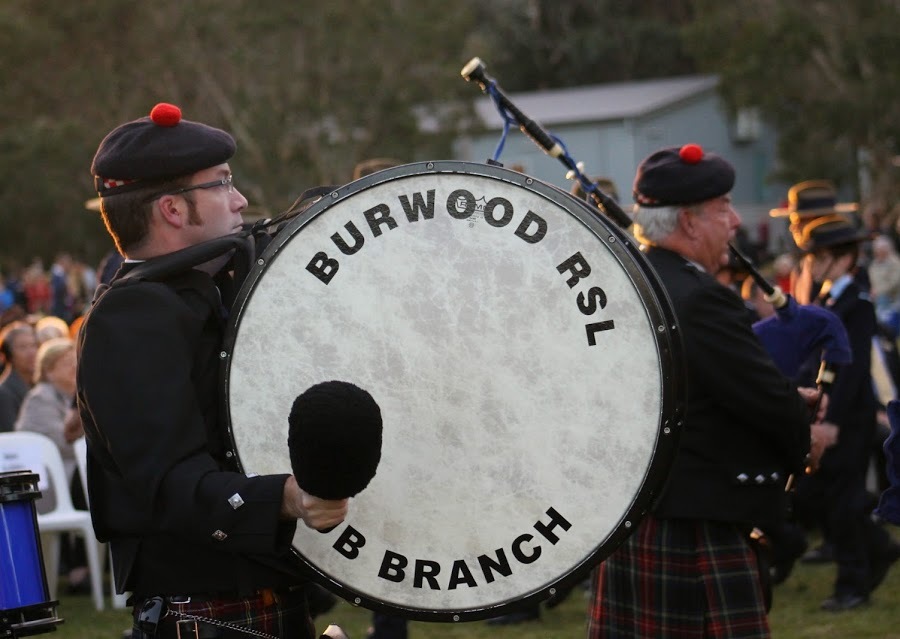 The term 'tattoo' dates from around 1600 during the Thirty Years' War in the Low Countries (Belgium and the Netherlands). The Dutch fortresses were garrisoned with mercenary troops that were under federal command since 1594. The Dutch States Army had become a federal army, consisting mostly of Scottish, English, German and Swiss mercenaries, but commanded by a Dutch officer corps. Drummers from the garrison were sent out into the towns at 21:30 hrs (9:30PM) each evening to inform the soldiers that it was time to return to barracks. The process was known as doe den tap toe (Dutch for "turn off the tap"), an instruction to innkeepers to stop serving beer and send the soldiers home for the night. The drummers continued to play until the curfew at 22:00 hrs (10:00PM). Tattoo, earlier tap-too and taptoo, are alterations of the Dutch words tap toe which have the same meaning. (1.)
The term also refers from earliest times to a ceremonial form of evening entertainment performed by Military musicians that extended into events such as the world famous Royal Edinburgh Tattoo, where some of the pipe bands that have played at the Avalon Tattoo have also performed. The Royal Edinburgh Tattoo is an invitation only event, and some indication of the standard of music you will experience at the Pittwater counterpart - the Avalon Tattoo.
The piper and bagpipes are ancient musical instruments and musicians, although associated strongest with Scotch-peoples, or the Scottish, the Oxford History of Music states a sculpture of bagpipes has been found on a Hittite slab at Euyuk in the Middle East, dated to 1000 BC. Some have suggested that bagpipes were first brought to the British Isles during the period of Roman rule, although, considering historical references of the Picts triumphs over the invaders, which eventually resulted in the building of Hardrian's Wall, people of Scotch blood may be right in paying little heed to such a notion.
The first clear reference to the use of the Scottish Highland bagpipes is from a French history, which mentions their use at the Battle of Pinkie Cleugh in 1547. George Buchanan (1506–82) claimed that they had replaced the trumpet on the battlefield. This period saw the creation of the ceòl mór (great music) of the bagpipe, which reflected its martial origins, with battle-tunes, marches, gatherings, salutes and laments. The Highlands of the early seventeenth century saw the development of piping families including the MacCrimmonds, MacArthurs, MacGregors and the Mackays of Gairloch. Typical pipe bands forms today include marches, slow airs, up-tempo jigs and reels, and strathspeys. (2.)
With such precedence, and an extensive and extended range of events regeared to run at times to suit families, the 10th Avalon Tatto is set to be ten out of ten in 2015!
Schedule of this years Avalon Tattoo programme and times listed below - the 10th Annual Avalon Tattoo will be held in Dunbar Park, Avalon Beach on Saturday 13th of June from 9 a.m.
__________________________________
References
1. Military tattoo. (2014, November 18). In Wikipedia, The Free Encyclopedia. Retrieved from http://en.wikipedia.org/w/index.php?title=Military_tattoo&oldid=634305664
2. Bagpipes. (2015, May 21). In Wikipedia, The Free Encyclopedia. Retrieved from http://en.wikipedia.org/w/index.php?title=Bagpipes&oldid=663365655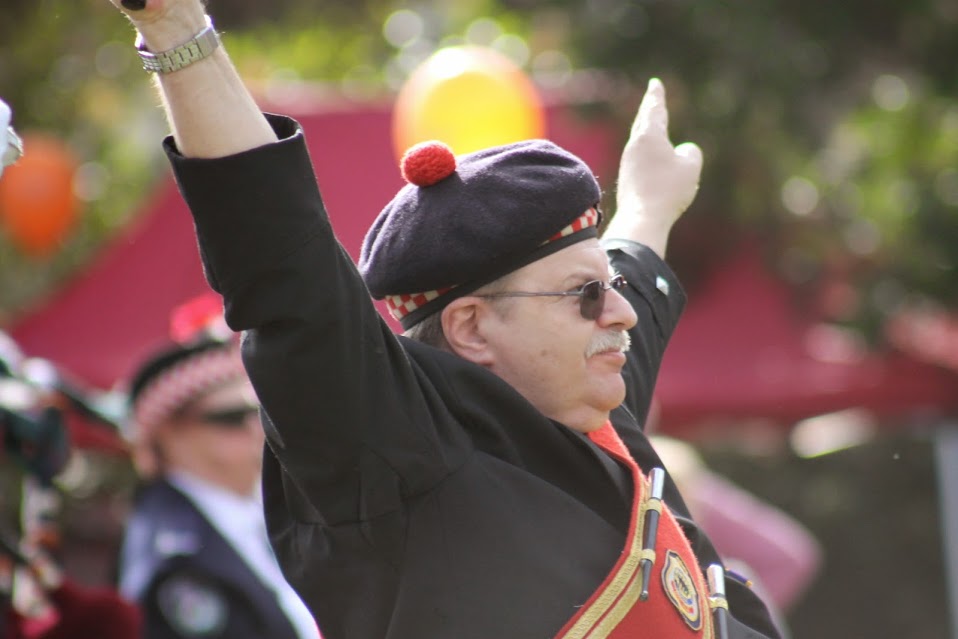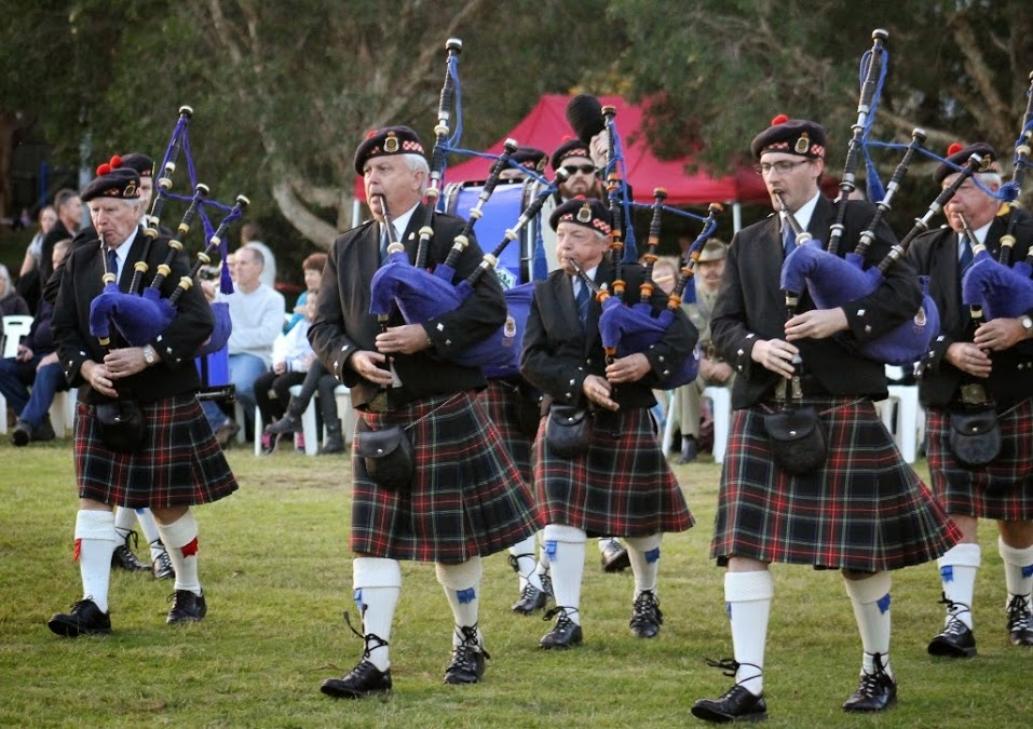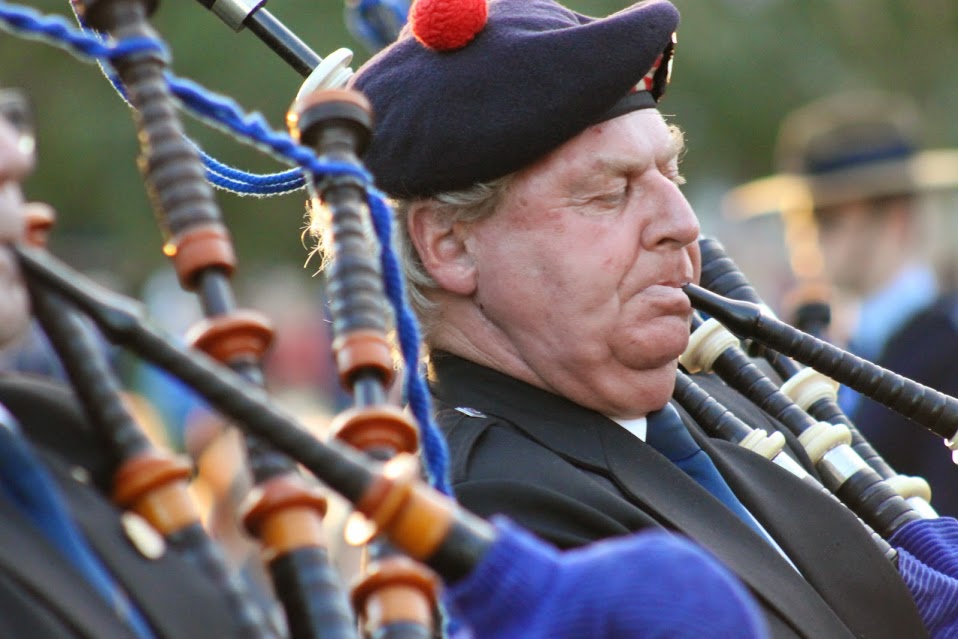 AVALON TATTOO 13th JUNE 2015 – SCHEDULE OF EVENTS
0700-0900 Displayers arrive and set up.
0830-0845 Huey Helicopters RAN UH-1B and ANL UH-1H (ANL) land
0900-1200 Barrenjoey and Marta Maria High School bands on stage.
1130. Units for street parade muster outside Avalon School.
1200 Street Parade departs Avalon Primary School
1215 MC's welcome to Tattoo as units enter Dunbar Park
1240 First Massed Pipe Bands Performance - Lunch – sandwiches
1300-1315 Australian Air League Band (Hornets) display
1315-1330 Burwood RSL sub-Branch Pipe Band
1330-1345 Pittwater House School Cadet Unit Band
1335-1400 Displays dismantled (Optional)
1345-1400 Rural Fire Service Pipe Band
1405-1415 ANL Huey UH-1H and RAN UH-1B depart
1430-1445 Federal Police Pipes and Drums Band
1445-1500 National Service 1951-72 Re-Enactment Unit
1500-1600 Sausage Sizzle
1500-1540 RAN Band Concert
1540 Official Arrivals
1555-1605 Emergency Services drive past.
1620-1630 201 ACU/305 SQN AAFC Entry-Met by Supt Darcy and Mayor
1630-1640 March Past – all participants (Salute taken by Senior VIP)
1640-1645 Community recognition of Emergency Services (Rob Stokes)
1645-1655 French Commemoration (at main stage)
1655-1700 Avalon Primary School's ANZAC Commemoration
1700-1720 Karinya A Cappella Choir
1720-1730 Second Massed Pipe Bands Display
1730-1735 Director's Address and MC welcomes VIPs and gives introduction to the Ceremonial Sunset (Sunset at 1653)
1735-1750 Ceremonial Sunset (Bugler) and Advance in Review Order–RAN Band (Salute taken by Senior VIP)
1750-1800 Lone piper, A Capella Choir, Massed Pipes and Drums finale/Fireworks Display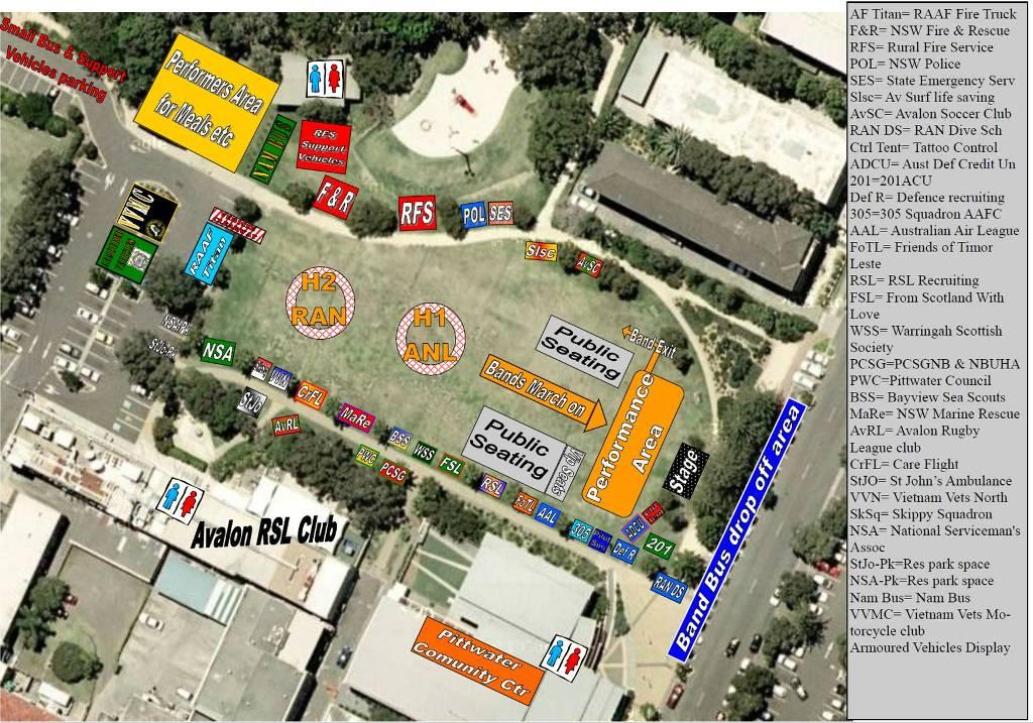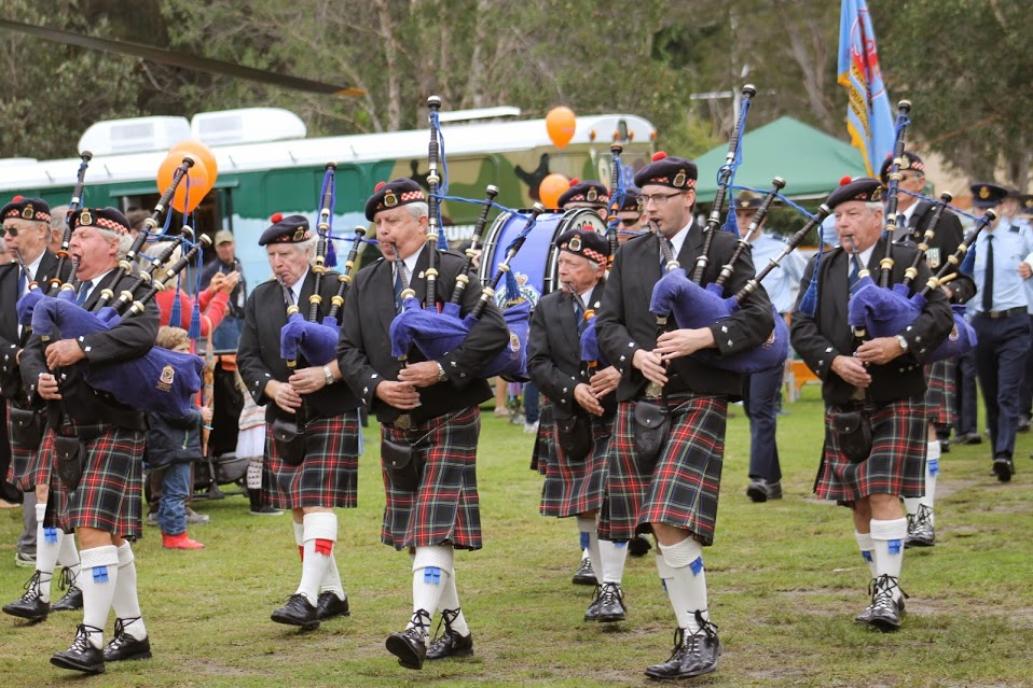 Report and Pictures by A J Guesdon.