November 1 - 7, 2015: Issue 238
Avalon Art Carnival: THE GAME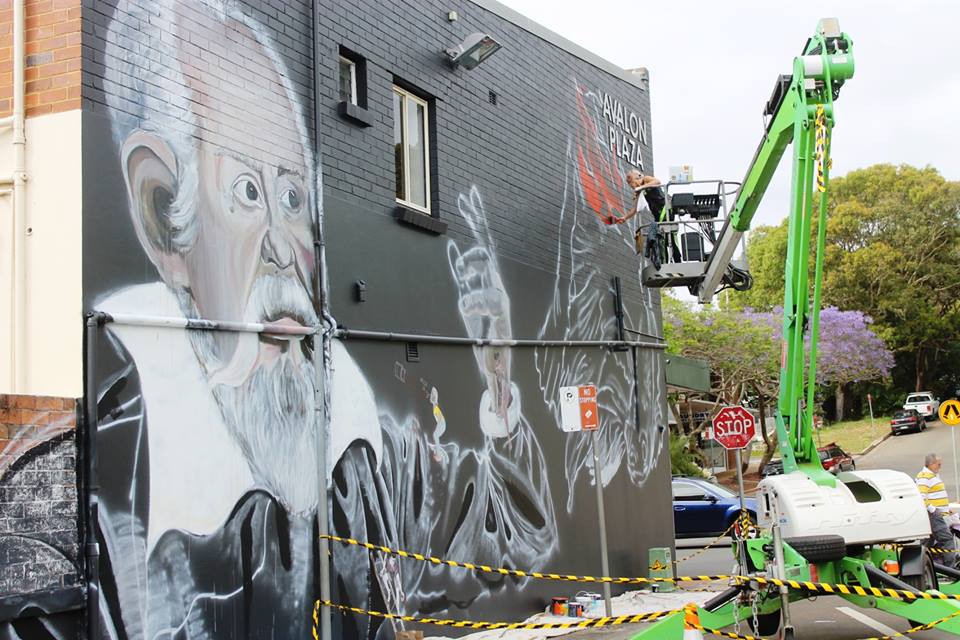 Amy Roser this week - creating 'Trust'.
Avalon Art Carnival: THE GAME
A public art festival around Avalon Village
Saturday 7 November – Saturday 21 November
Months of preparation, creating and collaboration will soon reveal Avalon Art Carnival: THE GAME – a creative arts experience to instil a sense of wonder, fun and excitement created by artists, and site-specific to Avalon.
Under the theme of THE GAME, Avalon Village will come alive with play and creativity through the works of over 25 artists, to be on display down laneways, in arcades, high on walls, in dark places, inside, outside and everywhere between – in The Game anything is possible.
A collaborative venture between Avalon Palm Beach Business Chamber Inc., Eramboo Artists Environment and Pittwater Council's Enliven Pittwater initiative, this first-time event will bring together social engagement, civic pride and economic development for Avalon and the surrounding Pittwater area.
Kendal Henry – a public art curator of international renown – has led the initial development of THE GAME in tandem with local curators Susan Milne and Greg Stonehouse of Eramboo Artists Environment.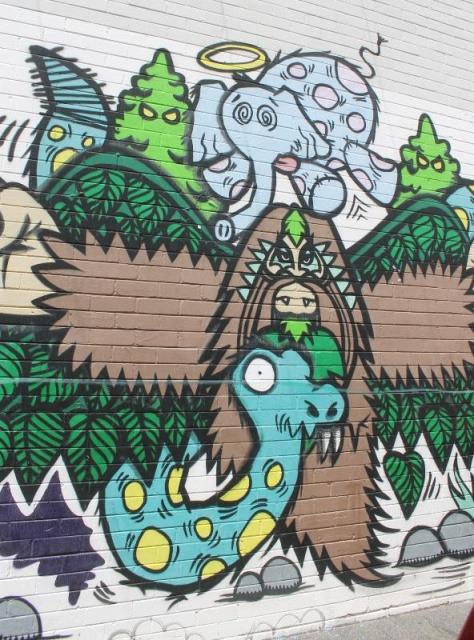 As local curator, Susan Milne has worked closely with the artists in the developmental phase. Susan explains: "This public art festival navigates different paths within Avalon, gives life to blank canvases and threads narratives through laneways and small spaces. It has enabled opportunities for emerging and established artists to experiment with ideas outside of the studio and attract new non-art audiences to the Village."
During the week we spoke to Susan Milne, who explained the focus of this festival is all about bringing art into public spaces, not only making them more dynamic, but also engaging people with the countless mediums there are in the art world and communicating that art is for everyone.
"What we're really interested in doing is taking Art out of Galleries and bring it into public spaces.
Greg Stonehouse and my own background is in public space and in that we're curators and artists. A mentoring process with artists such as Amy allowed us to take many gallery artists on the journey of how to create work in public space.
This is also about activating our public spaces and building relationships with business and seeing how art can actually be used as a tool for economic driving. Avalon is a great example as there are so many artists who live here and this provides a way of building a cultural layer within our area, in small spaces and thoroughfares which brings these places to life and hopefully enhances peoples enjoyment of these places.
Visitors don't have to love all the work but if they get something from some of these works then that will be great." Susan explained.
"As part of the Avalon Art Carnival Greg and I will be part of the Public Program where people may Meet the Artists. This will involve a Public Walk where people will meet four of the artists and we'll do a Q&A with these artists at their work on site, another where some of the Artists shall come along to a Talk and then Greg and I will talk about the Process from a curatorial perspective, so this will be
for both Artists and people interested in Art in Public Spaces.
"There is also a series of Workshops by different Artists - Installation Artists, Printmakers, Glass Artists, Performance Artists. These are for everyone and what we're trying to do is offer a different experience in different locations – this means there will be a lot of ephemeral woks, which means works that will be up for a short time. Some Artists have put their hands up to run workshops where they are basically teaching people their skills."
The Public Art works will be on display around Avalon Village from Saturday 7 November through to Saturday 21 November, culminating on Avalon Market Day – Avalon's biggest day of the year with over 50,000 attendees!
Market Day Organiser Kate Richardson, who has put a lot of hard work into ensuring this year's Avalon Market Day will again have 'something for everyone' explained on Wednesday there will be a lot of community focused events as part of this year's markets which will allow many of the groups and causes within our community to let people know what they do. Groups that support the Environment and clubs that support the community will be on hand to let people know what they do and what they can do to extend this vital part of keeping the community spirit healthy in Pittwater.
A series of stalls will be showcasing these groups in Dunbar Park where many will be also focusing on Art – might some great handcrafts available for those who want something unique for the Christmas stockings!
There will also be a Dog Show again this year, judged by the wonderful Monika of Doggie Rescue. Littlies will find a Petting Zoo, Pony Rides and Craft Activities.
Music will have a great focus on Pittwater's up and coming performers with stages in Dunbar Park, at the Crossroads and Mona Vale Music will have a stage down near the primary school. A mix of musicians from local schools and bands will fill these stages.
John Stone has been 'instrumental' in helping organise who's on what and told Kate he could fill each stage a few times over – perhaps there's potential for a future Music Carnival ???
Great food will be on offer from local businesses and Kate has worked to maintain a laid-back atmosphere as part of this year's Avalon Market Day.
While the official launch party for The Avalon Art Carnival is now sold out there are lots of other fun activities on the program including artist talks, curator walks and fun creative workshops for all ages.
Three of the artists in THE GAME are Holly Denshire-Key, Amy Roser, and Natalie Lorentzen.
Melbourne-based visual artist Holly Denshire-Key is inspired by water systems and the abundance of wildlife that use them as their lifeblood. Her work
Undercurrent
uses subtle shifts in colour and shape to depict a flock of parrots that when viewed from below resembles a tidal scene.
Local artist, Natalie Lorentzen has brought together drawing, glass and an interest in conceptual space to add another plane to a window pane. In her work
A Romance of Perceived Dimensions
Natalie will apply her drawing technique to the window of the Sarah and Haven florist shop, revealing some beautiful imagery and a sense of simultaneous spaces.
Amy Roser lives in Bondi and was inspired to become a part of THE GAME after she visited Avalon and felt a connection to the spirit of the community there. Amy's work
Trust
, which she is currently creating on a huge blank wall alongside a car park in Avalon Village, takes a whimsical view of Galileo as an astronomer, heretic and philosopher and is inspired by Amy's love of reading philosophy.
On Wednesday we met Amy along with Project Manager Jayne Denshire, Curator Susan Milne and Market Day organiser Kate Richardson. We asked Amy about her work 'Trust', currently in progress - and expected to be finished by Friday November 6th:
" It's about trusting your own ideas, which Galileo obviously did." Amy explained
Why the fish?
"It's a Siamese Fighting Fish, which are pretty independent fish but the main reason they're part of this is the scale – there's little mini-people who are standing on the shoulders of giants. So it's about using other people's ideas to help you with your ideas but also trusting in yourself as well."
With a wide range of activities listed, and more to come, Project Manager Jayne Denshire and the whole team behind this carnival have taken great strides to 'Enliven Pittwater'!
Local businesses are also invited to participate in The Game. Bookoccino has already come on board with a Chess Tournament in the courtyard café for the Avalon Art Carnival duration with prize winners to be announced on Avalon Market Day.
To meet the artists, the team, follow the blog or check out the carnival activities visit our website
artcarnivaleramboo.com.au
or keep up to date on the
Avalon Art Carnival
and
Avalon Market Day
Facebook
pages.
The Art Carnival Map and program run below and are available throughout Avalon Village.

Artists Involved:
Leonie Barton , Alyson Bell, Harriet Birks, Angela van Boxtel, Sylke Claridge, Mirre van Dalen, Suzanne Davey, Holly Denshire-Key, Tim Denshire-Key, Melanie Eden, Christina Frank, Irene Gorman, Selena Griffith, Linda Haigh, Carolyn Haywood, Julie Hickson, Sally Howe, Amy Roser, Miss Rouge, Karen Lee Harris, Natalie Lorentzen,
Lisa Marshall, Eunice McAllister, Stephanie Powell, Mandy Schöne –Salter, Leonie Seaton, SKULK, Jessica B Watson, Louise Whelan, Nicola Woodcock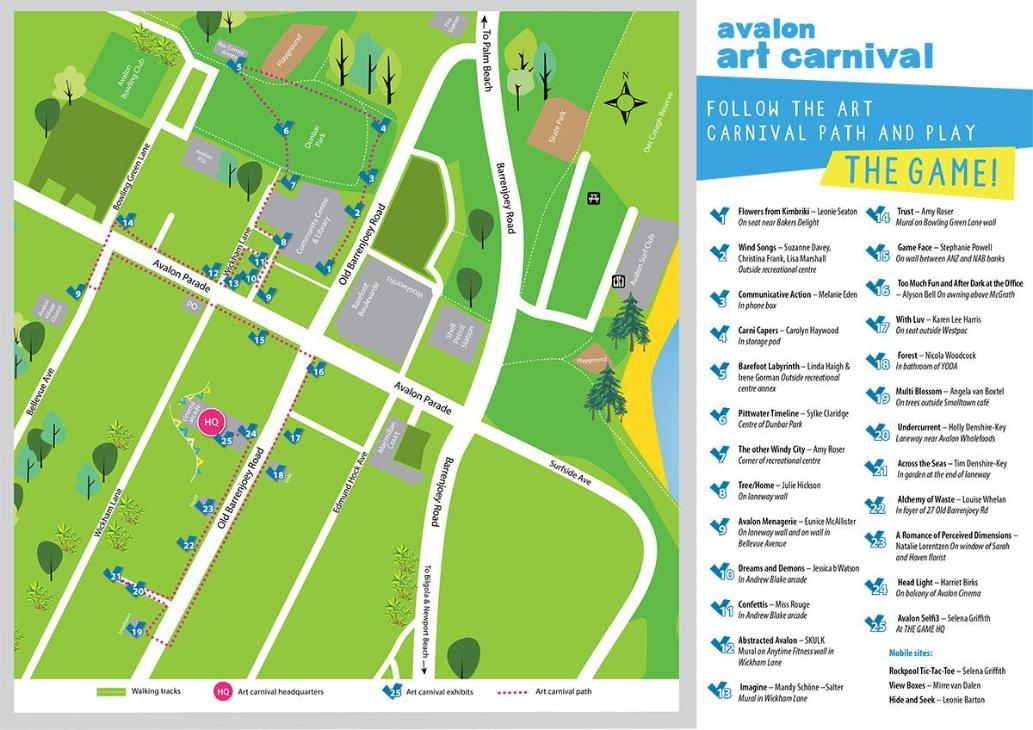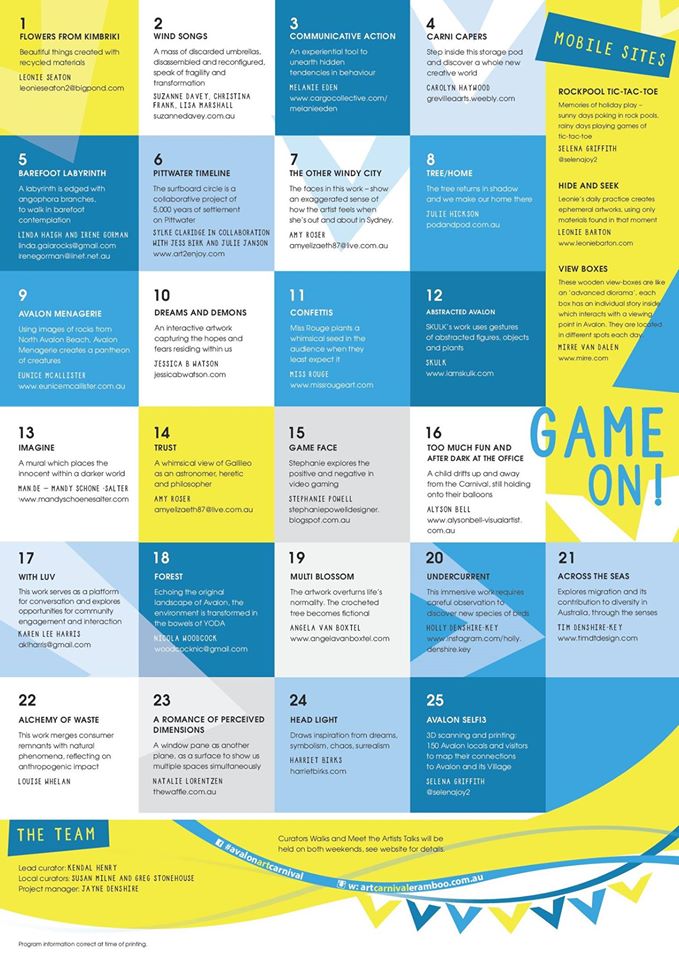 Artists Talks
Meet the Artists
Saturday 7 Nov 11am – 12pm
Meet the Artists On Site led by Greg Stonehouse, Local Curator
Location: Avalon Rec Centre
Cost: Free - Register below
Curator's Walk
Wednesday 11 Nov 10am – 12pm
Location: Avalon Rec Centre
Cost: Free - Register below
Meet the Artists
Saturday 14 Nov 1pm – 2pm
Meet the Artists On Site led by Susan Milne, Local Curator
Location: Avalon Rec Centre
Cost: Free - Register below

Meet the Artists
Sunday 15 Nov 11am – 12pm
Meet the Artists On Site led by Greg Stonehouse, Local Curator
Location: Avalon Rec Centre
Cost: Free - Register below
Register at:
artcarnivaleramboo.com.au/carnival-activities/artists-talks
Activities Around the Village
Avalon Market Day - Saturday 21st November 2015
Avalon Market Day is one of Sydney's most popular annual community events with attendance estimates over 50,000.
Local businesses cultivate enhanced trading opportunities during the event and are encouraged to become involved.
Market Day presents a vibrant, eclectic offering of arts, craft, jewellery, collectibles, home wares, exotic items, designer fashions, food stalls and much more. Some seriously talented local musicians provide free entertainment, supported by buskers, school bands and dance troupes on 3 separate stages. Talks and information sessions will be held on issues like sustainable living, health, local government and other areas of interest.
Market Day is also the culmination of Avalon Art Carnival so there will be cross-over event activities throughout the day.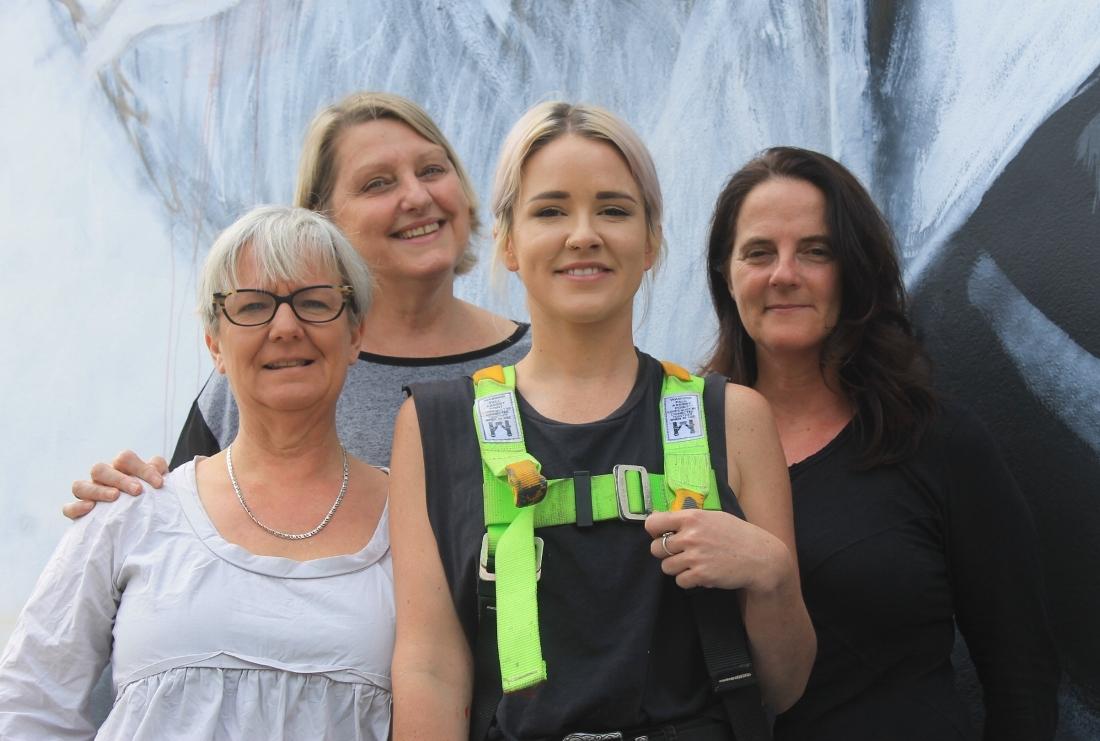 Left to right: Kate Richardson, Jayne Denshire, Amy Roser and Susan Milne
Workshops

Urban Art Workshops
Date: Saturday 7 Nov 10am – 12pm
Lead by: Mandy Schöne-Salter aka MAN.De
The workshops cater for kids between the ages of 5 and 15 years and offer practical introduction in urban art disciplines including stenciling and paste ups by local Sydney artists Mandy Schöne-Salter (aka MAN.De).
Location: Avalon Rec Centre
Cost: $35 per child
What to bring: All materials are included in the workshop
Age group: 5-15 years of age

Carni Capers Children's Masquerade Drawing Event
Date: Sunday 8 Nov 11am – 1pm
Lead by: Carolyn Haywood
Qualified teacher and artist Carolyn Haywood will provide a mask kit for children to decorate and use in the Carni Capers drawing POD van. Families can create together and enjoy exclusive access to the POD without safety concerns.
In keeping with the idea of anonymous creating, children will receive a mask kit with collage items and drawing implement. Children are encouraged to draw and collage with the materials provided. There will be a mix of items that will bring some interesting effects under black light!
After decorating masks participants will be invited to enter the POD with their parent and continue drawing under black light.
The workshop is intended to engage families in the process of creating together so parents are asked to attend and participate with their child.
Carolyn is a patient, experienced qualified teacher and artist who welcomes all students.
Location: Meet at the Carni Capers POD van
Cost: $20 per child
What to bring: A picnic rug, a drink of water, hat, & sunscreen, soft pastels, pastel and scrap paper & a board to lean on, if you have them, otherwise purchase a beginner pack for $10. Pack includes sheets of pastel paper and beginner set of pastels
Age group: This activity is suited to children of any age over 3 with parental supervision, as the drawing implement is a little sharp. The activity is open ended so all age groups welcome, accompanied by a parent. There is no charge for parents participating with their children.

Experiencing the Senses
Date: Sunday 8 Nov 10am – 2.30pm
Lead by: Stephanie Powell
Experiment and create using all of your senses and intuition. Learn how to express emotion and use your whole body. Work in charcoal, ink and word. Suitable for beginners to experienced artists this workshop will help you discover your natural talent as an artist.
Location: Head Quarters – Avalon Art Gallery, Cinema Complex 39 Barrenjoey Rd, Avalon
Cost: $50 per child
What to bring: An apron or art smock/old clothes, lunch
Age group: 12+

Creative Assembly
Date: Saturday 14 Nov 2pm – 4pm
Lead by: Leonie Seaton
During this workshop participants will crochet a range of flowers that can be used to make a necklace, decorate a bag or cushion. Basic crochet skills required
Location: Head Quarters – Avalon Art Gallery, Cinema Complex 39 Barrenjoey Rd, Avalon
Cost: $35 per person - Yarn supplied
What to bring: Crochet hook size 4mm and yarn that you may like to include in your work + water
Age group: 18+

Creative Embroidery
Date: Sunday 15 Nov 10.30am – 12.30pm
Lead by: Jessica b Watson
Have you ever wanted to experiment with embroidery and stitching without the constraints of counting threads? Jessica b Watson has for the last 15 years been developing her creative stitching and embroidery techniques and can guide you through the process of creating your own stitched artwork -whether reworking traditional embroidery stitches or pure improvisation. Let your fingers be inspired by thread, colour and pattern to create your own textile artwork.
Location: Head Quarters – Avalon Art Gallery, Cinema Complex 39 Barrenjoey Rd, Avalon
Cost: $25 per person
What to bring: Fabric scraps, embroidery needles, scissors, thread. If you have an embroidery hoop bring it along though not essential. Images for inspiration (optional)
Age group: 15+

Soft Pastel Drawing
Date: Saturday 14 and Sunday 15 Nov 2.30pm – 4.30pm
Lead by: Carolyn Haywood and Christina Frank
Artists Carolyn Haywood and Christina Frank will guide a workshop in soft pastels (artist's chalks). Get your creative juices flowing with an introduction to soft pastel by viewing artworks, experimenting with this versatile medium, then heading down to the beach for a pleine air pastel mark-making session.
The great pastelists Degas, Rodin, Manet, Mary Cassat used soft pastel to form vibrant artworks. Discover the versatility of this colourful medium to create drawings and paintings by experimenting with technique.
Carolyn is a patient, experienced qualified teacher and artist who welcomes all students. No assumed knowledge necessary, and anyone interested in finding their inner creativity welcome.
Christina is an experienced artist with stunning drawing ability who can extend more experienced students.
Location: Meet at the Carni Capers POD
Cost: $50 per person
What to bring: Soft pastels, pastel and scrap paper & a board to lean on (if you have them, otherwise purchase a beginner pack for $10. Pack includes sheets of pastel paper and beginner set of pastels) Hat, sunscreen, drink
Age group: Any interested adult, Children over 12 only and accompanied by a parent (pay one fee only). No assumed knowledge, but suitable for anyone who wants create with soft pastels.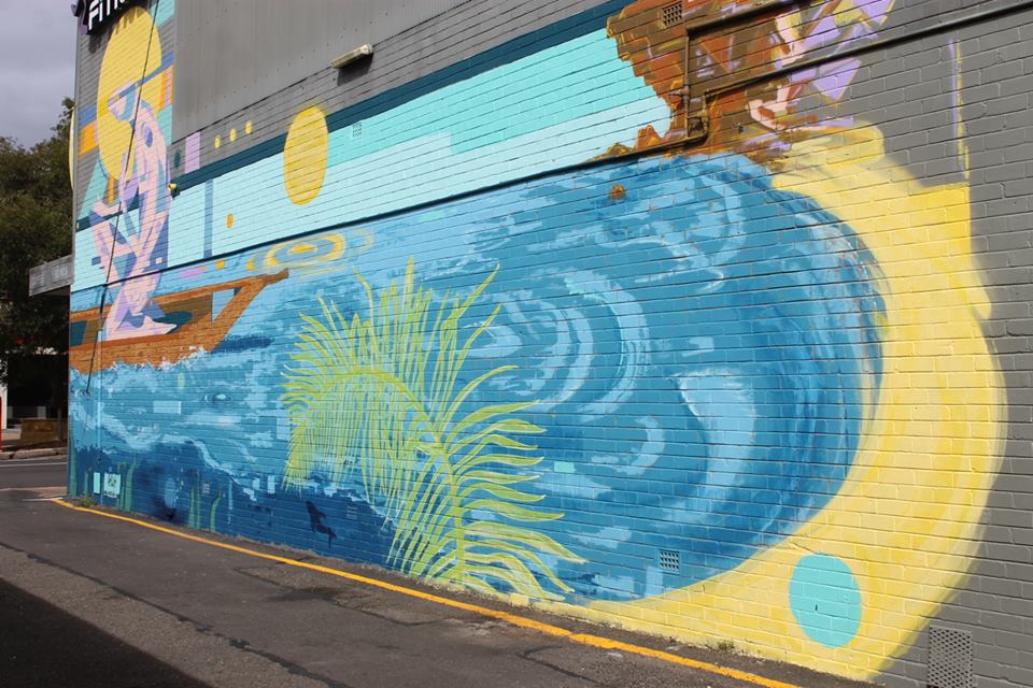 Page by A J Guesdon, 2015.