July 27 - August 2, 2014: Issue 173
Australia My Country Awards 2014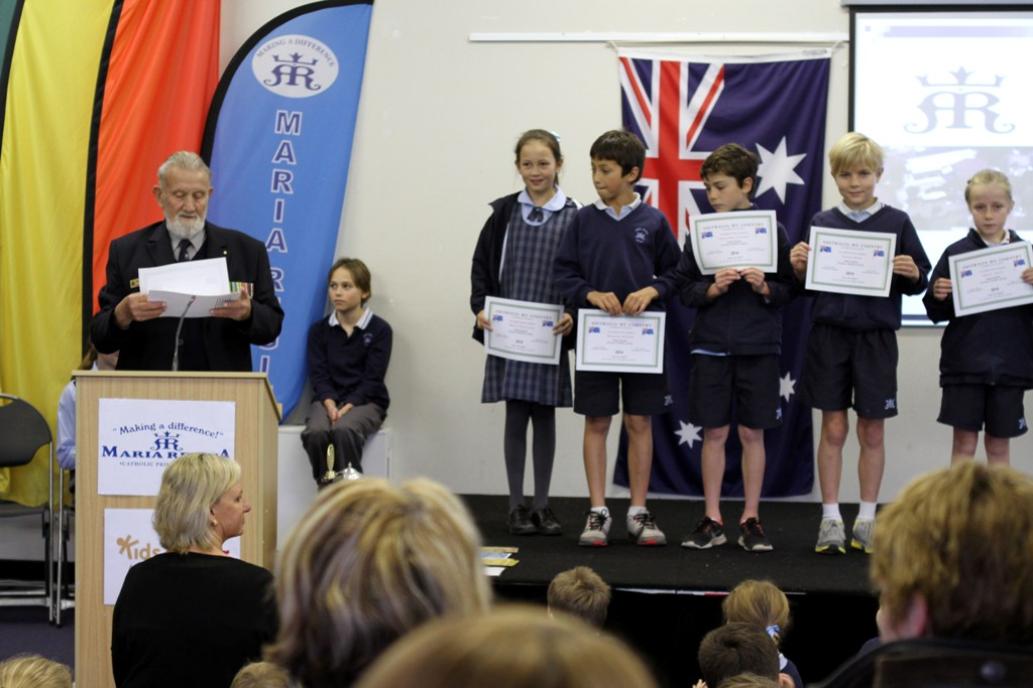 President of Avalon Beach RSL Sub-Branch, Graham Sloper (Cmdr. RAN - RTd.), which co-ordinates Pittwater Schools for this annual competition, presents certificates and prizes to Maria Regina Catholic School Avalon students on Friday. Photo by Peta Wise, 2014.
Australia My Country Awards 2014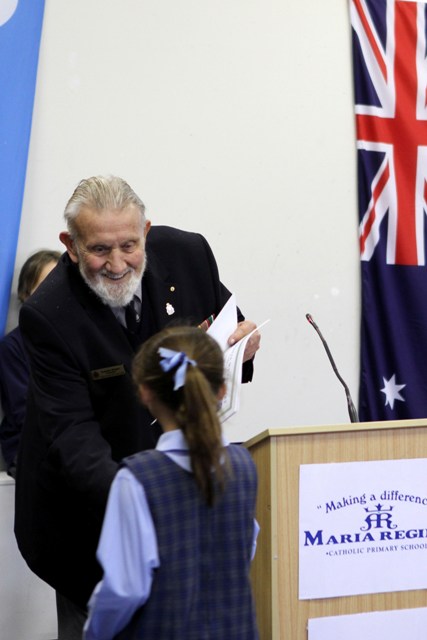 This competition, free to all entrants, is proudly sponsored by the RSL Northern Beaches District Council with the Avalon Beach RSL Sub-Branch, Forestville RSL Sub-Branch and Balgowlah-Seaforth RSL Sub-Branch looking after their respective areas. In conjunction with school principals and teachers, the Australia My Country compeition has been designed to enhance students' sense of pride and patriotism in being an Australian through writing, poetry, and art.
Entries should reflect sacrifice, loyalty, history, service, tradition and pride in being an Australian - and include at least one of these qualities.
This year the Pittwater entries were assessed by former Mayor of Pittwater, Harvey Rose who said during the week that it "was a pleasure to look over all these entries. The wonderful instances of written essays, poetry and art are just fantastic."
Each year students may choose their topic(s) eg. Defence Force, exploration, the Arts, sports, invention, education, medicine, the environment, conservation or any other relevant topic. An entry may refer to a time of peace or war. Persons or institutions chosen for study and presentation may be well-known or low-profile however the underlying theme is Australia My Country.
In 2014 Avalon Public School has topped the number of entries with a whopping 232, Bilgola Plateau Public School had 82 entries, Mona Vale Public School had 49 and Maria Regina Catholic School at Avalon had 15, totalling 378 entries all up.
On Friday morning, President of the Avalon Beach Sub-Branch, Graham Sloper, presented certificates to all who entered at Maria Regina and a gift voucher to the winner at this school, Yasmin Heyes.
Mr. Sloper will present prizes and certificates (every entrant receives one) to Bilgola Plateau Public School and Avalon Public School students on August 7th.
Mr. Rose will also forward the best 3 entries from the Pittwater area to Forestville where later in the year prizes for the Northern Beaches District overall winners will be presented by the Hon. Bronwyn Bishop.
Our photos from the Maria Regina Catholic Primary School Avalon presentations on Friday July 25th are by and courtesy of Peta Wise.